After floods swept parts of Scotland in the first week of 2016 the Scottish Government have announced a £235m action plan to prevent further damage and help protect tens of thousands of homes.
The Flood Risk Management plan includes flood protection schemes and engineering works in a wide number of areas of the country with the plans to be in place for the next five years.
The announcement on Monday from environment minister Aileen McLeod comes after First Minister Nicola Sturgeon announced an initial £12m boost to support communities affected by recent floods in the aftermath of Storm Frank.
The picture below shows the 23 areas in the north east which are considered "potentially vulnerable" over a 6500-square-kilometre area.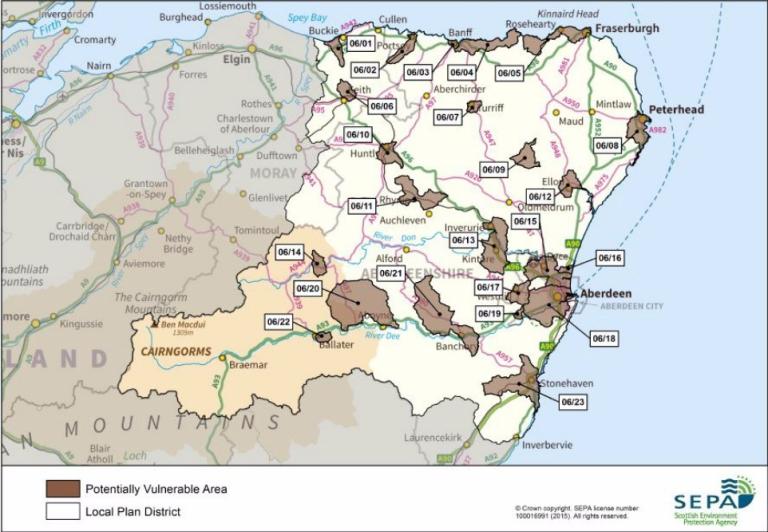 In the report the Scottish Environment Protection Agency (Sepa) pinpoint there are "approximately 13,000 residential properties and 3600 non-residential properties at risk of flooding", which affects around 28,000 people and equates to 15% of the number of properties at risk across Scotland.
Shown in the table below is a breakdown of the properties and the "Annual Average Damages" for the area.

The report says: "The Annual Average Damages from flooding are approximately £29 million, with an estimated 69% of the total damages for the entire Local Plan District accounted for in the Potentially Vulnerable Areas."
River floods accounts for most of this in the north east with the plan saying "damages caused by river floods are £23.5m with those caused by surface water and coastal floods being approximately £5.2m and £270,000 respectively."
This is further highlighted by the below chart which shows the scale of river floods in the north east compared to other sources looked at by SEPA, highlighted as coastal floods and surface water.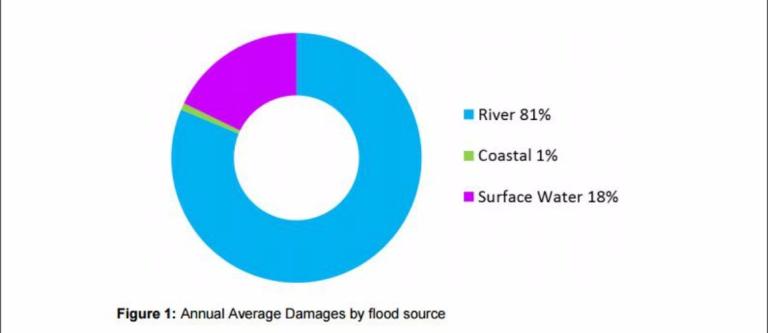 Across the different council and local areas Sepa will look at the following points:
Environment minister Aileen McLeod said: "Having met with many people who have seen their homes and livelihoods damaged due to flooding over recent weeks, I am all too aware of the devastation that flooding can cause.
"This shows exactly why Scotland's first national flood plan is an important and necessary step forward. Our plan is designed to improve the way we tackle the risk of flooding across the country protecting more homes, businesses, communities and livelihoods.
"For the first time, we have a nationwide plan, informed by local communities to tackle flooding. This will be at the heart of our efforts to prevent flooding and there is no doubt it will make a lasting contribution to flood risk management in Scotland.
"This plan has been achieved through partnership working and a shared commitment to prevent flooding and I would like to thank all those involved for their efforts in bringing these strategies together."
For more information on the Flood Risk Management in your area, visit the Sepa website below.
Sepa chief executive Terry A'Hearn said: "Flooding has caused devastation and misery for many people across Scotland in recent weeks. In fact, December 2015 was the wettest on record with 50 of our gauging stations recording their highest ever levels.
"The Flood Risk Management Strategies have been developed to help reduce the damage which flooding can cause, and are more important than ever given the recent flooding. We have been working closely with local authorities to identify the most suitable actions to manage flood risk, and this is targeted towards areas where it will be most effective based on improved knowledge of the sources and impacts of flooding.
"The strategies coordinate the efforts of organisations that tackle flooding and concentrate this work to where the risk of flooding and the benefits of investment are greatest. Through this risk-based and plan-led approach the strategies aim to improve flood management for individuals, communities and businesses at risk in Scotland."
In response to the plans announced by Dr McLeod, director of WWF Scotland Lang Banks said: "The Government has estimated that more than 100,000 homes are at risk of flooding in Scotland and climate change will only increase that risk in the future.
"So, while it's absolutely right to establish a plan to protect households and businesses from flooding, we also need to see increased efforts to reduce the emissions which are changing our climate.
"Last year, each of the main party leaders pledged that their manifestos would be consistent with ensuring Scotland meet its climate change targets. The devastation caused by the recent winter flooding is a timely reminder of why doing so is vitally important."