Schools remain closed in the wake of flooding which brought misery to communities across the north east of Scotland.
Alehousewells School in Aberdeenshire and Kirkhill School in Aberdeen were both badly damaged by extreme weather last week.
School transport has been disrupted at other schools including St Cyrus and Inverurie Academy, where Aberdeenshire Council said it would provide school uniforms for children affected by the flooding.
The majority of flood warnings for Aberdeenshire, Tayside, Ayshire and Arran, Central Scotland and the Scottish Borders were rescinded on Monday afternoon.
A spokesman for the local authority said: "We are very conscious that a number of families in our community have not yet been able to return home. Our thoughts are with you all.
"If your sons or daughters do not have access to their school uniforms, or if they have been destroyed in the floods, please send them to school anyway in whatever clothing you have.
"We will provide them with school uniform – the jumpers are very warm. If you have had to leave your home and are not living in the local community at present, we appreciate that it may be difficult to get your youngsters to us."
"Mechanical sweeping of the streets will commence when flood waters subside."
Work continues to save Abergeldie Castle in Aberdeenshire from collapse after the surging River Dee swept away 60ft of land behind the building.
On Monday, the Scottish Government announced £235m worth of funding aimed at helping to protect 10,000 properties across Scotland.
The government's Flood Risk Management plan incorporates 14 local flooding strategies and 42 flood protection schemes nationwide.
Dozens were evacuated from their homes in the north east and more than 750 houses were hit by blackouts as heavy rain battered the north east last week. Hundreds of residents visited rest centres in Inverurie, Kemnay, Turriff and Stonehaven on Thursday and Friday.
Aberdeenshire Council has provided skips to help families clear their homes of damaged furniture and clothing.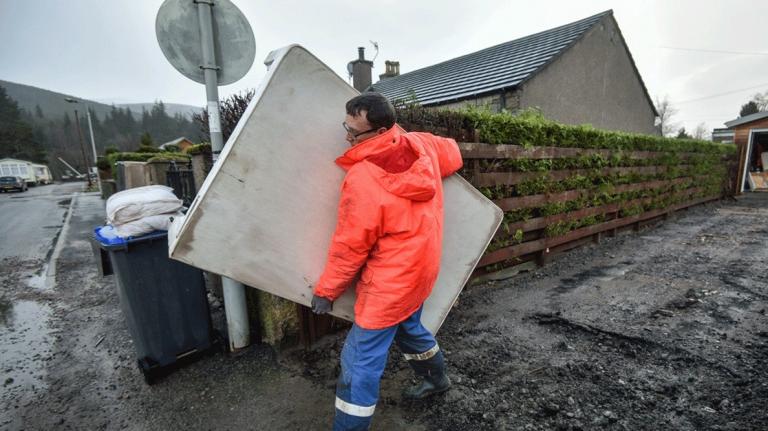 A spokesman sadded: "There are currently large amounts of items for collection so skips are filling quickly and are being uplifted and replaced as required.
"Large skips cannot be deployed in all areas, due to access restrictions, however we will continue to provide collection facilities to all areas, including the use of collection vehicles when and where appropriate.
"As we do this we are speaking to residents to ensure that damaged items can be collected, as in some cases insurances assessors require to be consulted before items are removed.