A care home resident who celebrated her 100th birthday in lockdown has died after STV News filmed her final visit from her son.
Vina McLaren, who received 50 cards including one from the Queen on her landmark birthday last month, passed away peacefully in her sleep at St David's care home, in Forfar, Angus, on Sunday morning.
Less than 48 hours earlier, she was visited by son Rae McLaren, 66, who stood in the car park while she was on a balcony a safe distance away.
During the chat, she said: "I'm a hundred seemingly … imagine anyone living until they are 100, I wouldn't wish that on anybody.
"I'm taking care of myself and they're very good to you in here. I would honestly say they've been awfully good."
Rae usually saw his mum on Sundays but agreed to come last Friday to be interviewed by STV News reporter Susan Nicholson.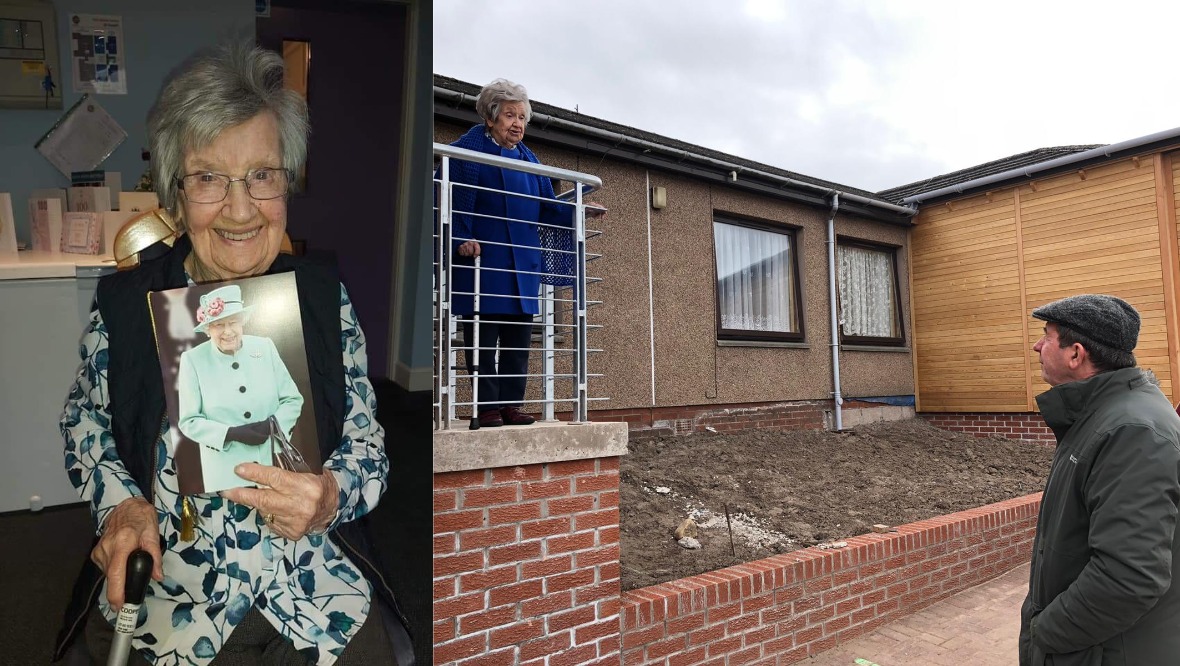 Rae, from Forfar, said: "I'm so glad that I did because normally I go up on Sunday but if I had waited, it would have been too late as she died on Sunday morning."
St David's owner Ivan Cornford said: "Vina's family are quite happy for the interview to be broadcast — they say she would have loved to be on TV."
Ivan and 11 of his staff, nicknamed the 'St David's 12', have been separated from their own families and living inside the home since March 19.
They believe it's the best way of reducing the risk of coronavirus and are due to leave on April 20 – after 32 nights in voluntary isolation.
Vina, whose full name was Davina, reached 100 on March 17 but visitors to the home had already been banned due to rising fears of coronavirus. The home's full isolation began two days later.
While being interviewed on the day of his final visit, Rae said: "We don't have to worry at all about my mother as she is insulated from it all, and I have great regard for the people who're doing this because they've been in lockdown for three weeks already and it could go on for quite a while yet, it's really very admirable."
Despite his mother dying from natural causes and not coronavirus, Rae backs the strict safety measures.
He said: "Ivan was really clever. We were surprised at first. But he realised what was happening and started lockdown before everyone else.
"The staff are great; they're so friendly and caring and what they've done is so forward thinking. They're going an extra mile.
"They could have gone home to their families, so to stay in the home is amazing and the residents' families don't need to worry."
Due to lockdown measures, only four member of Vina's immediate family, including her other son Ian, will be allowed to attend her funeral this Friday.
Rae said: "The rest of the family are devastated. It's the first funeral I'll be at where you can't even have a cup of tea and my mum wouldn't be pleased about that.
"One of my sons is in Glasgow and he thought the world of his granny and would have been up here straight away but obviously he can't.
"Once this is all over we will all be able to get together and scatter her ashes in the same place where my father's ashes were scattered."
STV News is now on WhatsApp
Get all the latest news from around the country
Follow STV News
Follow STV News on WhatsApp
Scan the QR code on your mobile device for all the latest news from around the country