Highland communities have been overwhelmed by the generosity of local volunteers who have rallied to collect shopping and provide regular meals for elderly and disabled people during the coronavirus crisis.
Free meals have been supplied in areas including Alness and Invergordon, through a team effort involving good spirited locals and supermarkets, hotels and restaurants.
In Alness, freshly cooked food has been delivered daily to more than 80 vulnerable people.
The initiative is being co-ordinated by local Highland councillors Carolyn Wilson and Pauline Munro.
Councillor Munro has organised the deliveries with the help of six vetted volunteer drivers.
Councillor Wilson, who has also done much of the cooking, said: "We identified last week that there were a lot of old people going into their second week of being isolated and that they weren't getting out for shopping.
"A lot haven't got family here. A lot don't do internet banking and they're reluctant to use their bank card to order shopping – and they really shouldn't be giving their cards to somebody else.
"They maybe didn't think that far ahead, that they were getting cash from the bank or post office, so they'd been left a bit high and dry.
"It's been about making sure people get healthy food and also personal contact on a daily basis to make sure they're alright."
Among the beneficiaries is a 92-year-old Alness man who is without his regular home-helper who is in her 70s and currently "self-isolating" because of suspected infection.
Councillor Wilson said: "People have been wonderful, it's totally humbling.
'These are people who would normally be independent, out every day doing their own shopping, looking after themselves but are unable to because of the restrictions.'

Councillor Carolyn Wilson
"People have been in tears just seeing someone provide this service or just grateful that someone is taking notice of them.
"These are people who would normally be independent, out every day doing their own shopping, looking after themselves but are unable to because of the restrictions."
Strategies are being considered across the Highlands to ensure such services can be maintained for the long term.
A humanitarian aid centre for council food distribution is being established in Invergordon.
Tina McCaffrey of the Covid-19 response team for Invergordon, Alness, Tain and Evanton said: "Everyone is pulling together. This would not be possible if it weren't for the community stepping in."
Similarly, in Nairn, a community taskforce has attracted several hundred volunteers who are coordinating an effort to ensure every household has a means to "connect".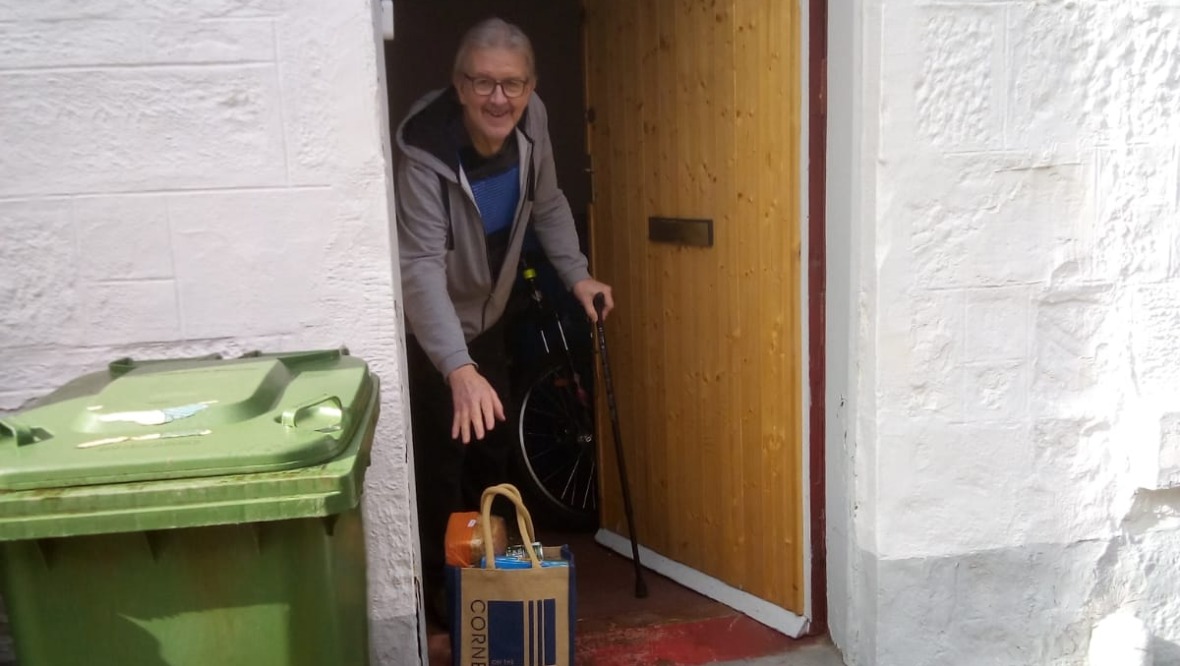 It is urging residents to contact the volunteers if they are unsure about what to do or where to go for information or if they are struggling with essentials such as collecting shopping and prescriptions and dog walking – also if they are experiencing loneliness and simply want someone to connect with.
Coordinator Tish Joyce said: "We've been leafleting and every single street in Nairn is covered. We kicked things off online quite early – two and a bit weeks ago.
"Once volunteers register we assign them to specific streets. We then have sub-groups of volunteers within certain areas.
"People who are isolated and stuck inside have been overwhelmed by the fact they've got a contact point."
The task force has a dedicated website at nairnconnects.com/coronavirus-nairn-task-force.
Highland Council has also responded to the Scottish Government's communication last week on "shielding" people "at risk" from Coronavirus.
Those seeking help are being asked to use the council's dedicated helpline at 01349 886 669 or complete a form online at www.highland.gov.uk/shielding to provide their contact details and the type of support they require.
Local community hubs will be established in Nairn, Aviemore, Inverness, Fort William, Portree, Ullapool, Dingwall, Invergordon; Golspie and Wick.
They are not open to the public to ensure the council complies with public health "social distancing" guidance.
Anyone needing support during the period of self-isolation can call a council helpline on 0300 303 1362 and select the "need help with welfare" option.
Individuals interested in helping local voluntary groups can fill in a form online to register their interest at https://www.covidhelp4highland.org/volunteering.html or call the council helpline.