It's the second biggest theatrical stage in Scotland… amongst the pulley, ropes and spotlights stand tall trolleys piled high with tea bags, tins of soup and peas. But these aren't dramatic props, dressing a scene – they're components for food parcels.
Eden Court Theatre in Inverness has been transformed into a hub for emergency response to the pandemic situation across the Highlands.
Workers have been busy at the venue since Covid-19 forced the curtains to come down in March.
James Mackenzie-Blackman, CEO says "We just turned our hand very quickly to support the Highland Council so I was in a meeting with the chief executive of the council and I heard they needed to set up a helpline for Highland residents – we've got a Box Office system, it's web-based.
"I knew that staff could operate that from their homes. We were approaching the Easter holidays, so members of our engagement team went and worked in the key worker childcare hubs whilst teachers and school staff were on their holidays. Now I have got staff supporting the delivery of the humanitarian aid centre here as well."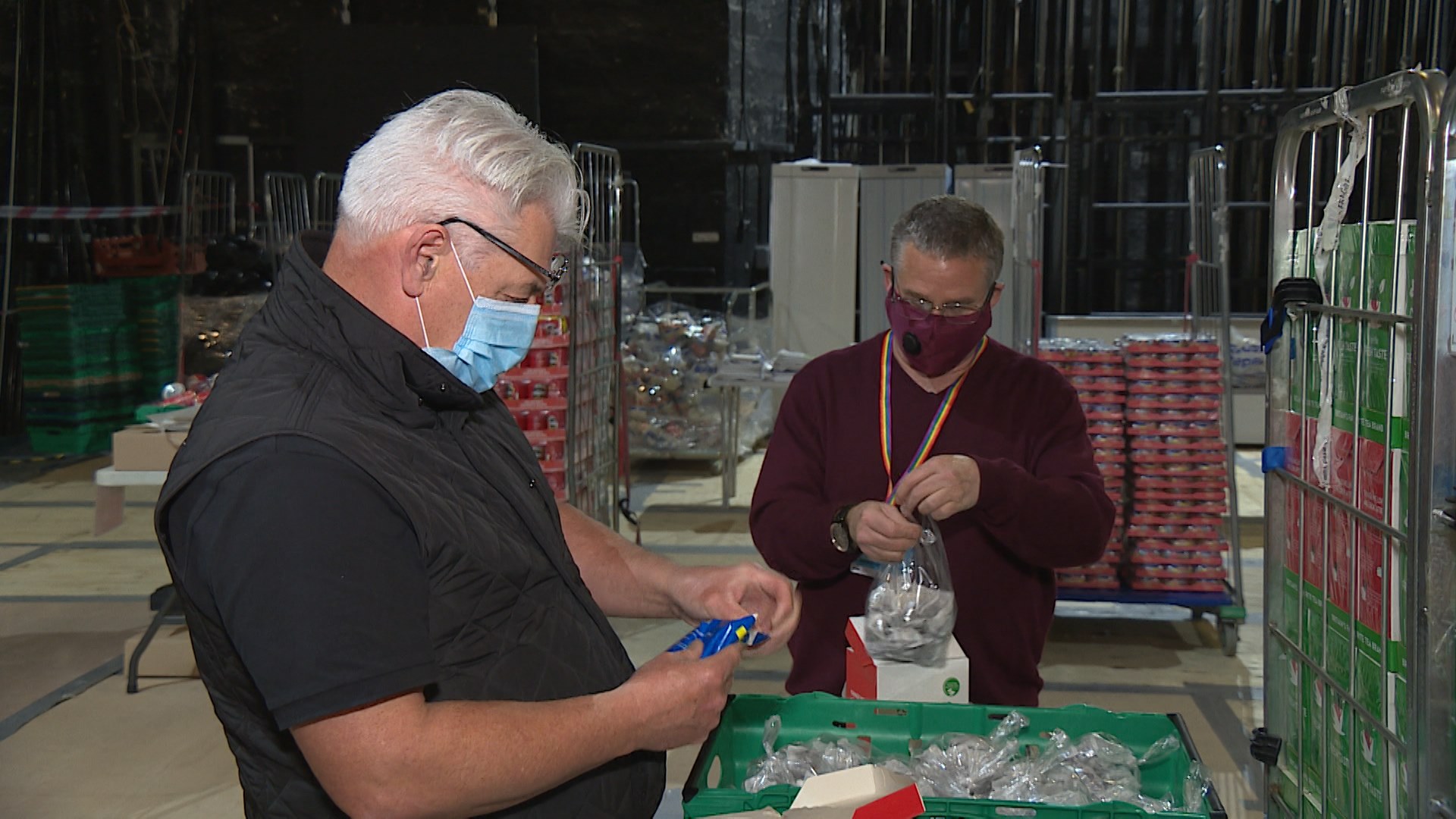 It's a surreal site – instead of an audience, each of the plush, blue velvet seats in the main Empire Theatre houses a plastic bag, containing a day or two's food for someone in need.
It is tough times in theatreland, but James says that the show must go on – albeit in a different guise. The enforced pandemic pause has cost them dear, however, they're ready to bring live theatre back as soon as is safe.
James says "We refunded over a million pounds worth of tickets, we have moved over 27,000 tickets to new dates. It's like the worst case of diary Jenga.'
"We have moved Scottish Ballet's 'Swan Lake' twice now and we were due to have the smash hit musical '9 to 5' which is playing in the West End – so that's over 270 shows in total we haven't been able to put on.'
"With social distancing, with face coverings, we could have an audience of around 270 and there are shows that we would love to stage with an audience of that size. We'd really like there to be thought given to a localised approach to whether or not live performance could re-start in Scotland."
Now the theatre and its 200-strong staff have been nominated for a prestigious humanitarian award, The Achates Philanthropy Prize, which celebrates cultural giving across the UK. They'll find out next month whether they have made the cut.
Highland Council has the lead role in running the logistics for the emergency hub but says Eden Court and its staff have played a vital role in opening up the venue as a distribution hub.
The local authority's Inverness City area manager David Haas says "What has been incredibly impressive is the broad range of skills that our partners in Eden Court have. I think that's across the piece, in the public sector and other sectors where people and the volunteering of the public have shown their ability to turn their hand to different things."
When they are allowed to return, visitors will notice a refreshed Eden Court. New touches have been added, with sleek sofas and lots of locally-sourced plants in abundance, the greenery suggesting hope and growth, new things in the offing.
The Box Office is still silent, there may be no applause or curtain calls but the staff at Eden Court hope their hard work shows the theatre still has a starring role to play in the heart of the community.