Engineers have warned that some people in Shetland could be without power into next week as hundreds work to reconnect thousands on their fourth day with no power.
It comes after Scottish and Southern Electricity Networks (SSEN) Distribution deployed helicopters to assess the extent of the damage and repairs that needed to be done across the island.
Engineers have been facing severe weather as they work to restore power to around 2,400 properties which remain off supply in Voe, Brae, Yell and the West Mainland.
On Wednesday it was hoped that affected homes would be reconnected by the weekend, but SSEN confirmed to STV News on Thursday that some customers faced having no power throughout the weekend.
The power went out on Monday evening following significant snowfall, with the Scottish Government declaring it a major incident for Shetland on Tuesday.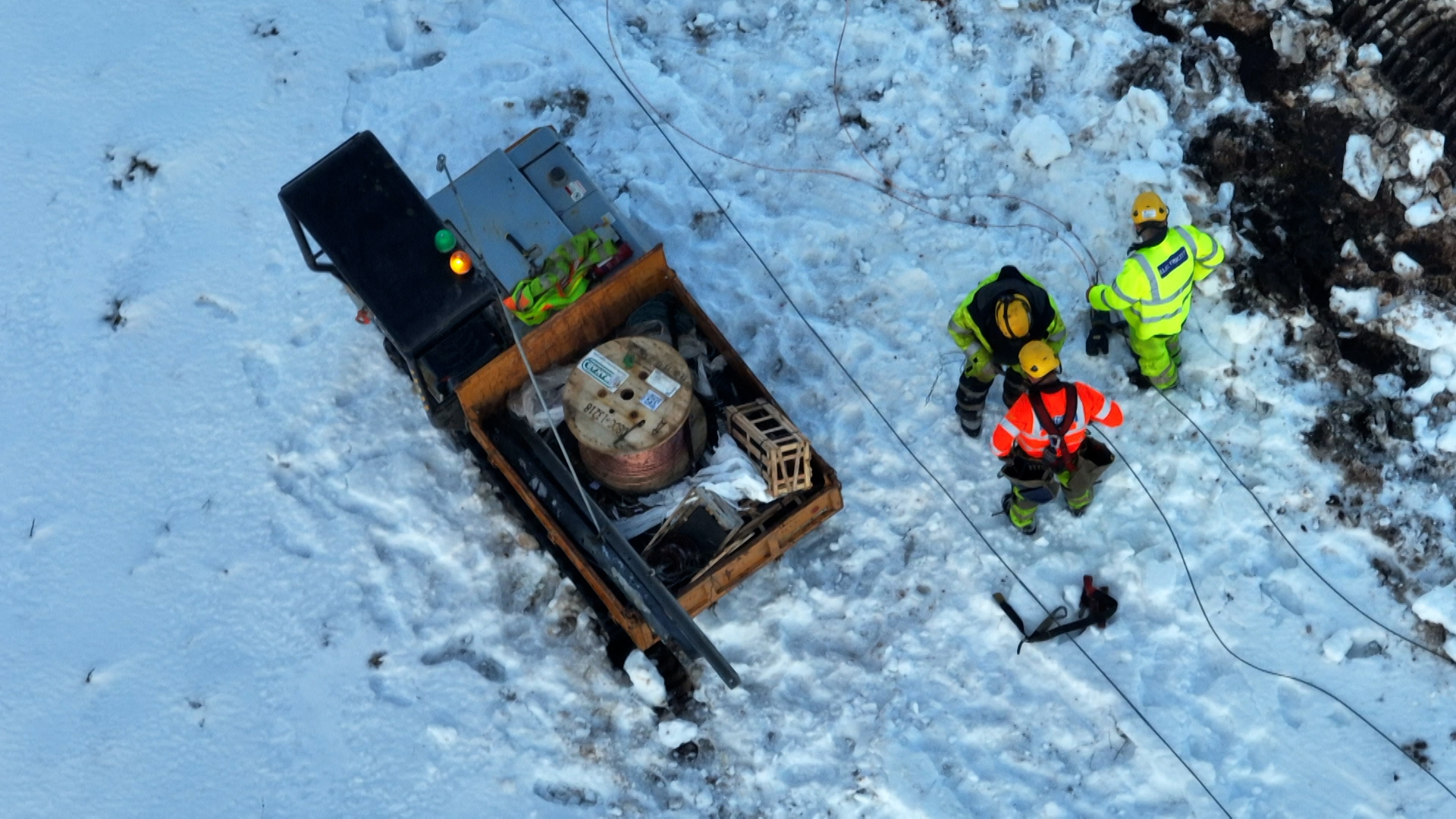 SSEN Distribution has sent 125 additional engineers to Shetland to support local teams, with many arriving by ferry on Wednesday.
A Met Office yellow warning for snow and ice remains in place across much of northern Scotland with Shetland affected until at least 10am on Friday.
The Met Office said snow is likely to persist through the morning, which would turn to rain at low levels later in the day.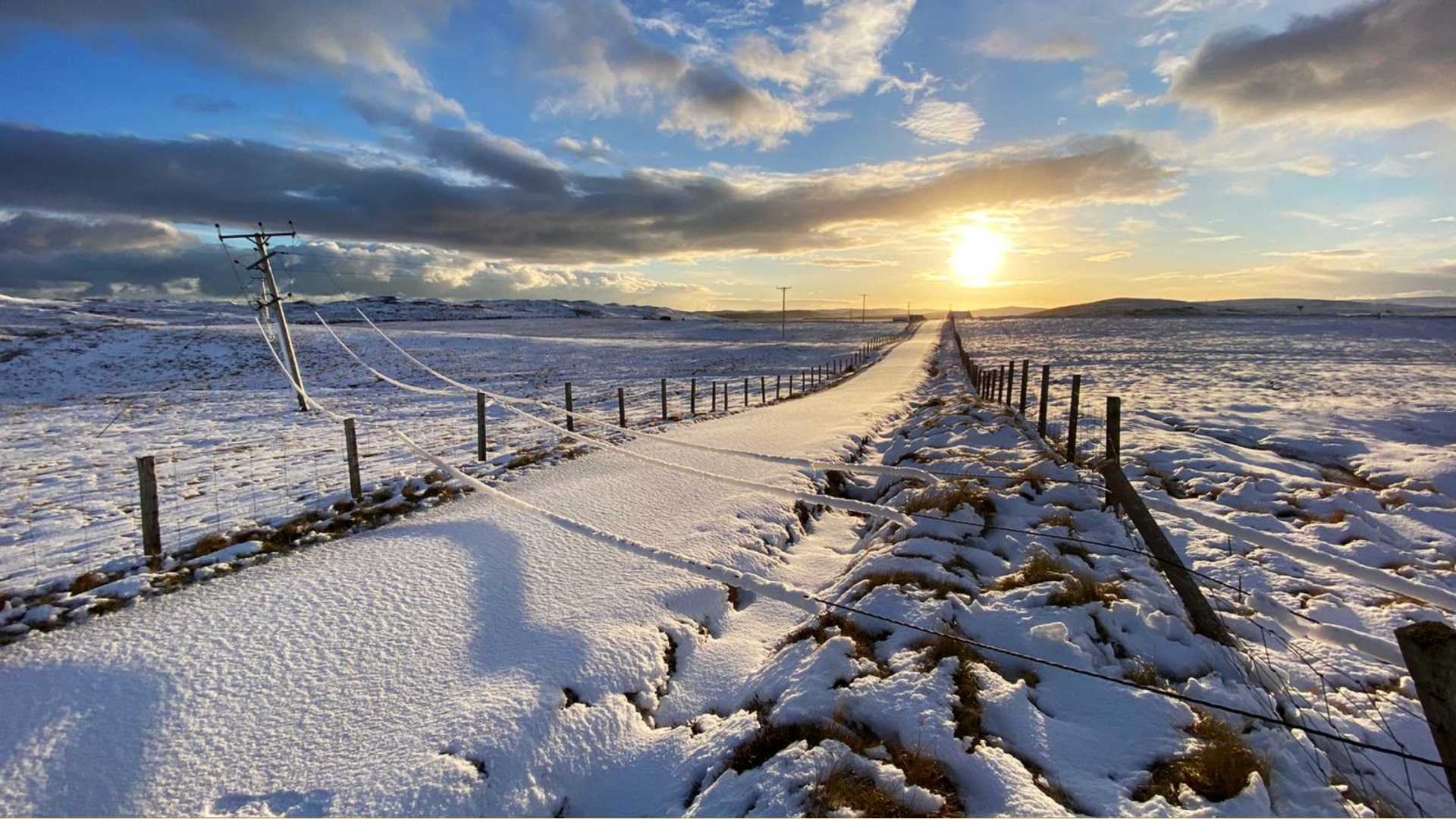 On Thursday, Mark Macdonald, head of region at SSEN Distribution, said: "With the arrival of additional crews, resources and equipment this morning, we've now got a 125-strong team working tirelessly to repair significant network damage in parts of Shetland.
"We've deployed helicopters to assess damage on some of the worst impacted circuits in the west mainland and parts of Voe, where severe access issues continue to hamper our restoration efforts."
One local shopkeeper, Roger Atkinson, said: "We've lost everything in the freezers, everything in the fridges, we've got no power for the tills, the lights.
"We've tried to stay open as much as we can to help folk collect essentials and stuff but it's been really tough.
"It's the community that its been the biggest struggle for. The local community have got together in the hall, they've been doing hot meals and taking them out to local residents.
"It's tough cause you've got old people in a house with no heating and it's a genuinely very worrying situation."
He added that he was "angry" and "frustrated" at the response to the adverse weather.
Mr Atkinson, who is originally from south of the border, said: "I think if something like this happened in England the army would be out, but here we've had very, very little. You've had locals who have tried to get out to halls with supplies, but if it weren't for the local community the older, vulnerable folk would be completely forgotten about.
"SSEN are starting to get generators out now but it's too little too late."
SSEN's spokesperson Graeme Keddie told STV News that it would be a "herculean effort" to restore supplies to around 2,400 customers still without energy.
SSEN undertook helicopter patrols when the weather cleared on Thursday to assess damage and the areas worst affected.
"We expect to get the vast majority of supplies reconnected by Sunday, but it's likely that some customers will go into the start of next week," he added, "We're in constant contact with customers and working with resilience partners across Shetland to support those most vulnerable."
Several village halls across Shetland have now been given generators enabling them to turn into warm spaces for the community.
Anyone with concerns for themselves or others has been urged to give SSEN teams a call on 105.
Customers can claim up to £30 per person for every 24 hours they are without power and are asked to keep copies of their receipts.
SSEN is also offering to reimburse reasonable food costs for a hot meal if customers are unable to access the welfare locations.
Police are urging people on the islands to be careful if they are heading out.
Chief inspector Stuart Clemenson said: "Thanks to incredible efforts from Shetland Islands Council gritting teams, main roads are now passable, however the vast majority of side roads are still impassable and not safe to travel on.
"If you think that the routes surrounding your home will still be dangerous, then please stay at home and find ways to keep warm, linking in with friends, family or neighbours to check that everyone is okay.
"In saying this, many areas are much clearer than previous days and community hubs have been set up in various communities to offer warmth and food.
"If it is safe to do so, then please visit these locations – you can find details on the council website and social media channels.
"Please take care though and take precautions if walking or travelling by vehicle – NHS services in Shetland are under incredible pressure at the moment and we all need to do everything we can to not place more pressure on these services from injuries that could have been avoided."