An Orkney councillor has been handed unpaid work and a supervision order after "neglecting cattle so badly" that two of them had to be put to sleep.
James Robert Moar, councillor for East Mainland, South Ronaldsay and Burray, was sentenced at Kirkwall Sheriff Court on Friday for causing unnecessary suffering to his cattle.
The 68-year-old pled guilty at the same court on December 21 last year, to failing to provide veterinary treatment, an adequate diet or suitable conditions for the animals.
The Scottish SPCA were called to Moar's premises on May 5, 2022 following a report from a concerned member of public.
"We attended the address and could immediately see an emaciated, black cow lying down in a field," inspector Andy Brown said.
"There were other cattle who were visibly very lame within the same field."
Due to the animal welfare charity's concerns about the condition of the cattle, it contacted a vet to attend and examine the animals.
The black cow, which was lying in the field, could not stand until she was encouraged and was noted to be lame on her left back leg.
Her leg was significantly swollen and she could only walk for four or five steps before she had to lie down again – she kept up a low groan while standing.
"The cow was suffering from a severe infection in her left hind foot which had progressed to joint infection – this was an end stage foot infection with no chance of recovery," insp Brown said.
"Infection such as this take several weeks or more to progress to the stage seen and, combined with the extremely poor body condition, it was estimated this cow had been suffering for a period longer than four weeks.
"The vet advised Mr Moar that the cow would need to be euthanised immediately to prevent further suffering."
Another emaciated black cow was found standing in the shed. Upon examination, she tried to walk but slipped and fell backwards, making no further attempts to stand.
"The cow was extremely thin and her left hind foot was markedly swollen extending up the leg," insp Brown recalled.
"The vet again advised Mr Moar that the cow would need to be put to sleep and this was carried out immediately."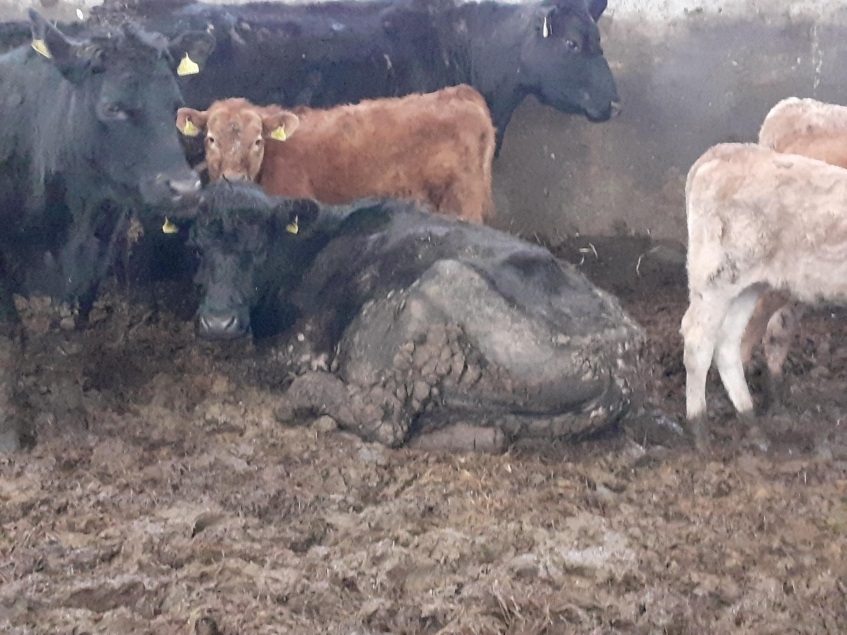 After the second cow was euthanised, the vet noticed that a claw on her back-left foot was missing and the surface was oozing blood.
Moar told the SSPCA that she had not received any treatment over the month before the inspection, and had only received one injection of antibiotics before that.
Insp Brown continued: "We returned to the location on May 6 and May 17, and found several more emaciated and lame animals, some of which Moar was attempting to treat himself with broad spectrum antibiotics.
"We found cattle in fields which had discarded wire and other hazards, as well as food and bedding contaminated by faecal matter."
On Friday, March 17, the councillor was sentenced to 120 hours of unpaid work and a two-year supervision order.
Insp Brown commented: "It's extremely disappointing that Moar has only received 120 hours of unpaid work considering the levels of neglect his cattle suffered and the appalling conditions they were kept in.
"Moar was unwilling or unable to exhibit any competent or diligent stock keeping skills and the welfare of his animals was compromised as a result.
"We dread to think what would have happened had we not stepped in and prevented these animals from possibly enduring any more pain, discomfort or suffering.
"If anyone has concerns about an animal they should call our confidential helpline on 03000 999 999."