MSPs have called for answers 'as a matter of urgency' after a recently-inspected ferry ran aground near Orkney.
Three children and a baby were among 60 people rescued from the MV Pentalina on Saturday evening after it was grounded in St Margaret's Hope.
RNLI vessels rushed to the scene after smoke was detected in the engine room.
The ferry had only resumed service on Wednesday to allow another ferry, the MV Alfred, to service CalMac routes on the west coast of Scotland.
Gary Brown, who was travelling on the ferry with his pregnant partner Lauren Haston, said he feared for her safety during the "scary" incident. 
Mr Brown said: "I can't swim so I was thinking the worst, but at the same time trying to keep calm and play it down for Lauren's sake with her being pregnant. It was pretty scary."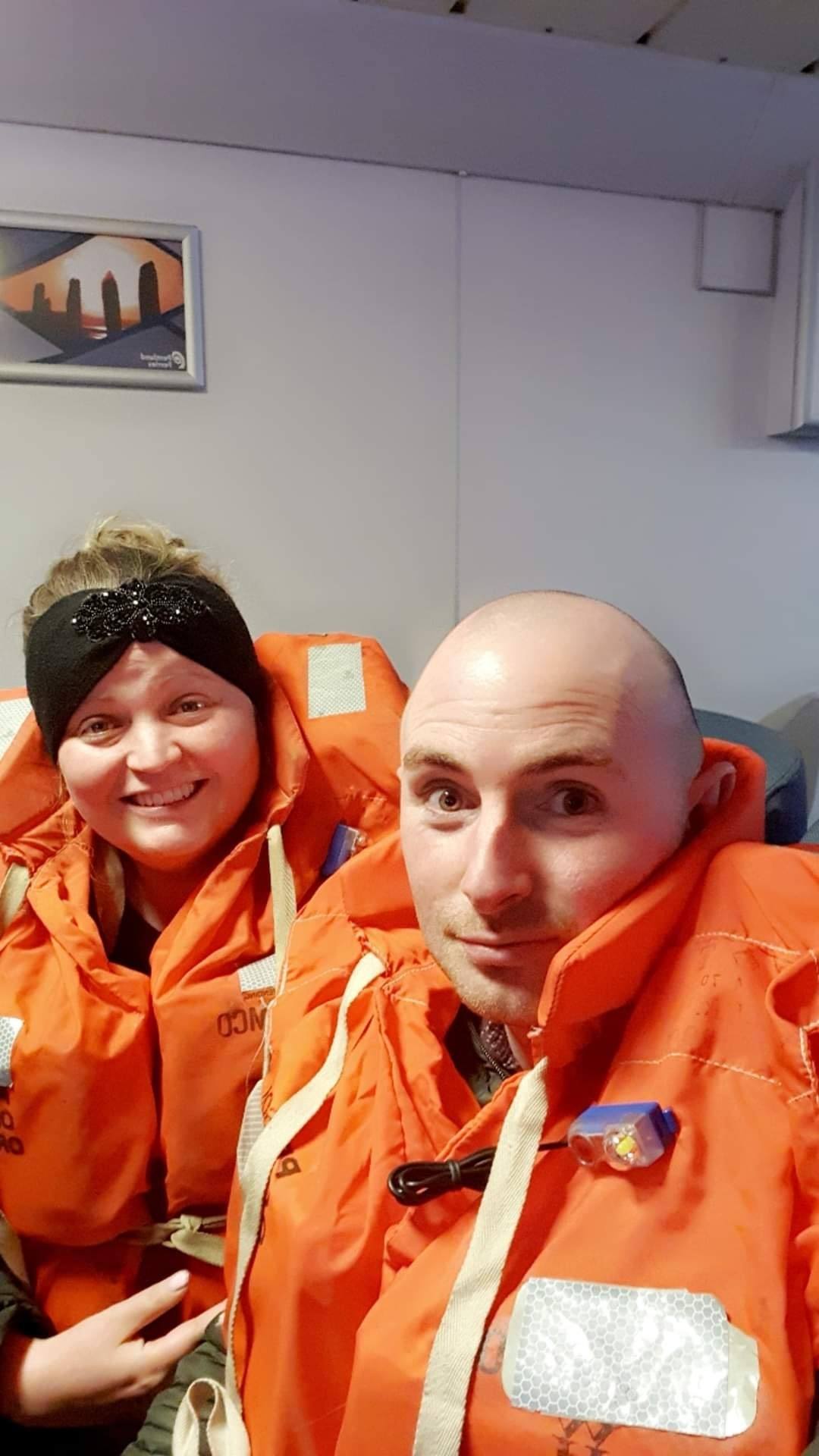 The vessel was later refloated in the early hours of Sunday morning, the coastguard confirmed
A spokesman said: "The MV Pentalina was refloated at approximately 5.30am today after a tow was established by a tug whose services were acquired by Pentland Ferries.
"The Pentalina was brought alongside its berth in St Margaret's Hope a short while later. HM Coastguard's Emergency Towing Vessel MV Ievoli Black observed the operation, alongside counter-pollution officers, and reported that there were no signs of pollution.
"The vessel will be surveyed later today to establish the extent of any damage while the harbour master will continue to monitor for pollution. MAIB (Marine Accident Investigation Branch) has also been informed."
On Sunday, Orkney MSP Liam McArthur paid tribute to emergency services who responded to the incident.
The Lib Dem added that the Maritime and Coastguard Agency will now face 'important questions' after recently certifying the vessel as fit for service.
McArthur said: "Following the grounding of MV Pentalina in St Margaret's Hope last night, I want to pay tribute to those in our emergency services as well as the vessel's crew for ensuring the safety and welfare of the passengers affected.
"This was a serious incident and it is a relief to hear that everyone got off the vessel safely thanks to the diligence and professionalism of all involved in the rescue.
"Nevertheless there are important questions for the MCA to answer, having so recently inspected and certified MV Pentalina fit for service. People in Orkney will expect answers to those questions as a matter of urgency, not least given the importance of this service to the Orkney community.
"Answers are required too from the Scottish Government, whose failure to procure new ferries in a timely fashion has left services both in the north and on the west coast extremely vulnerable. As a result islanders and island communities are left paying the price.
"I have lodged a topical question and will be pressing the transport minister to set out what action he plans to take to ensure capacity is maintained on these key routes serving Orkney."
Scottish Conservative MSP Jamie Halcro Johnson, who is originally from Orkney, said the incident was 'hugely concerning" and could have had "catastrophic consequences".

The Highlands and Islands representative said: "The Pentalina was only summoned back into action this week because the MV Alfred had to be seconded from Pentland Ferries to help plug gaps in the ageing, unreliable CalMac fleet.
"While it will be important to know just how this incident came about, my immediate concern is for what this means for Orkney and how long this vital link for our islands will be severed.
"There are a number of questions the Scottish Government needs to answer, including whether the £9m agreement between CalMac and Pentland Ferries allows for the MV Alfred to be recalled to Orkney early, or if the Alfred will stay on the west coast and Orkney will be left without a key service.
"Either way, this incident once again exposes the pitiful lack of resilience in Scotland's ferry network, with local residents, businesses and visitors hit again as result of years of SNP incompetence and failure to procure new vessels. I have previously warned that the crisis we have seen on the west coast routes risked spreading across Scotland's island communities, and we're now seeing that happening.
"This all stems from the SNP's appalling record on vessel procurement – and in particular the delayed delivery of the infamous Ferguson Marine boats – which has left CalMac with decrepit ferries that are breaking down on a regular basis.
"Scotland simply doesn't have enough working ferries to plug all the gaps left by 16 years of SNP mismanagement. Our island communities cannot continue to suffer due to their shameful neglect of lifeline services."
A Transport Scotland spokesman said: "Ministers were quickly made aware of the incident involving the MV Pentalina and kept informed of developments throughout the night.
"We were relieved that all passengers and crew are safe and that arrangements were made to support passengers with onward travel.
"We would also like to express our appreciation to all those involved in the evacuation, including RNLI crews and other emergency services."
Pentland Ferries have been contacted for comment.
STV News is now on WhatsApp
Get all the latest news from around the country
Follow STV News
Follow STV News on WhatsApp
Scan the QR code on your mobile device for all the latest news from around the country