The new official flag of Skye has been unfurled at a ceremony in Portree on Monday.
A small group of socially distanced guests attended the event at the island's Nicolson Memorial hall to see the new flag, designed by a local nine-year-old, raised.
Calum Alasdair Munro's design was chosen ahead 368 others after a competition that brought in entries from all across the world.
The schoolboy, from Kilmuir on Skye, has a passion for collecting flags and says he drew his inspiration from the island's history and heritage.
He said: "First, I thought of the Birlinn [wooden boat used in the Hebrides in the middle ages] and I was thinking about the MacLeod's and MacDonald's and the MacKinnon's – the first Clans on Skye.
"I thought about the Celtic Heritage, the Viking heritage and the history of Flora MacDonald.
"In my flag, in the Birlinn, there are five oars representing Trotternish, Waternish, Duirinish, Minginish and Sleat. I thought about yellow for the MacLeod's and Blue for the MacDonald's or the MacKinnon's."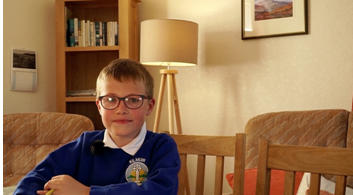 The competition to design the new flat launched last Autumn and more than 200 local children entered.
A panel of community representatives then drew up a short list of six flags, which they felt best symbolised the island, which were then put to a public vote.
More than 7000 people took part in the vote and Calum's design was chosen.
Competition organiser and the Editor of the West Highland Free Press, Keith Mackenzie, says he is delighted with the result.
He said: This Skye flag is a testament to engaging the creativity of the community itself. The design not only meets heraldic best practice but puts a unique and new spin on a traditional style – and in so doing combines the Scottish, Gàidhlig and Norse heritage of Skye."
It is hoped that the Skye flag will soon be as well-known and recognised as other regional and island flags such as Shetland, Orkney, Cornwall and Devon. Alistair Danter is the Project Manager for SkyeConnect.
The flag was raised in Portree by winning designer, who was told of his success last week but had been sworn to secrecy until the official launch.
He said: "I was feeling very happy, but I haven't told any of my friends in school. I have just told granny. She was very happy."