Rising bills and houses lacking energy efficiency are driving a man to think outside the box on Shetland.
A housing revolution is taking place on the road between Clousta and Noonsbrough, just at the edge of the water.
Designed by islander Allen Duncan, based on a German concept and using modern building materials, Skeotaing is a glimpse into the future – while also acting as a sad reminder of what could have been.
In a time when so many are scrambling to save and make ends meet, this house is energy positive; it creates more power than it will ever need.
It does that by creating a near air-tight structure, reducing heat waste to an absolute minimum.
"This house will reduce the energy bills to zero by insulation, air tightness, and by using a mechanical ventilation heat recovery system," says Allen as he shows me around for Scotland Tonight.
"The house also has thermo-solar powers which will heat hot water and photovoltaic cells that will provide electricity – so, in theory, this is a house that will produce more energy than it consumes."
The inspiration behind the building and others like it around the world? The humble flask.
"In 1991 a German physicist and Swedish physicist got together and proposed the idea that a house could be like a Thermos," Allen says.
"Their argument was that the heat and the activity within or around it could be enough to heat and power a house, provided it was well insulated and airtight.
"This concept was proven in 1991 and the Passivhaus (passive house) standard was developed."
That theory is applied here in an incredibly complex and beautifully simple design all rolled into one.
On the one hand, walls are thicker and better insulated and the building's windows are specifically designed to keep heat in using triple and then double glazing within the same frame.
On the other hand, a creative air-circulation system will mean as hot air from the kitchen or bathroom is drawn out of the building, it heats fresh air coming in – transferring its energy without requiring a conventional heater.
It will also clean the air – removing dust particles and pollen – meaning the house is suitable for people with allergies.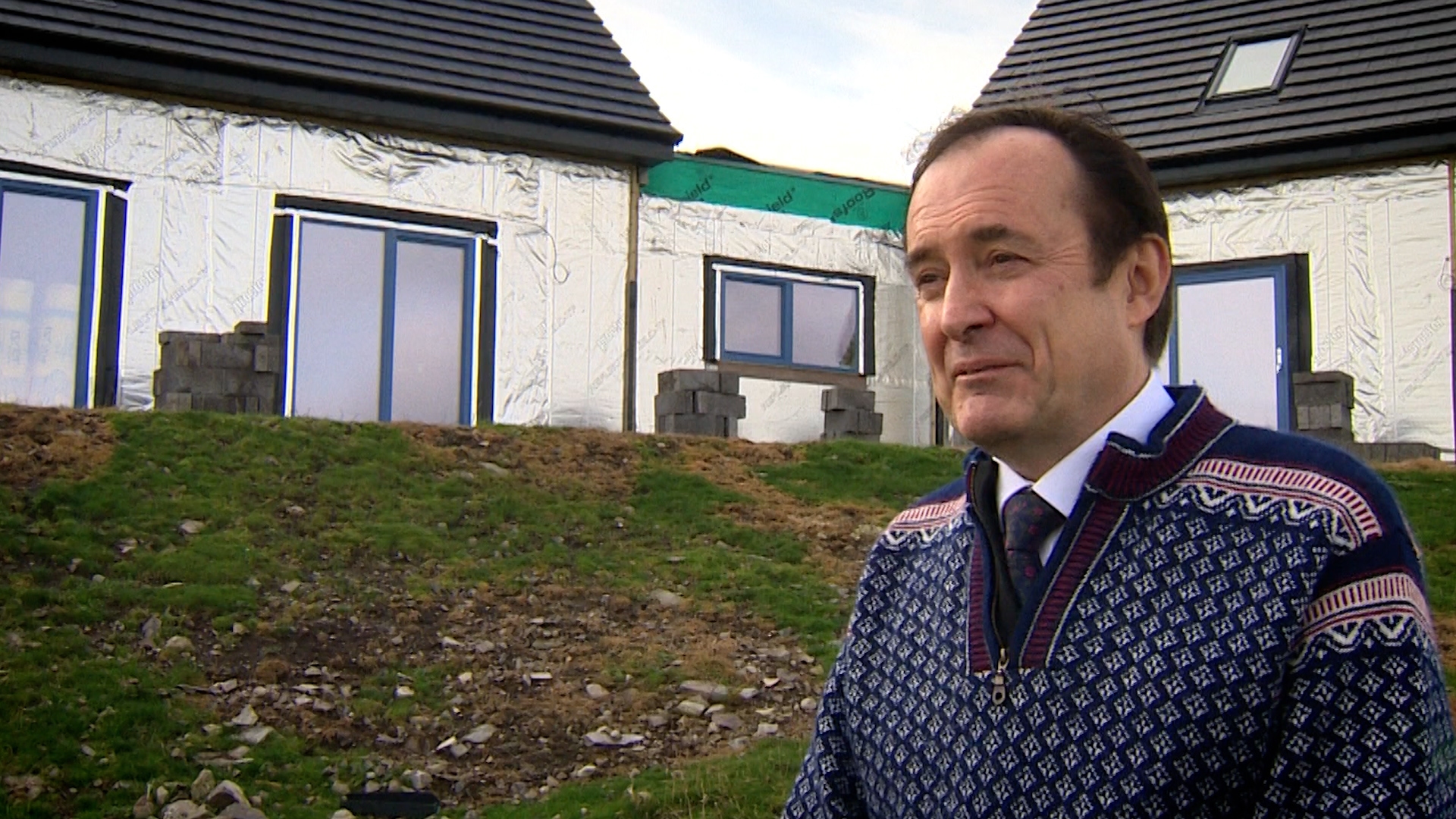 Allen is proud of his design, buzzing about the site with infectious enthusiasm, pointing out millimetres here and design changes there, all adjusted in the name of energy retention and ultimately creating a more efficient building.
"I'm actually worried it might be too warm during the summer," he admits with a smile.
But dig a little deeper and there is also frustration.
Back in 2015 the UK Government scrapped its Code for Sustainable Homes and, with it, plans to achieve zero-carbon homes that would only use as much energy as they generated on-site. It's a move that, at the time, attracted widespread criticism from home builders, the green lobby and opposition politicians.
However, now, with energy prices rocketing – a situation that affects Shetland more acutely than almost anywhere else in the UK – the idea that every home built could have been energy neutral feels like a missed opportunity.
Allen feels that has led to a lack of ambition around the energy efficiency of new homes.
"We are building bad, wasteful buildings," he says. "These buildings are not airtight, they are not well insulated.
"If we put our effort into increasing our standards when it comes to building, we will develop skillsets in the construction workforce that will allow us to improve our existing buildings.
"We will be forcing manufacturers to look at improving the quality of the materials to meet those higher standards."
This house might seem futuristic when compared to what most of us take as modern housing – but there are already even more advanced solutions.
In Germany, ever-evolving standards around energy and construction means there is now the Passivhaus Premium rating – a home or building so efficient it produces twice the energy it will need to run. 
In doing so, developments nearby that are less energy efficient can tap into surplus supply and use green energy from the Premium houses to heat and light their own spaces.
Whilst not at that level, Skeotaing can arguably be viewed as one of those concept cars manufacturers unveil at the big shows.
It's got lots of cutting-edge features, lots of clever design elements, and is rooted in a proven idea. How much of it can be cost-effectively applied to mass production housing remains to be seen.
Allen hopes to have the project finished by early 2023.
Allen is an architect, urban designer, teacher, lecturer and certified Passivhaus designer.  He is also a fifth-year PhD researcher at the University of Greenwich and a member of the Sustainability Technology and Innovation Research Group (STIR).
Scotland Tonight is on STV and the STV Player at 8.30pm on Thursday, October 6.
STV News is now on WhatsApp
Get all the latest news from around the country
Follow STV News
Follow STV News on WhatsApp
Scan the QR code on your mobile device for all the latest news from around the country