When Euan Bisset turns 30 on Boxing Day, he will take time to thank the person "who died for me to be alive".
The keen mountain bike racer underwent a heart transplant in 2018 after being diagnosed with a life-threatening condition nine years earlier.
He is telling his story now as Scotland's heart transplantation service also turns 30 – it opened at Glasgow Royal Infirmary on December 16, 1991, with the historic first of 445 such procedures carried out two weeks later.
'I knew it was serious'
After being fitted with a defibrillator in 2015, welder Euan's condition continued to worsen and three years later he was put on the urgent list.
"When one of the surgeons told me that my 'heart wasn't good', I knew it was serious," he said.
"But I welcomed the diagnosis, as I had gradually been feeling worse over the years."
Euan, from Muir of Ord near Inverness, got his new heart just four weeks later, but the transplant was not without its complications.
"I just remember being wheeled away and I didn't wake up until 11 days later," he said.
"My new heart wasn't pumping the blood right and it was touch and go. I was in ICU for weeks and had some problems afterwards too.
"I was so weak, I basically had to learn to walk again, walking with a frame, but the physios and everyone else were brilliant and eventually got me onto a bike and I just kept going from there, building my strength up again.
"I think I walk a bit differently now, more robotically with my arms. It's weird, but it's a good trade."
'It's a miracle'
Describing himself as "really lucky", Euan says he tries to make every day count and has gone a full year without a hospital stay for the first time since his transplant.
"It's a miracle to still be alive and I'm just really grateful," he said. "Emotionally, it's hard knowing that someone died for me to be alive, but it's comforting knowing that's what they wanted, and I know that if circumstances were different, I would do the same.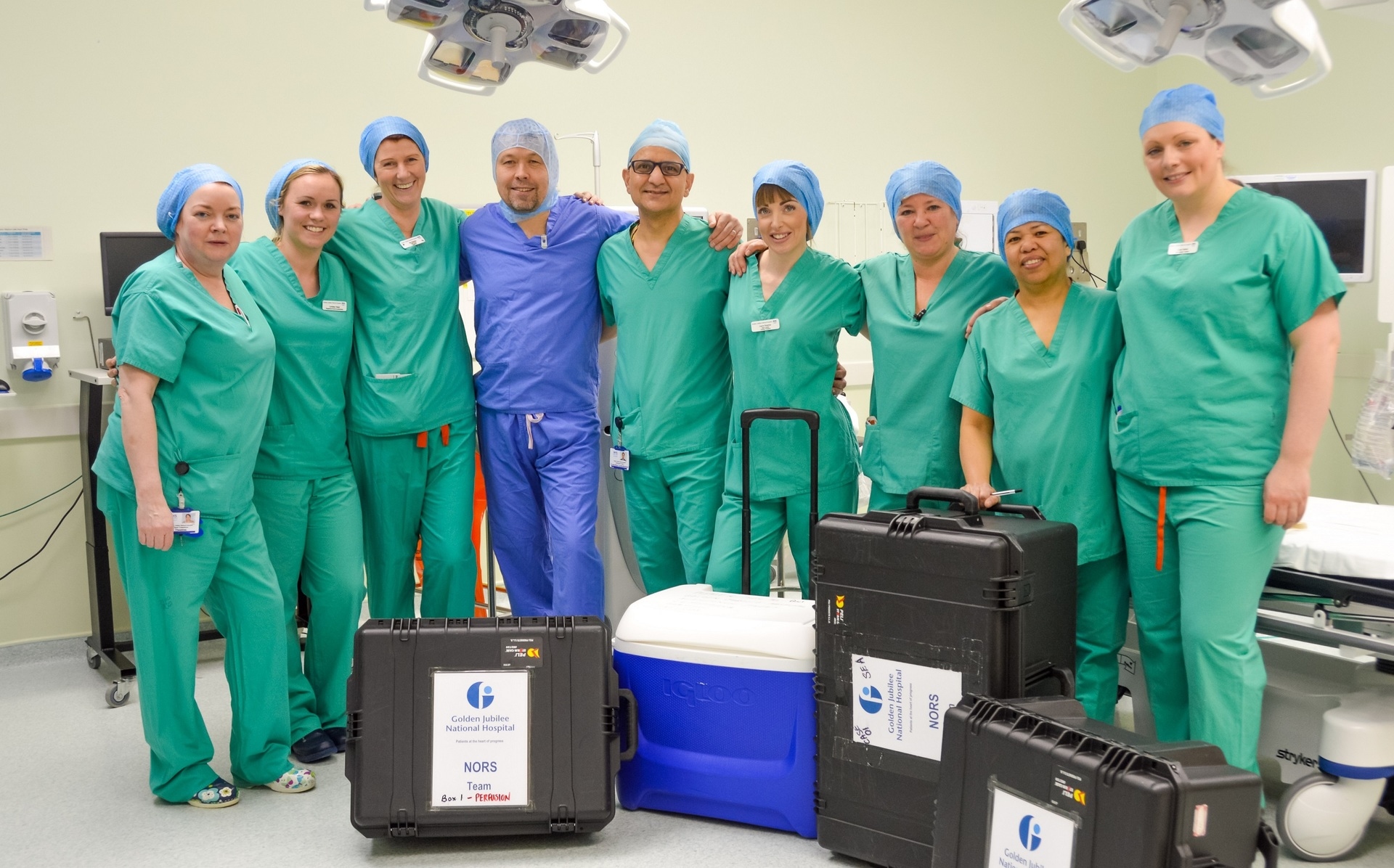 "I want my donor's family to know that their loss has turned into something positive by saving my life and with my new heart I try my very best every day to make it count."
'Special thing'
Hazel Colquhoun, theatre co-ordinator for the service at the NHS Golden Jubilee in Clydebank, where it's been based since 2008, still remembers the first heart transplant.
She was part of the team which travelled to the specialist Harefield Hospital in Uxbridge to learn how to retrieve organs for transplantation in Scotland.
"I remember the first transplant as our team went out through the night and I actually still have our off-duty book for that day," she said.
"It's a special thing. When I first did retrieval, you wouldn't know anything at all about the person whose organ you are retrieving, but that's all changed and you know the circumstances now, which I think makes the process much better."
The Golden Jubilee team has managed to carry out 41 heart transplants during the pandemic, despite the various difficulties it has caused.
Consultant cardiologist Dr Jane Cannon said much had changed over the past 30 years.
"As technology evolves, so too does our clinical practice," she said. "One example of this would be the development of the Organ Care System, which is a medical device used in the transportation of donor hearts.
"It allows the organ to be transported for longer distances, and in Scotland especially, this allows us a wider access to donor organs from all over the UK.
"All in all, it has been a very positive journey for cardiac transplantation over the past 30 years and we look forward to an exciting next 30 years."