One of Scotland's last Highland thatchers has said the craft is in danger of disappearing forever after it was officially listed as critically endangered.
Scot AnSgeulaiche thatches roofs in the Highlands and Islands tradition, using handpicked materials such as marram grass, heather, bracken and rush.
He took up the craft ten years ago from a thatching neighbour who asked for his help, and has carried it on ever since.
Scot, from Crieff, Perth and Kinross, only spends two to four weeks of the year thatching in the autumn – as the seasonal job is dependent on green materials.
He is one of just six people left who have the skills to carry out Highlands and Islands thatching, which is different to the technique used in English thatch.
He uses local materials which he harvests using his hands or a scythe, unlike the English methods which uses Norfolk Reed to thatch.
A cottage roof cost between £4000 to £5000 and if they are well maintained can last up to 30 years.
Scot, who works alongside two fellow thatchers, said the roofs are a labour of love and estimates that there are just 80 thatched homes left in Scotland.
He said: "I only do thatching in the autumn, when the materials can be gathered for a job – we use green materials so it's seasonal.
"There is no commercial supply for materials used in Highlands and Islands thatching.
"We go out and gather it ourselves by using hand or with scythe, cutting or pulling the materials.
"It's very different to English thatch who predominantly use one material, Norfolk Reed.
"I do one or two properties a year, and only actually do thatching for two weeks to a month.
"For owners it's like having a classic car, you need to know a little bit about it, how it works, what is needs and you have to plan ahead for what materials you might need.
"People have to figure out what it requires to have a thatched roof, it needs regular maintenance – it can't lie there and be forgotten about.
"It's a labour of love and can be a complete joy to have.
"Depending on where the property is and what materials have been used, if it's heather for example, that could last 20 to 30 years.
"Worst case scenario is that the roof would need redone every year – that would be if it was somewhere like the west coast getting battered by rain all the time.
"For a small one bed cottage it would cost around £4000 to £5000 and would take me two weeks to do – one to collect the materials and one on the roof.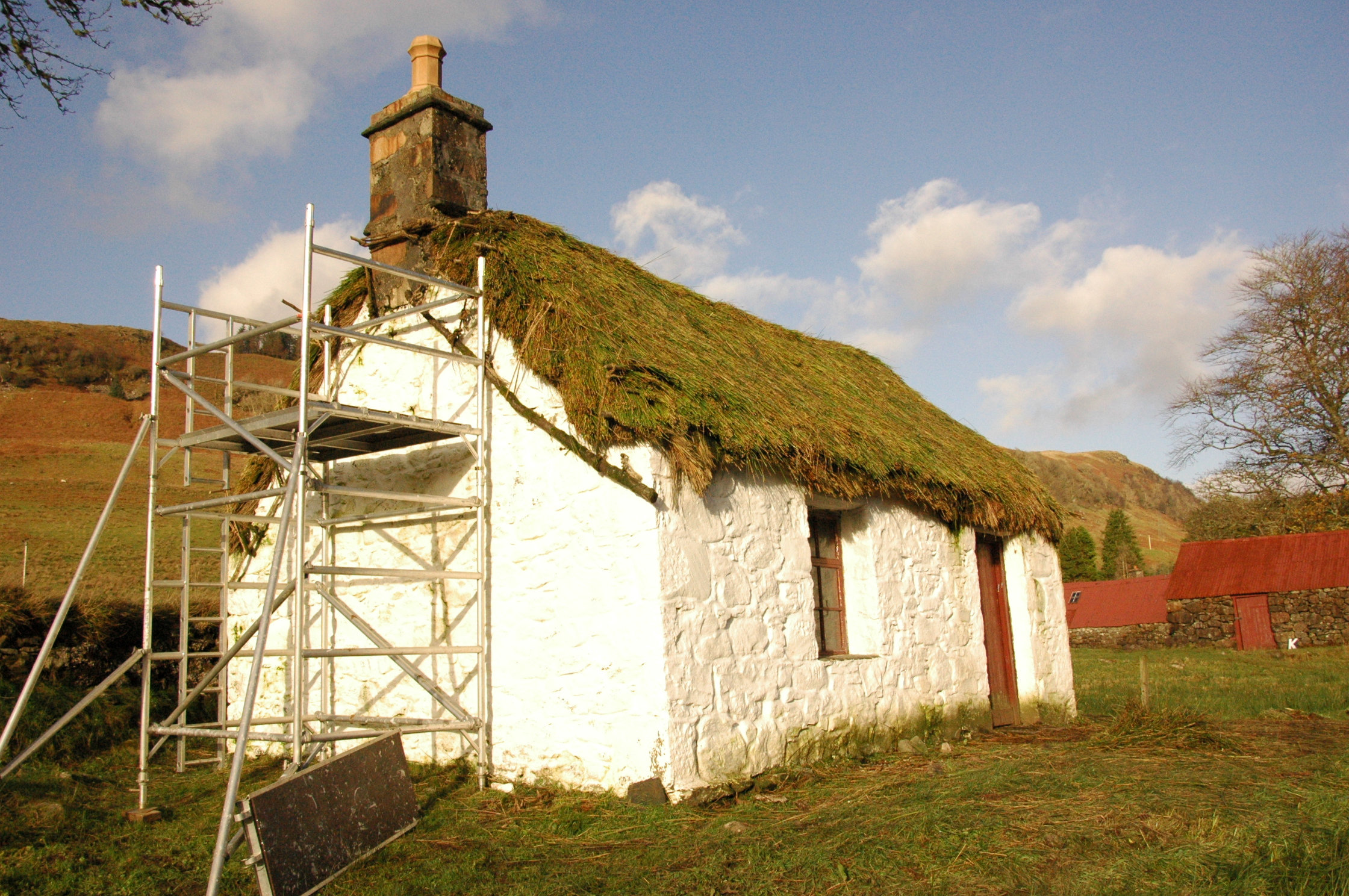 Scot said he was pleasantly surprised to see Highland and Islands thatching had been listed on the Heritage Crafts Association 'critically endangered' crafts.
He said 100 years ago there would have been 20,000 thatched properties but numbers are dwindling and fears are rising over the future of the craft.
Scot runs a training course for people to learn the skills but said the uptake is poor and that the skill is in danger with just a few people left in Scotland who know how to do it.
He said: "There are only about six or eight people left who do this type of thatching.
"[There are] around 80 thatched properties in Scotland, but 100 years ago there probably would have been 20,000.
"I was surprised and not surprised to see it on the endangered list – I was surprised anyone noticed as it's such a niche industry and not well understood.
"But I was very impressed it has been noticed because it is a red list craft, I have always known it was.
"I do offer training courses for people who want to come and learn but there is not a lot of uptake – it's hard work.
"There is not an industry for people who are qualified to come and work in – there is no marketplace for the skills.
"All it would take for it to disappear is for us six or eight thatchers to retire and it would be gone – it's critically at risk for a reason.
"We are bouncing along at the bottom of the barrel I would say, unless some younger people come along to take it over.
"But it's not enough to just get more thatchers it's a cultural shift.
"I just get out there and get on with it and think to myself sometimes I am glad I am doing this because no one else would be."