Former RAF serviceman Hughie has been flying between Shetland and Foula for 16 years. He reckons his job boasts "the best office window in the world".
Few would argue.
With no cabin crew on the tiny eight-seater plane, the safety briefing is informal. "This will take 15 minutes, your life vest is under your seat, and if it all goes pear-shaped, you get out the way you came in."
Hughie's aircraft – known as 'Islander' – is one of only two transport connections, the other being a thrice-weekly ferry journey that takes nearly three hours and is staffed solely by residents.
Our trip to Foula began more than 24 hours before we arrived; after a flight from Glasgow to Sumburgh, we stayed overnight in Shetland before making the final hop the following morning.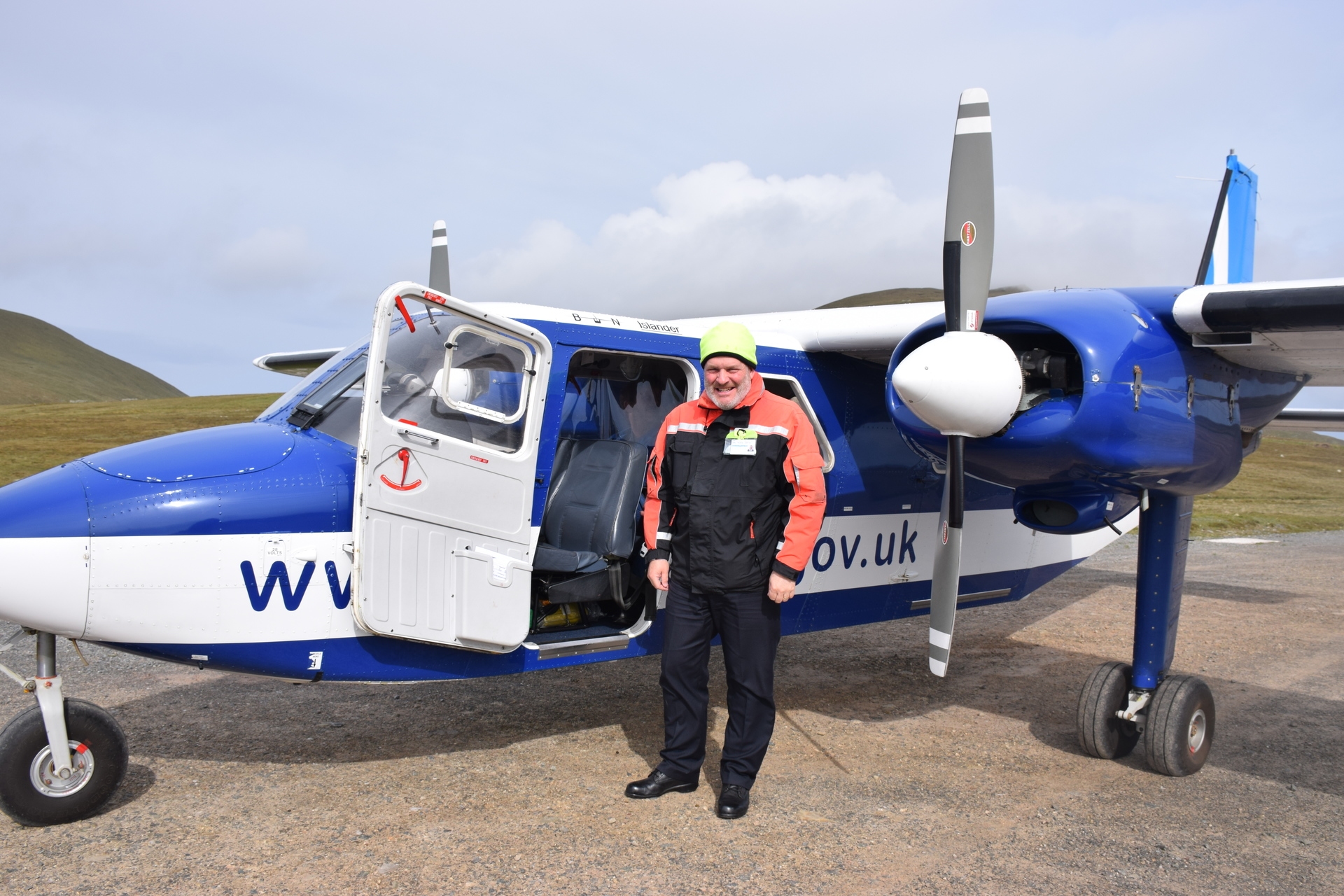 With our camera exceeding the acceptable weight, it was lucky the only other 'passengers' included some groceries and a mail bag, along with a resident's dad visiting from Yorkshire.
There to meet the locals for a Scotland Tonight feature, we stayed in a small house overlooking the Gaada Stack, one of Foula's most famous landmarks.
Wildlife enthusiasts make up the majority of visitors, drawn by the thousands of birds that make this island home over summer.
Foula doesn't offer much for those not interested in the outdoors; there's no 4G, no pubs or bars, not even a shop to buy basic supplies. Visitors must bring everything with them.
Harsh winds couldn't blight the magnificent scenery as guide and host Kenny Gear showed us around the island.
Residents are required to take on more than one job to keep services running. Manning the ferry, cleaning or cooking at the school, providing fire cover at the airstrip, working the water and electricity boards, repairing the roads and guiding visitors around Foula's landmarks are just a few of the roles available.
But one crucial job is vacant – headteacher of the primary school with four pupils.
Islanders worry about the steady decline of a population that peaked at 267 in the late 19th century and now tallies just 28. They agree a couple of young families would be welcome.
However they are keen to stress that newcomers must be the "right" kind of people. "People who can actually contribute to the place and the community," Kenny explained.
"You need to do your own things and not lean on others. People here will help, of course they will help, but that doesn't mean they'll do your work for you. You need to be a self-starter, you need to make stuff happen. If you're not that guy, you're just going to end up being more of a drain than a contribution."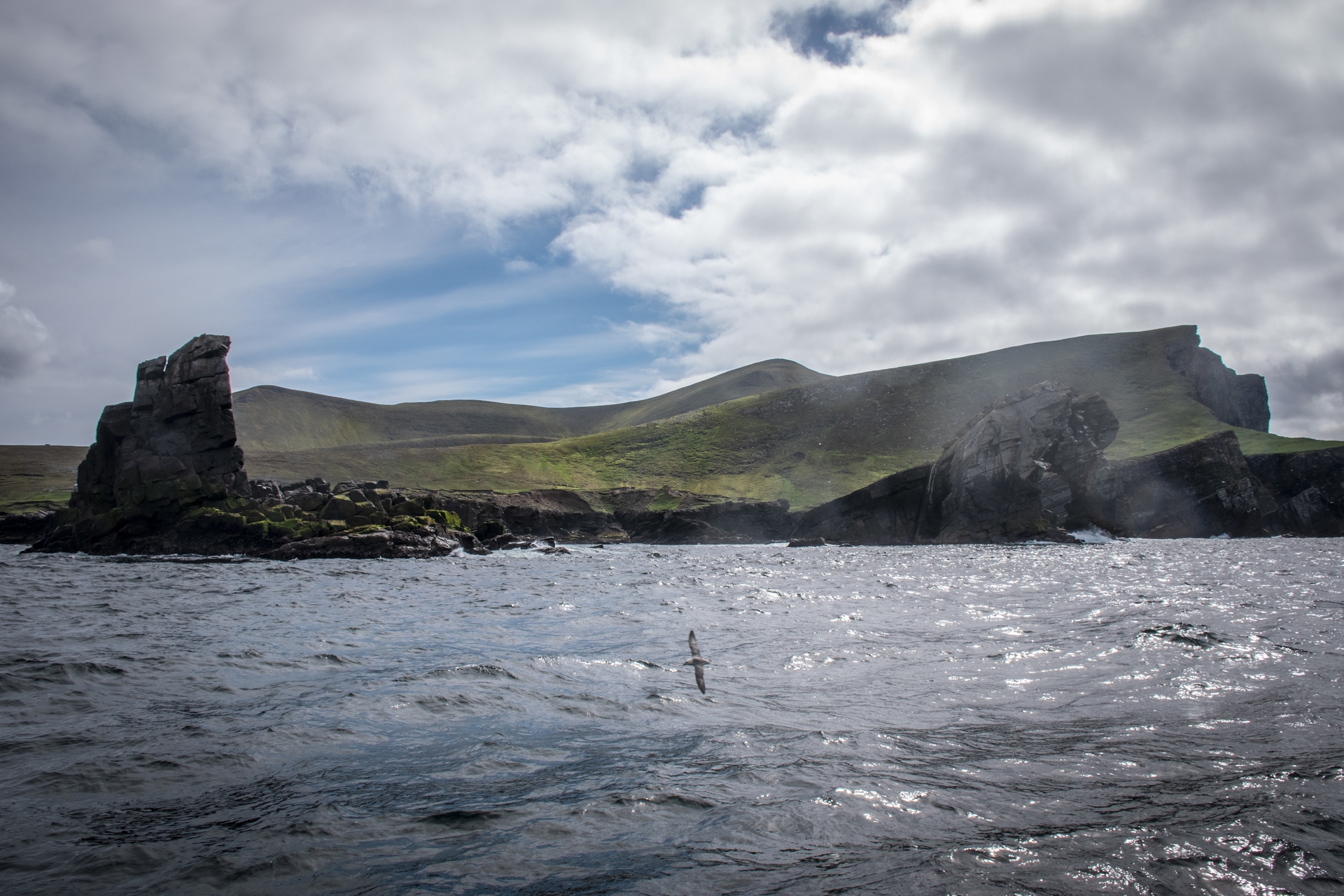 Most of the residents were warm and welcoming, although some preferred to stay private. Who could complain? They live remotely for a reason.
Not surprisingly, there wasn't much of a social scene, although residents do play music together from time to time. And each summer brings with it the annual Foula Fest – a three-day celebration of music and culture.
Climate change's impact is keenly felt – a decline in the seabird population and extreme weather providing the evidence. During winter, Foula can be cut off for two months at a time and families will cope by sharing food and basic supplies.
When the time came for us to leave, the weather had turned. It was too windy; the ferry couldn't sail and the plane couldn't fly.
Told we couldn't head home on schedule, several islands phoned to offer food and other supplies.
We ended up being stranded only for a day. But the experience was enough to show that despite being so remote, on Foula you still feel connected because people are there when you need them the most.
Additional reporting by Marina Force
Scotland Tonight is available to view on the STV Player.