A former Royal Marine commando has plunged into the freezing waters of Loch Ness as part of his latest mission.
Tim Crossin, who has served in countries including Iraq and Afghanistan, is taking daily cold dips around the UK throughout January to raise funds for armed forces' and cancer charities.
He has been diagnosed with cancer four times since 2016 – receiving his latest diagnosis just last month.
Mr Crossin, 59, has undergone chemotherapy and says the combination of living with cancer and receiving medical treatment have pushed him to his mental and physical limits.
"I am lucky, as I have had support from my girlfriend, my family and friends, and the family of the Royal Marines through it all," he told STV News.
Speaking after a dip in Loch Ness on Wednesday with local ex-commandos Paul Wilson, Alasdair MacGillivray and Fraser Ross, he said: "I'm humbled and amazed at how many people are turning out to support me.
"It was a solo thing (initially). I was going to do it on my own, with a camper van, for a little bit of solitude and to reboot myself after all the chemo and the news of the cancer coming back. But I've no regrets about the trip – it's been fantastic."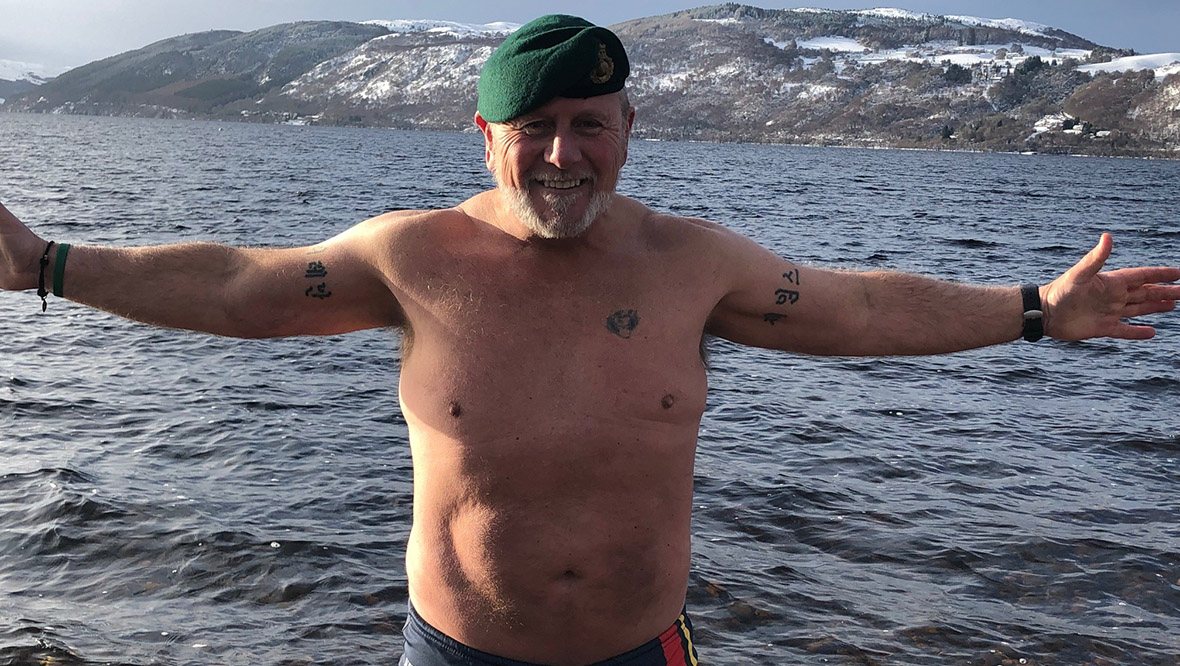 Oxford-born Mr Crossin said he instantly appreciated the positive benefits of cold swims, for both his mental and physical wellbeing.
"I wanted to give something back and help organisations who have been there for me and for others like me," he said.
The "Cold Dip Commando" month-long event is taking place in 31 locations around England, Scotland, Wales and Northern Ireland in a bid to raise money and awareness for the Royal Marines Charity, Lymphoma Action and Rock 2 Recovery.
Before being diagnosed with cancer and receiving chemotherapy, Mr Crossin says he "would have run up a mountain with a fridge strapped to his back or swam the Channel dragging a piano".
However, extensive treatment has done considerable damage to his lungs and he can no longer complete the sort of physical and endurance events that he previously took in his stride.
He has been joined at each cold dip location by serving and former military and 999 personnel, as well as people from swimming clubs and members of the general public.
Doctors allowed him to take on the challenge despite a scan in December that revealed his cancer had returned and was affecting his esophagus, liver and spleen.
"In my life, I have faced many challenges both mental and physical," said Mr Crossin.
He added: "Being diagnosed with cancer four times, undergoing chemotherapy and living with cancer since 2016 is probably one of the hardest.
"It's tested me emotionally and pushed me to my mental and physical limit."
Donations can be made via Mr Crossin's Just Giving page online at https://www.justgiving.com/crowdfunding/colddipcommando