A fishmonger bought this whopping eight-foot halibut which is one of the biggest to be caught in Scotland – tipping the scales at 130kg.
Landed by trawler, Aquarius, in the Atlantic off the Outer Hebrides, the massive halibut measured four feet wide.
The boat usually trawls for cod and haddock but the crew hit the jackpot when they caught the monster halibut, which weighed 130kg.
The giant fish was bought for more than £1000 by Armstrong's Fishmongers in Stockbridge, Edinburgh, and will be cut into nearly 100 portions.
Shop manager, Gary Huckle, 50, has worked in the industry for more than 35 years but said he has never seen anything like it before.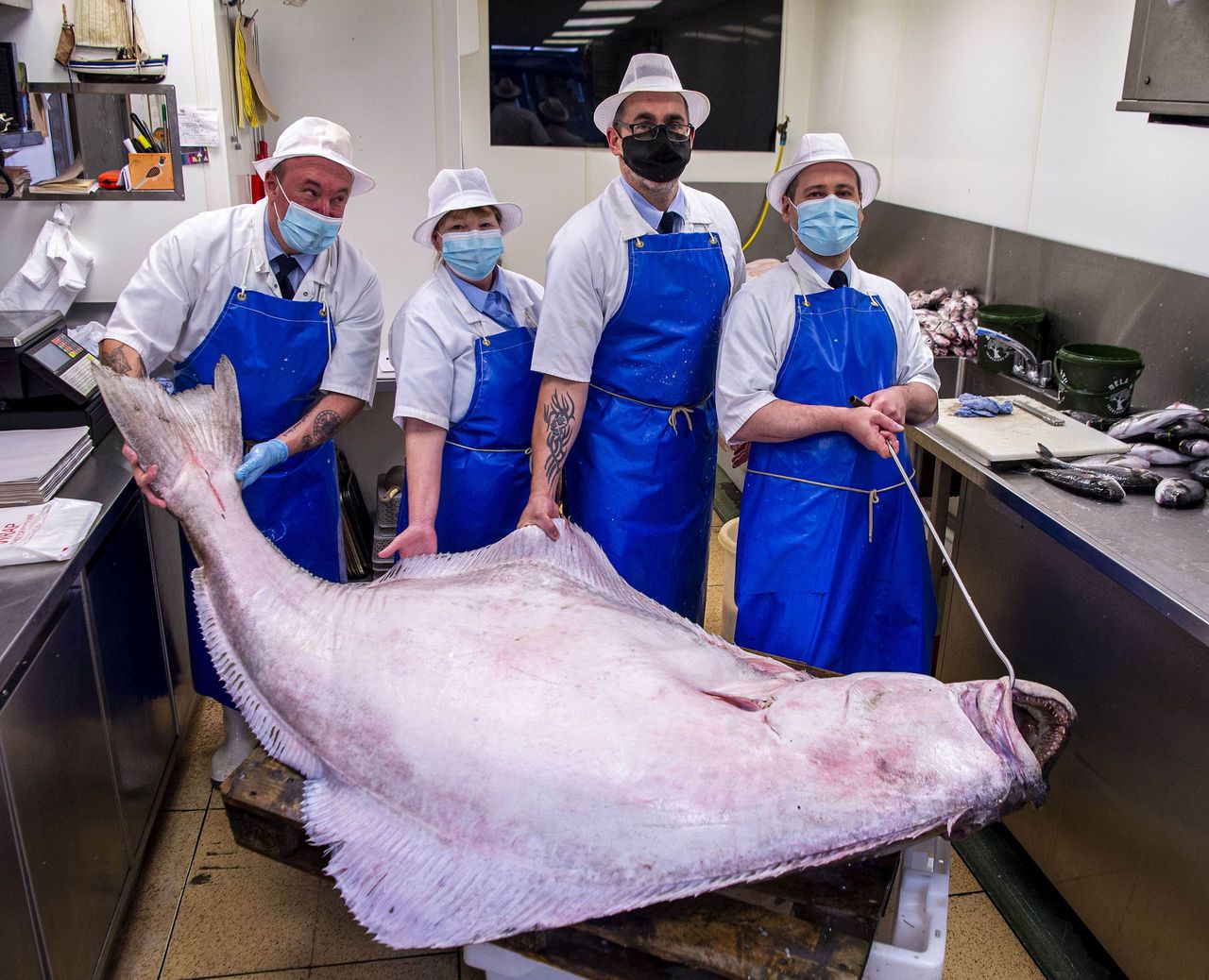 Mr Huckle, from Rosewell, Midlothian, said: "It's 130kg of deadweight wild halibut, that must be one of the, if not the, biggest caught in Scotland.
"I've been a fishmonger for 35 years and I have never seen a halibut this size.
"I've done big fish before but this is off the scale.
"It's the biggest Scottish fish I have ever seen.
"We can't fillet it because it's got a big middle bone, we are cutting it into big halibut loins.
"We are in the process of cutting it up now but I think we will get 75kg out of that, you do get a bit of weight loss with halibut."
Armstrong's has a history of large halibut catches. In July 2017 it bought a 104kg caught by the Banff-registered Enterprise fishing boat near Rockall.
But the 130kg fish that arrived on Tuesday trumps the second biggest catch by nearly 30kg.
Mr Huckle and three other members of staff were pictured alongside the whopper to give an idea of the sheer scale of it.
He added: "It's the biggest Scottish fish I have ever seen, it's absolutely massive."
The largest halibut caught in Scottish waters – which weighed more than 134kg – was netted off Peterhead last August.