Scotland's mountains carry many characteristics that draw thousands of climbers every year – beauty, incredible views, fantastic workouts and the opportunity to bag as many Munros as possible.
However, close calls and accidents are one of the main things to look out for, especially with the weather's tendency to turn just as quickly as the winds change.
Every so often, Mountaineering Scotland share stories sent in by anonymous climbers who narrowly survived these close calls – dubbed "Near Misses" by the organisation – in an effort to help others learn from their mistakes.
In the most recent edition, one anonymous poster shares her and her partner's story of being struck by lightning – and living to tell the tale.
The pair set off from the car park at Torridon Forest around 10.30am on the fated day, walking onto Coire MhicNòbaill.
It was a warm day, with some clouds, but no rain expected until 4pm – and so the couple trudged on, through the steep coire to the first of Beinn Alligin's Munros, Tom na Gruagaich, which they summited at 12.45pm.
There had not been a forecast for thunder, but, the author writes: "I now know that lightning is always a potential on the mountains."
They then headed towards the second Munro, Sgùrr Mòr, with a plan to scramble over The Horns of Alligin before summiting.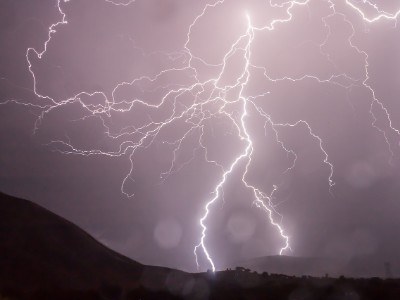 Reaching Sgùrr Mòr around 2pm, they continued on and reached the second horn – where they started to notice the first signs of trouble.
"The clouds were black, and I could see it was raining heavily across the mountain and loch behind us," the author writes.
"It was 3pm and my boyfriend was keen to get going as he knew at this point the forecast was correct and we were likely to get very wet soon.
"At 3.20pm, we decided not to go over but bypass the third horn and were descending the mountain when we both heard thunder. We knew we were in the wrong place and too high up."
The pair began to descend, with rain all around them and temperatures dropping.
"The air was electric, and I could feel the hairs on my arms standing on end," she recalled.
"Walking steadily down off the mountain, we both experienced a very strange shock that felt like static in our hair and across our shoulders.
The thunder came a few seconds after, and it was then we knew we were in danger of being fully struck by lightning. I remember feeling very frightened, and knowing we were too high up – roughly 815 metres at this point."
The pair then began to hurry down, but were knocked off their feet after a "huge" crack of thunder.
"It felt like being whacked across the head by a baseball bat," she remembers.
"Before I knew it, my boyfriend was knocked to the floor in front of me and I threw myself down after him, and I can recall seeing a white flash of light around or on his head.
"A few seconds must have passed, and I called out to my boyfriend to ask if he was okay. I had fallen onto him and was then scrambling about on the ground trying to wedge myself under a nearby boulder.
"But my boyfriend was shouting to get up and get off the mountain. I was frozen in fear – my every instinct telling me to shelter under the boulder for safety until the storm had passed.
"What I didn't know was, he had looked up and spotted another flash of lightning over Liathach, which he saw arc horizontally across the landscape.
"He was terrified and just kept shouted to get up and get off the mountain as fast as we could."
Rushing to descend as quickly as possible, the couple managed to make it down to the car park by 4.20pm – with torrential rain all around them by this point.
Recalling their experience, and recognising their mistakes, she said: "I know now, after doing some research, that everything we did when we were faced with the danger of being struck by lightning was wrong.
"We should have spread out, we should not have stopped to take any photos, we shouldn't have tried to shelter under any rocks or trees, and we should have made our decent a lot faster that we did.
"Overall, we consider ourselves to be very lucky – on that day, Mother Nature was kind to us, and we survived.
"Not many people can say they have experienced the full wrath of what I believe to have been lightning ground to air current."