Many people from Afghanistan are continuing to rebuild their lives in Scotland – one year since the Taliban returned to power.
The militant group seized the capital, Kabul, on August 15, 2021, swiftly and suddenly in a takeover that sparked chaotic and frantic scenes as thousands descended on the airport in a desperate attempt to leave the country.
Twelve months on, STV News has been speaking to some Afghans who have settled in Scotland. They told us about the pain of leaving loved ones behind, the trauma of what they saw in their homeland and their hopes for the future.
We've also heard from Scottish aid workers and charities on the challenges and changes they've experienced and their continued dedication to help those who remain in a very different Afghanistan.
'We still think about that day'
Frishta Matin and her family, including her husband Murtaza, baby son Kia and sister Farzana, managed to escape as the Taliban took hold.
Their journey was long and perilous, as they were caught up in terrifying scenes in the aftermath of bomb attacks at Kabul Airport.
The family was helped by Scotland-based charity the Linda Norgrove Foundation – Frishta and Farzana's employers in Kabul.
Frishta now lives in Stornoway on the Isle of Lewis, 5,000 miles away from the place she called home for nearly 30 years.
She's immensely grateful to be in Scotland and knows it's the best place for her son to grow up.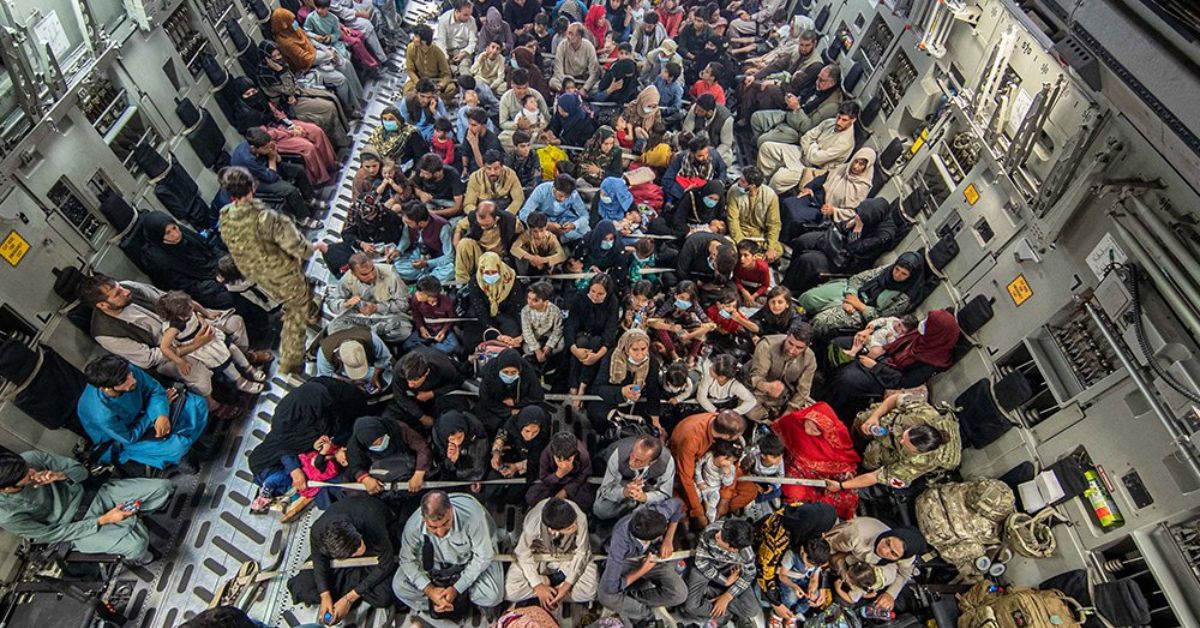 But as each day comes to an end, she recalls the horrors of what happened.
"We are still thinking about that day, it comes every night in our dreams," she said.
"We were at the airport not knowing whether we could escape the country or not, not knowing what would happen a minute later.
"I saw a big army airplane the other day in Stornoway and my mind went back to one year ago, watching that in the sky.
"In Afghanistan, there was a plane leaving the country every 20 minutes."
Frishta's parents and other family members remain in Kabul. She hopes to get them out of Afghanistan, but remains realistic.
"There's a lot of bad news about relatives – the Taliban are making them scared and there is no hope to live and everyone is trying to leave the country," she said.
"We are trying to find a way for my parents and for my brother and his family."
Frishta hopes to get a job in Stornoway once her son starts nursery. The 29-year-old grew up in an Afghanistan where all girls and women were able to receive an education.
She has two university degrees and is passionate about women's rights – changes since the Taliban retook power have broken her heart.
"It's a very difficult time for those who are in Afghanistan, especially for women. The girls are not allowed to go to school.
"The women who were working for the government are not allowed to go back to their jobs.
"When my niece reaches the age for the seventh grade of school, she won't be allowed to go – that's not a life I want for her."
Frishta doesn't regret leaving Afghanistan, but while her head tells her it was the right thing to do, her heart will always belong to her homeland.
"As a mother I decide to stay here for my son's future rather than to go back to a country where he will not have a future," she said.
"But as a daughter, I want to go back home to be with my parents and just live happily with them."
'Linda would be really pleased'
Linda Norgrove committed her life to helping women and children in Aghanistan.
The Scottish aid worker died in 2010 during a rescue mission after she was kidnapped by the Taliban.
After her death, her parents Lorna and John vowed to continue her legacy, setting up the Linda Norgrove Foundation from their home on Lewis.
Part of the charity's work involves providing scholarships to Afghan women so they can study at university. They are currently sponsoring more than 160 students, including 100 who want to be doctors.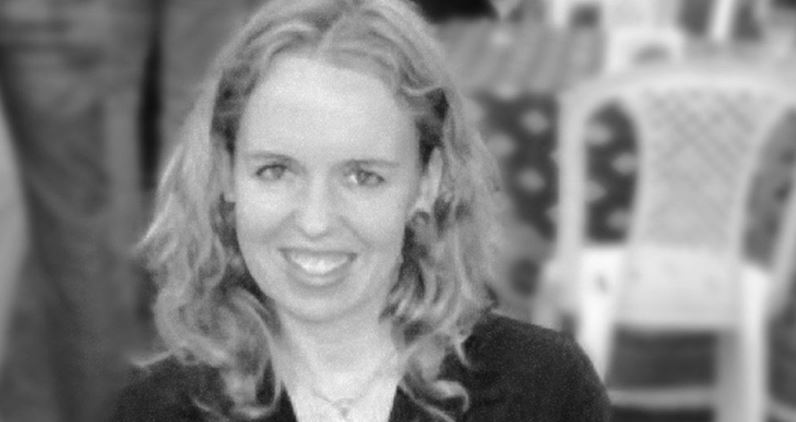 The Norgroves describe the past year as the most challenging since their charity was founded.
"The situation in Afghanistan is very difficult and our main difficulty has been transferring money," said John.
"Lots of people have lost their jobs, foreign aid has been suspended. The banking system's collapsed. They've had a bad winter.
"We have tended to concentrate on giving scholarships to women to go to university and we're continuing to do that that.
"But we now give them a living allowance, because they're not able to work part-time to support themselves."
Lorna says the foundation's work is more important than ever, as the county is immersed in a humanitarian crisis.
"Three million children are malnourished – that's the equivalent of about half the population of Scotland," she said.
The Norgroves are delighted that they've been able to help Frishta Matin and her family.
The couple dedicated themselves to the family's plight, spending every waking hour, and large parts of the night, communicating with them, as they tried to get them out of Afghanistan.
"It's a wonderful feeling to see them here," said Lorna. "I know they worry about their family who are living under very stressful conditions. I think they're just relieved to be in a safe environment."
The Norgroves also helped another woman and her family escape. She was being hunted by the Taliban after taking part in civil rights demonstrations and was moving from safe house to safe house to avoid being arrested.
"We managed to get her to Pakistan and then via a friend to Portugal, where she's hoping to continue studying to be a doctor," said John.
The Norgroves hope that Afghanistan will emerge stronger in the future.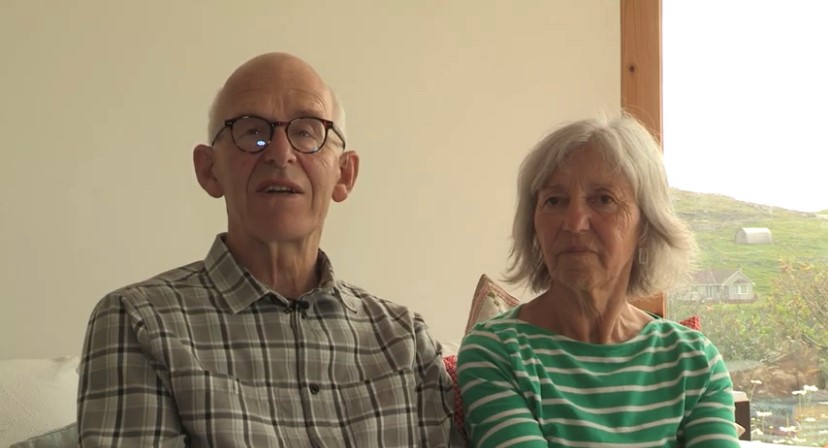 "The immediate future for Afghanistan looks very, very difficult, but the security in the country is a lot better," said John.
"They're no longer occupied by Russian or American or Nato troops and I just hope they're given a bit of a chance and the moderate elements of the Taliban can give them an opportunity to create a better future."
Despite the difficulties in recent months, Lorna and John are committed to keeping the charity going.
"I think Linda would be really pleased to know that we are continuing to help women and children in Afghanistan," said Lorna.
"It was a part of society which was so important to her."
'Country in crisis'
Sam Mort, from Kingussie, is chief of communications at Unicef Afghanistan.
The charity helps children and families and is currently seeing unprecedented demand, with essential services on the brink of collapse.
"Life has deteriorated for the people of Afghanistan in the last 12 months and those at the sharp end are children," said Ms Mort.
"As far as Unicef is concerned, the country is in crisis, and it's a children's rights crisis.
"A year ago, people were better able to put food on the table, there were a million more high school girls in school. There was less spread of preventable disease, there was less unemployment.
"Today it's a much grimmer picture for the people of Afghanistan."
Ms Mort says Afghanistan is at a "pivotal juncture" when it comes to children.
"The malnutrition crisis continues apace and there are more than 3.2 million children at risk of acute malnutrition," she said.
"The worst drought for 37 years continues and eight out of ten Afghans are drinking water that's contaminated.
"It's a very difficult place to be a child right now."
An area of particular concern is the row back of rights for girls and women since the Taliban's takeover.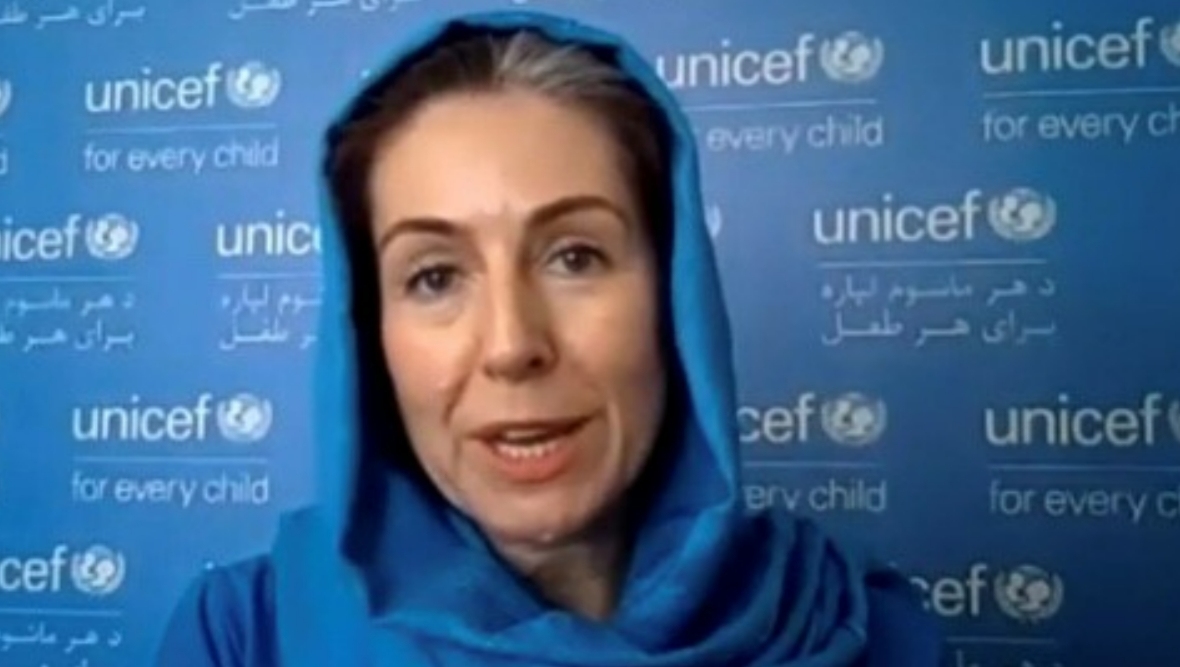 The charity has expanded its programme of community-based education classes for girls and hopes to have 17,000 classes running in remote and rural areas by the end of the year.
"We were devastated, as were families all over Afghanistan on March 23 when the school term began and the de facto authorities barred high school-age girls from resuming their education," said Ms Mort.
"Over a million girls from grade seven to 12 are not able to go to school.
"Women have been sent home and are no longer allowed to work, with some exceptions in health and education.
"Girls and women are not allowed to go out without a male guardian to accompany them.
"We're deeply concerned about this. We're advocating every day with de facto authorities to get girls back into school and to give them the civil liberties that is their right."
Ms Mort says Unicef is doing everything it can to shore up the health and education system so the country doesn't lose the gains it's made in the last 20 years. But it can't do it alone.
"Winter is coming," said Ms Mort. "People are suffering because of the drought, because of the recent earthquake, because of the high food prices, because of the high unemployment.
"We desperately need more funding to continue these life-saving programmes, to keep clean water going into communities, to give children the support they need from the trauma they've witnessed."
Ms Mort says while the anniversary of the Taliban's return to power is an opportunity to reflect on the "hardships and heartbreak" the people of Afghanistan have endured, it's also a chance to "salute their courage and resilience".
"Everywhere we go in the country, we are inspired by the hope they have and the courage they demonstrate," she said.
"We were in a school a couple of months ago and our representative asked a grade-six girl 'do you have a message for other grade-six students?'.
"She'd been telling him how heartbroken she was at the thought of not continuing her schooling. And she said 'please tell every girl in grade six across Afghanistan to keep studying'.
"She said 'as I study, please study. As I hope, please have hope. And let us all pray for an education beyond grade six'.
"We both looked at each other and thought that [the fact] any child in 2022 is praying for an education should weigh heavily on us all."
STV News is now on WhatsApp
Get all the latest news from around the country
Follow STV News
Follow STV News on WhatsApp
Scan the QR code on your mobile device for all the latest news from around the country