A little girl who waited two years for a life-saving bone marrow transplant is set to start nursery – as her sister faces a health battle of her own.
Four-year-old Adeline Davidson underwent the treatment to tackle a rare blood cancer and is now "desperate to make friends".
But as Adeline's life continues to get increasingly normal, her sister Josie has been diagnosed with the same condition.
The two-year-old is facing "a long road", however her condition is not currently life-threatening.
Their mum Steph Davidson, from Alness in the Highlands, told STV News: "I think deep down I knew that Josie had something similar and it turns out that there's two mutations in Adeline and Josie's got one.
"The condition can still lead to bone marrow failure, but at the moment she is stable, so we are going with that and taking everything as it comes."
'She's desperate to make friends'
Meanwhile, Adeline is well on the road to recovery and is set to start nursery in two weeks.
"Things are really good," said Steph. "We are nearly seven months post-transplant and her test results and blood counts are all great.
"She's gone from hypocellular marrow, which means no cells, to 80 to 90 per cent cellularity, so nearly the same as any other normal person.
"She's starting nursery in two weeks – I am thrilled, she's thrilled, everyone's thrilled. She's ready to go.
"She is desperate to have friends and learn things and it's a chapter we have been waiting for for two-and-a-half years – we are here, we have made it."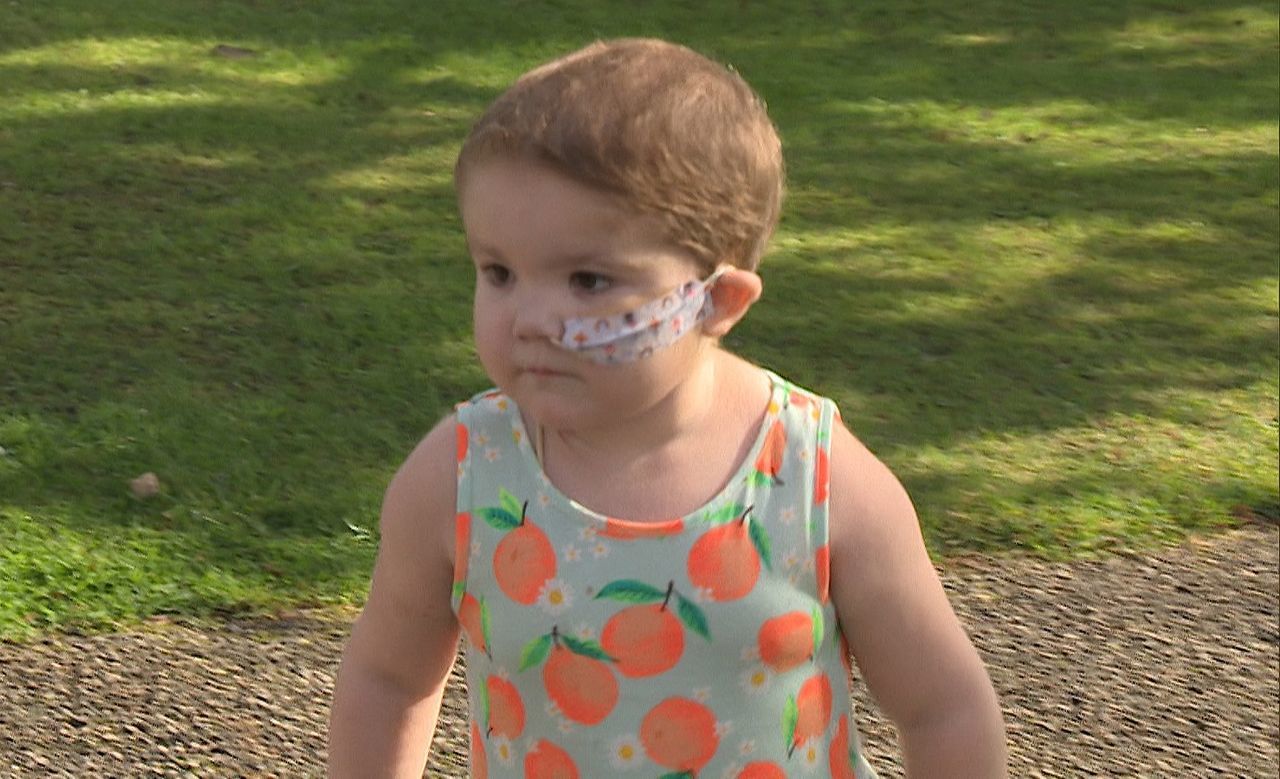 Adeline has Shwachman-Diamond syndrome, a rare, inherited bone marrow failure. Symptoms can include low number of white blood cells, poor growth due to difficulty absorbing food and, in some cases, skeletal abnormalities.
Her treatment was delayed due to the pandemic, which the family said remained a big issue for them.
"It is still an obstacle, but we are at the point where we can't keep delaying things for Adeline – it is always going to be there," said Steph.
"There are other bugs and viruses, which we are prepared for, so we have just got to get on with it and be as normal as possible."
'Nothing more important'
In 2019, more than 300 people turned up at an open donor drive in Inverness to have swabs taken and sampled in a bid to find a match for Adeline.
Her match was eventually found abroad and the family want people to get tested and declare themselves as potential donors.
So far, Adeline has required more than 100 blood transfusions to support her health.
Steph said: "It kept her alive for two-and-a-half years. There's nothing more important than that and I know there are so many other children and adults that need the same thing."