The National Records of Scotland has published new weekly figures showing all deaths linked to coronavirus.
They include all instances where Covid-19 was cited on the death certificate, whether it was the cause or a contributing factor.
They also contain all deaths where the person was suspected to have the virus, even if they never took a test to confirm it.
Prior to these new statistics, the daily deaths the government were reporting were among hospital patients.
Now, the figures pertain to deaths in all settings – hospitals but also in the community, in care homes or anywhere else.
The Scottish Government says the figures will show more deaths than previously, but that they will help them track the virus' spread, identify hotspots and allocate resources more effectively.
So what do the NRS statistics show us?
A spike in the last week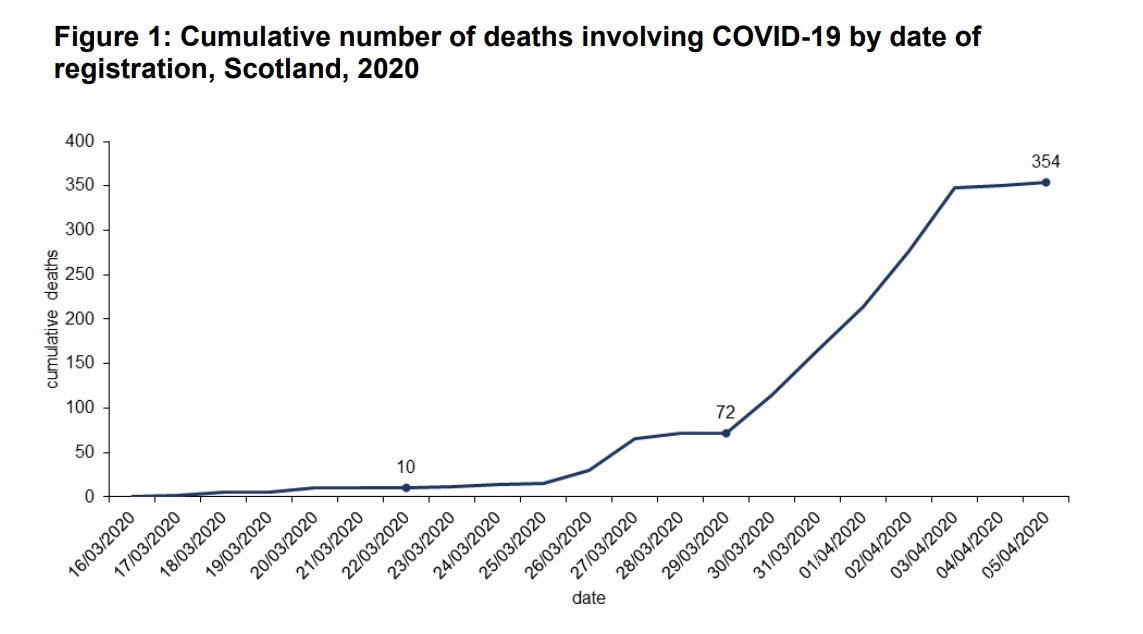 The NRS total of 354 deaths since the outbreak began only takes us up to Sunday, April 5.
But we can see from this graph a big spike in death certificates referencing Covid-19 in that last week we have data for.
The drop-off over the weekend is chiefly due to a lag in reporting, which is expected to be made up this week.
A total of 282 coronavirus-linked deaths were registered in the week from March 30 to April 5, up from 72 – an explosive 390% increase.
Although one word of caution is there can be a gap of up to eight days between a death being recorded and registered.
The NRS also notes in the week from March 22 to March 29, registration services were curtailed amid the lockdown to put in place arrangements for remote registration.
This means the figure of 62 deaths for that week is likely artifically low, and the figure the following week artifically high as registrars cleared the backlog.
Compare the deaths recorded by NRS to the daily figures produced by Health Protection Scotland (HPS), which focuses on hospital deaths.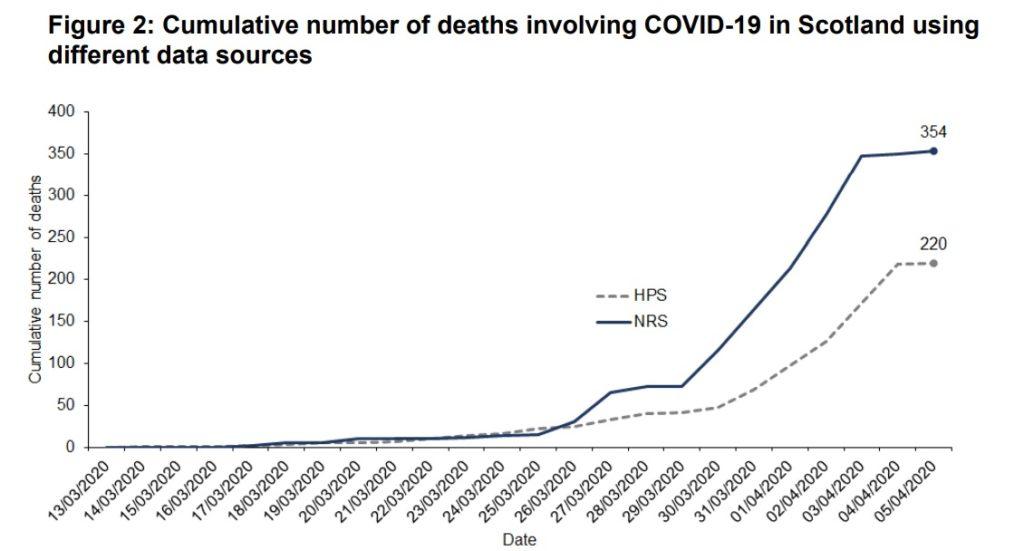 The first thing to note is that the figures the government and media have, up until this point, been reporting on a daily basis are much lower.
They only relate to people who have tested positive for Covid-19 who have died, rather than those suspected to have had the virus.
We see a 61% increase in total deaths when we add all of these together.
But whichever line of the graph you look at, they show that the spike in the last week is real, even if the line for hospital deaths over the last fortnight is less jagged.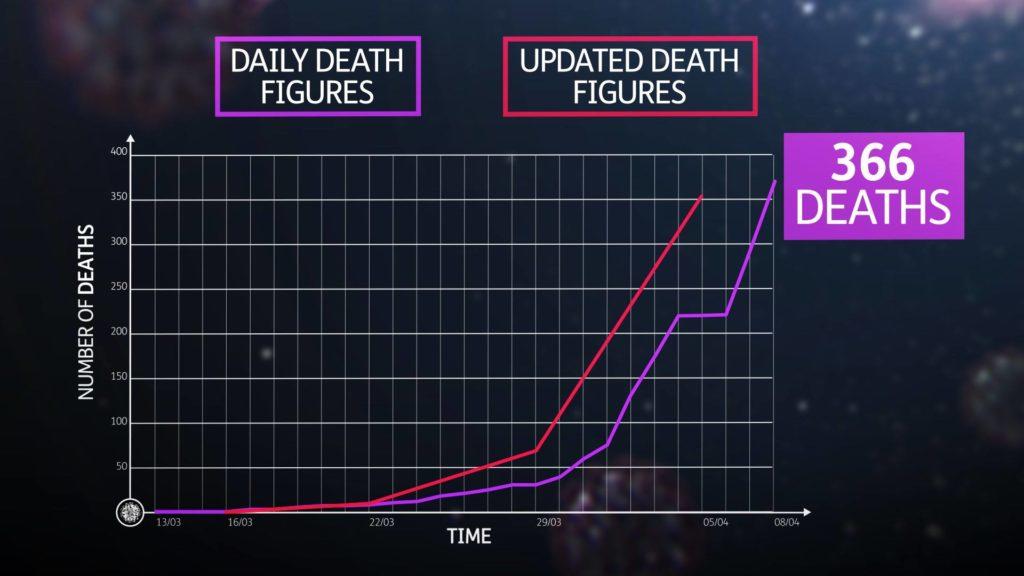 The graph above combines NRS' weekly figures as of last Sunday with the most up-to-date daily death figures, which Nicola Sturgeon announced were 366 as of Wednesday.
Given these only relate to confirmed Covid-19 cases, we can expect another major climb next week when NRS updates its combined total.
Counting all registered deaths in Scotland, including those linked to Covid-19 but also including anything else, there were 1741 in the week from March 30 to April 5.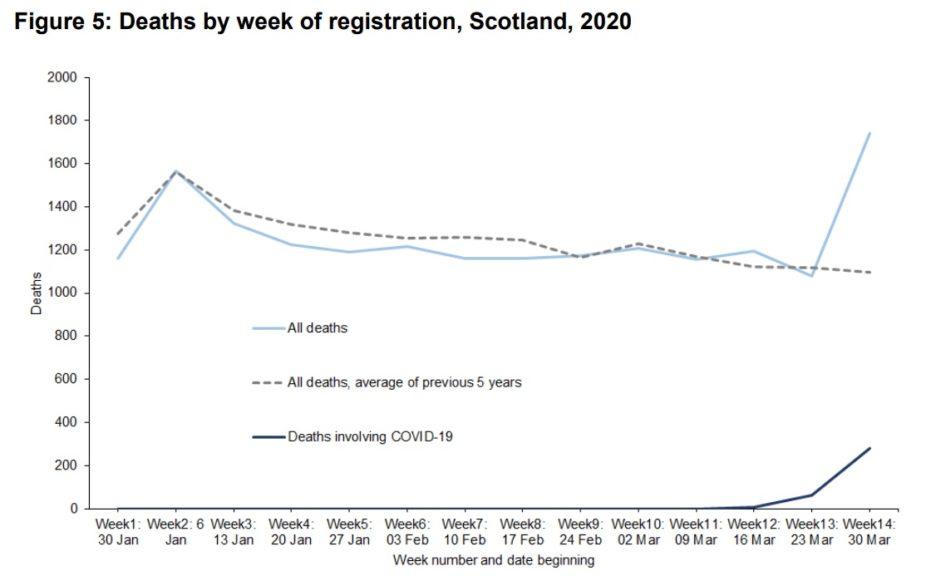 As the graph makes clear, that's a huge spike on what you would expect given the average of 1098 over past years.
At her daily press conference on Wednesday, Nicola Sturgeon explained that this was again due to the disruption to death registration services the week before.
Most deaths by far in Glasgow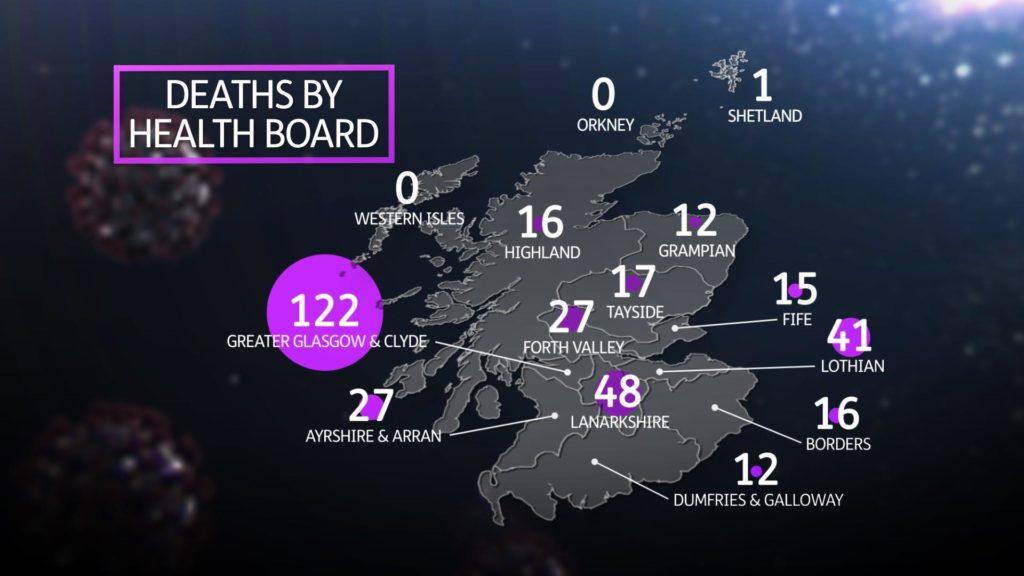 Given its status as the most populous area of the country, this doesn't come as a surprise.
But nonetheless: 122 coronavirus-linked deaths have occurred in the Greater Glasgow and Clyde health board area – more than a third of the national total.
In addition, 3.2% of deaths in Greater Glasgow and Clyde are associated with Covid-19. The only area of Scotland with a higher proportion of deaths is the Borders, where it is 3.8%.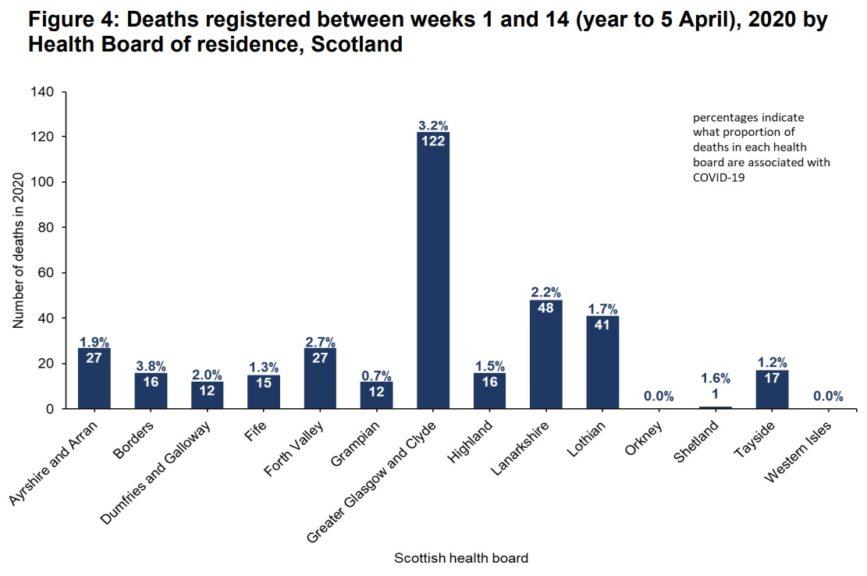 Over 75s and men most affected
Again, no surprise: people over 75 are most susceptible to dying with Covid-19, accounting for nearly two-thirds of deaths associated with coronavirus (63%).
It's almost identical to the percentage of overall deaths in Scotland among that age group.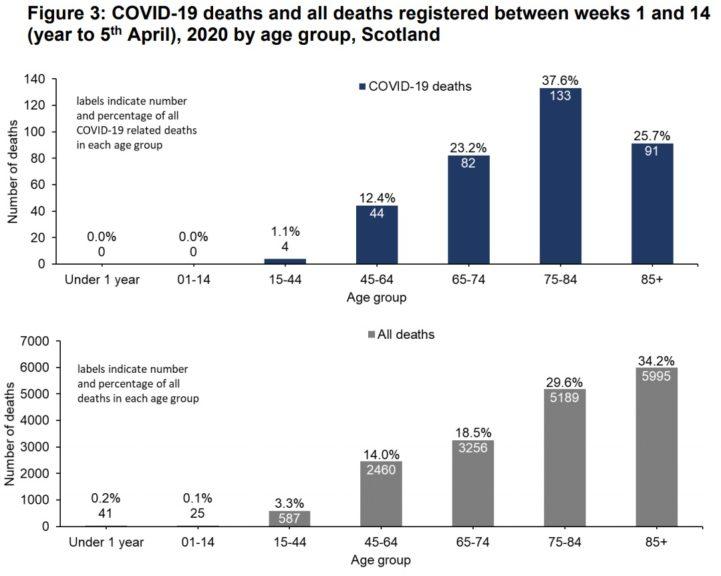 But the age distribution of Covid-19 deaths is slightly younger than overall deaths, with the most found in the 75-84 age group (37.6%) compared to over 85s (25.7%).
There are also around 5% more 65 to 74-year-olds dying with Covid-19 proportionally compared to overall deaths.
In addition, 55.6% of all coronavirus-linked deaths were male (197) compared to 44.4% who were female (157).