The Aberdeenshire town of Inverurie is aiming to be the safest place to shop in Scotland.
Like many other places across the country, there was a sense of excitement as stores opened their doors on Monday for the first time in three months.
Business owners are hoping the easing of the coronavirus lockdown will help bring back the steady stream of customers they rely on.
And for the shoppers, it's a very different experience from what they're used to, with hand sanitisers, screens, signs and widened pavements to ensure the correct social distancing is in place.
Amy Roberts and Alex Tice were among the first customers at Sinclairs Jewellers.
They came to pick out their wedding rings – until now they've only been able to look for them online.
"It's very exciting," said Amy. "We wanted to come in as it's going to be hard for many of these small business. We want to get back to shopping locally,"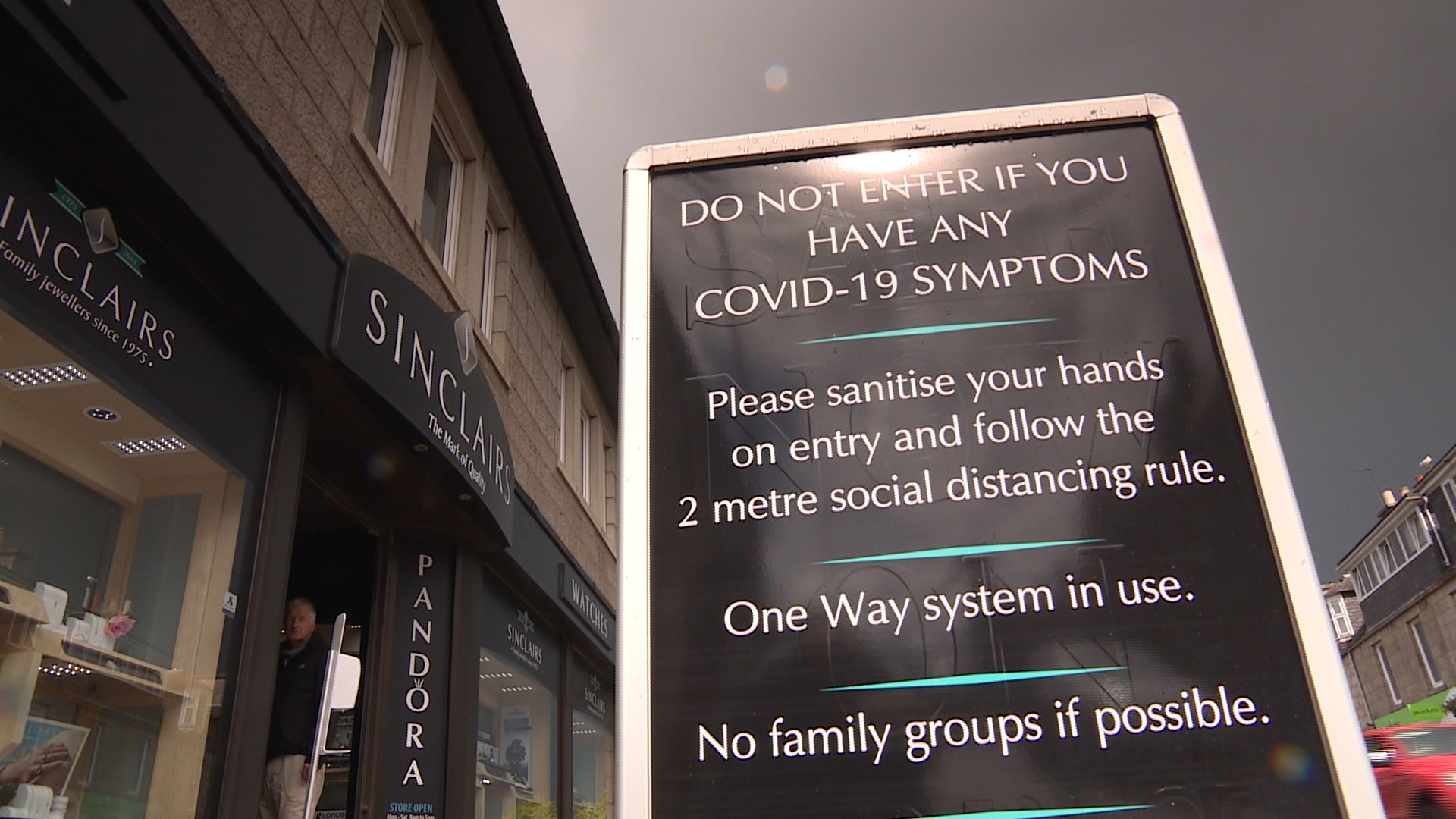 Like so many others, it's a new look and way of working for this shop, but one its owner has been waiting for.
"It's quite strange actually," said Ian Sinclair.
"There's a flurry of emotions. I'm obviously excited to be open but then very anxious about how much business we're going to do.
"I just hope it's going to carry on the way it has this morning, it's been quite steady."
The back to business message here in Inverurie is one being replicated in towns and cities across Scotland.
Round the corner from the jewellers, it's now appointment only at the Gibbs Menwear shop.
Everyone is asked to wear face masks, assistants can only measure customers from the back and they're introducing some fitting services via video link.
"It's just strange times. This would normally be our busiest time of the year with the wedding season, but all the weddings have been postponed," said owner Barry Gibb.
"I think people will start thinking this is the new way of shopping. If they're able to work with us we'll get through this – we will get through this."
The family-run Strachans toy ship has been in the town for more than 80 years.
Staff say getting back up and running is as much about restoring a sense of community as well as protecting consumerism.
"Seeing the High Street being back open is incredible," said Jack Strachan.
"It honestly feels like Christmas. People are that happy."
One hundred hand sanitisers have been installed outside shops and the town has adopted the slogan of Inverurie 'IN'.
Business bosses hope it will provide reassurance while stimulating the local economy.
"The message is very much shop local and shop safely," says Derek Ritchie of the Inverurie Business Improvement District.
"It's good to see Inverurie getting close to the thriving town it was before and fantastic to see the shops reopen – not before time."