Anyone that knows me will tell you that I'm crazy for two things – Christmas and weather.
We'll get to the Christmas bit another time, but my interest in meteorology started at the age of seven. My mum thinks it all started because I had a teacher that was really into recycling and the environment, and trust me, back then this was pretty out there – most people had only just heard about a hole in the ozone layer.
Because I've always been into the weather, to actually be working as a TV weather presenter is like a dream come true, a bit like someone that wants to be a pop star or a footballer when they're younger and then they end up becoming one. Yes, I know, I just listed weather person up there with pop star and footballer – no it's not as glamorous!
But because my passion for all things in the sky started when I was younger, I always try and get as many younger people interested in it too. That's why during this time when most of us are at home I decided to start up a Mini Met Team, which is growing by the day.
Look at Rachel and Allanah who have joined the growing Mini Met Team across Scotland, keeping an eye on the rainfall over the coming weeks. Who else is in? #MiniMetTeam https://t.co/F5fu7uOpt5

— Sean Batty (@SeanBattySTV) April 15, 2020
We started off by making a rain gauge a few weeks ago and each Friday we're going to measure how much rainfall we've all had in the last week. Good Friday was our first measurement day and we had some very varied totals from across the country. The great thing is we've ended up with a big geographical spread, from Lucy's weather station at Mossbank in Shetland, to Eilidh's in Castle Douglas, Dumfries and Galloway. This means we're able to see how rainfall varies across the country
Mini Met Team – Here's some of your rainfall totals for last week. See if your weather station features! Try and find Scotland's wettest place, and one of the driest spots. #MiniMetTeam pic.twitter.com/RhKU3P2uw1

— Sean Batty (@SeanBattySTV) April 14, 2020
During our first week, we found the wettest place was, not surprisingly, in the usually wet west of the country. Robin's weather station on the Isle of Mull captured 30mm of rain and the Minnie Met Team in the Isle of Skye were just 1mm behind at 29mm for the week. We found the driest spots were Gardenstown, Dundee, Methil and Edinburgh where there was no rain at all.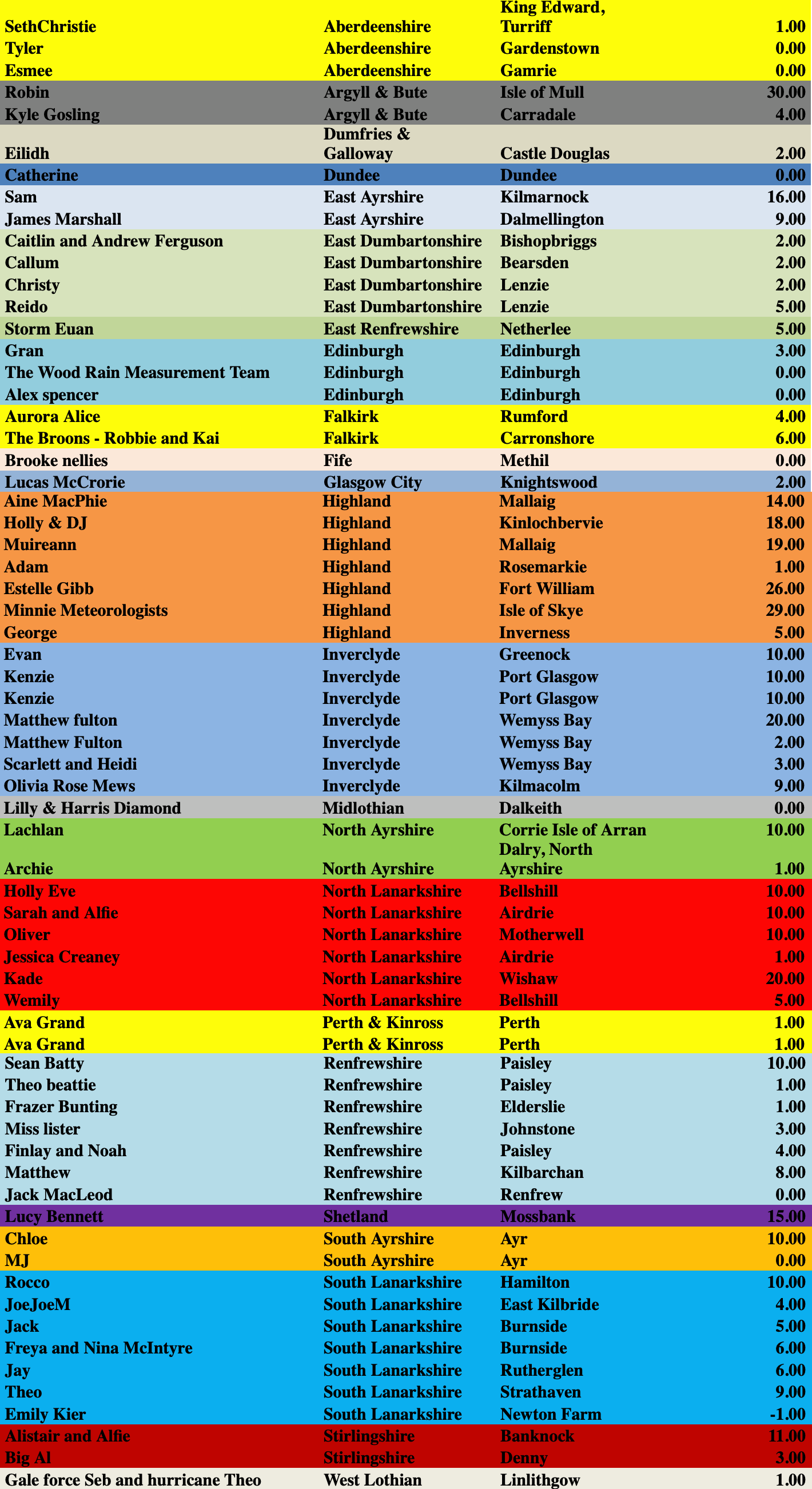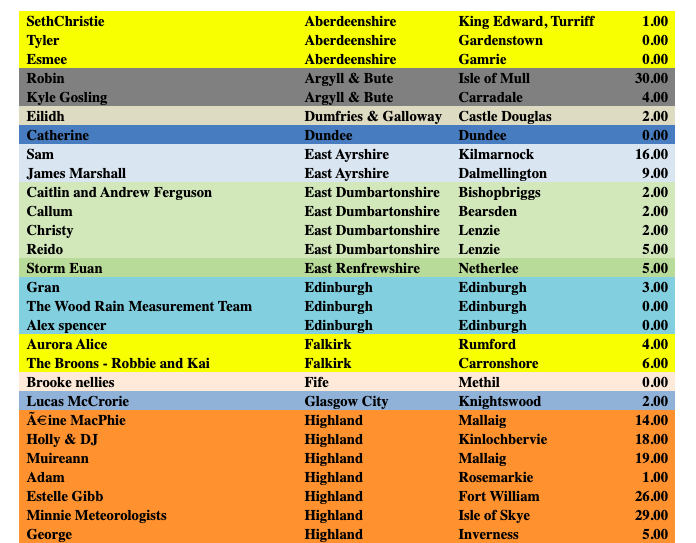 Interestingly Emily's at Newton Farm, near Cambuslang reported minus 1mm, which means that some water disappeared due to evaporation. Perhaps it evaporated and became another rain cloud and rained down in Jay's garden in neighbouring Rutherglen where there was 6mm reported.
Some of our weather observations were sent in by video, like one from Christopher in Lenzie, and a super cute one from little five-year-old Estelle in Fort William, who recorded a rather wet week with 26mm of rain.
I've also discovered from the entries, thankfully, that I'm not the oldest 'Mini Met', with someone a few years older than me in Lenzie, maybe one of your teachers, and there's also someone that goes by the name of 'Gran' in Edinburgh who is our biggest Mini Met – hello 'Gran'!
We'll continue to measure rainfall for the coming weeks, although to be honest, it looks like we'll be measuring evaporation more with quite a few areas looking completely dry for the foreseeable, but don't worry I have a few other observations you can help me out with while we're waiting for rain. Who'd have thought we'd ever be waiting on rain after that record breakingly wet February most of us had, typical!
While we have 23 council areas represented by our team, we still need the other 9 to join in for a better representation. So if you have any family or friends in Orkney, the Western Isles, Moray, Angus, Aberdeen City, East Lothian, Clackmannanshire, West Dunbartonshire or the Borders tell them to join our Met Team!
Thanks and stay safe.
To get involved, email sean@stv.tv or contact Sean through Twitter.