Where were you in 1998? What was happening in your life 23 years ago?
Perhaps you were still at school. Maybe you were enjoying regular big nights out on the town before children came along.
Some of you reading this wouldn't even have been born…
One thing is clear, though – a lot has changed for all of us since Scotland's men last graced the finals of a major football tournament.
We are in a different world from that day when Colin Hendry, Darren Jackson, John Collins and the rest of the Scotland team walked on to the pitch to take on Brazil in Paris to open the 1998 World Cup.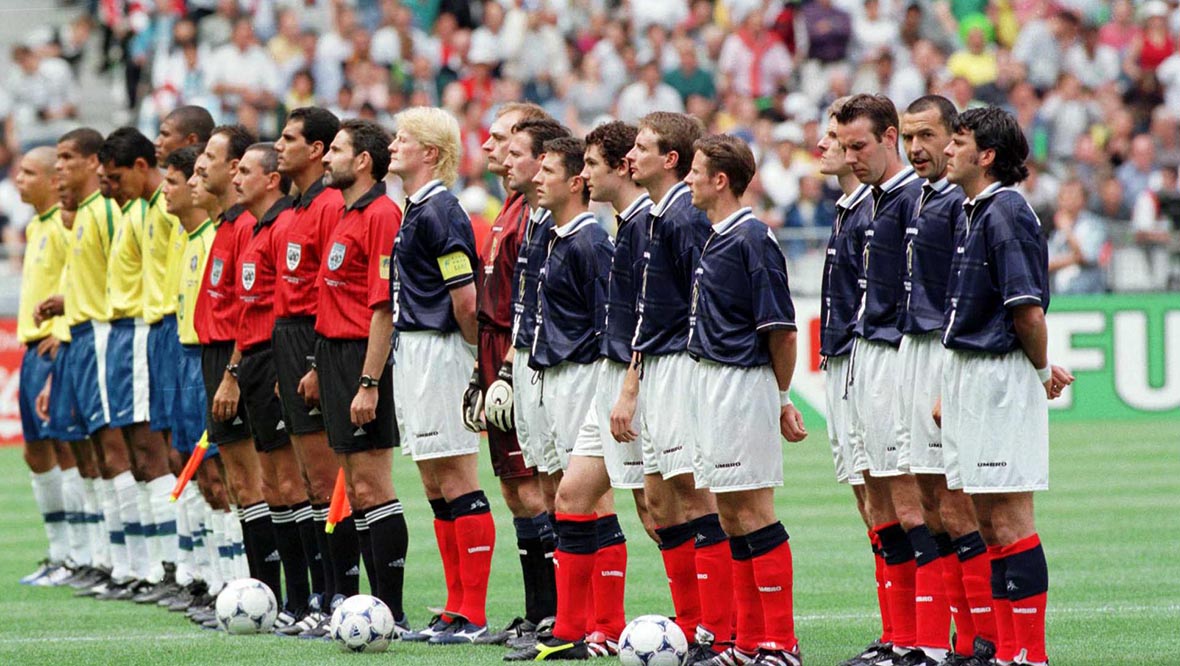 In our personal lives, loved ones have sadly departed, jobs and relationships have come and gone, milestone moments such as graduations and weddings have been reached.
Society, too, has changed beyond all recognition. Scotland's last appearance was pre-social media, pre-9/11, pre-Brexit and, of course, pre-Covid.
Since 1998, Scotland have failed to qualify for ten consecutive tournaments, missing out on the Samba beats of Brazil, the vuvuzelas of South Africa and even the big party in France five years ago when all of the other home nations qualified for Euro 2016.
STV News has looked back at the trials and tribulations of following Scotland over the last two decades through the prism of the cultural zeitgeist of the time, as well as the memorable moments on the pitch.
And don't be too despondent. Despite the many failed attempts, Scotland's qualification matches have provided some of the all-time great Tartan Army moments in the modern era.
Hopefully, this flashback helps to fuel some nostalgia of times gone by, as well as evoking happy memories of a lifetime spent following the fortunes of the national team.
Euro 2000 in the Netherlands and Belgium
BIG MOVIES: Snatch, The Beach, Kevin and Perry Go Large, Gladiator, Sexy Beast
TOP OF THE POPS: 'Stan' by Eminem, 'Take on Me' by A1, 'Beautiful Day' by U2
NEWS HEADLINES: Millennium celebrations, George H W Bush becomes US President
After featuring at both Euro 96 in England and the 1998 World Cup in France, most Scotland fans assumed qualification for major tournaments was a given.
Previous generations regularly saw the national team compete in major tournaments – five World Cups in a row from 1974 to 1990 – so why should this one be any different?
There was certainly nothing to fear from our qualifying group for Euro 2000. Plans were already being made for a Tartan Army invasion of Belgium and the Netherlands, providing we survived Y2K and entered the new millennium intact.
But it wasn't the dawn of a new century that proved the biggest stumbling block. It was Lithuania away.
We didn't know it then but the Balkan nation were to be a thorn in our side over many a qualification campaign.
Scotland drew 0-0 in Vilnius in September 1998 to get off to the worst possible start for Euro 2000. That was followed by narrow victories over Estonia and the Faroe Islands at Tynecastle and Pittodrie, setting up a crunch match against the Czech Republic.
Craig Brown's side went down to a damaging defeat. A Matt Elliott own goal and a Vladimir Smicer strike gave the Czechs victory in front of more than 44,000 at Celtic Park.
An embarrassing 1-1 draw in the Faroes came next and the return match against the Czechs in Prague provided a near fatal blow to our hopes of automatic qualification.
The Scots raced into a 2-0 lead just after the hour mark, with Paul Ritchie and Allan Johnston on the scoresheet. But the Czechs came roaring back, scoring three goals in the last 25 minutes to win 3-2.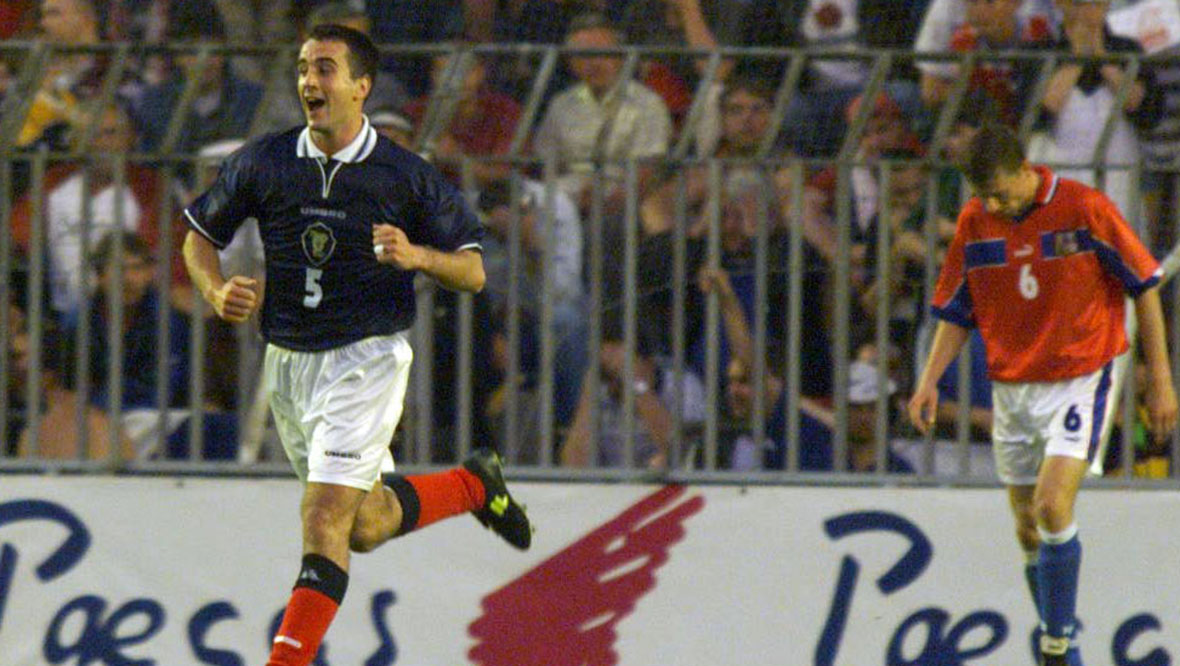 Scotland fought their way back into contention in the group, taking six points from Bosnia & Herzegovina. John Collins scored a crucial penalty kick in the home fixture at Ibrox to ensure a play-off place.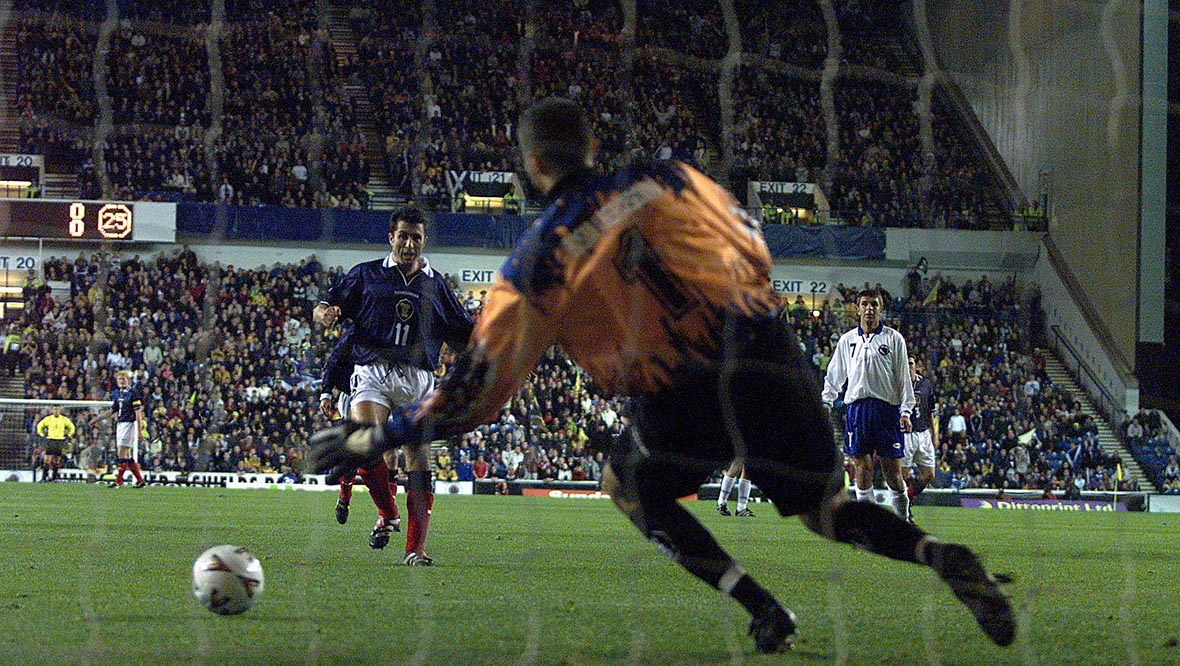 It all meant Scotland would have to beat arch-rivals England in a two-legged play-off to qualify.
Kevin Keegan brought his side – containing David Beckham, Paul Scholes and Alan Shearer – north of the border for a much-hyped Battle of Britain.
Scholes scored twice at Hampden and it looked as if the tie was done and dusted.
Don Hutchison did score a famous goal at Wembley to give Scotland a 1-0 victory in the second leg, but it wasn't enough and the national team failed to qualify for the first time since USA 94.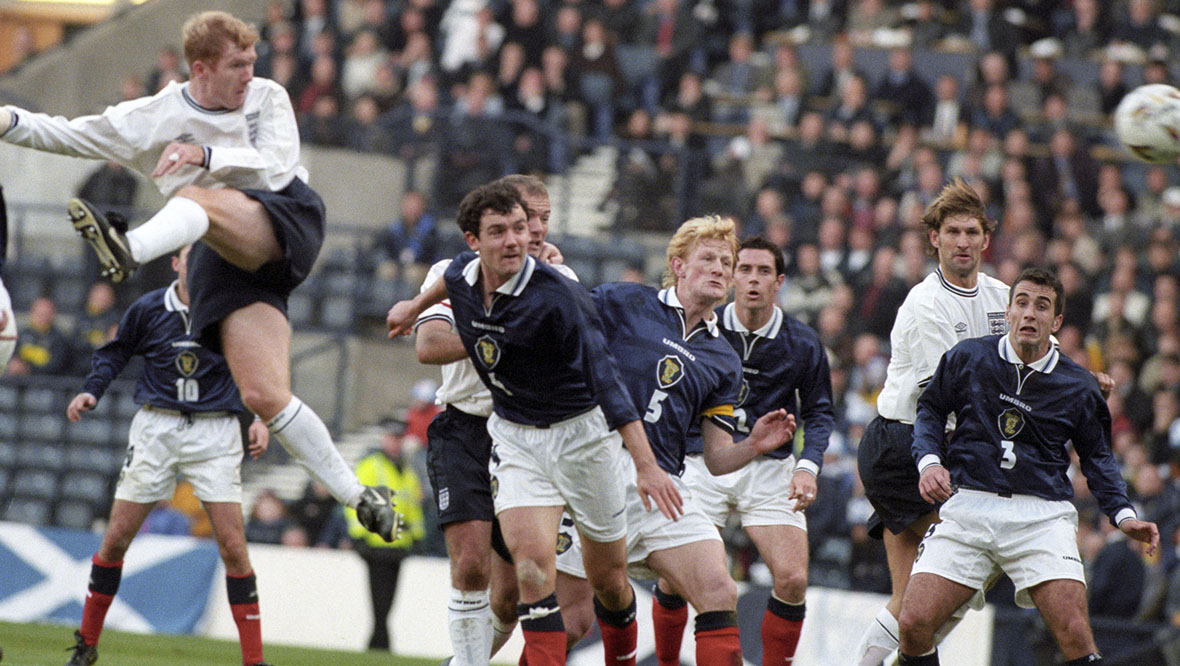 World Cup 2002 in Japan and South Korea
BIG MOVIES: 28 Days Later, 8 Mile, Minority Report, Harry Potter and the Chamber of Secrets, Austin Powers in Goldmember
TOP OF THE POPS: 'Hot in Herre' by Nelly, 'Foolish' by Ashanti, 'U Got it Bad' by Usher
NEWS HEADLINES: Queen Mother dies, Potters Bar rail crash kills seven people, Falkirk Wheel opens
Despite the failure to reach Euro 2000, Craig Brown was at the helm as Scotland began their campaign to reach the first World Cup to take place in the Far East.
And it was a promising start on the road to Japan and South Korea. Scotland won in Latvia and San Marino before earning a valuable point in Croatia.
Kevin Gallacher's equaliser sent confidence soaring through the squad in the final round of international fixtures before Christmas 2000.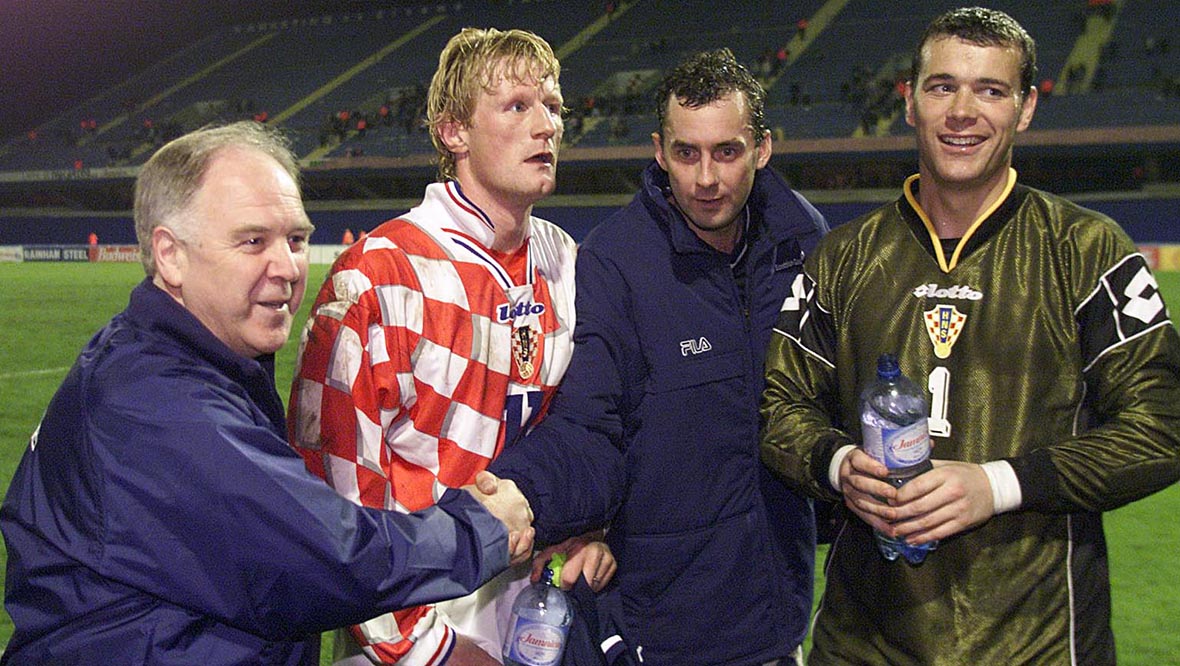 But a real punch in the gut was to come at Hampden the following spring.
Billy Dodds scored twice in the opening half-hour to give Scotland a commanding 2-0 lead over Belgium. Marc Wilmots pulled one back before the hour mark and then, deep into stoppage time, Daniel Van Buyten headed home an equaliser, deflating the Hampden crowd.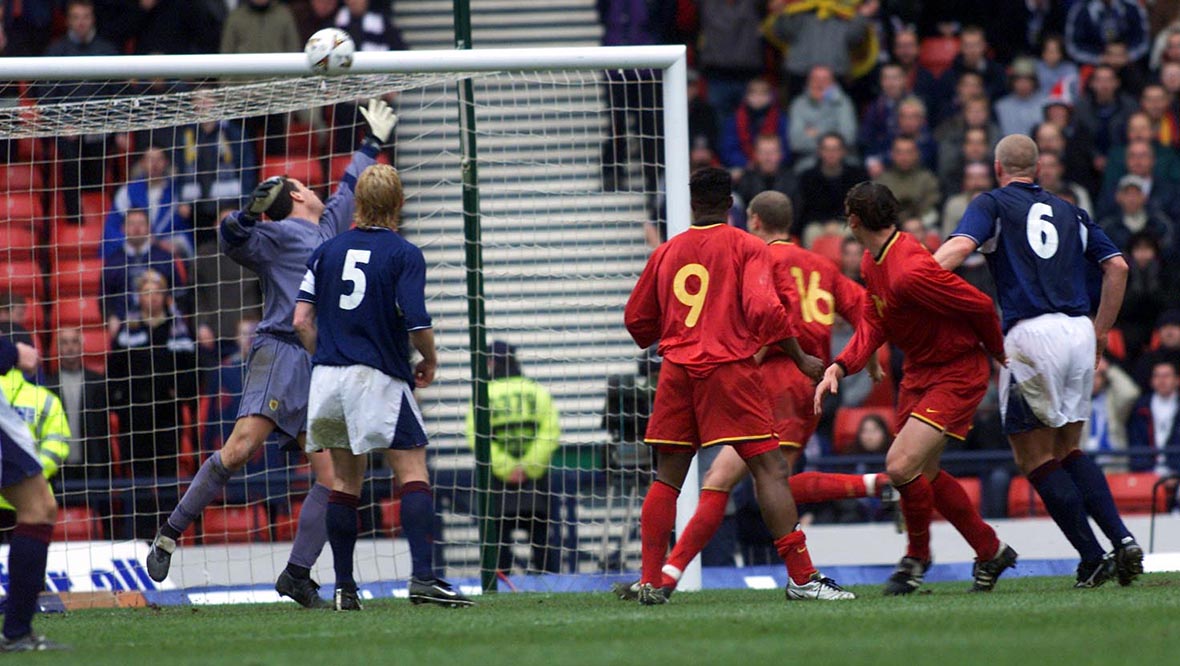 The writing appeared to be on the wall despite it being the first setback of the campaign. The Scots pressed on regardless, thrashing San Marino and drawing 0-0 with Croatia in Glasgow.
It had been a tight three-way tussle between Scotland, Croatia and Belgium to occupy the top two spots, and for the Scots it all came down to the King Baudouin Stadium in Brussels.
Nico Van Kerckhoven and Bart Goor scored as Scotland fell to defeat. Despite beating Latvia 2-1 in their final qualifier, Scotland were eliminated after Croatia beat Belgium to ensure Scotland finished third in the group.
Craig Brown immediately announced his resignation and Scotland now needed to appoint a new manager for the first time since 1993.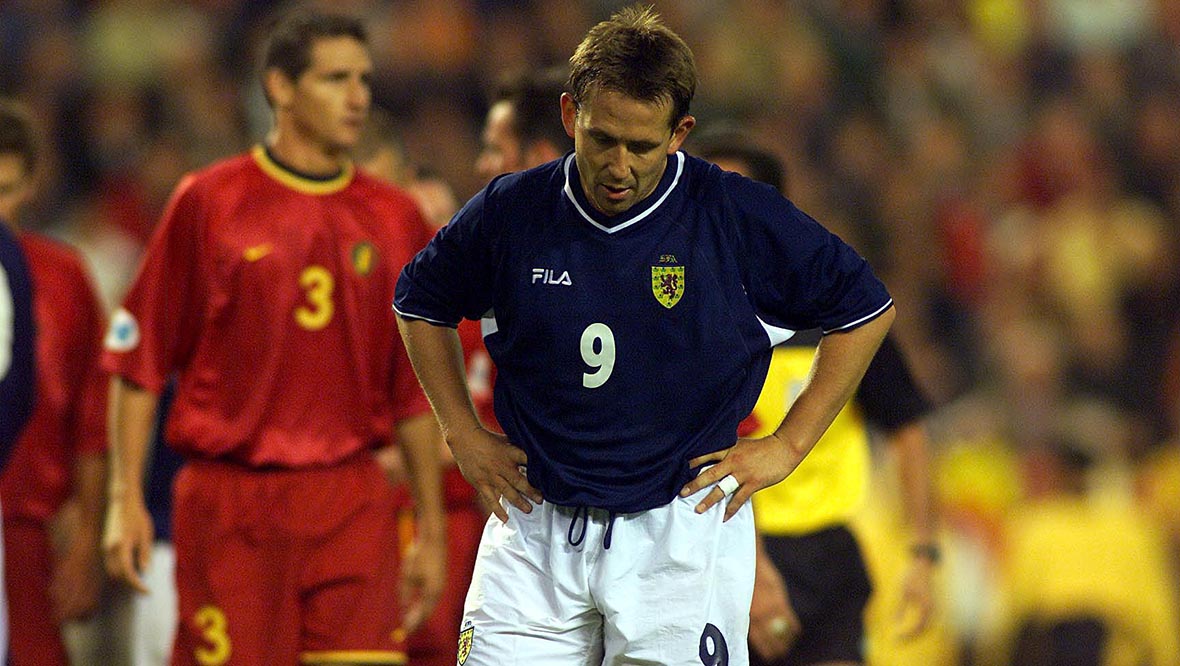 The Tartan Army might not have been able to sample the bright lights of Tokyo and Seoul, but there was at least some Scottish success to celebrate before 2002 was out… Paisley-born David Sneddon won the first series of talent show Fame Academy.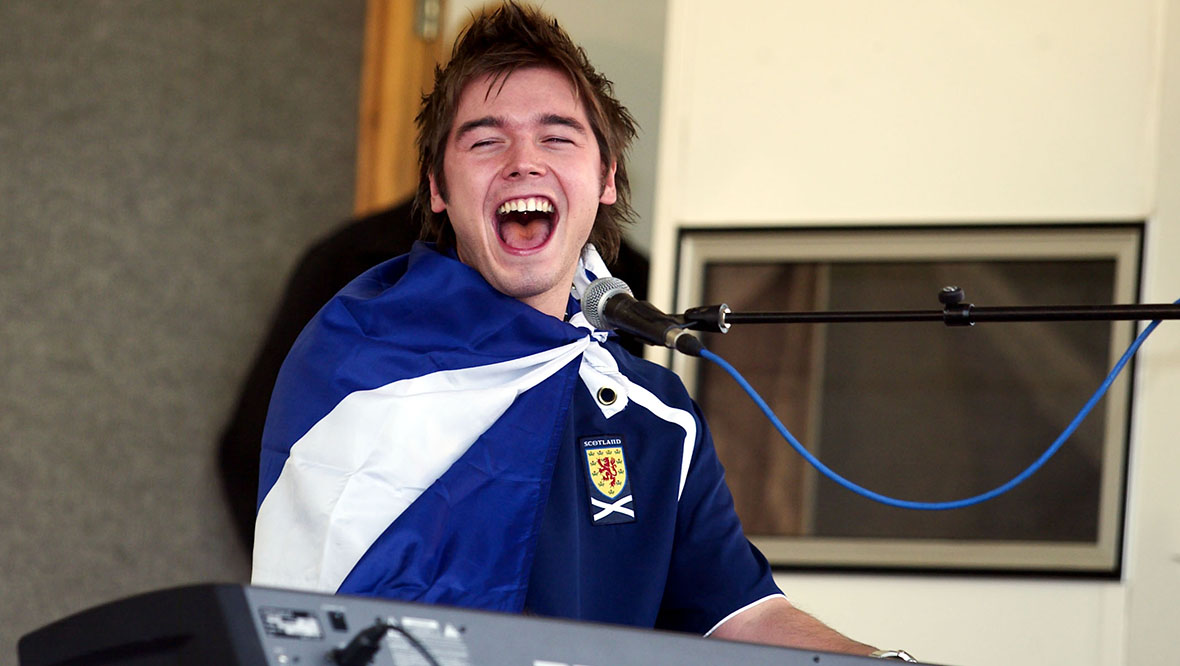 Euro 2004 in Portugal
BIG MOVIES: The Aviator, Sideways, Layer Cake, Shrek 2, The Butterfly Effect
TOP OF THE POPS: 'Drop It Like It's Hot' by Snoop Dogg featuring Pharrell, 'Hey Ya' by Outkast, 'Lean Back' by Terror Squad
NEWS HEADLINES: Indian Ocean tsunami, Scottish Parliament building opens, Facebook launched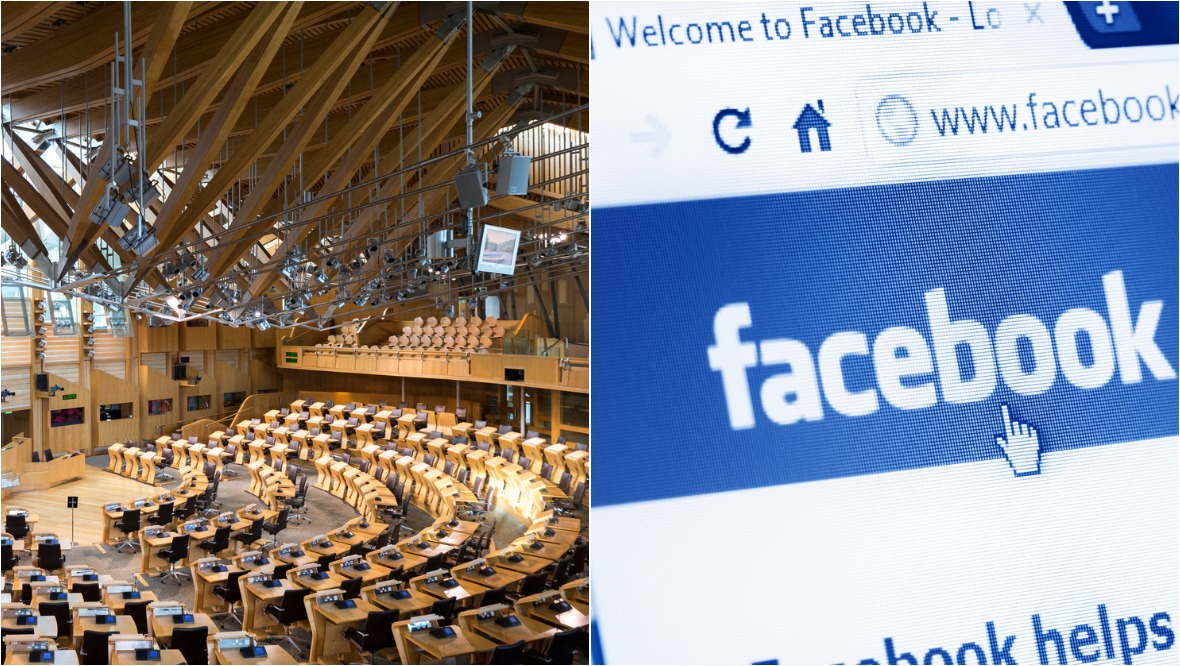 'Lucky Scots scrape draw in Faroes'
'Faroes put Scots in denial'
The headlines were not kind after Scotland's bid to reach Euro 2004 started in the worst possible fashion – an embarrassing 2-2 in the Faroe Islands.
Berti Vogts watched on in dismay in Toftir as schoolteacher John Petersen scored twice in the first 15 minutes.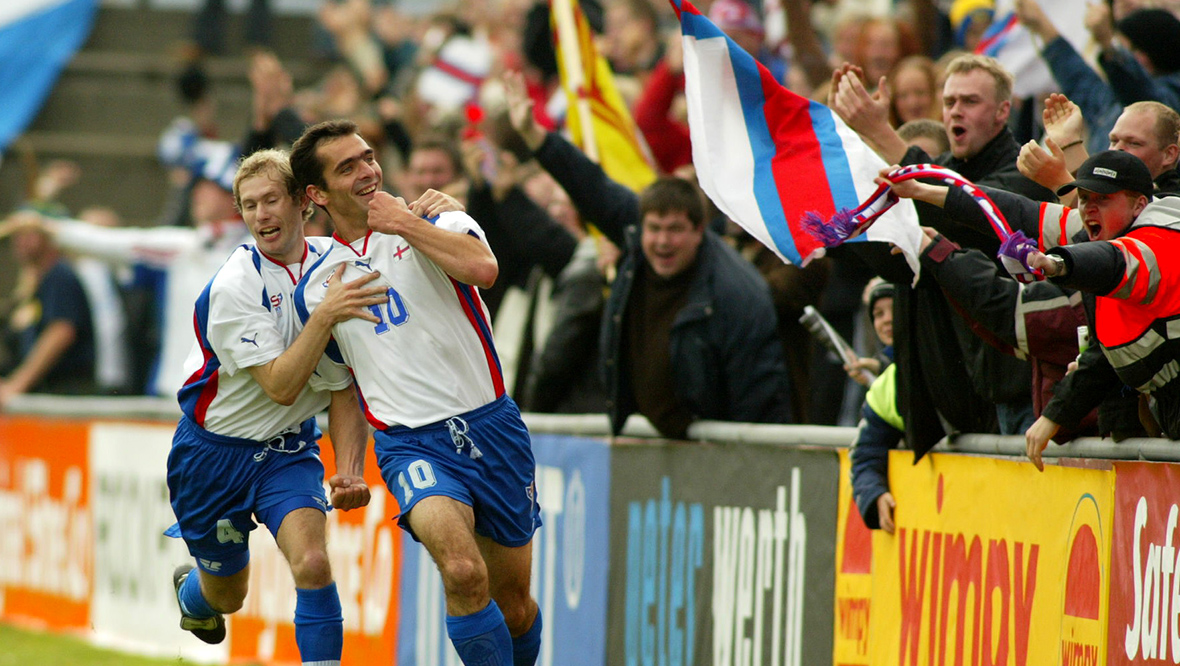 Paul Lambert and Barry Ferguson salvaged a draw, ensuring Scotland avoided the ignominy of recording the worst result in the nation's history, but it was a disastrous start to qualifying regardless.
Back-to-back victories over Iceland only papered over the cracks until the next disaster – in the aforementioned Lithuania.
A Tomas Ražanauskas penalty in Kaunas saw Scotland go down 1-0 to leave them in a perilous position in the group.
Vogts' homeland were up next at Hampden. Fredi Bobic gave the Germans an early lead but the Scots earned an impressive point after Kenny Miller latched onto a quick Colin Cameron free-kick to level the scores.
The return match in Dortmund saw Scotland go down 2-1, infamously provoking Christian Dailly's ire as he shouted "diving cheats" during Vogts' post-match interview.
In the end, Scotland made the play-offs after Darren Fletcher's goal proved decisive in a tense, nervy victory over Lithuania at Hampden that secured second-place in the group.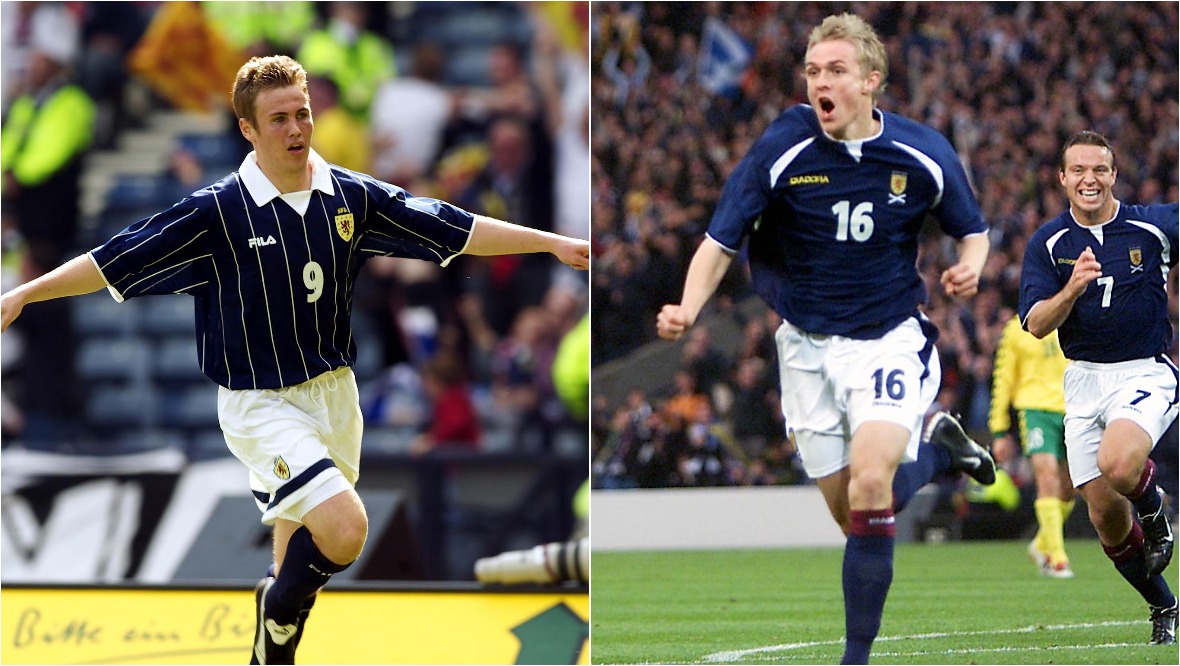 The play-off against the Netherlands, however, was a daunting prospect. Dick Advocaat's side was packed full of talent and included star names such as Edgar Davids, Patrick Kluivert and Ruud van Nistelrooy.
In one of the most memorable matches of modern times, Scotland recorded a famous 1-0 victory in the first-leg. James McFadden played a clever one-two with Darren Fletcher and his shot deflected past Edwin van der Sar to send Hampden into raptures.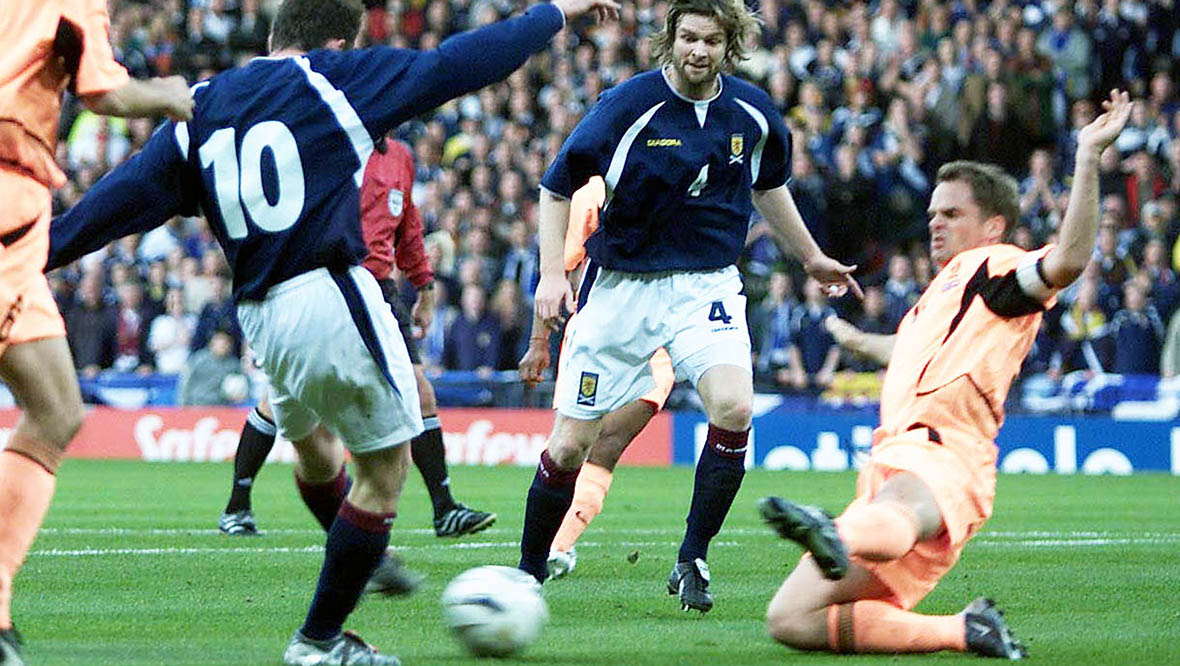 It was not to be, though, as the Scots were crushed 6-0 in Amsterdam in the second leg.
Just a month later, Michelle McManus from Baillieston won Pop Idol. Her song 'All this Time' went straight to No.1 in the UK Singles Chart.
The sentiment was not lost on Tartan Army foot soldiers wondering how much time would pass before they would see the national team once again grace the world or European stage.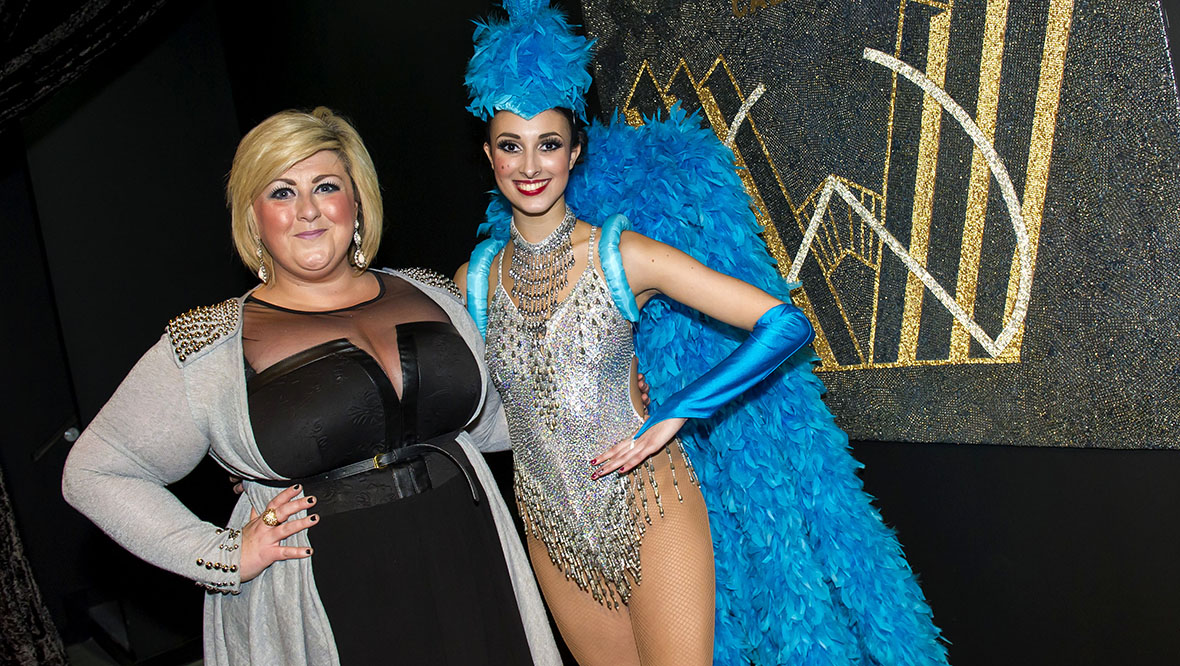 World Cup 2006 in Germany
BIG MOVIES: This is England, Casino Royale, The Da Vinci Code, Cars, The Last King of Scotland
TOP OF THE POPS: 'SexyBack' by Justin Timberlake, 'Promiscuous' by Nelly Furtado featuring Timbaland, 'London Bridge' by Fergie
NEWS HEADLINES: Saddam Hussein sentenced to death and executed, Mumbai terror attacks, Steve Irwin killed by stingray
Greece had surprisingly won the 2004 European Championship, giving inspiration to smaller nations about what was possible with a bit of belief and team spirit.
For Scotland, just qualifying for a tournament would be a feat in itself. But the road to the World Cup in Germany hit buffer-after-buffer from the outset.
A dull, uninspiring 0-0 draw with Slovenia was followed by a 1-0 defeat to Norway in Glasgow – James McFadden seeing red as Scotland's 19-year unbeaten record at Hampden in World Cup qualifiers disappeared.
The final nail in Berti Vogts' reign as manager then came in the Moldovan capital, Chisinau. Vogts watched a dismal 1-1 draw from the stands having received a touchline ban. He resigned a few weeks later after a tumultuous two-and-a-half years in charge.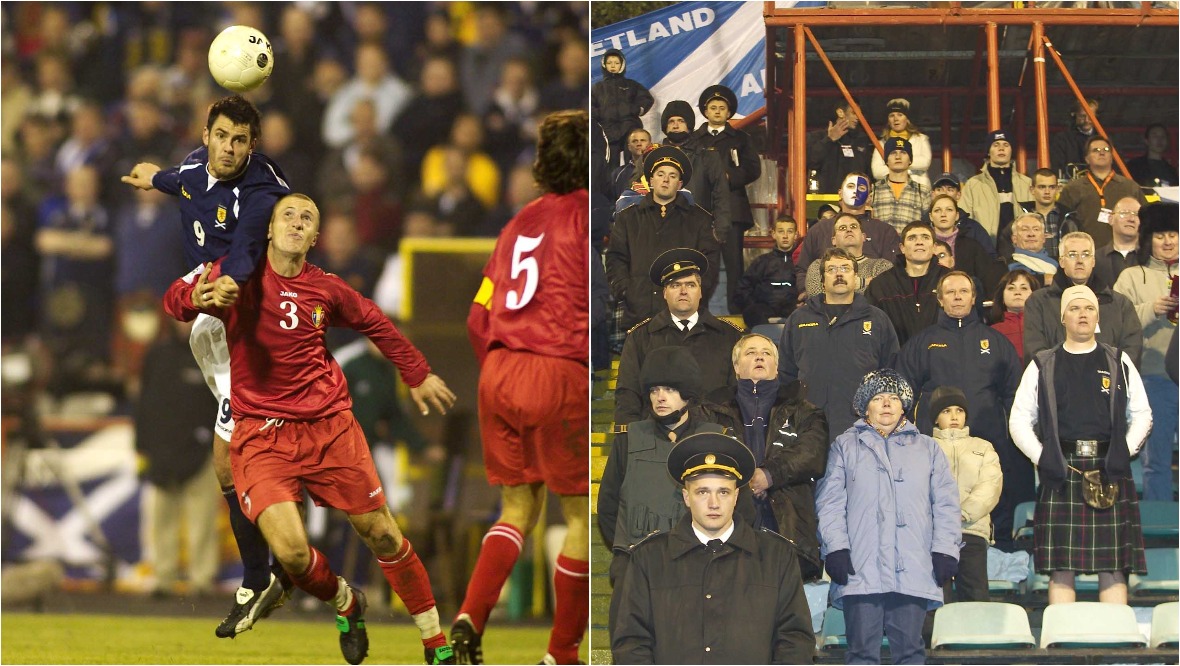 Former Rangers boss Walter Smith took the reins. Despite a 2-0 defeat to Italy in Milan, Smith steadied the ship and guided the side to victory over Moldova, as well as picking up a point in Belarus.
Italy came to Hampden in September, 2005, and a Kenny Miller header had the Scots dreaming of an all-time great upset. Fabio Grosso scored late on, however, and the match finished 1-1.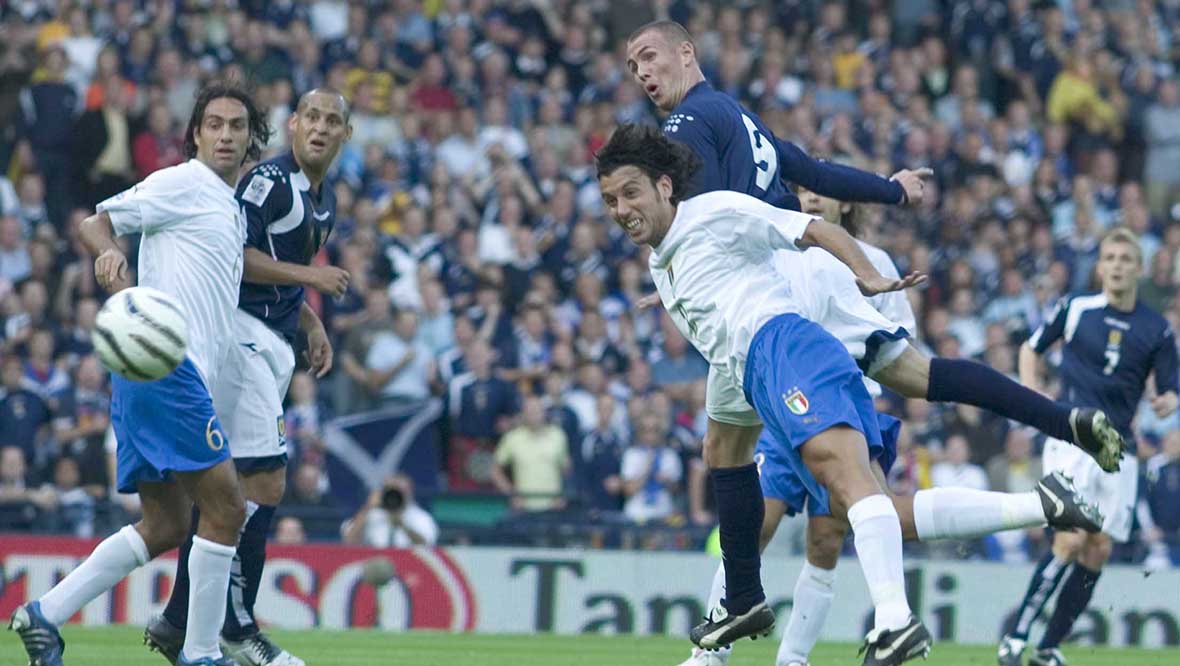 Scotland recorded an impressive 2-1 victory over Norway in Oslo but the campaign came to a crashing end with defeat to Belarus at Hampden – Vitaly Kutuzov scoring the only goal of the game.
An impressive 3-0 victory in Slovenia wrapped up the group – but it was too little, too late.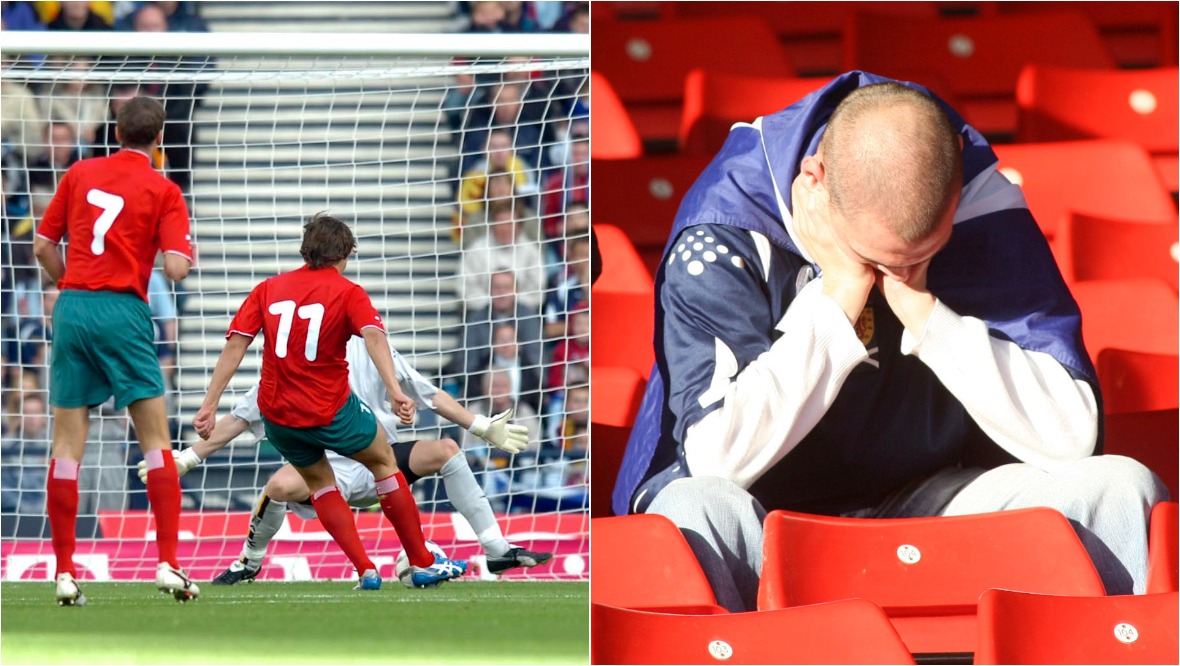 Euro 2008 in Austria and Switzerland
BIG MOVIES: The Dark Knight, Hancock, Wall-E, Iron Man, Indian Jones and the Kingdom of the Crystal Skull
TOP OF THE POPS: 'I Kissed a Girl' by Katy Perry, 'Low' by Flo Rida featuring T-Pain, 'Bleeding Love' by Leona Lewis
NEWS HEADLINES: Heath Ledger found dead in apartment, Barack Obama elected US President, Lehman Brothers file for bankruptcy
Scots watched the qualifying draw for the 2008 European Championship in Austria and Switzerland through their fingers as both 2006 World Cup finalists – France and Italy – were placed in Scotland's group, along with Ukraine.
The general consensus was Scotland had about as much chance of qualifying as an extremist had of getting past John Smeaton at Glasgow Airport – the scene of a terror attack in 2007.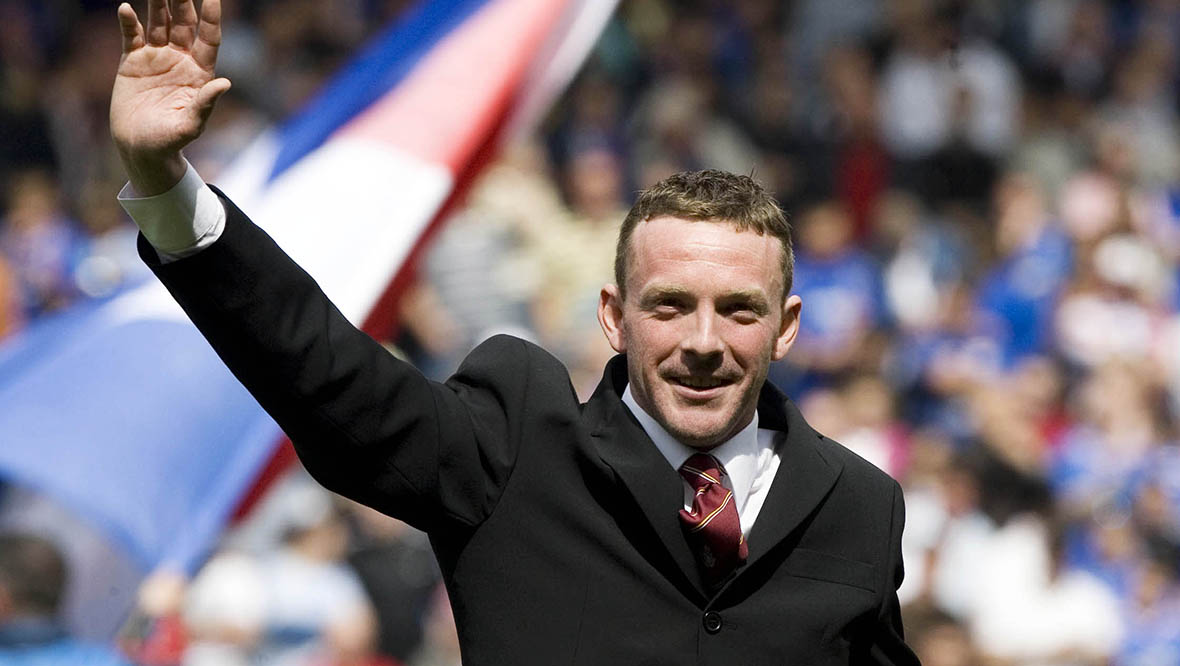 But this campaign was to be one of the most exhilarating, exciting and memorable for years.
Scotland got off to a roaring start, thrashing the Faroe Islands 6-0 and then, for a change, winning in Lithuania.
And then the Scots made it three wins out of three, with one of the national team's most impressive victories on home soil in a generation.
Gary Caldwell was the hero, scoring the winner against France and their team of assembled superstars.
Scotland lost in Kiev in their next game and were dealt a further blow when Smith left the national team for a second spell at Rangers.
The impressive campaign continued, however, under the guidance of Alex McLeish – albeit he needed a last-minute winner from Craig Beattie in his first match to beat Georgia at Hampden.
Scotland lost 2-0 in Italy but then recorded victories over the Faroes and Lithuania to keep their dreams alive.
And then arguably the most iconic Scotland goal of recent times. McLeish's side went to the Parc des Princes backed by a huge support from the Tartan Army who marched from the Eiffel Tower to the ground in full song.
They were in dreamland when James McFadden's 30-yard strike proved too much for Mickael Landreau in the French goal. Scotland survived a French onslaught to hold on for a famous victory and move top of Group B.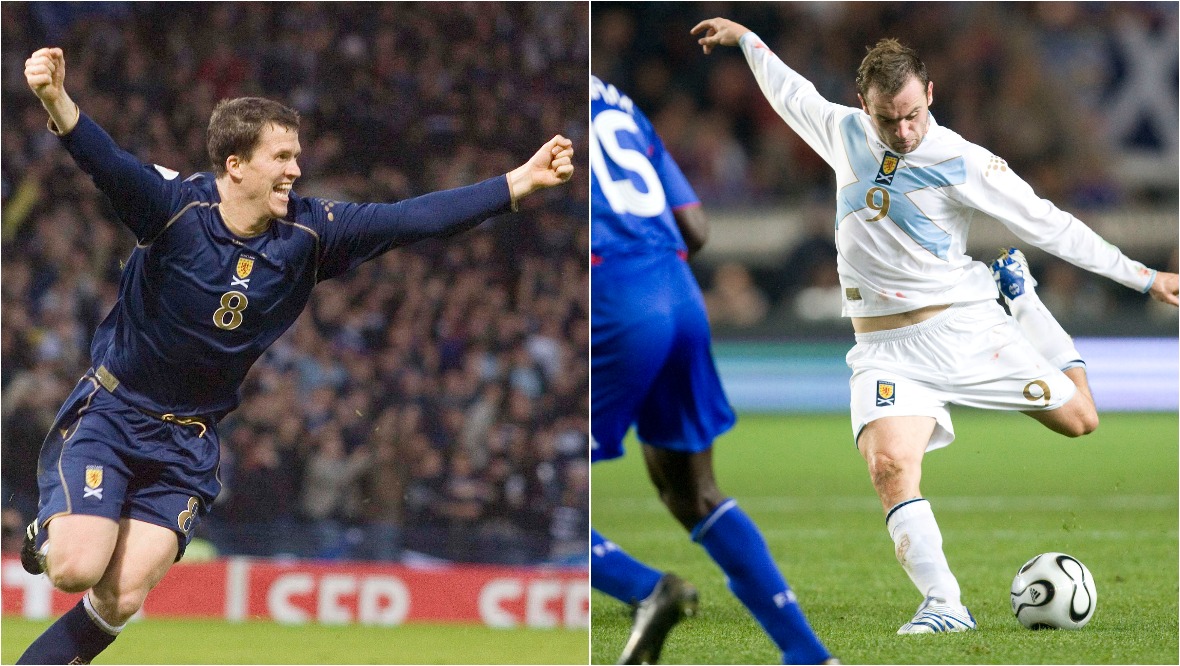 Scotland followed up the French victory by beating Ukraine 3-1 at Hampden. For once, fans' nerves were settled by two early goals – from Kenny Miller and Lee McCulloch. Andriy Shevchenko pulled one back but McFadden sealed another impressive three points.
But it wouldn't be Scotland without going from the sublime to the ridiculous.
On a haunting night in Tbilisi, Scotland – in a cursed 'limited edition' maroon strip – went down 2-0 to Georgia, who fielded three teenagers and handed a debut to 17-year-old goalkeeper Giorgi Makaridze.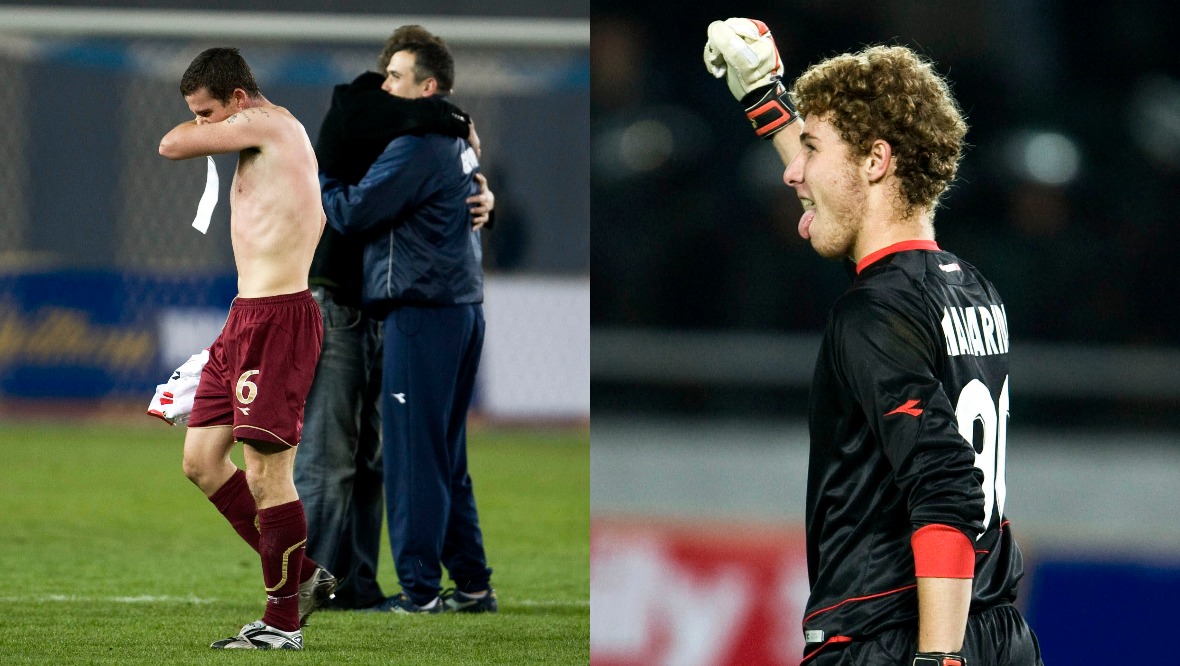 It made the visit by World Cup champions Italy to Hampden in November 2007 all the more momentous. The rain teemed down in Glasgow on a night when Hampden pulsated and rocked at its foundations.
Luca Toni scored within two minutes, but Barry Ferguson scrambled in an equaliser.
Then, Christian Panucci scored a heartbreaking stoppage-time winner for Italy following a heavily disputed free-kick.
This one was sore, very sore, to take and it meant Scotland had now spent a decade in the international wilderness.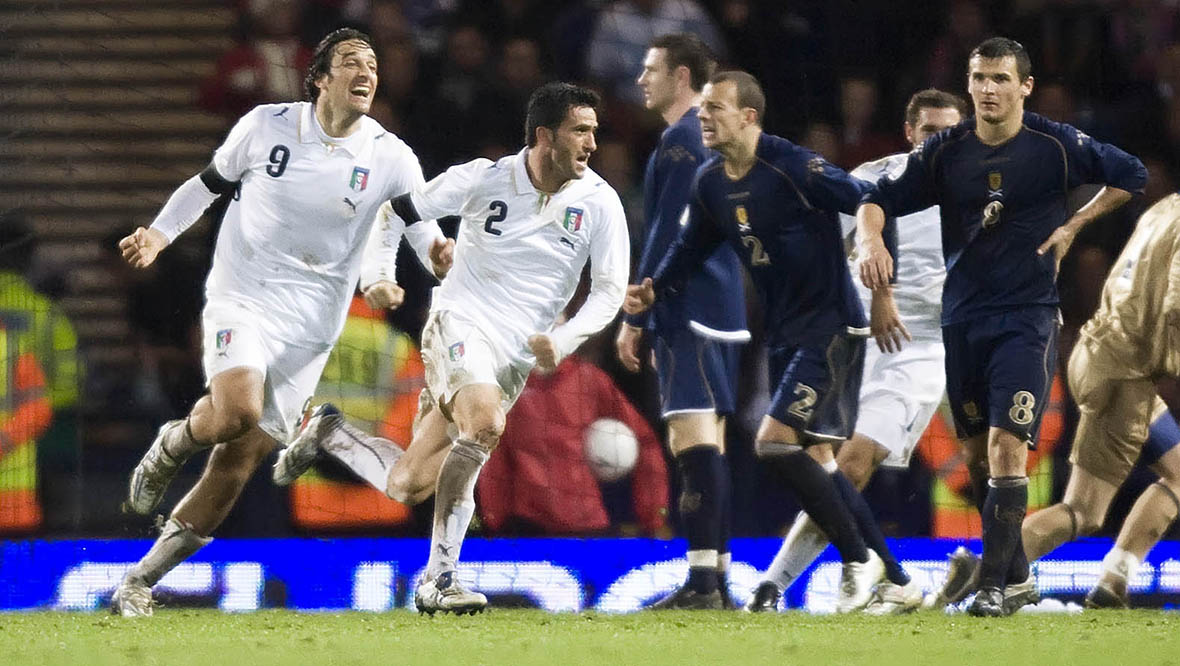 World Cup 2010 in South Africa
BIG MOVIES: Black Swan, Toy Story 3, Shutter Island, The King's Speech, Inception
TOP OF THE POPS: Tik Tok by Kesha, Love The Way You Lie by Eminem featuring Rihanna, Just The Way You Are by Bruno Mars
NEWS HEADLINES: Flights grounded after Eyjafjallajokull volcano erupts in Iceland, Trapped Chilean miners rescued, David Cameron becomes Prime Minister
After the optimism and feel-good factor generated by the last campaign, it was dispiriting that the road to South Africa started with defeat to Macedonia in the searing heat of Skopje.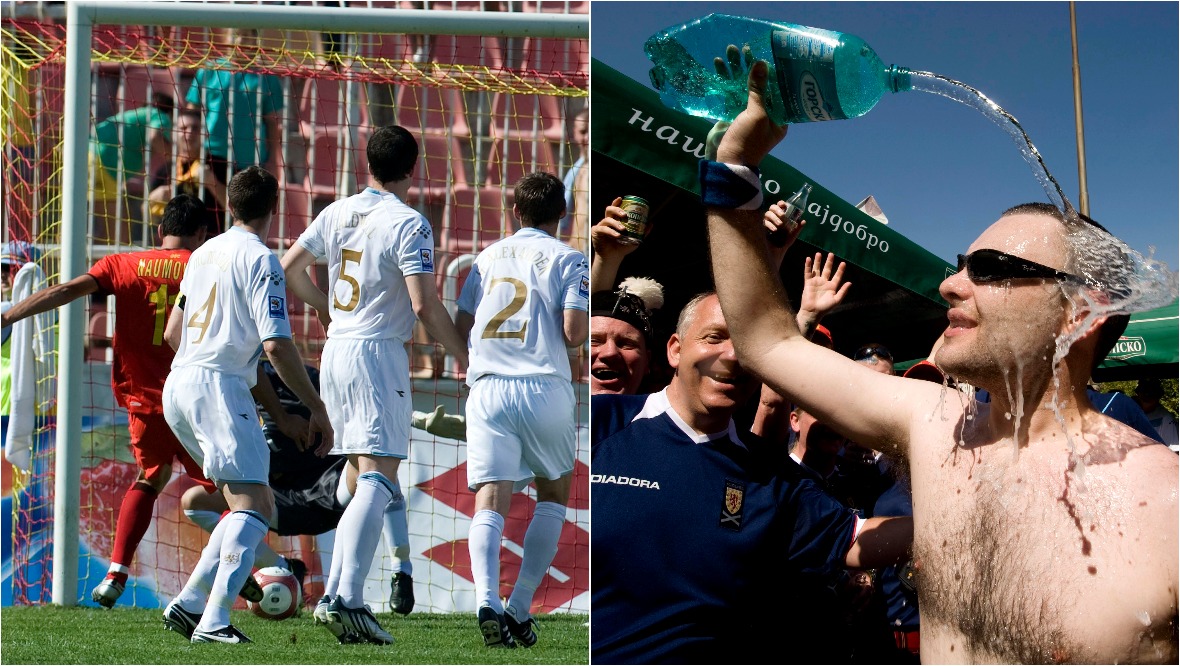 Many Scotland fans found themselves locked out of the stadium after travelling without tickets for George Burley's first competitive match in charge.
In truth, all they missed was Scotland toiling in baking temperatures, going down 1-0 to an early goal by Ilcho Naumoski.
Scotland then won in Reykjavik to get their first points on the board before Norway came calling to Hampden.
The match is famous for an astonishing miss by Chris Iwelumo on his international debut, the 30-year-old somehow failing to find the back of the net with the goal gaping wide open at his mercy. It finished 0-0 and the Scots were once again up against it in qualifying.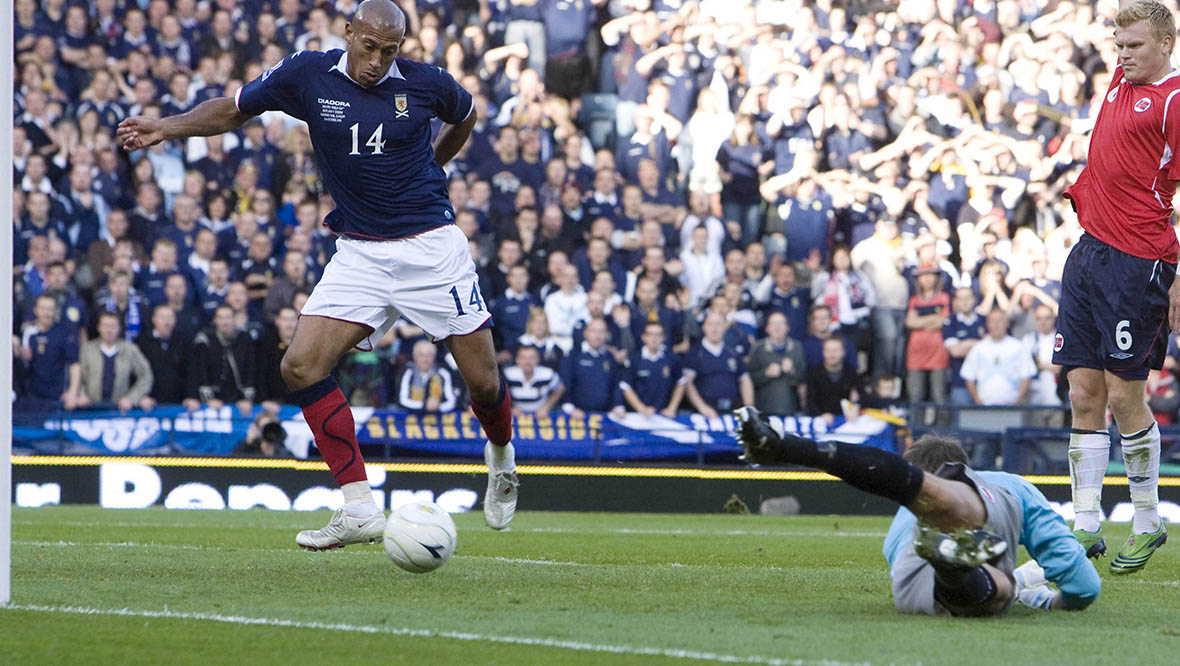 Burley's tenure didn't get much better. He presided over heavy defeats to the Netherlands in Amsterdam and Norway in Oslo.
A memorable James McFadden solo goal was a rare highlight in a 2-0 home victory over Macedonia.
All flights in and out of Britain's airports were cancelled following the eruption of Iceland's Eyjafjallajokull volcano in April 2010, but Scotland were in no need of travelling to South Africa anyway.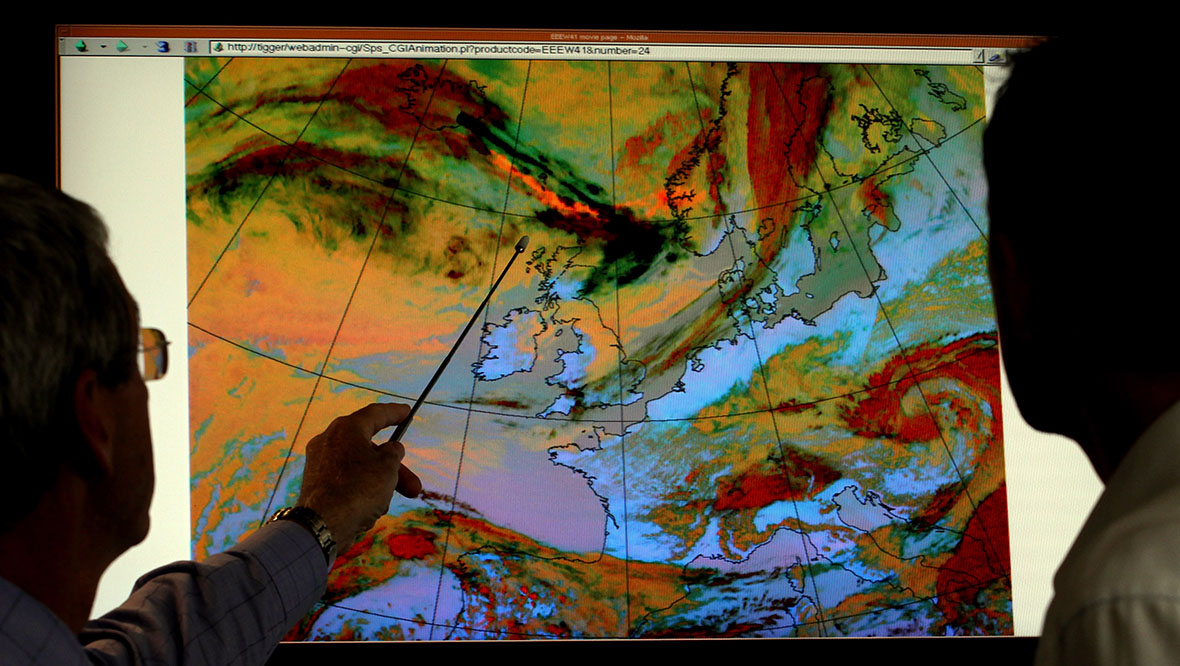 The Scots put in a brave showing against the Dutch in the final group game but went down 1-0, missing out on qualification and a play-off.
There was to be no African adventure.
But we certainly still heard the vuvuzelas all summer long…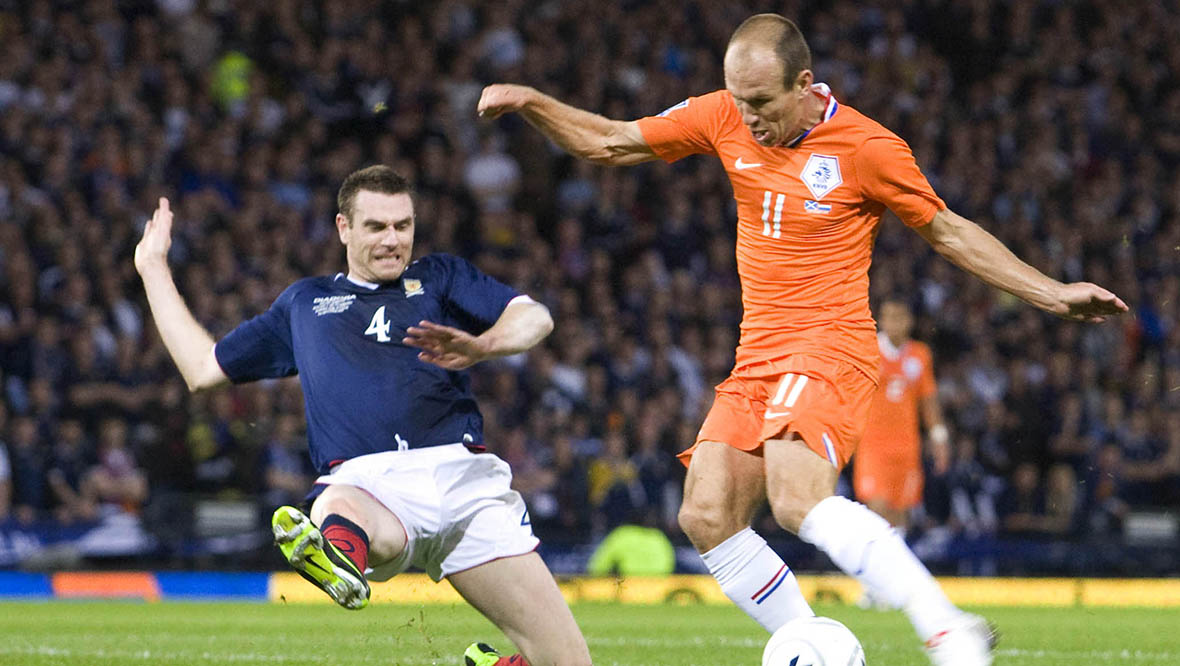 Euro 2012 in Poland and Ukraine
BIG MOVIES: Skyfall, The Avengers, The Hunger Games, Men in Black 3, The Twilight Saga: Breaking Dawn – Part 2
TOP OF THE POPS: 'Somebody That I Used to Know' by Gotye featuring Kimbra, 'Call Me Maybe' by Carly Rae Jepsen, 'One More Night' by Maroon 5
NEWS HEADLINES: Death of Whitney Houston, London hosts Olympics, Barack Obama re-elected US President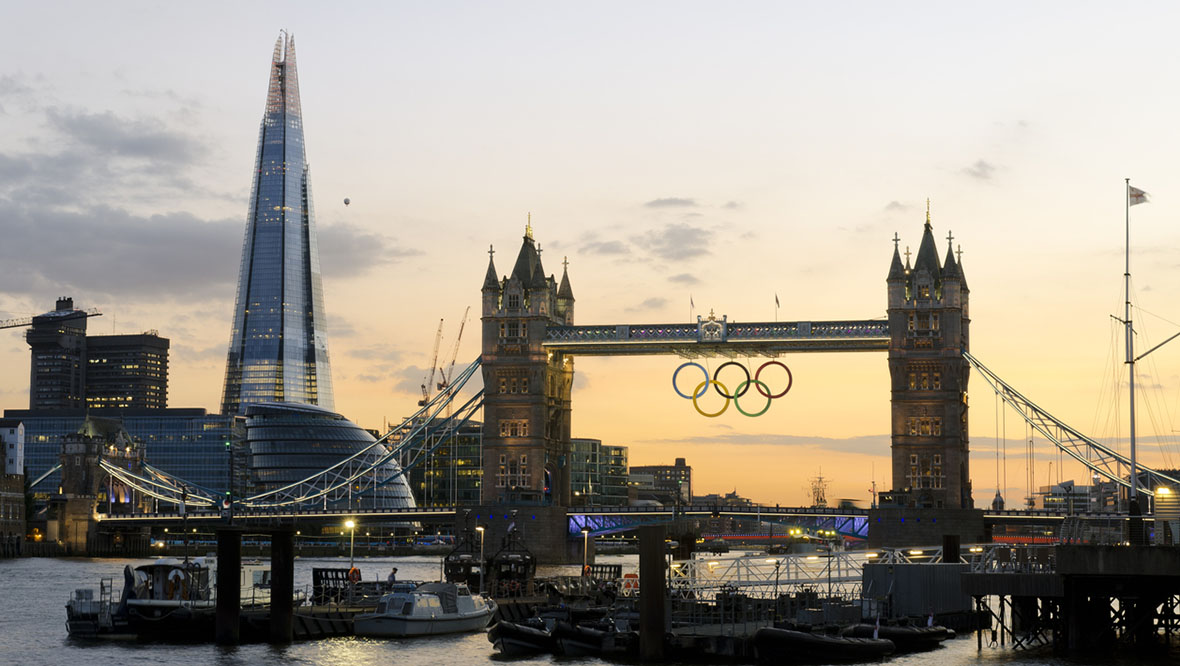 After the calamity of the 2010 World Cup qualifying campaign, Burley was out and Craig Levein was in.
He was appointed just before Christmas 2009, and had to wait a full nine months before his first competitive match in charge as Scotland boss.
It wasn't worth the wait.
Scotland opened their bid to reach Poland and Ukraine with a 0-0 draw away to… Lithuania.
The campaign was on the verge of utter calamity in the following match, with the Scots only just beating Liechtenstein. It took a 97th minute winner from Stephen McManus to spare Levein's blushes.
But that was just for starters – what happened next has gone down in Scottish football folklore as one of the most bizarre decisions in the history of the national team.
Levein lined Scotland up in a 4-6-0 formation against the Czechs in Prague, opting against playing a recognised striker. The move didn't work as, perhaps unsurprisingly, Scotland didn't score and they also failed to keep the Czechs out at the other end – Roman Hubnik scoring the game's decisive goal.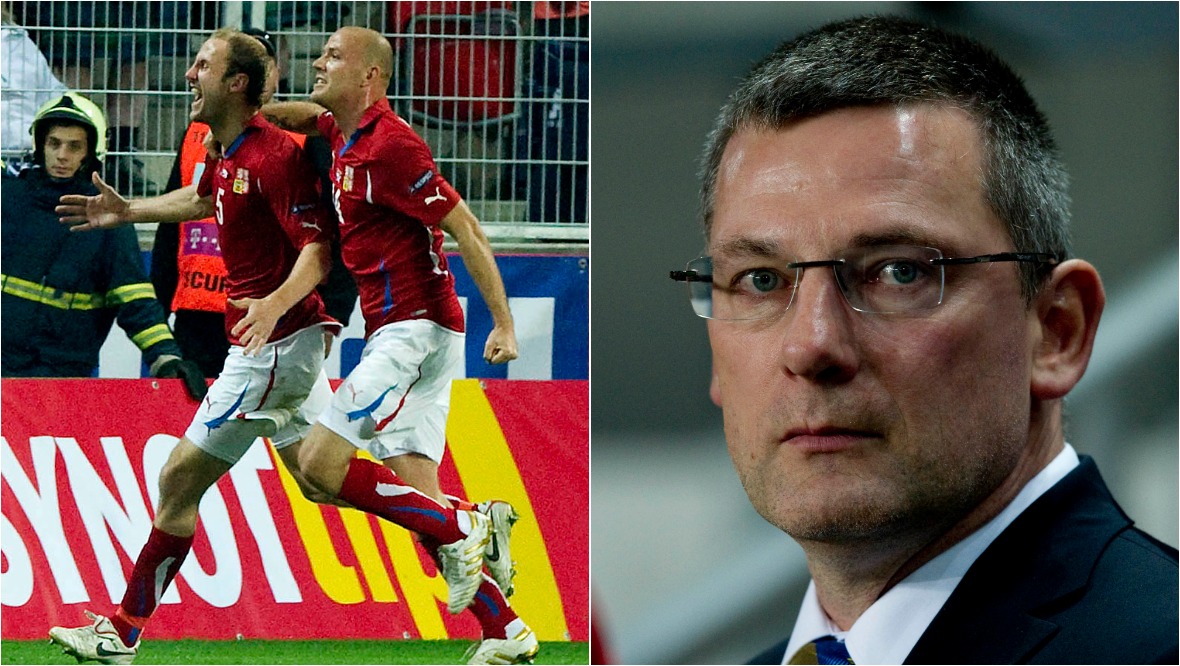 The performances under Levein to date had not filled the Tartan Army with confidence ahead of the visit by World and European champions Spain.
But Scotland put in a valiant performance – fighting back from two goals down to level proceedings at 2-2 after Gerard Pique turned James Morrison's cross into his own net.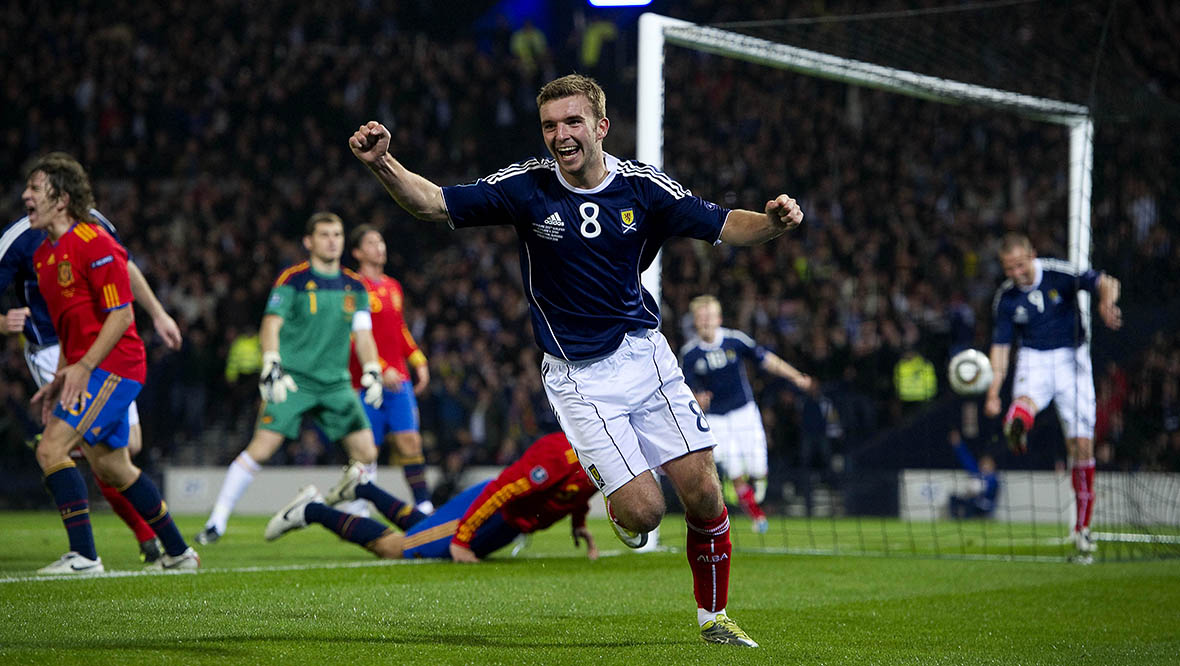 The night ultimately ended in disappointment after a Stephen McManus error allowed Fernanco Llorente to net a winner for the Spaniards.
Scotland's next match was a crunch encounter with the Czech Republic in Glasgow – only a win would suffice to keep the qualifying dream alive.
The Scots led twice – through Kenny Miller and then Darren Fletcher – but were pegged back both times; the Czechs' second equaliser courtesy of a controversial penalty in the last minute.
There was still time for Christophe Berra to claim a penalty of his own at the other end, but his appeals were waved away and the match finished all square.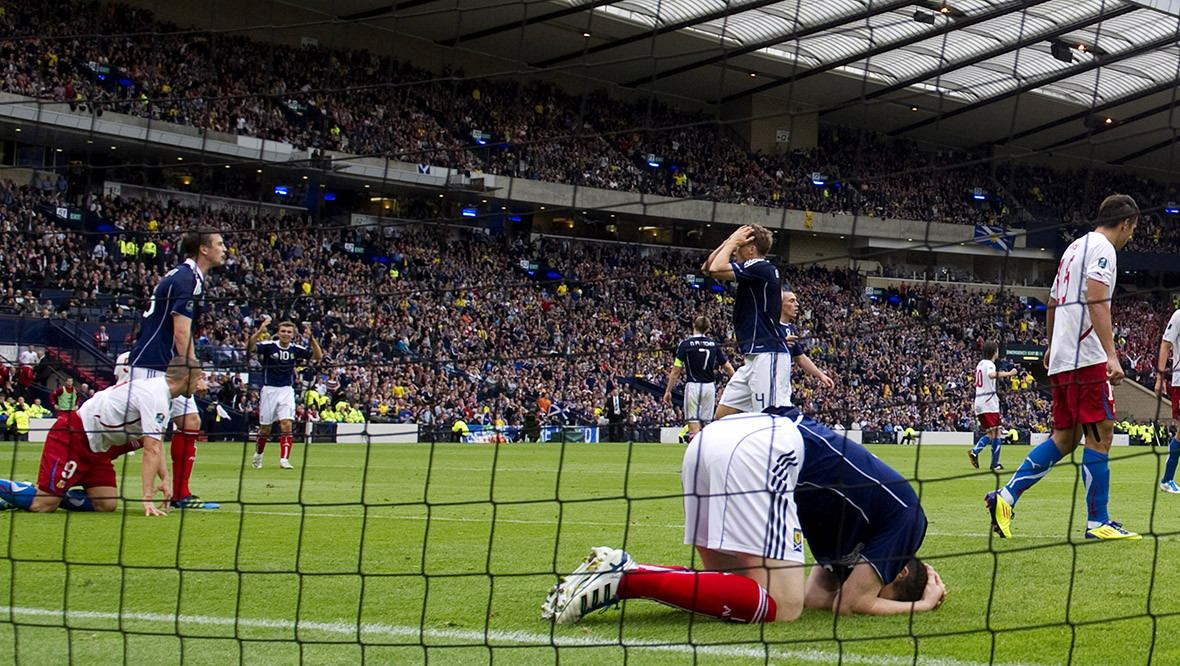 Scotland now needed results to go in their favour but it wasn't to be.
A 1-0 win in Liechtenstein was followed by a 3-1 defeat in Spain and yet another campaign had ended in failure.
The start of the 2012-13 season in Scotland was also notable for the appearance of Rangers in the fourth-tier of the football league system following liquidation.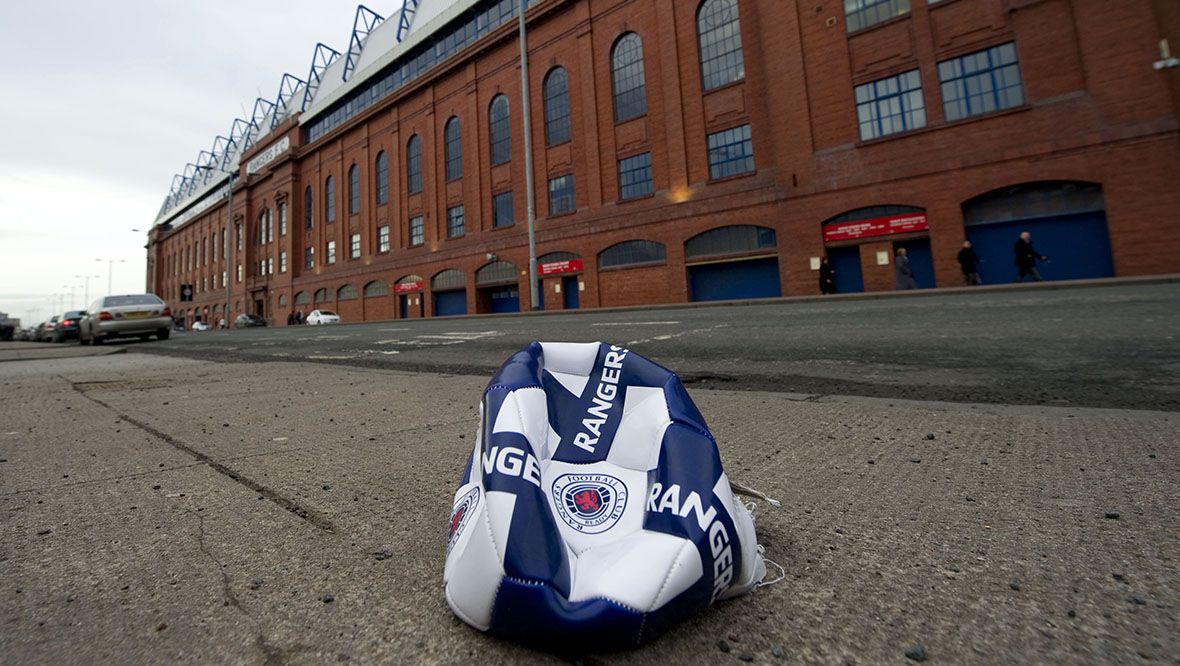 World Cup 2014 in Brazil
BIG MOVIES: Whiplash, Interstellar, Guardians of the Galaxy, Maleficent, Transformers: Age of Extinction
TOP OF THE POPS: 'Happy' by Pharrell Williams, 'Blank Space' by Taylor Swift, 'All of Me' by John Legend
NEWS HEADLINES: Scottish independence referendum, Flight MH370 goes missing, Oscar Pistorius trial gets under way
Several campaigns built up steam in the years leading up to 2014.
The Scottish Government and the UK Government signed the Edinburgh Agreement in October 2012, setting the terms for a referendum on Scottish independence.
Just a month earlier, Scotland began their quest to reach the rainforests and sun-kissed beaches of Brazil.
The prospect of sipping a cold caiprinha on Copacabana beach seemed a distant daydream after Levein's side began by drawing with Serbia and Macedonia at home, and then succumbing to defeats in Wales and Belgium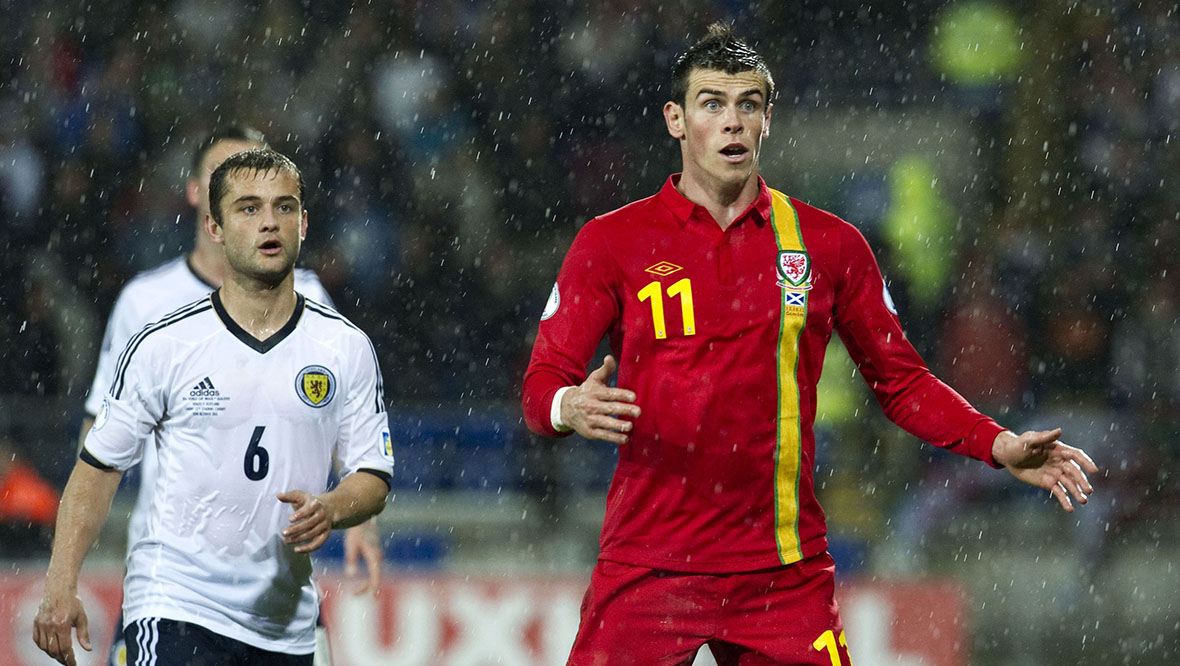 Scotland's campaign was over before it began, and it was also over for Levein. He was sacked and Billy Stark took temporary charge until Gordon Strachan was appointed in January 2013.
Strachan was denied a winning start to his competitive Scotland managerial career when the Welsh came back to win the return fixture at Hampden 2-1.
There was now a slim-to-no chance of Scotland being in Brazil.
Forget those tropical climes, though, far too hot for the pasty Tartan Army anyway. They were much happier in their natural habitat – a cold snowy Novi Sad in Serbia for the next group qualifier.
Scottish supporters grafted hard to help clear the pitch of snow after a severe spell of winter weather in eastern Europe.
Their efforts went unrewarded, however, as Serbia cruised to a 2-0 victory.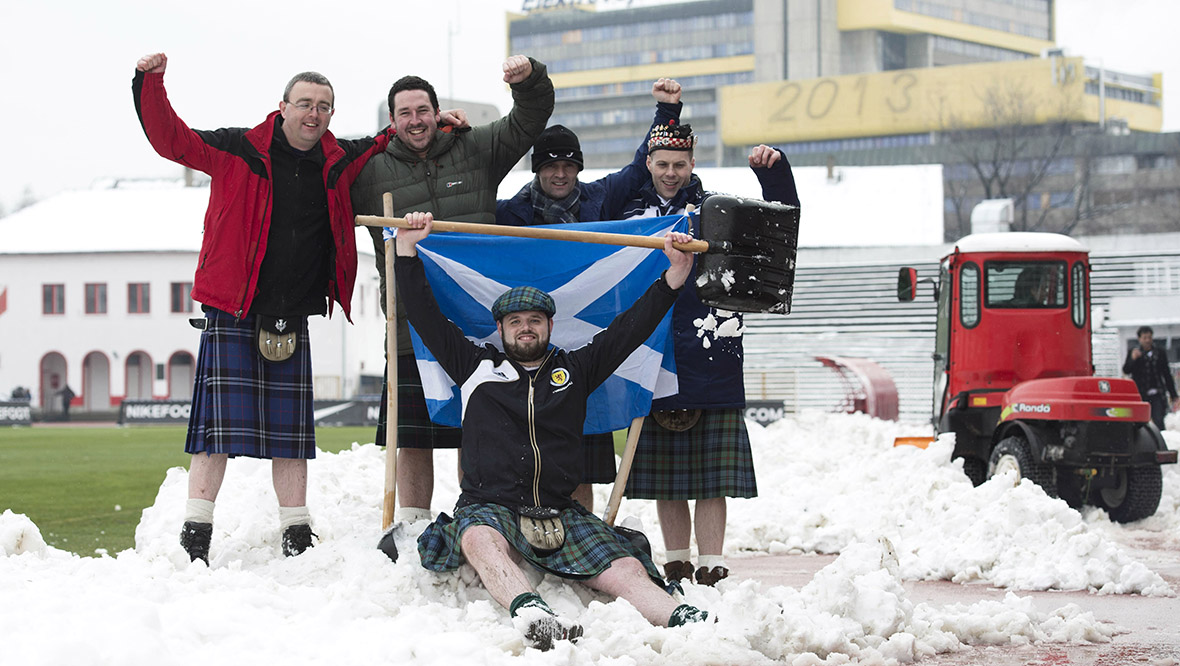 It was all about getting the team in shape for the next campaign now and trying to instil some pride in the remaining qualifiers.
And Strachan made a good fist of it. The remainder of the campaign saw Scotland surprisingly defeat Croatia both home and away, as well as winning in Macedonia.
The only remaining low point was a 2-0 defeat at home to the Belgians.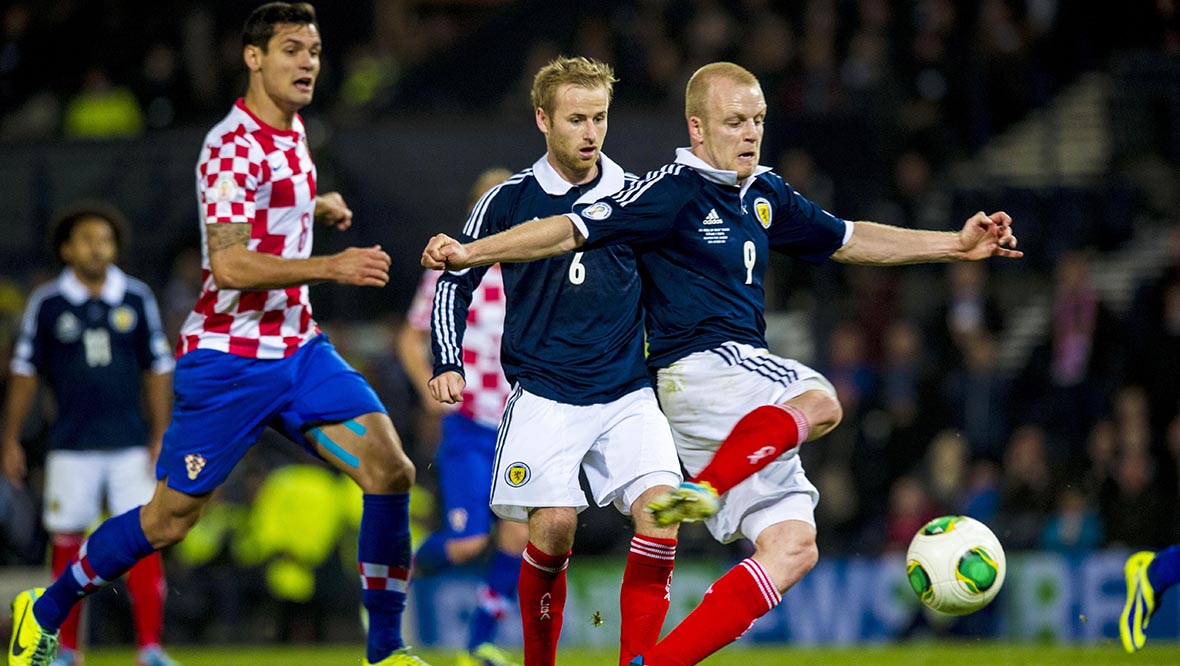 So no Scots in Latin America in the summer of 2014, but there was another huge sporting event to keep us occupied that year, the Commonwealth Games in Glasgow.
Jamaican sprinter Usain Bolt was among thousands of athletes and visitors who brought some colour and razzmatazz during the largest multi-sport event ever held in Scotland – and that has left a lasting legacy in the city.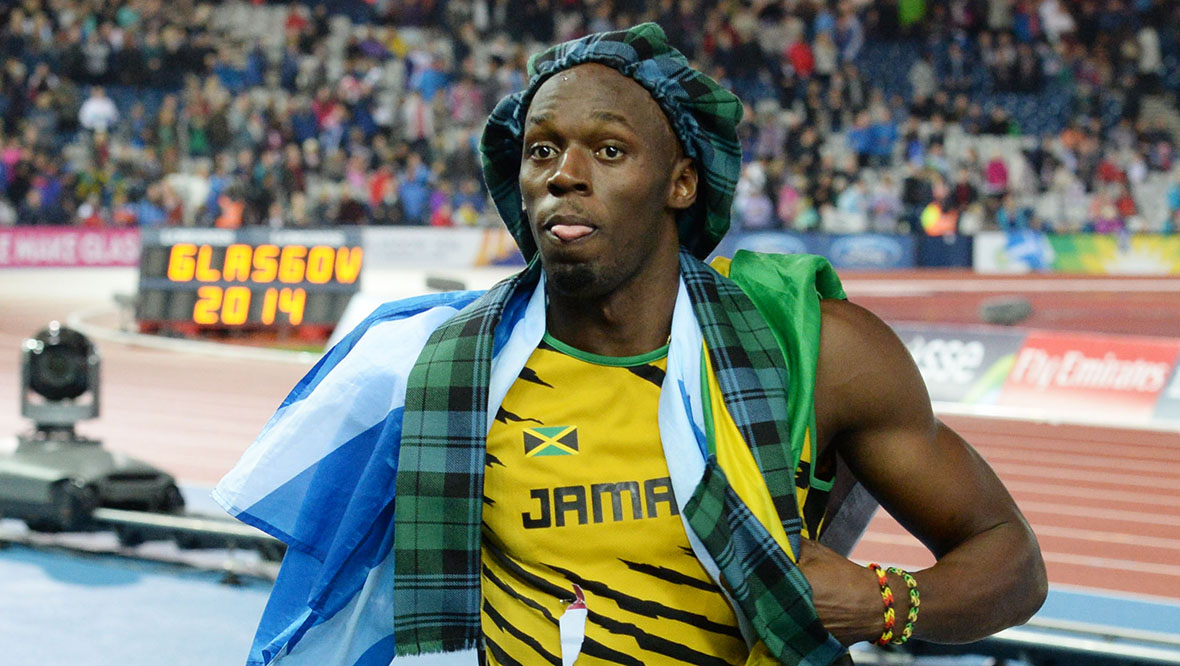 Euro 2016 in France
BIG MOVIES: Fantastic Beasts and Where to Find Them, Deadpool, Suicide Squad, Finding Dory, Captain America: Civil War
TOP OF THE POPS: 'Closer' by The Chainsmokers featuring Halsey, 'One Dance' by Drake featuring WizKid and Kyla, 'Sorry' by Justin Bieber
NEWS HEADLINES: Donald Trump elected US President, UK votes to leave the European Union, David Bowie dies
Scotland were making a habit by now of drawing the most recent World Cup champions in their European qualifying group.
Just months after Germany triumphed in Rio de Janeiro's Maracana, Scotland were presented with the daunting prospect of starting their Euro 2016 campaign with a mission to Borussia Dortmund's imposing Westfalenstadion.
The writing looked to be on the wall when Thomas Muller scored an early header but Ikechi Anya raced away in the second half and coolly slotted past Manuel Neuer to bring the Scots level.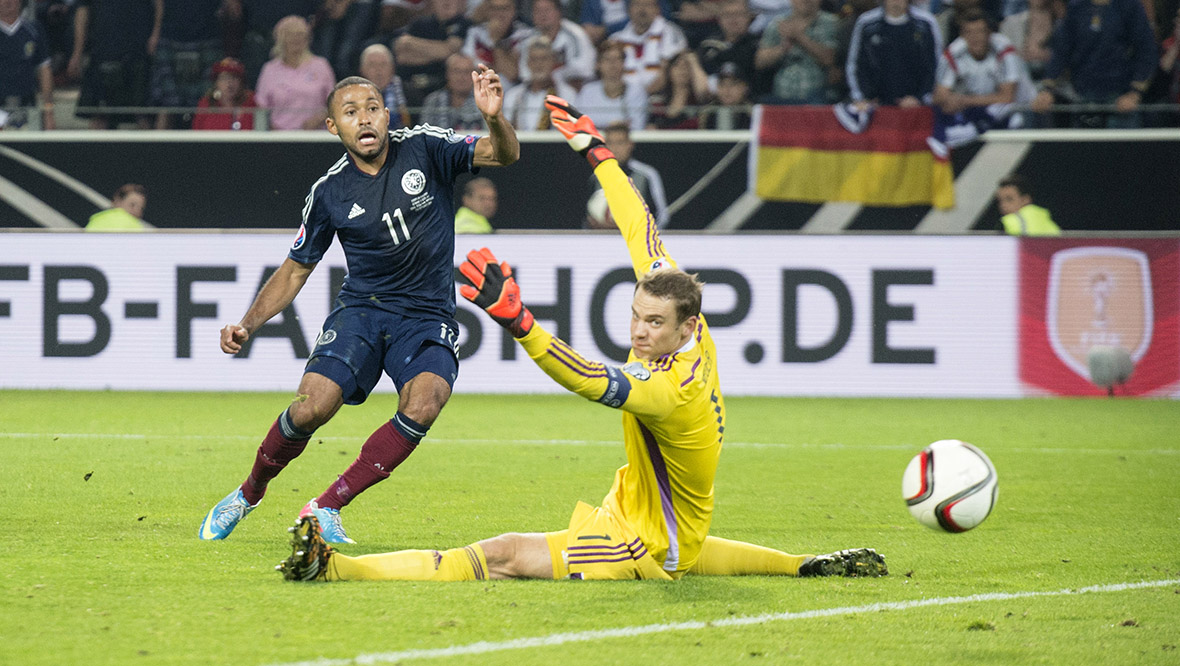 Muller scored again to win it for the Germans but the signs of a promising campaign were there.
A narrow victory over Georgia at Ibrox was followed by a draw in Poland.
Then, the Republic of Ireland arrived at Celtic Park for one of the key games in the group. A wonderful move from a corner kick saw Scott Brown set up Shaun Maloney to curl the ball into the corner of the net.
A big goal and a big win in the east end of Glasgow.
Scotland thrashed Gibraltar and drew in Dublin, leaving themselves in a strong position to qualify.
It was never going to be totally straightforward, though. It never is with Scotland.
And a major bump in the road came in Tbilisi, where a 1-0 defeat to Georgia ensured it would be a tense race to the finish.
Germany won 3-2 at Hampden and then came the pivotal night in the group.
The Republic of Ireland sealed a shock victory over Germany in Dubin, while Scotland took a 2-1 lead over Poland at a raucous Hampden courtesy of wonder strikes by Matt Ritchie and Steven Fletcher.
A real gut-punch came in stoppage time when Robert Lewandowski scrambled in an equaliser.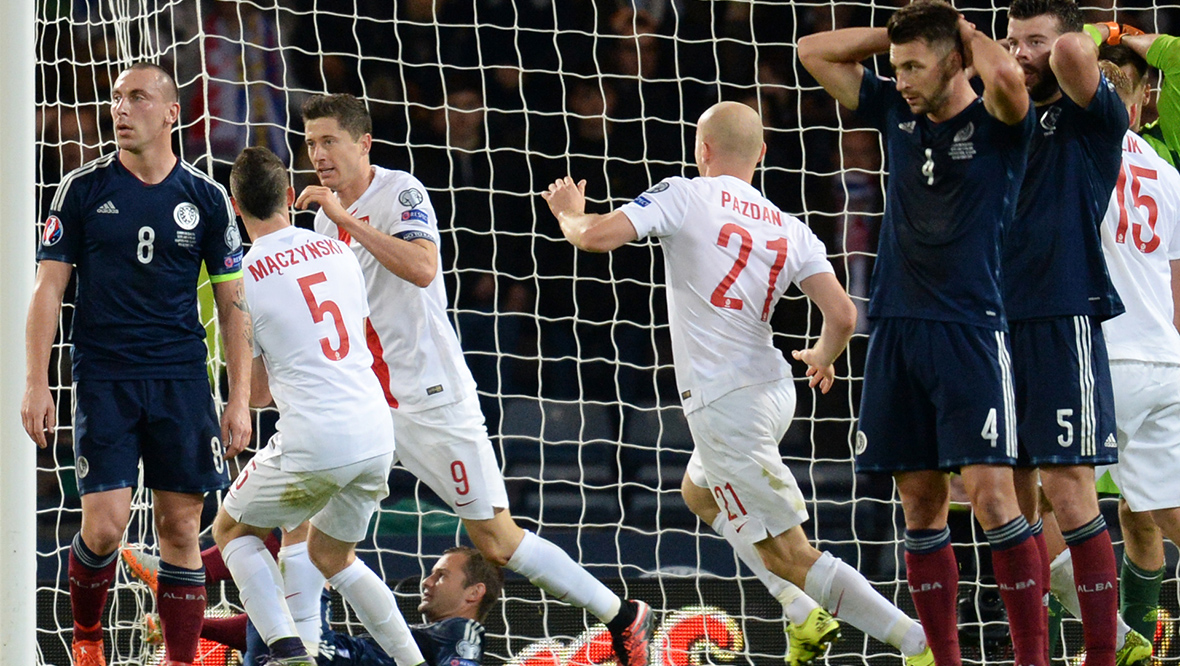 Out in the sorest way possible.
Thousands went to the Algarve to see Scotland thrash Gibraltar 6-0 in the final game. But it was just a party in the sun, our qualification dreams had already disappeared in the flare-lit Glasgow night a few days earlier.
And to make matters worse, we were the only home nation not to qualify.
England, Wales and Northern Ireland were all going to France for Euro 2016, while the Tartan Army would watch on from home yet again.
It was the end of another campaign, but it was also the end of much-loved Scottish institution.
The last-ever T in the Park took place in 2016 after more than 20 years of hosting the biggest stars in music at Strathclyde Park, Balado airfield and Strathallan Castle.
A lost weekend at T was a rite of passage for many Scots and created many a fuzzy memory.
World Cup 2018 in Russia
BIG MOVIES: Black Panther, Jurassic World: Fallen Kingdom, Bohemian Rhapsody, Avengers: Infinity War, Venom
TOP OF THE POPS: 'Thank U, Next' by Ariana Grande, 'God's Plan' by Drake, 'This is America' by Childish Gambino
NEWS HEADLINES: Beast from the East weather, Harry and Meghan get married, DJ Avicii dies
It was now fast approaching 20 years since Scotland's men appeared at a major finals.
An opening 5-1 victory in Malta heightened expectations for a trip to Russia, but they were quickly dampened.
A late James McArthur goal was required to salvage a draw at home to Lithuania, and then Strachan's side suffered back-to-back 3-0 defeats in Slovakia and at Wembley on Armistice Day.
Scotland played some decent stuff and had some great chances to score in London but three headers from Daniel Sturridge, Adam Lallana and Gary Cahill ensured a decisive victory in the end for Gareth Southgate as he looked to permanently secure the England manager's job.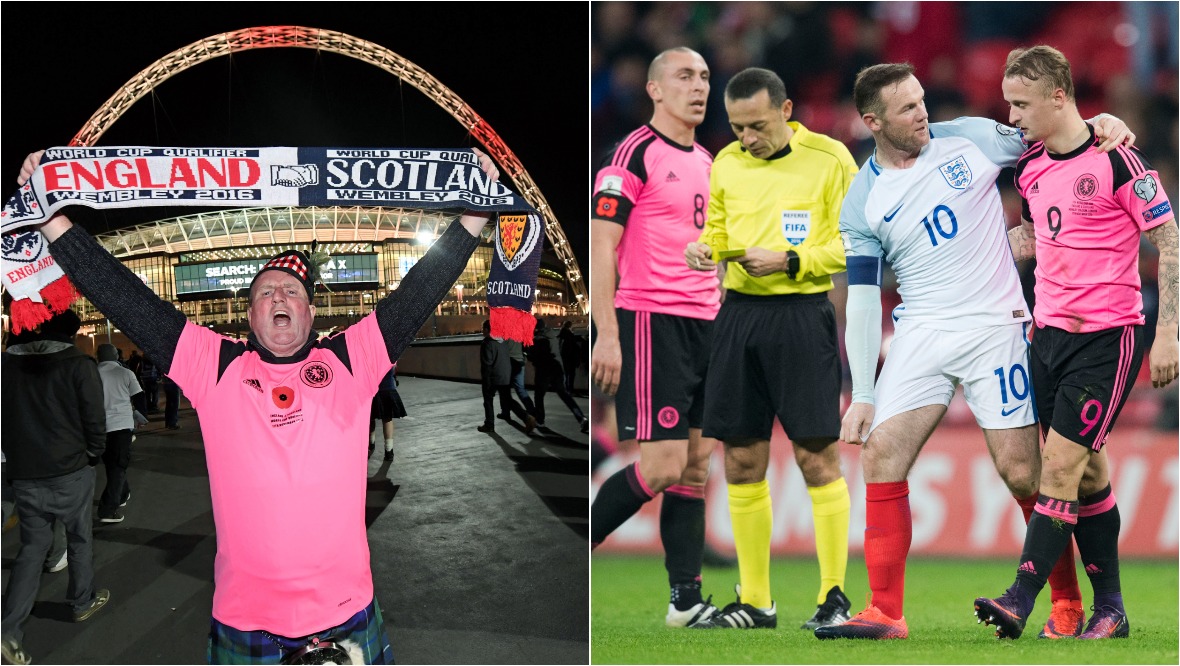 Scotland looked to be down and out after a poor start in the group.
They gave themselves a chance, however, with victory over Slovenia at Hampden thanks to a late Chris Martin goal.
Then the Auld Enemy came up the road, just days after the UK went to the polls in a snap general election that saw Prime Minister Theresa May have her majority in the Commons stripped away.
And talking of having things stripped away…
It looked as though England were going to pick up three points in Glasgow after Alex Oxlade-Chamberlain scored with 20 minutes left to play.
But then came three of the most remarkable minutes Hampden has ever seen.
Leigh Griffiths pulled Scotland level with a brilliant free-kick… and then did it again just moments later to put Scotland ahead, sending the national stadium into a state of utter euphoria.
This was to be one of the most famous results in Scotland's long footballing history as a nation. But we have experienced plenty of stings in the tail in recent years, and this one was the most painful of the lot.
Scotland failed to clear their lines and a long raking cross from Raheem Sterling found Harry Kane, who guided in an equaliser deep into stoppage time.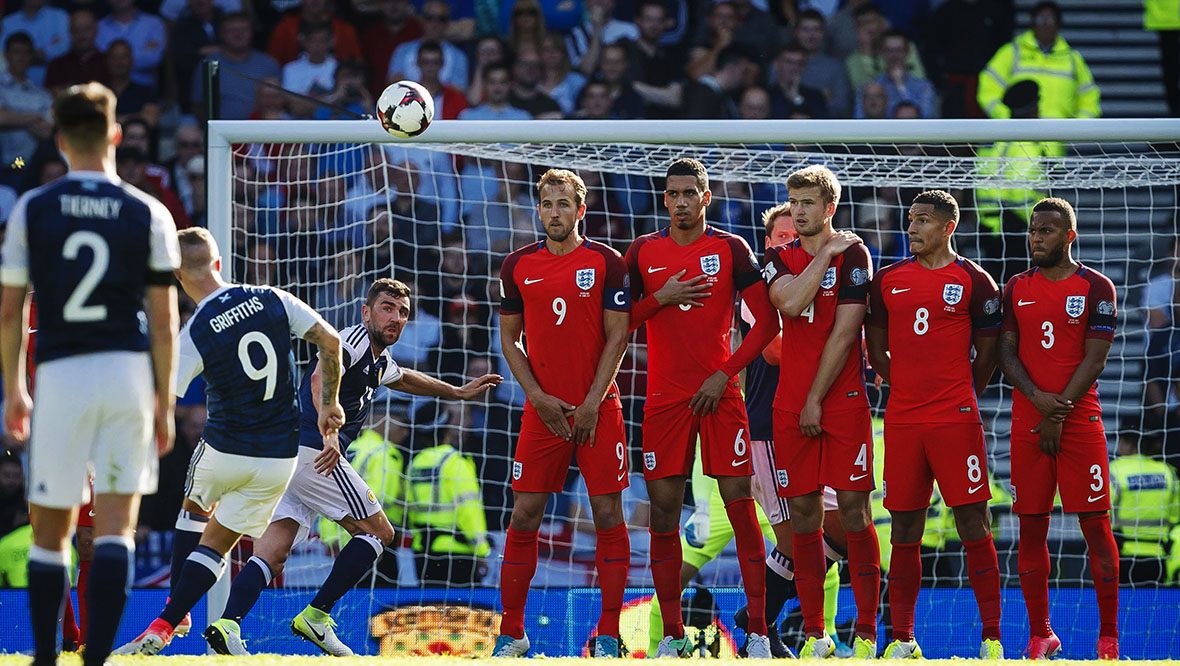 Scotland didn't let the disappointment derail their hopes, however, going on a fine run that saw victories over Lithuania, Malta and Slovakia.
It wasn't quite to be though as a 2-2 draw in Slovenia meant the Scots missed out on a play-off place.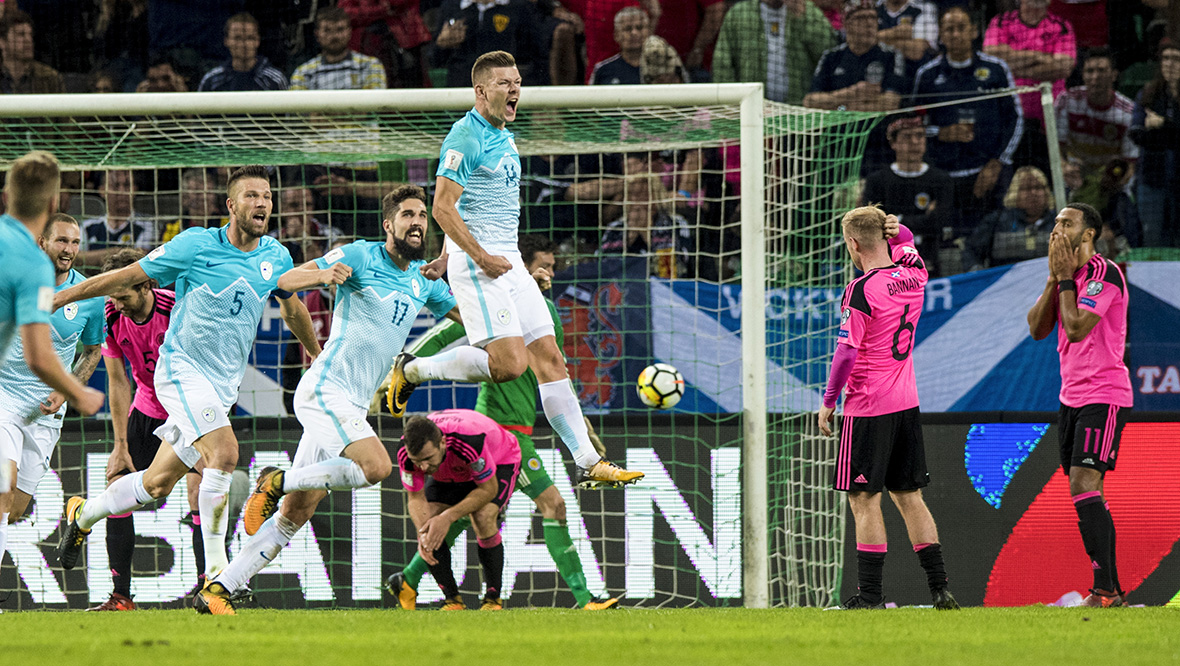 Scotland had failed to reach the 2018 World Cup in Russia.
But the nation's women fared better, qualifying for the 2019 World Cup in France and in the process helping to raise the profile of women's football in Scotland to an all-time high.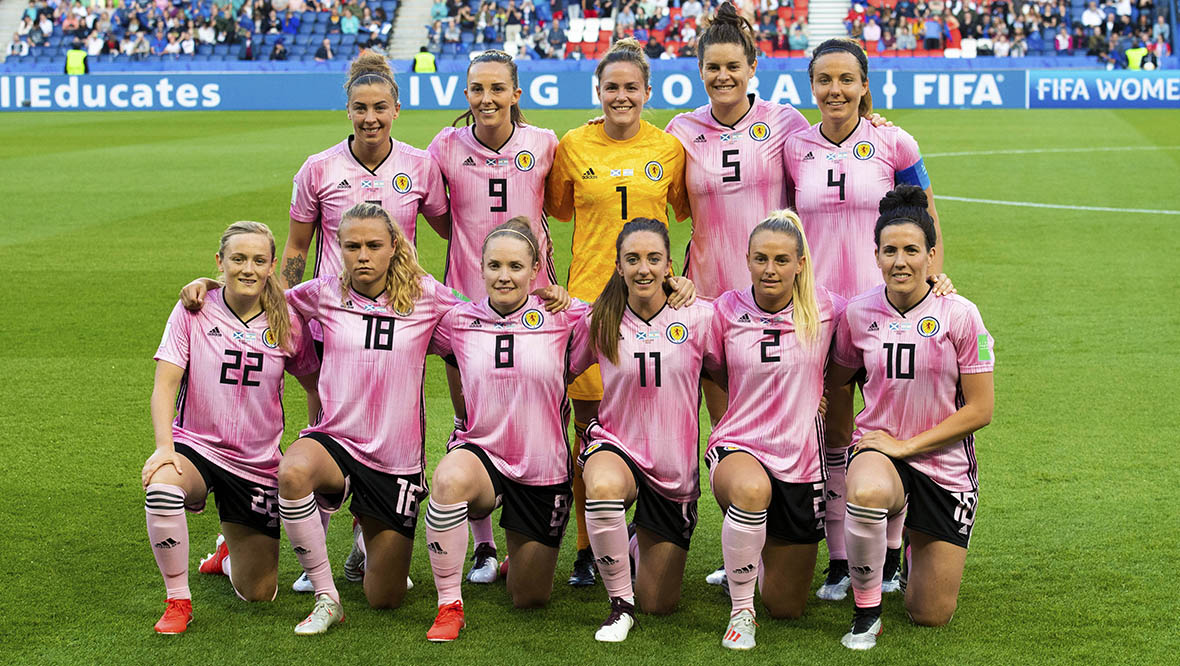 Euro 2020 held across the continent
BIG MOVIES: Parasite, Bad Boys for Life, 1917, Tenet, Jumanji: The Next Level
TOP OF THE POPS: 'Someone You Loved' by Lewis Capaldi, 'Don't Start Now' by Dua Lipa, 'Blinding Lights' by The Weeknd' and of course 'Yes Sir, I Can Boogie' by Baccara.
NEWS HEADLINES: Coronavirus pandemic, UK formally leave the EU, Australian wildfires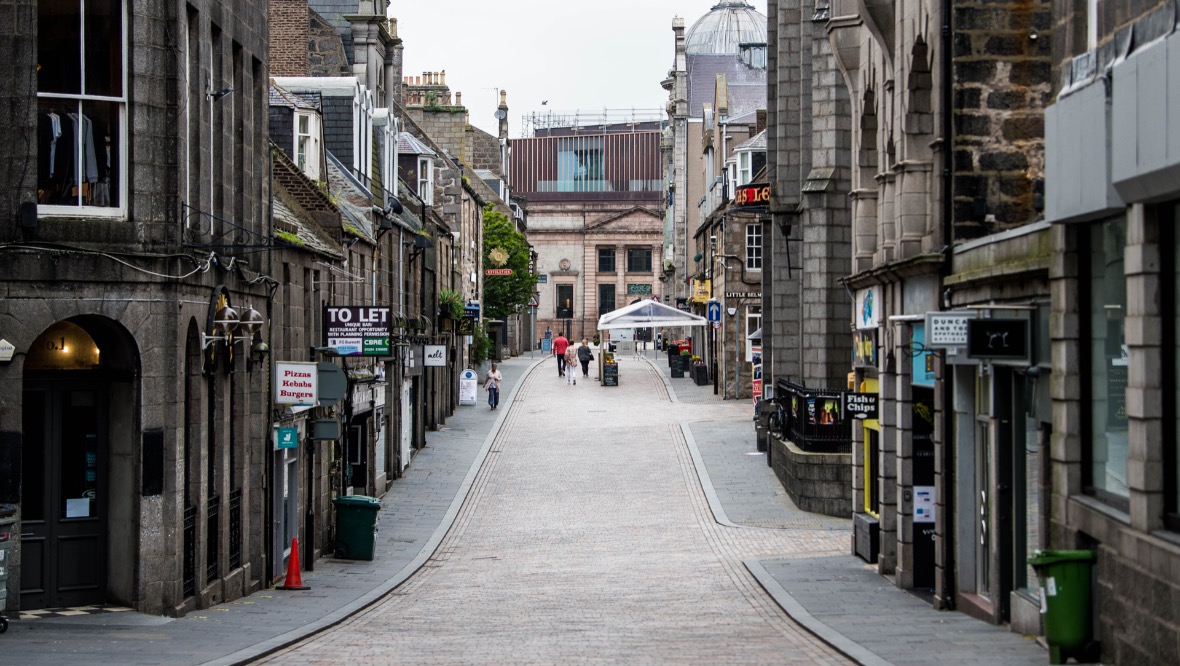 Gordon Strachan left in the wake of the failed bid to reach World Cup 2018, and it was Alex McLeish who led Scotland into UEFA's new Nations League competition, which gave countries a second chance to reach the Euros if they failed to qualify the conventional way.
McLeish's side won their National League group, finishing ahead of Israel and Albania in the table. It meant a play-off place was guaranteed regardless of how the national side performed in the traditional qualifiers.
And it soon became apparent that the backdoor route was absolutely required.
Scotland slumped to an embarrasing 3-0 defeat to Kazakhstan in their opening match, infuriating the Tartan Army faithful.
A stuttering 2-0 win over San Marino did little to placate them and McLeish's second spell in charge was over.
The new incumbent was Steve Clarke, fresh off the back of guiding Kilmarnock to a third-placed finish in the Scottish Premiership.
It was a nervy start for Clarke. Andy Robertson arrowed a shot into the top corner to give Scotland the lead over Cyprus in his first match in charge.
Cyprus equalised late on but a dramatic Oliver Burke winner ensured his reign got off to a winning start.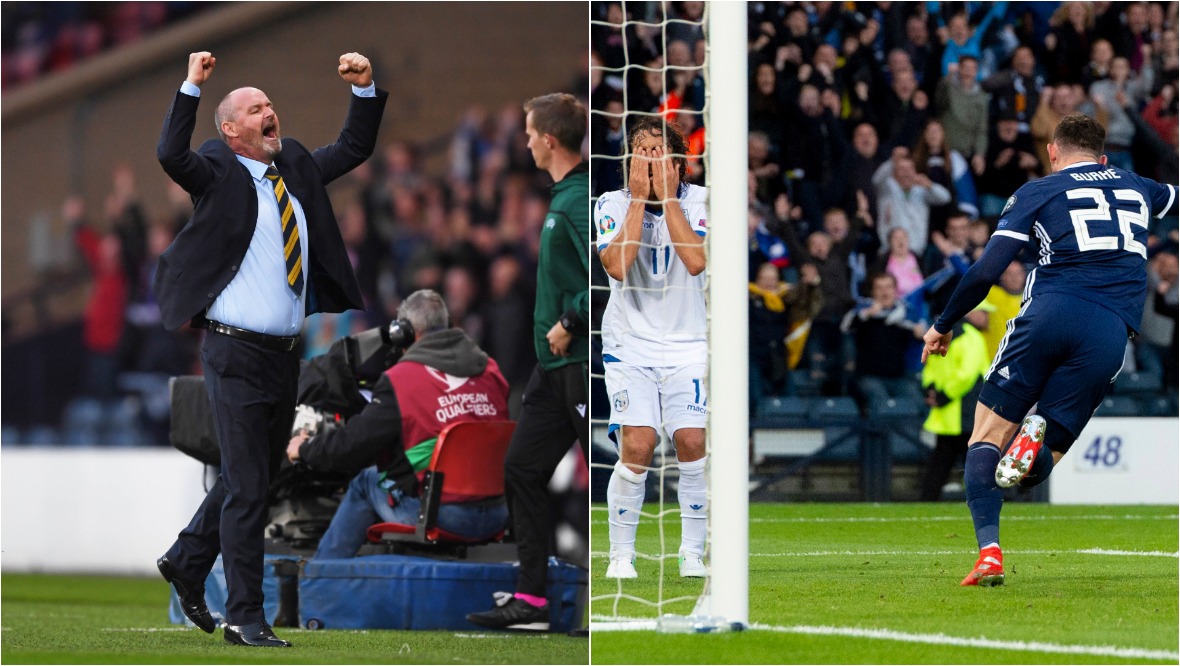 This was a tough group, however, and four matches against Russia and Belgium garnered the grand total of zero points.
In particular, it was a chastening night when the Belgians came to Mount Florida, racing into a 3-0 lead by the half-hour mark. And they had done it by hardly getting out of second gear.
Scotland looked miles off the elite and would need play-off success to end their long wait to qualify.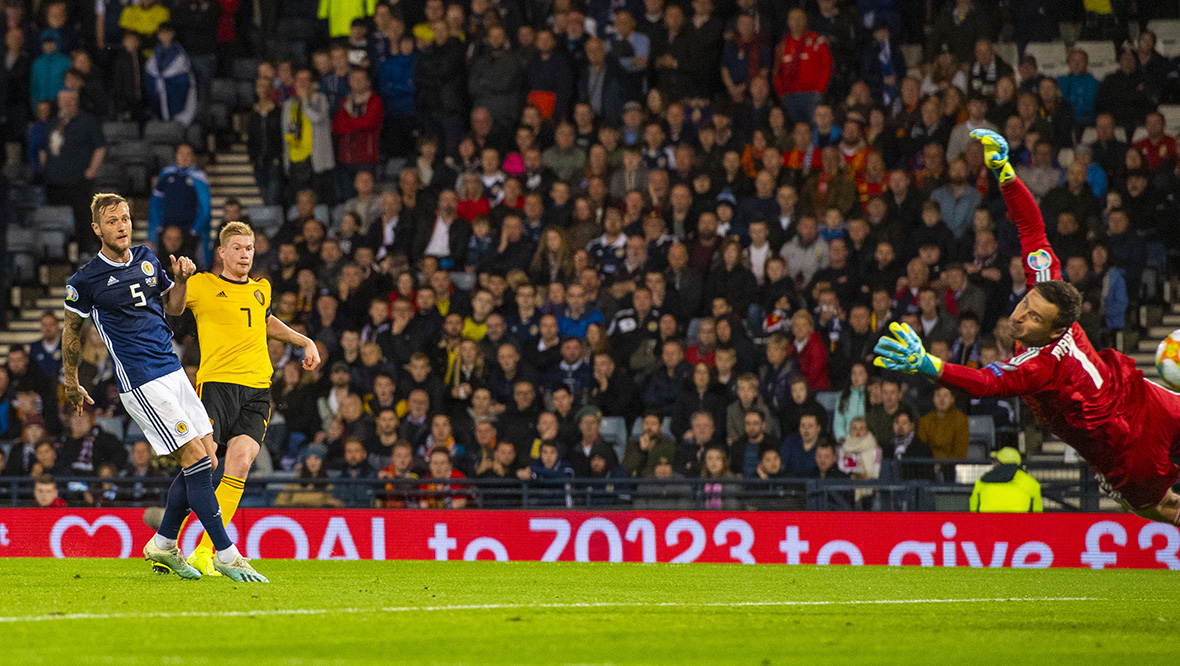 Scotland ended the group with victories over San Marino, Cyprus and Kazakhstan, and were set to face Israel in the play-off semi-final in March 2020 in high spirits.
But then came the coronavirus pandemic. An event of the magnitude we had never seen before – all football was cancelled indefinitely as the public were told to stay at home in a bid to avoid catching the deadly Covid-19 disease.
The Israel semi-final eventually took place on October 8, 2020, in front of an empty, ghostly Hampden Park.
It was a nervy affair, finishing 0-0 and going to penalties. The Scots prevailed in their first-ever shoot-out and impressively scored all of their penalties – Kenny McLean netting the pivotal effort.
Onwards to Belgrade and one final opportunity to put the Tartan Army through the emotional wringer.
Ryan Christie's goal looked to have finally broke the hoodoo, but in the last minute of normal time – as a nation prepared to roar, Luka Jovic's header agonisingly evaded Marshall and nestled in the back of the net.
No further goals were scored in extra time, it was penalties again.
And we all know what happened next…
23 YEARS OF HURT WERE OVER AND YES SIR, WE CAN BOOGIE!!