Demand for help with eating disorders has rocketed during lockdown, a leading charity has said.
Beat was contacted by 283% more people during 2020 compared to the previous year.
The charity believes lockdown pressures could be triggering both new cases and relapses.
Some of those affected have spoken to Scotland Tonight, to be broadcast on STV at 7.30pm on Thursday.
'I was scared to eat'
One in four people with an eating disorder are male, such as 18-year-old Dean Miller, who began restricting food when he was 14.
The apprentice welder was subjected to jibes in the school playground about his weight, which caused him to think about his body for the first time.
"It came at me out of nowhere," he said. "I was playing football with the boys at school at lunch. They kicked me and said 'shut up Dean, you're fat'. I was like 'wow', it was just a shock."
Dean only realised how bad it was getting when his eating disorder prevented him from playing football.
He said: "My gran would make me lunch, but I was just putting it in the bin. Something in my head was telling me 'no, don't eat it'. I was so scared to put on weight."
Dean was taken to Child and Adolescent Mental Health Services (CAMHS) by his mum and diagnosed with anorexia nervosa.
"I'd look in the mirror and still think 'I'm fat'," he said. "You just see yourself differently and you're so thin, but you can't see that."
Dean's problems continued to worsen and his weight plummeted to less than seven-and-a-half stone. He was hospitalised on Christmas Eve 2019 with his kidneys at risk of failing.
"That's when it hit me, I need help," he recalled. "It was scary. I was scared to eat. I'd eat the food in there but I was scared.
"You had to sit in a room and they'd watch you so you wouldn't exercise. And I was just sitting there thinking 'why am I in here?'."
Dean's recovery hasn't been straightforward. He relapsed soon after being released from hospital.
He said: "That was the voice in charge of me again. I was signed off from work and then my manager phoned me and the conversation we had was just so positive. And since then I've never looked back."
Dean is now doing well and hopes to raise awareness and reduce stigma of eating disorders – especially among men.
"Sometimes, if it's somebody's birthday and they've got a cake, I know I want a bit but something tells me 'no'," he said.
"But I saw a quote that says 'if your eating disorder tells you no, just eat it'. Because if you keep doing that, the voice will keep getting quieter and quieter."
'Embarrassment, shame, guilt'
Nearly one-third of calls to Beat in the past year were for Binge Eating Disorder.
Almost half of BED sufferers feel their illness isn't taken seriously by healthcare professionals.
Lucy Wellman, 20, starting bingeing when she was just 11-years-old.
"I didn't know what was going on," she said. "I thought there was something wrong with me, but I didn't even think it was an eating disorder.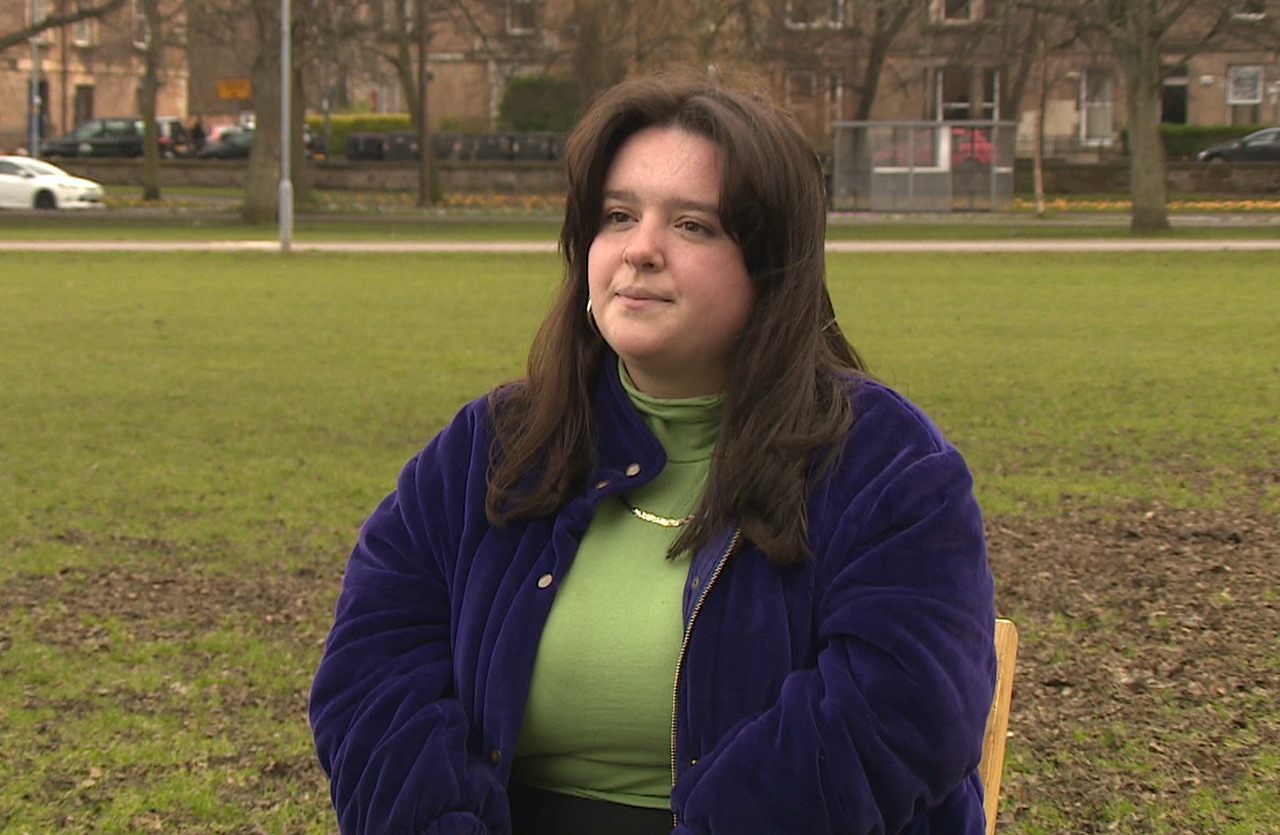 "Growing up, I was slightly bigger than everyone else and I really struggled with that and my self-esteem made me so conscious of eating that I would restrict quite a lot in the day and then I'd get to the evening and I'd eat a lot of food. I'd binge."
Nearly 92% of those surveyed for Beat said a binge eating disorder had a negative impact on their family and close relationships.
Lucy's family got her professional help, but she said it's hard to shake the "embarrassment, shame and guilt" that comes with binge eating disorder.
She said: "Two or three times I went to the GP and I was just told to lose weight, which led to some quite self-destructive behaviour.
"I was bingeing, I was also self-harming, living quite a reckless life. Summer 2019 I actually did end up in hospital after I tried to take my own life."
'Eating disorders are real'
Emma Broadhurst, national officer for Scotland for Beat, said the charity was keen to raise awareness and help people access support.
"We know that losing weight is often the worst thing you can do for BED and it's actually about supporting people to get their eating back under control," she said.
"Binge eating disorder is a mental health illness so it's about how we can support people rather than telling them just to lose weight, it's not as simple as that.
"Eating disorders are real. We are here to help and support you but we're not just here to help and support the individual with the eating disorder, we're there for their family and friends, maybe their teachers or their employers."
Lucy has worked hard to break the tyranny of her binge eating disorder.
"Life is going well. I am in recovery and I'm not completely there yet but I am on my way," she said.
"BED is a completely valid illness. It's debilitating, it's destructive, and people who have binge eating disorder deserve support and all the help they can get."
Beat can be contacted on 0808 801 0677 (adult helpline) or 0808 801 0711 (youth helpline).