A year of treating Covid has forced the NHS to change and adapt like never before.
Sudden spikes have demanded quick responses to increase capacity.
As they emerge exhausted from this crisis, those on the frontline hope the lessons will live on.
Staff hope post-Covid priorities are about more than just recovery.
For them this is an opportunity for renewal, a chance to use this crisis to rethink and improve how the health service operates.
And many of the patients they've treated have left NHS care knowing it literally saved their lives.
'Moments of real tragedy'
Dr Abigail Gunn has worked in Inverclyde four years.
Since Covid arrived, she's taken on the role of lead medical consultant at Inverclyde Royal Hospital. Before the pandemic she worked as a consultant physician in acute and stroke medicine.
"We all undergo major incident training, but there is nothing really in living memory of the NHS that has launched a similar response to this.
"It has been overwhelming at times and it has also brought moments of positivity and also moments of real tragedy.
"Our community, the first time around, was hit incredibly hard. We had a significant number of patients hospitalised and a significant number of patients die and our population was really shaken by that.
"This is the first pandemic that I've lived through, and up until the age of vaccinations pandemics were a normal part of life for the population and I never thought that I would live through a pandemic because I grew up in an era of vaccination.
"I see the role of the NHS as much more of the emergency role rather than the everyday delivery of care, and it needs to deliver standard routine care but the way it can rise to this emergency is a testament.
"We had admitted some colleagues for emergency care. They receive the same quality of care as all of our patients… but it increases the anxiety on site quite significantly when we know we're treating somebody that works with us.
"There's a raised sense of awareness – it just brings it back home that Covid is very close to us.
"The rapid response to the pandemic has really created an era of change for the NHS. It showed that we can create new pathways, new services at short notice and respond to what the patients need, and that is the key of the NHS.
"We should be responding to what the patients need rather than just running pathways just for the sake of them, so it's probably been one of the more positive things that when this starts to settle, and when staff have started to recover from the fatigue and some of the burnout, that some of the pathways and the energy behind quality improvement will remain, and that would be a fitting legacy for some of the patients we've lost."
'I wouldn't be here'
Vicky Fitzharris is 36 and from Greenock. She's a mother of three children.
After spending three days unwell in bed, Vicky phoned 111 and was taken by ambulance to Inverclyde Royal Hospital.
As her condition worsened, she was transferred to Aberdeen Royal Infirmary. Vicky was placed on ECMO treatment, a specialist life support for those experiencing the most severe respiratory failure.
Once she was stabilised, she was brought back to Inverclyde for her recovery.
"I thought it would just be like a cold and it won't attack me as much because I'm not an elderly person. I was so wrong. So wrong.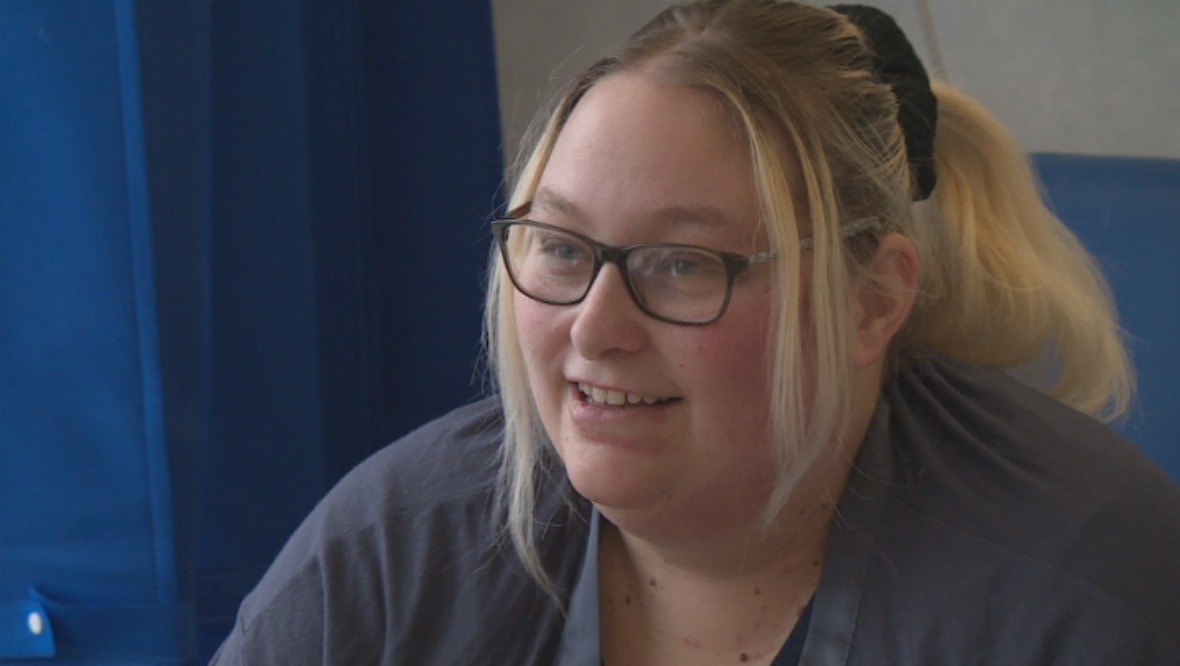 "So I went for a chest x-ray and then I came back and I remember this lovely lady doctor coming to me and holding my hand and saying 'I'm really sorry but your x-ray has come back and you're very unwell, we need to take you up to HDU' (High Dependency Unit).
"I remember crying and saying, 'I'm scared, I'm scared' and she said 'I won't leave you, don't worry'.
"And then I remember being wheeled out just past the desk at A&E, and then I can't remember anything.
"I just remember waking up in Aberdeen and thinking, 'Where am I? What's happened?'. I had totally forgotten I was poorly.
"They were so lovely and so kind up there as well because, obviously, I was so far away and no family close or anything like that."
"I've lost the feeling in my left leg and I'm working with the physio to get back walking and hopefully that'll be soon. Two-and-a-half weeks ago, I didn't think I'd walk again or be able to brush my hair again.
"With getting stronger each day, it's definitely helped and everyone is really happy with my progress.
"I am so grateful to every single one of them, right down to anybody that works in the NHS, because if they weren't here, I wouldn't be here."