An old Edinburgh railway tunnel has been transformed into Scotland's largest historical mural.
Artist Chris Rutterford teamed up with almost 500 local schoolchildren and volunteers to turn the 140m Colinton tunnel into a kaleidoscope of colour, which recites a Robert Louis Stevenson poem about a child's first railway journey.
Putting the finishing touches on the 2000 sq m mural, Chris said: "I'm delighted, it's been a long haul and we've really tried to have professional artwork alongside a heap of community engagement.
"I just think it really adds an energy into the place – no one really does it like this, so I'm glad we have."
The mural features prominent members of the community and some celebrities such as TV presenter Lorraine Kelly.
Brave teen Kira Noble is also enshrined on the walls, the 17-year-old has been battling a rare form of cancer called Neuroblastoma for more than six years.
She's depicted as a Genghis Khan warrior riding her dog Milo. "It's Genghis Kira," joked Chris.
"It's so cool," Kira told STV News. "It's a complete honour, to be able to say to my friends when you're walking through (the tunnel) have a look for me. A lot of them will be quite jealous as well."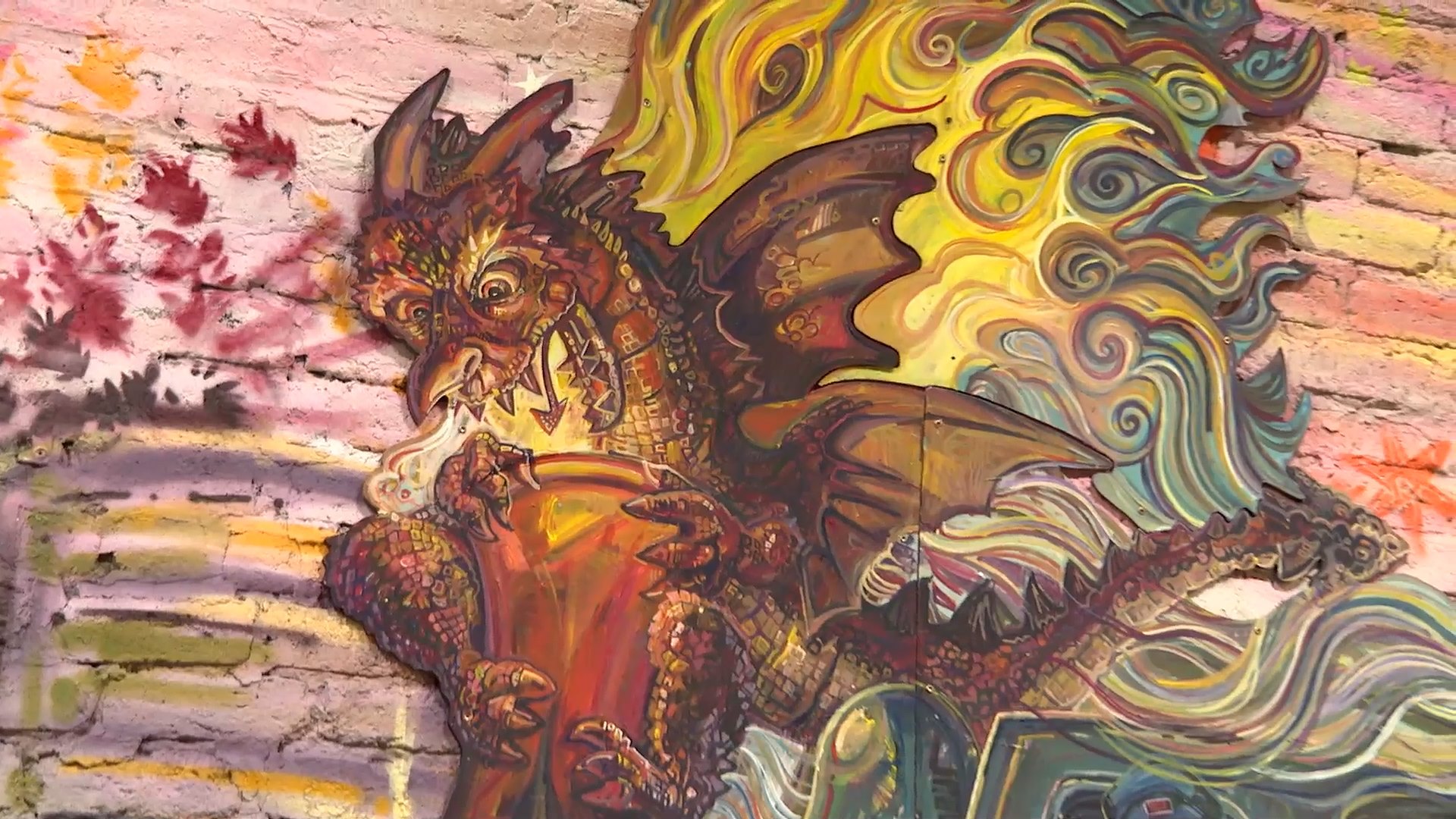 "Its absolutely brilliant," said mum Aud, who also features on the tunnel walls. "I cant get over how life like they are."
The railway tunnel was a major transport and logistics route in the early 20th century, but after it closed in 1967, it remained largely unused.
In 1980, after the Water of Leith walkway was created, lights were installed, but it was still a dingy place.
It wasn't until 2016, when the village of Colinton lost its only bank and shops began to close, that the idea of a mural came about.
"It got to the stage where you couldn't buy a loaf or bread or a pint of milk or a newspaper," said local resident Mike Scott, who started the project.
"So the question we were asking ourselves was 'how can you get more people to come to Colinton so the shops don't close?'.
"One really daft idea was, 'we've got this ancient dark railway tunnel – it's dark, it's pretty grim. What if we did something really stupid and painted a mural inside it?'."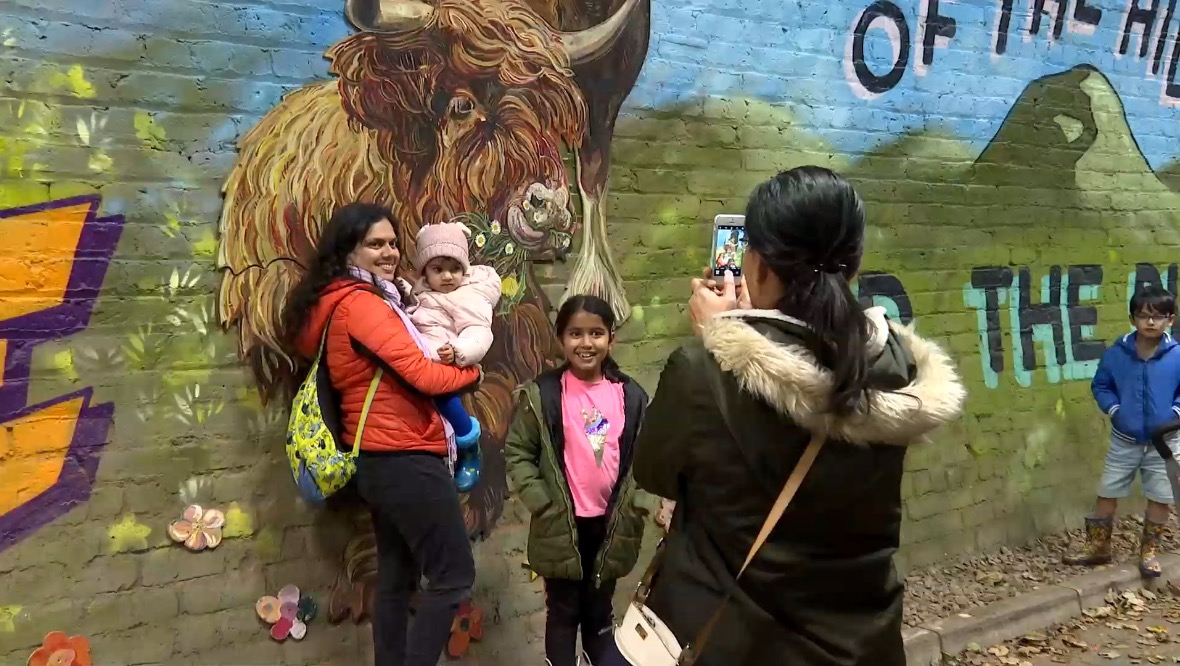 That 'daft idea' soon became a reality. Mike teamed up with Chris and the wheels started turning. Within a year-and-a-half the tunnel was completely transformed from a dark space to a place of wonder, where people stop, linger and take photos.
And intrigue around the tunnel has quickly turned it into one of Edinburgh's newest tourist destinations, with around 6000 people visiting each weekend.
"Footfall increased immeasurably during lockdown," said Mike. "The amount of bike usage has been crazy, but folk being locked down and working from home – we've had more people than you can count coming through here.
"We've got people coming from far and wide just to see this, it makes it so worthwhile. So does seeing all the smiley faces, instead of rushing through, people are stopping smiling and taking pictures, that's got to be good for a community."
The tunnel's huge boost in popularly has transformed the fortunes of Colinton village too.
Mike said: "We know from the nearest pub to here, staff tell us that just about everyone who is eating in the pub is talking about the tunnel mural. That suggests they've seen it and they like it.
"So it's working, it's become a destination, and that's what we set out to do."
The mural follows a rhythmic Louis Stevenson poem.
"It's about being on a train, looking out of a railway carriage and imagining how a child would see the world," said Linda Dryden, a professor of English literature at Napier University.
"At the same time you have the rhythms of the train with the rhythms of the poetry – it recreates that pumping along of the train.
"Given his interest in children, I think (Robert Louis Stevenson) would be absolutely thrilled and totally delighted to see the mural."
The project cost just under £100,000 and was funded by donations from the community and some other charities such as Sustrans. Donations are still needed now for the future maintenance of the tunnel and QR codes are displayed on the walls of the tunnel, along with information leaflets.
Chris has plenty of new murals commissioned for the future, and as for Mike, he's been asked to help transform other tunnels across the capital, such as the Innocent Tunnel.
But he said: "It has to be someone who lives in that community, it can't be me."