If Billy McNeill is the never to be forgotten icon of Lisbon 1967, Jimmy Johnstone the irrepressible entertainer, Bobby Murdoch the beating heart of this country's greatest ever club side, then Bertie Auld is the enduring spirit.
As everyone who walks Kerrydale Street or has attended a supporter's function or drank in a Celtic pub will know, there was no greater ambassador for remembering the magic of that night or of honouring the memory of his departed brothers than Bertie Auld.
It was Auld who led the singing of the Celtic song as the players emerged from the tunnel in the Estadio Nacional, no doubt to the bemusement of the sculpted, tanned athletes of Inter Milan.
Although his own legendary status was assured as a result of the events of May 25, 1967, to the day he died he redefined the notion of a diehard. Wherever there was a Celtic party, the wee man was never far away.
Robert Auld was born on March 23, 1938 in the Maryhill district of Glasgow. He had boyhood affection for local side Partick Thistle but he ended up in his first spell at Celtic when he was signed in 1955 from Maryhill Harp.
Auld's talent was never really in doubt. He read the game superbly and had great vision and touch.
What he did not have was an even temperament and he often seemed to think that the slightest mis-timed tackle or an engagement from another player that replicated his own style should be met with what is known in these parts as a square go.
A fiery temperament allied to a seemingly natural contempt for authority sealed his fate and he was transferred in 1961 to Birmingham City. His hard man status was confirmed with further brushes with authority in the Midlands.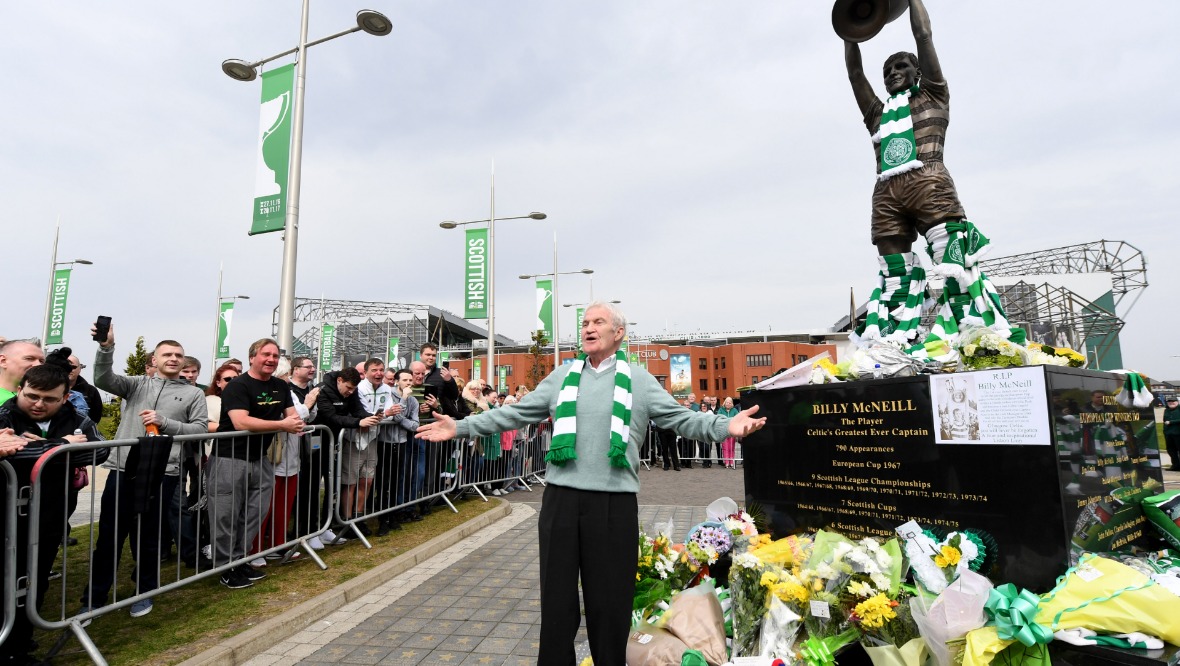 The arrival of Jock Stein at Celtic Park in March of 1965 paved the way for his return although Sean Fallon appears to have played a hand in this not least in soothing the concerns of the club chairman Bob Kelly who did not like an overly physical presence that could be seen as a contempt for the notion of fair play.
The rewards for Celtic were almost immediate. He scored five goals in a 6-0 drubbing of Airdrie.
By common consent the 1965 Scottish Cup final was more than just Celtic's first trophy in eight years. It was the foundation for the eventual scaling of football's Everest.
The 3-2 defeat of a highly talented Dunfermline Athletic unleashed a trophy bounty which lasted for years. The grainy TV footage recalls McNeill's towering header that delivered the cup but in many ways the day belonged above all else to Auld who scored twice after Dunfermline had twice gone ahead.
In season 1966-67 Celtic won everything they entered and Auld's midfield partnership with Bobby Murdoch provided a winning mix of grit, physical presence, accurate passing and a superb reading of the game.
That Lisbon team contained a mix of characters from the gentlemanly goalkeeper Ronnie Simpson, the garrulous Johnstone, the studious Jim Craig, the world-class Tommy Gemmell and Bobby Murdoch to the more retiring figures of John Clark, Bobby Lennox, Stevie Chalmers and Willie Wallace. Their leader was the tribune figure of Billy McNeill.
Auld provided a working man's club full of humour by the day. His comic persona was disproportionate to his small frame. He was a giant in the fun stakes, quick, sharp, frequently hilarious and utterly at home with those supporters who were always utterly at home with him.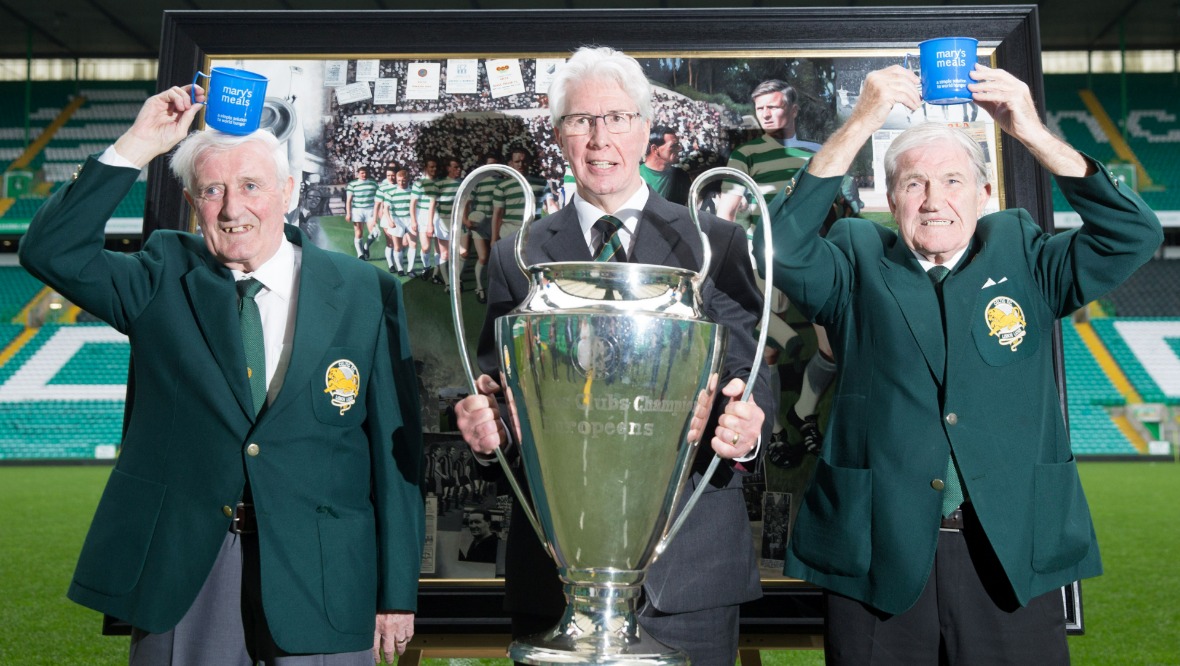 His misbehaviour did not necessarily mellow in his second spell and not even the towering presence of Stein could curb it, assuming he wanted to.
Another tie of note was the 1970 European Cup semi-final against Leeds United, which Celtic won by 3-1 on aggregate with Auld and Murdoch again dictating the tempo in the 2-1 victory at Hampden Park in front of the biggest crowd for a European club match.
Celtic lost the 1970 European Cup final to Feyenoord. The ennui that set in signalled the end of the Lions who had one final swan song in a 6-1 victory over Clyde on May 1, 1971.
It was Auld's final game but merely marked the end of his playing career. The affair of the heart had many years to run.
There is probably a consensus among the players of that time that Stein dismantled the Lisbon side too quickly. But he was perhaps encouraged to do so by the emergence of his Quality Street kids.
In all Auld won five League Championship medals, four League Cup and three Scottish Cup medals along with his football Oscar won in Lisbon.
After Celtic he played briefly for Hibs, whom he also managed for two seasons, winning promotion back to the top flight for the Edinburgh club.
He had spells at Hamilton and Dumbarton and twice managed Partick Thistle of which the period between 1974-1980 represented his longest tenure in club management.
Auld is a throwback to the age when players grew up as supporters and lived alongside other fanatics in an impressive egalitarianism. It was an age when heroes were not cocooned or aloof or unapproachable.
He never needed to kiss a badge, pump the air with his fist or utter pre-rehearsed sentiments about love of club. He knew he was the real deal and so did those who follow Celtic.
Making time for those whose emotional investment was total was never too much trouble, for he recognised a kindred spirit.
If he was ever at STV and you bumped into him he never, ever passed you by. Your company was his cue for more excited chat about a life's passion.
He was always direct with his opinions, and like the way he tackled on the park, never shirked from an argument.
As you might be able to tell from this somewhat gushing tribute, I reserve an extra wide smile for Bertie, a man who made me laugh but impressed me as quite simply one of the best Celtic supporters I have ever met.