By Jenness Mitchell & Kaye Nicolson
A majority of women in Scotland have been sexually harassed or assaulted, according to a new survey.
On behalf of Scotland Tonight, ScotPulse – STV's online research panel – found almost three in five women (59%) and 20% of men have experienced sexual harassment or assault.
One in ten of these incidents were said to have taken place in the last five years.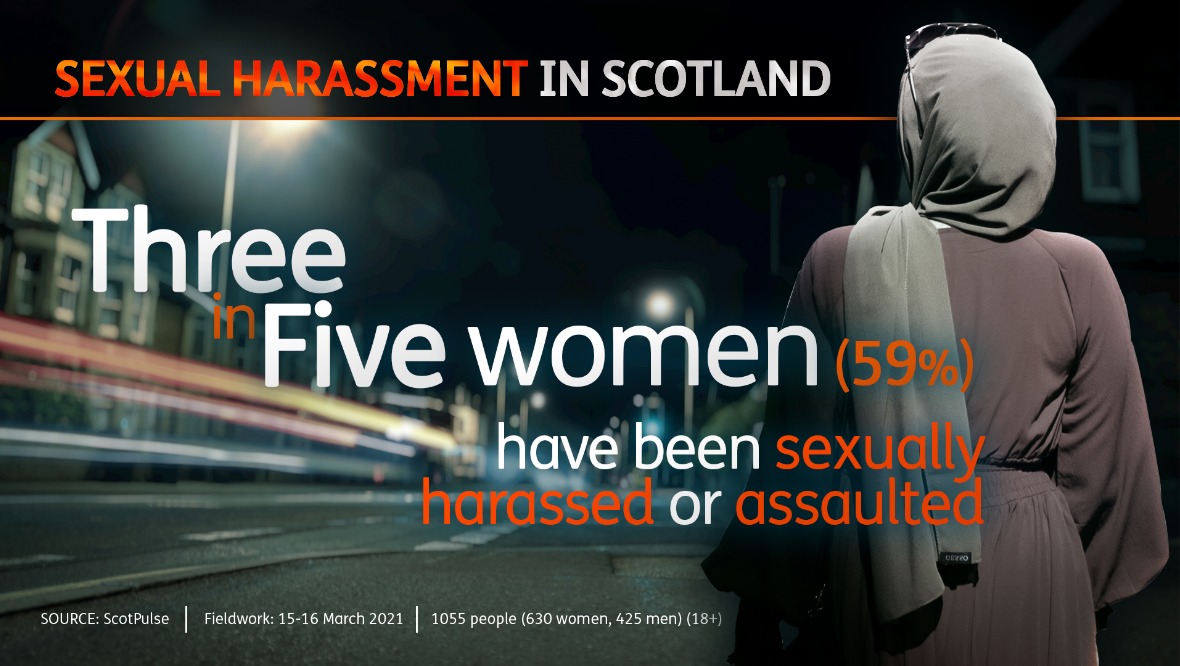 Forty-six percent of the women who said they have been harassed or assaulted said the incidents took place in hospitality venues such as bars, clubs and pubs.
Meanwhile, 21% of the female respondents said they've experienced harassment in the workplace.
One in four women said they've been harassed 'on the street'.
A total of 22% reported being attacked in a non-sexual manner on the street – with the majority of victims men.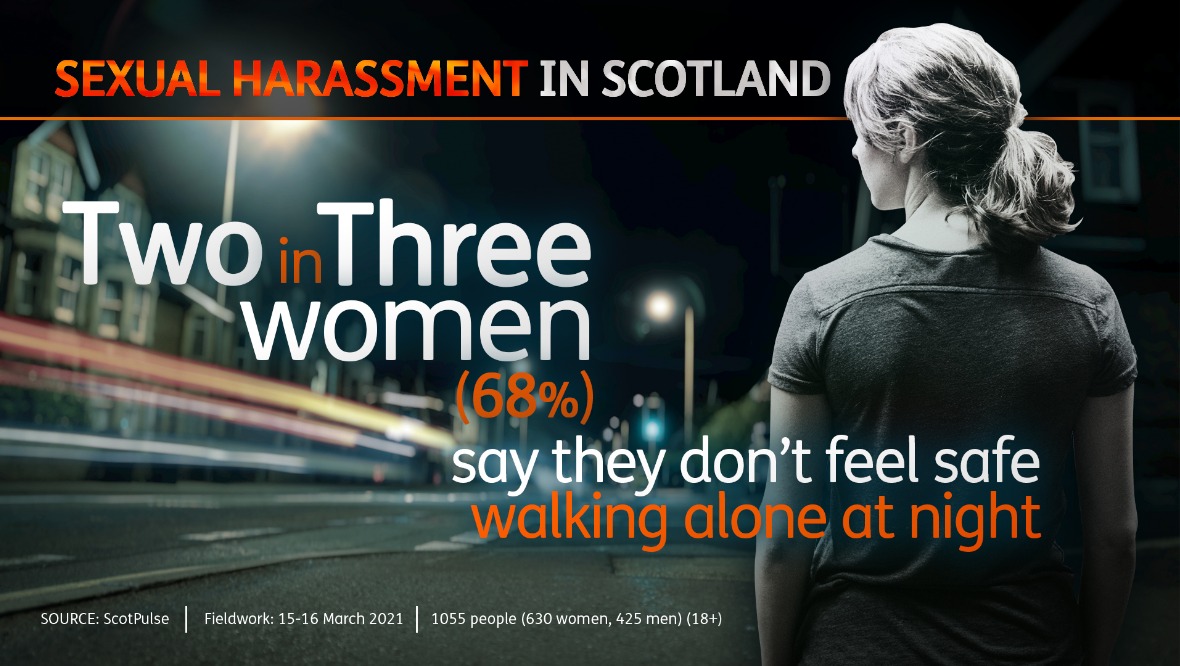 Half of the survey's respondents said they did not feel safe walking alone at night, with that broken down to two out of three women at 68%.
When the women were asked what measures they take to try and reduce any risk of harassment, the top responses were 'being vigilant of the surroundings' and 'avoiding quiet and/or dark areas'.
More than half said they have their keys at hand.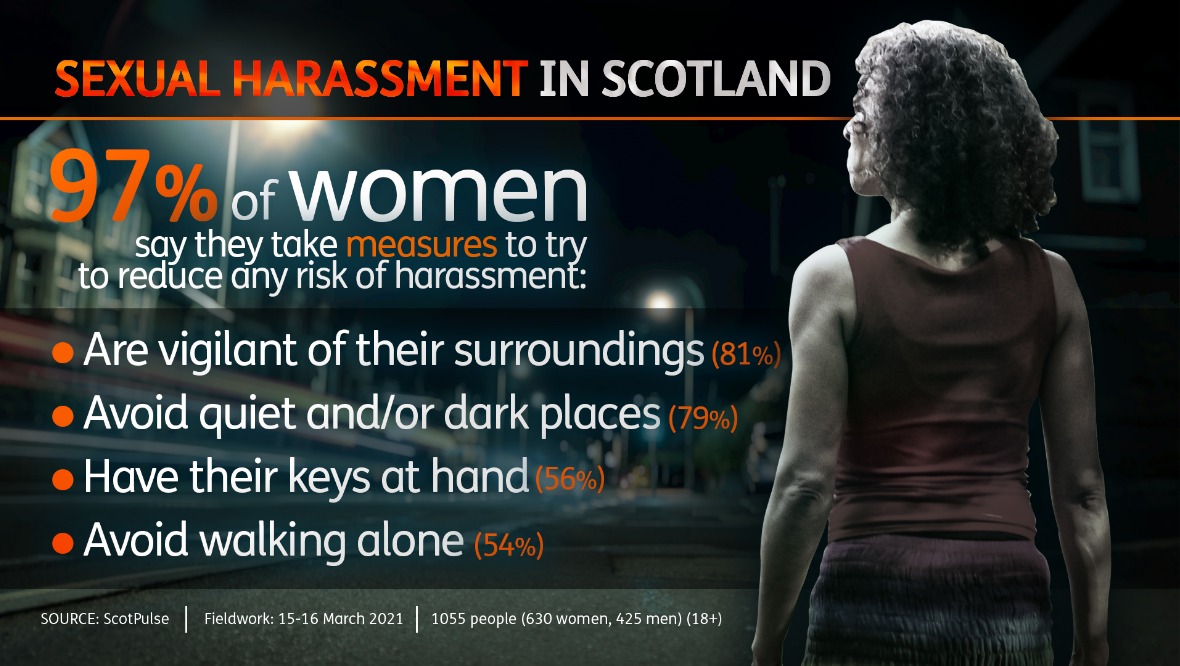 Almost six out of ten men said they don't think it's safe for women to walk alone at night.
A total of 42% of men said they change their behaviour when they see a woman walking alone at night to make them feel safer. A further 33% said they would, depending on the circumstances.
The men said they're most likely to cross to the opposite side of the road.
The survey also revealed that more than three-quarters (78%) of men said that they would intervene if they saw a woman being harassed.
There is overall acceptance that it is not true that nearly all instances of sexual harassment would end if the woman simply told the man to stop – with 78% of the men asked, and 86% of the women, disagreeing with this statement.
The survey also revealed that 30% of men and more than one in five women (22%) agreed that false accusations of sexual harassment against men are very common, whilst 24% of men and 36% of women disagreed with this.
The survey was sent to a sample of Scottish adults, with fieldwork carried out between March 15 and 16. Of the 1055 respondents, 60% were female and 40% were male.
The results of the survey will be discussed in a live panel discussion on Scotland Tonight on Thursday at 7.30pm.
Sarah Everard case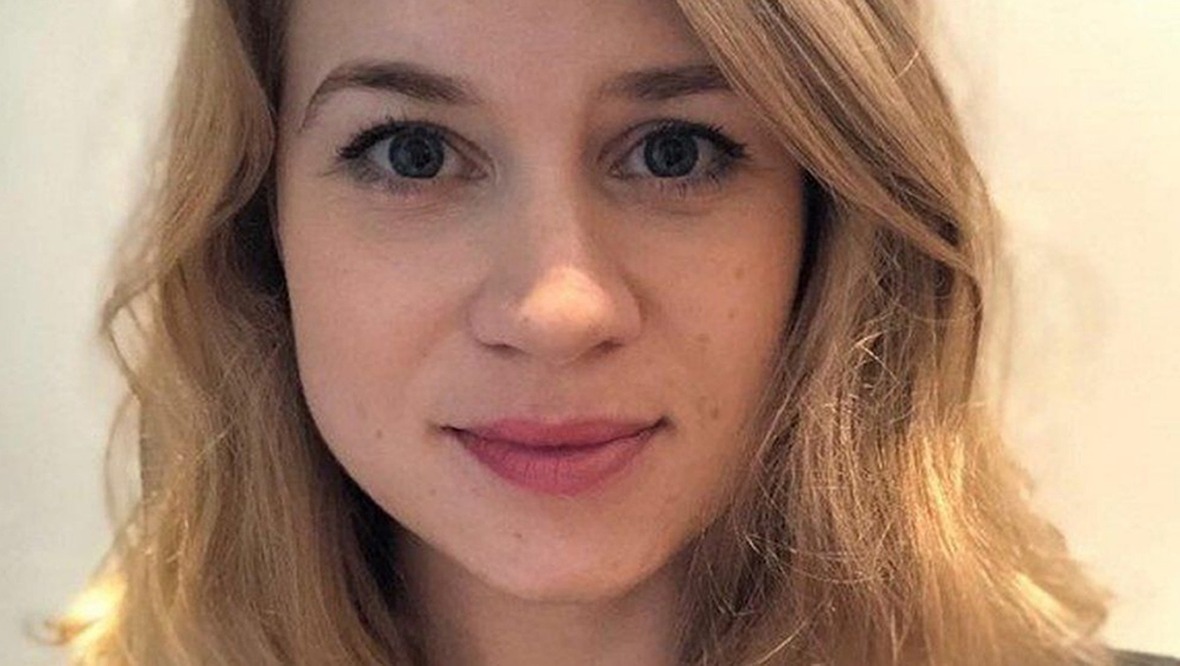 The survey comes following the murder of Sarah Everard.
The 33-year-old went missing as she walked home from a friend's flat in Clapham, south London, on the evening of March 3.
She was reported missing by her boyfriend the following day and her body was later found hidden in an area of woodland in Ashford, Kent, on March 10.
A post-mortem examination has taken place, but no cause of death has yet been given.
Serving Metropolitan Police officer Wayne Couzens, 48, has been charged with kidnapping and killing the marketing executive.
He appeared at the Old Bailey court via video link on Tuesday and was remanded into custody ahead of a provisional trial date of October 25.
In response to Ms Everard's murder, vigils were held across the country.
Her death also sparked an outpouring of fear, anger and grief over the harassment of women, with many victims sharing their stories.
'I want change'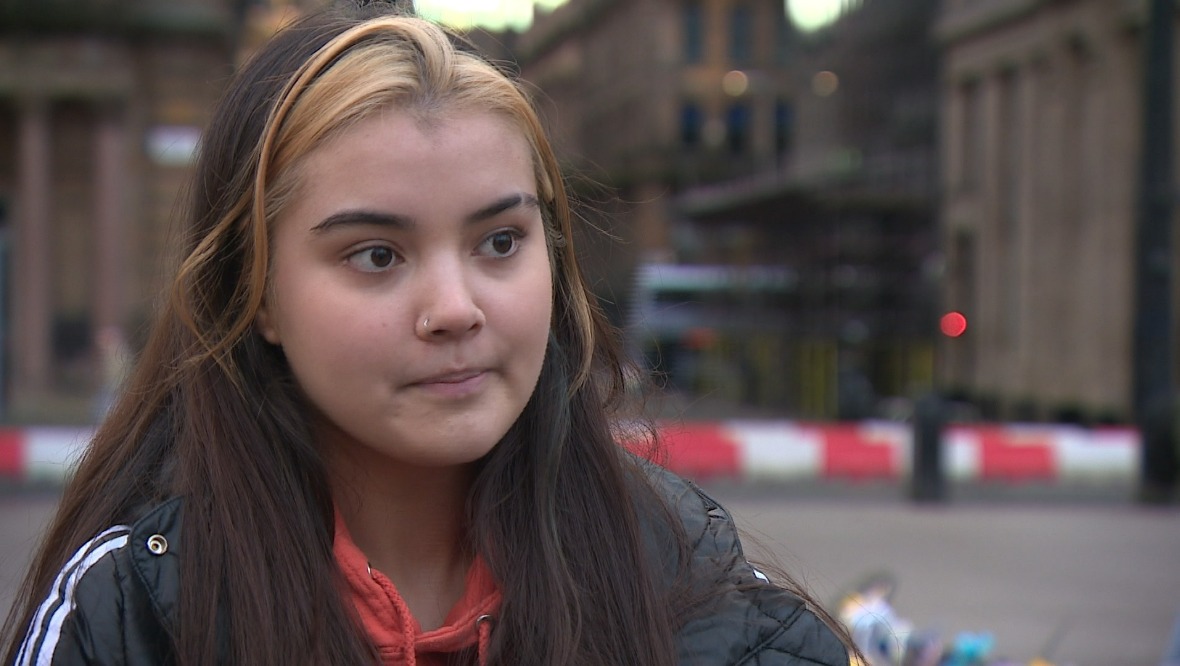 Police Scotland recorded 2343 rapes and attempted rapes between April 1, 2019 and March 31, 2020. That's six a day and twice the number recorded in 2010/11.
Almost 5000 sexual assaults were recorded during that same period, 53% more than a decade ago.
Pixie Russell told Scotland Tonight, STV's current affairs programme, she was sexually assaulted by someone she knew.
She said: "I can't change what happened and it haunts me every second of every day.
"I have to remind myself that the sexual assault doesn't define me. I am not what I didn't consent to. I may be a victim of sexual assault but I'm also a survivor.
"I don't want to stay indoors when it gets dark anymore. I don't want a rape whistle. I want change."
'That's just a normal night out'
Becky White told STV News: "It's being groped, it's being harassed in clubs countless times. Being grabbed, being started at, people touching you inappropriately without your consent.
"But it happens so often."
Ms White stated that when she was younger, being grabbed or having someone put their hand up her skirt was "just a normal night out".
She added: "And I think now people are beginning to speak up and hopefully people are going to listen, and we won't have to feel that way anymore."
Ms White said women have become accustomed to trying to keep themselves safe.
She explained: "It's avoiding alleyways and walking in the middle of the road, carrying your keys in your hands.
"Is the fact that you feel lucky when you get home and you're okay. And it's something that men never have to do. And we do that because we are scared we'll be attacked by a man.
"And it's not okay, it's terrifying actually."
'We know that all men are not attackers'
Kheanna Walker said she doesn't feel safe when out walking on her own.
She said: "When a car pulls up next to me when I'm walking and it just slows down – it could literally just be like someone just dropping off a package for Amazon – but I freeze.
"My heart just starts beating so fast and it's just something that I've gotten used to.
"But it's the knowing I could literally be taken by someone at any point. It's such a fear that doesn't go away.
"We know that all men are not attackers, we know that for a fact, but it's just that because it happens so often you have to look at every man as a predator to keep yourself safe and that's not the world we want to live in.
"We want a world where people don't have to think about this kind of stuff."
'Boys, especially, need more education'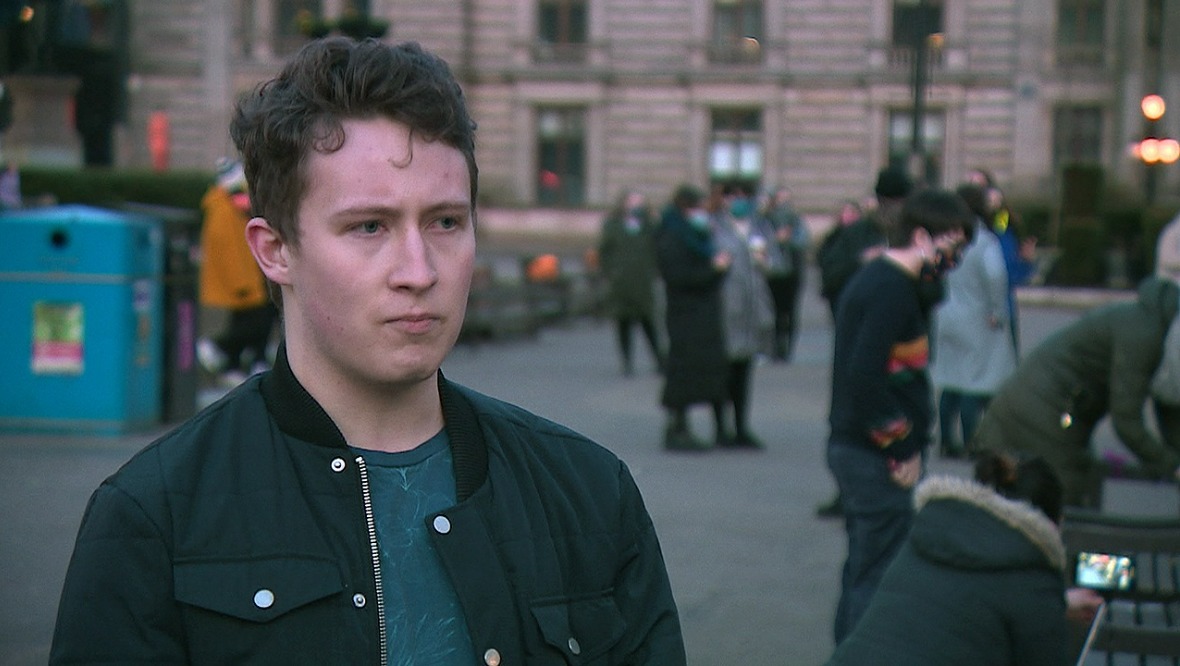 Leo Dillon believes women should not have to change and instead men should be educated.
He explained: "Young boys – they can get quite aggressive and stuff like that and it's completely unacceptable.
"I think boys, especially, need more education about this kind of stuff."
Mr Dillon said he too still has a lot to learn.
He added: "I've had opinions that are not right and I've changed, and I'll be honest with you on that.
"I've had the worst opinions in the world a couple of years ago, a year ago, and I've slowly changed and learned this is happening, it's the truth and we need to do something to change it."
'You really don't realise how often it happens'
Rosie Geddes said she has been assaulted in nightclubs, in the street and on a bus.
She added: "It happens everywhere. And until you start thinking about what actually is harassment or assault, you really don't realise how often it happens.
"It's happened in a workplace and I didn't feel comfortable telling anyone about it."
Ms Geddes revealed that she's had to deal with harassment in her personal life, noting it brings up a "lot of difficulties, a lot of trauma to discuss it".
She added: "The shame is the reason people don't come forward and people are so scared even talking about it to friends, let alone police."