Emma Pratt was a fit and healthy 25-year-old, when she suddenly lost her sight.
Doctors quickly diagnosed her with multiple sclerosis, a lifelong condition that affects the brain and nerves.
Emma's sight returned but she has been left with permanent disabilities that affect her everyday life.
Despite worsening symptoms, she doesn't meet the criteria to receive stem cell treatment in Scotland, even though it could slow the progression of her condition.
Instead, Emma is looking to have treatment abroad but is prevented from travelling due to the pandemic.
"The flights are booked because, regardless of the rules, I know I have to do this now," she says. "So we will figure it out, but it's the unknown which makes it very scary.
"Because of Covid, I haven't been able to do bric-a-brac sales and ask people to run marathons for me [to raise money]. Literally asking for people's help has been the only thing we've been able to do."
It has now been ten years since her diagnosis, but Emma has found it impossible to come to terms with.
"I don't think it ever really sets in," she says. "I live every day as it comes because I don't know how my symptoms are going to be.
"Even the simple things like pushing [my son Rory] on a swing and taking him for a walk and running races in the garden and hours of hide and seek…
"Those are the things that a three-year-old wants to do with mummy, and it's hard to not be able to do those things."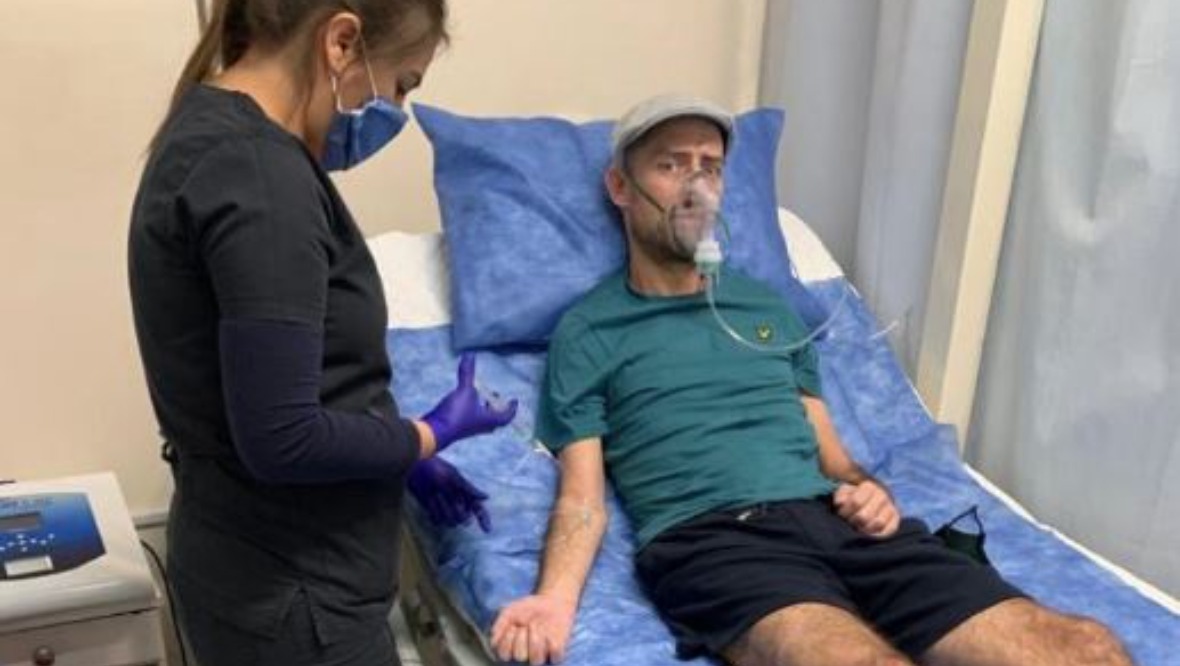 Fundraising is something 41-year-old David Balmer is also finding difficult.
The father-of-two was diagnosed with motor neurone disease in 2019 and now struggles to speak, so his sister Lynsay helps to communicate his thoughts.
"There was one drug offered that gives you, well so they say, an extra three months on top of your diagnosis," she says. He said 'no way', we weren't accepting that."
Despite many obstacles, David made it to Mexico last October for experimental stem cell treatment.
"It was totally beneficial, it was worth it," says Lynsay. "And he's now needing to go back for follow-up treatment, but it's causing more difficulties and more problems again.
"Time is something that we don't really have, you need to do things quickly."
Raising funds for the treatment has also been made difficult for David, but he's not giving up hope.
Lynsay says: "He's saying without his family and the people behind him that he wouldn't be here, but he's very strong."
There are exemptions to the current travel and quarantine restrictions, but David and Emma don't meet the criteria. They feel this needs to change.
The Scottish Government said: "We understand the difficulties faced with those who are dealing with health issues, but to manage the risk of importing new variants and to give vaccine deployment the best chance of bringing us closer to normality these limits on international travel are necessary.
"There is a provision that an exemption can be granted to a person whom Scottish ministers consider requires exceptional arrangements to be made on compassionate grounds.
"It would be preferable for all concerned if any such exemption were applied for and confirmed or denied in advance of travel, to remove uncertainty."