Family and friends of a mum who was killed by a stroke ran the equivalent of Scotland to Hong Kong to highlight the risk faced by younger people.
Justine Hird – a fit and healthy mother-of-two – was struck down by the brain condition at the age of 46 and died in hospital four days later.
Justine's partner Stephen Kinnaird, their daughters Thea and Elsa, along with friends and relatives, have raised more than £6000 by collectively running and cycling 6000 miles, mostly during the coronavirus lockdown.
Stephen, of Pollokshields, Glasgow, thought Hong Kong was a "fitting" choice as he and Justine lived there for five years in the early 2000s.
He told STV News: "I wanted to do something that she would appreciate to give back for her life.
"As much as lockdown was really tough for everyone, I noticed so many families out walking and cycling, it made me realise that we could do something as individuals but collectively."
Team Justine was born and, as word spread through social media, more people joined in, including a runner in the US and a family on a cycling holiday in France.
After proudly leading his daughters and a group of friends into Glasgow Green to complete the #JustineMiles event, Stephen said: "The inclusion of the girls in this is amazing because they see how much good has been done, as much as it's been absolutely horrendous for them to lose their mum.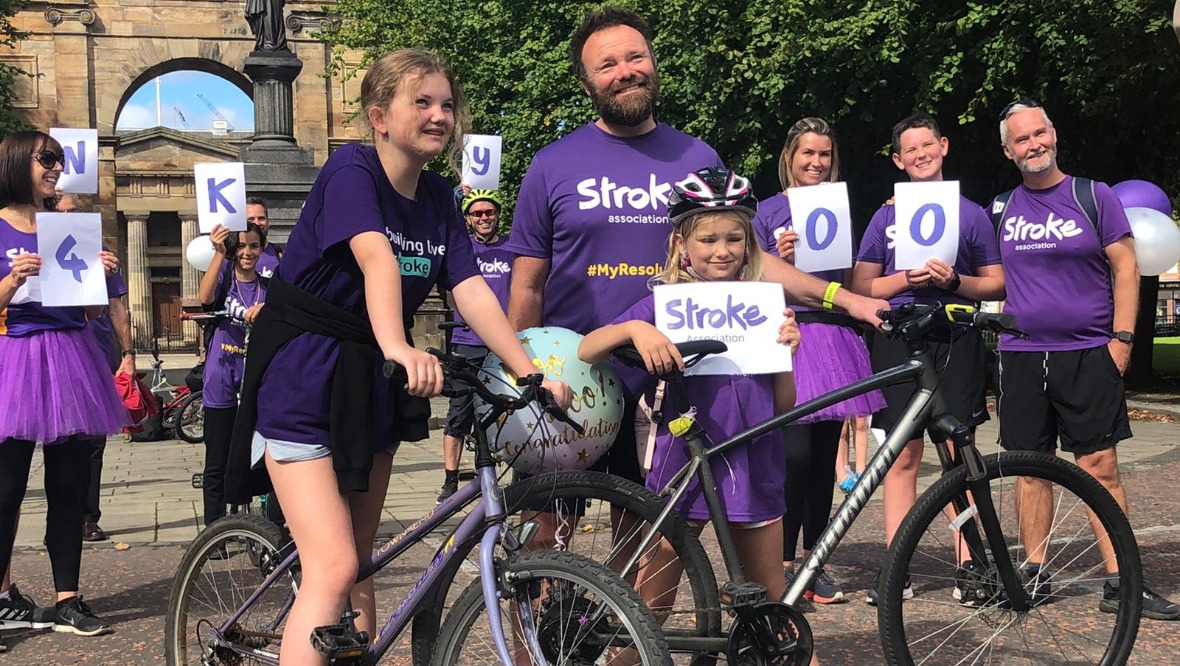 "They'll look back on this with a sense of pride – it will hopefully give them a life lesson as well, that good can come out of really horrible situations."
Strokes are the third largest cause of death in the UK. One in four happens to people under the age of 65, including babies and children — yet it is a common misconception they are only suffered by the elderly.
Since Justine's death, Stephen has helped raise around £25,000 for the Stroke Association charity.
With some research suggesting a rise in the numbers of younger victims, he is determined to not just raise funds but also help people realise the risks.
He said: "It's about creating awareness that strokes happen to younger people rather than just the elderly. That's part of the mission behind it."
'Terror in her voice'
Stephen Kinnaird will never forget the moment he turned on his phone after stepping off a flight from London a few weeks before Christmas in 2017.
After arriving at Glasgow Airport, he was met with a series of frantic text messages from his ten-year-old daughter Thea. There was also one voicemail, in which he could hear the "terror in her voice".
Justine, a loving, active and happy mum-of-two, had suffered a catastrophic stroke and was displaying classic symptoms of lopsidedness and difficulty speaking – but no-one realised at the time.
By the time Stephen got home, he says "the last thing I ever imagined was a stroke because she did lead a heathy lifestyle and it just didn't feel that it was possible for that to happen to her".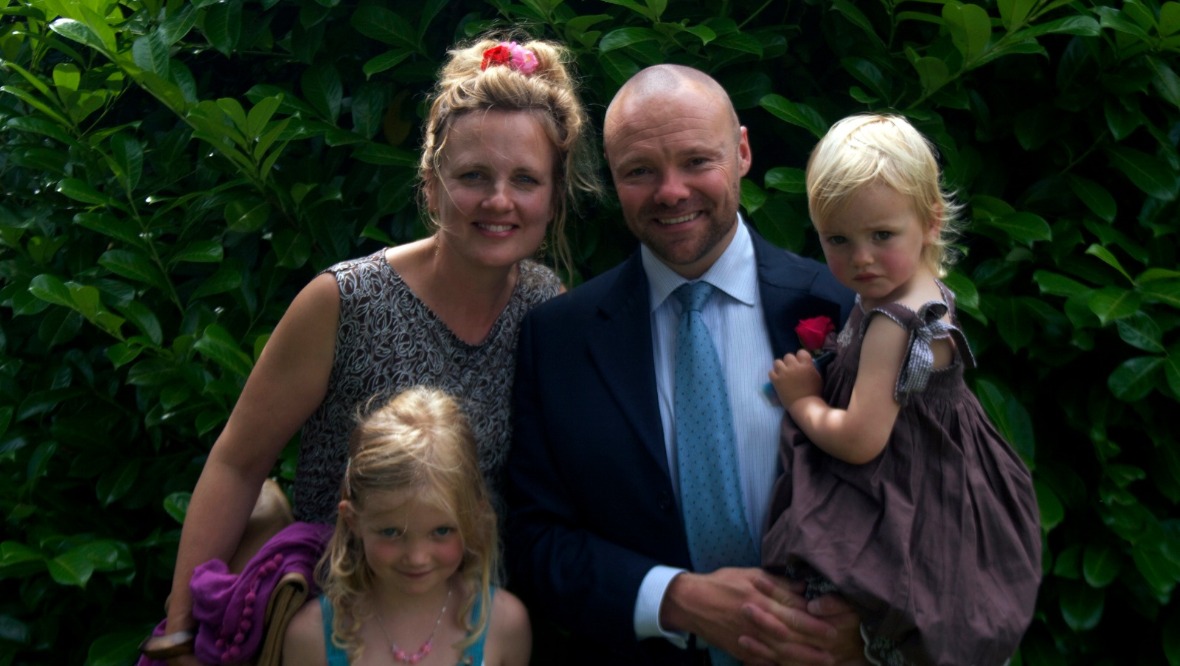 At hospital, he realised how serious the situation was when he saw a "look of shock" on the face of a consultant, adding: "She said we need to prepare ourselves for the worst here. We were in pieces.
"Internally I'm falling apart because I'm realising that I could lose Justine and that the girls could lose their mum."
The following day, Stephen says Justine had "an element of a smile on face" and "tears in her eyes … I think she knew in some way there was something really wrong with her".
Perhaps without even realising, it gave her the chance to say goodbye to her beloved daughters Thea and five-year-old Elsa.
Justine underwent a brain operation in a bid to reduce the swelling, but it was unsuccessful.
When Thea and Elsa blindfolded their dad to surprise him with a newly decorated Christmas tree, he broke down. He said: "They knew that things were bad but I don't think they grasped how bad or how much of an impact or what was going to happen."
When the doctors told him that Justine did not have long, he lay beside her and said goodbye. The following day, consumed by shock and pain, he dreaded having to tell Thea and Elsa.
He said: "I had the girls in bed with me and I was in the middle of them and I was aware that I was going to have to find a way to tell them when they got up in the morning. I just didn't know what the right approach was.
"I knew this was going to change their lives forever, it was never going to be the same again."
A charity website contained the advice that being clear and direct was the best way of doing so.
Over the following weeks, Stephen focused on trying to "rebuild and creating a decent life for the children and as a family".
He discovered that Justine often gave a soup and sandwich to a local Big Issue seller — something she had never told him.
He said: "That really touched me, the fact she never felt the need to get credit for it."
The need to stay physically active and the desire to raise money to help others affected by strokes resulted in Team Justine — as Stephen joined up with friends to run half marathons and 10k events.
He said: "The physical aspect of having a target, of getting up and getting out there, gives me that focus from an exercise point of view.
"It's really nice to see what everyone's doing. It's not just a team but a family thing where everyone is looking out for each other."
Angela Macleod of the Stroke Association said: "We're absolutely delighted. And you can imagine in the age of Covid where charities are restricted in what they can do in terms of fundraising, then what Stephen and his friends are doing is absolutely crucial to helping us help other stroke survivors.
"There is some evidence to show that stokes are increasing in younger people but we need to gather more evidence to know more about whether that is the case and why that is the case."
The fundraising campaign can be supported here: https://justgiving.com/fundraising/justinesmiles2020