Known as Scotland's answer to the fabled Route 66, the North Coast 500 has seen a surge in staycations during Covid restrictions.
Since it was branded in 2015, many businesses along the 516-mile coastal loop have shared in the annual £23m windfall generated for the economy.
Holidaymakers love it, but patience is now running thin amongst many communities who believe the NC500 is simply too popular.
They cite traffic problems, weak infrastructure and 'dirty tourism', where visitors leave rubbish and mess behind before continuing on their travels.
Scotland Tonight packed its bags and hit the road to find out if the trail has become a victim of its own success.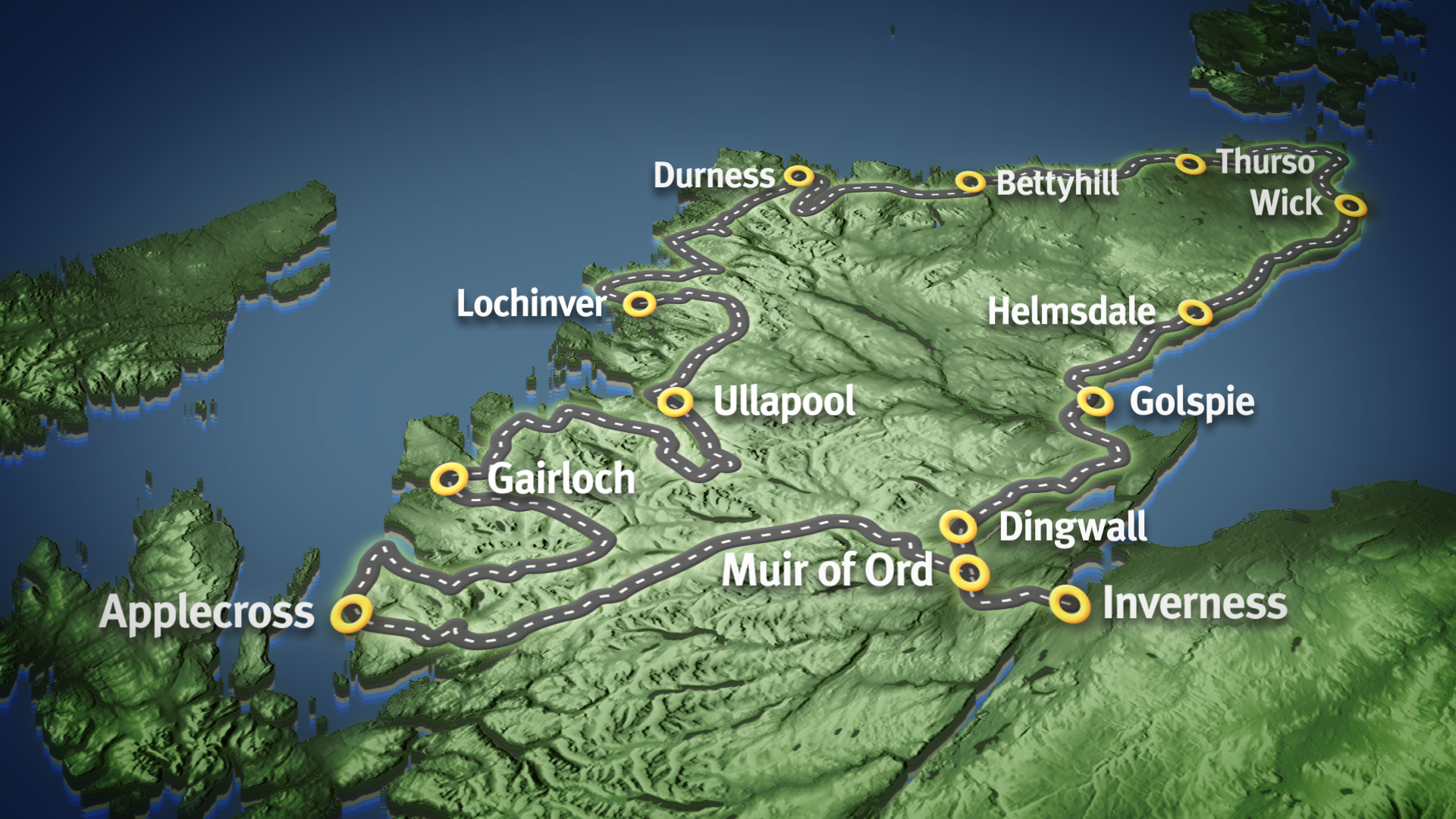 Applecross: 'It's far too busy'
The community in Applecross is considering a ballot on whether it should "opt out" of the NC500.
Many there say their desperate pleas for improved infrastructure have been ignored.
Applecross Inn hotel owner Judy Fish says: "It is far too busy. We're six years in to the NC500 now and we are calling out for better infrastructure and seeing nothing done about it.
"I think if we can discourage a few people from coming here, that would be a good thing. There's far too much traffic on the road with no idea how to drive on a single track.
"As for being taken off the route, the horse has already bolted, we can't really come off and we do want to welcome people here.
"But there are some residents who have retired here thinking they're settling in a quiet place."
Community councillor Alastair Brown believes Applecross needs tourists, but agrees more work is needed to improve facilties.
"There are good things and bad things with the NC500," he says. "We need tourists in Applecross, it's always been popular, but because it's so well known now we just can't cope with the number of visitors."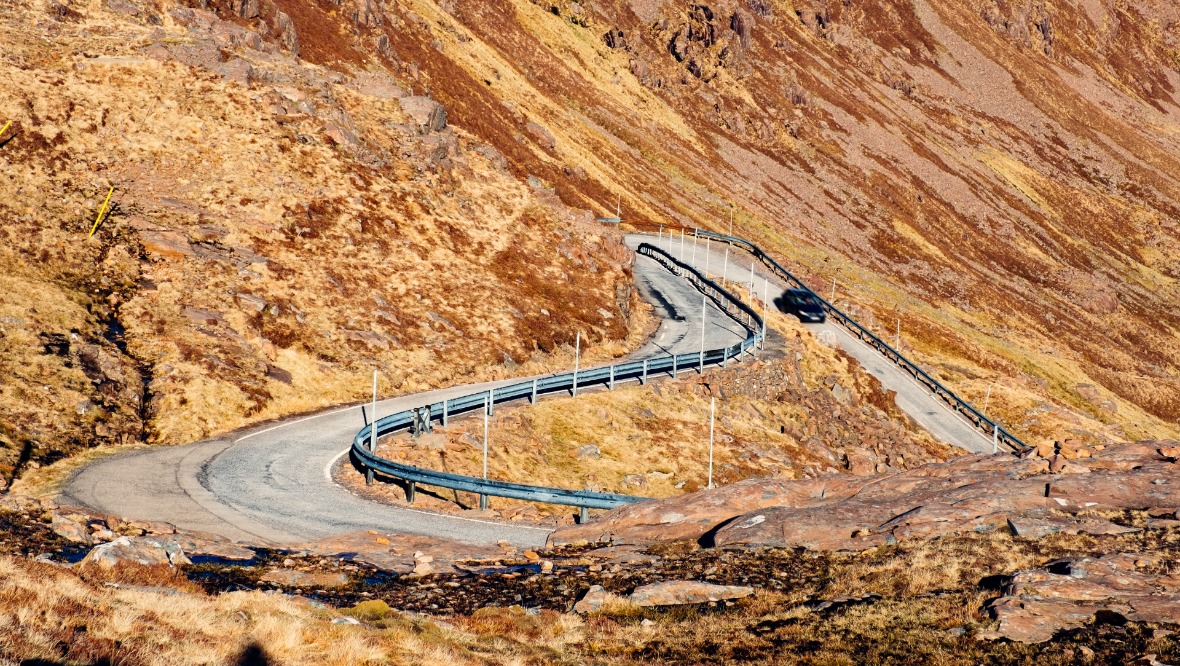 Durness: 'NC500 is going to collapse'
Chris Scott, a resident for 20 years, owns the Smoo Cave pay-and-display car park and laundry.
Durness has a population of just 350 – but a tourist influx can often see that double on any given day.
"I've watched the area get busier and busier," he says. "Last year, there were so many visitors, space was at a premium, even the wild camping was full."
Local aren't opposed to visitors, but blame Highland Council for a lack of decent facilities.
"The NC500 could be one of the great success stories, but unless they put effort and money in, it's going to collapse," says local resident David.
"I mean, the roads we've got around here were built in 1939 in anticipation of the Second World War and they haven't been improved since then, it's shocking."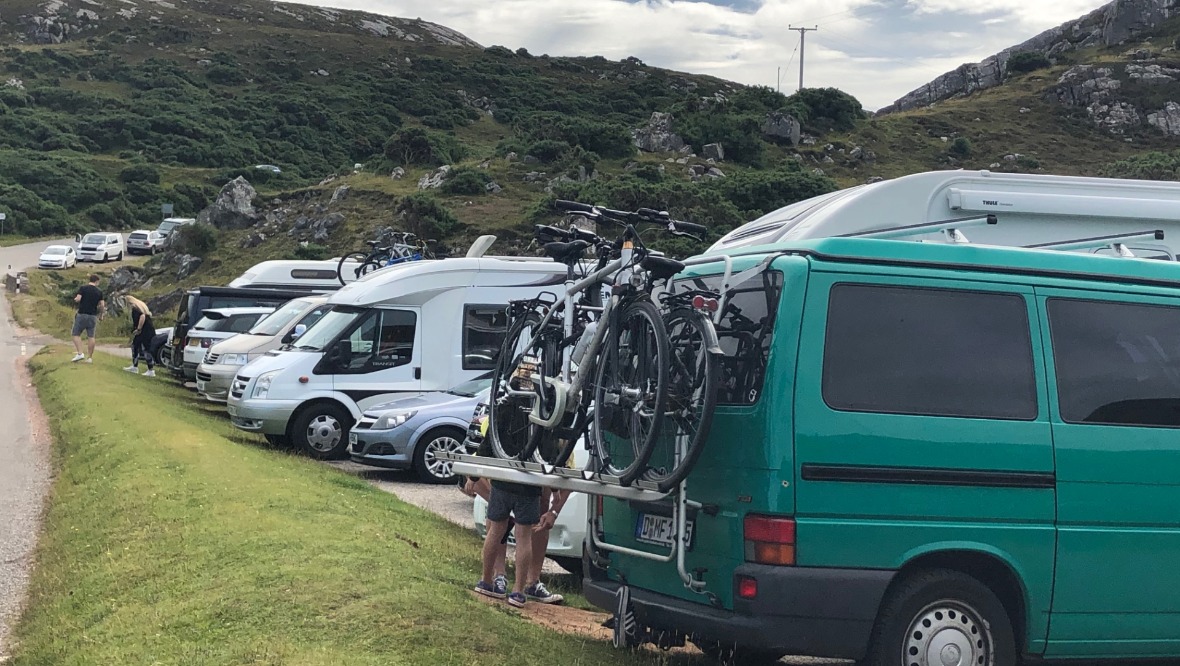 Bettyhill: 'Roads are chewed up'
Hotel owner Carl Jeffries says almost all his rooms are booked because people are holidaying at home.
That's great for business, but he worries about the impact on the local area.
"This year, lots of Scots are coming up and a lot of them haven't been past Inverness before," he says
"The roads can't cope now, they're chewed up."
Lairg: 'I had to wake campers up'
Lorry driver Jane MacLennan is on the road for nine hours a day and needs to find a safe place to park at the end of her shifts.
The number of tourists has made that difficult, while she's also noticed more mess.
"There was no room because it was taken up with campervans," says Jane. "I had to wake them up and move them on.
"And now, when you step out on to a lay-by, you need to be careful of where you put your feet. The amount of litter is incredible. It never used to be like that."
Gairloch: 'Charge £50 to use the route'
For shop owner Hannah Maria Cutler, the NC500 has been "great for business" – although she accepts there are problems that need to be addressed.
She wants tourists to feel welcomed by communities along the route.
"Instead of telling people off, which angers everyone, we should look at solutions which are much more inclusive and invite tourists to be part of these communities," Hannah says.
"They have not had this influx of people until very recently, so there are growing pains, but there are ways to solve them without aggression."
Local man Andrew wants tourists to be charged for using the NC500 – with the money being spent on developing communities.
"Tourists come and take, but don't give a lot back," he says. "I'm sure there are businesses that are benefitting from this, but not local people.
"If you're going to come, pay £50 to do the NC500 and allow that money to go back in to communities. Maybe you need a badge or permit on your windscreen.
"It might be hard to police, but we need to start thinking of solutions."
What is Highland Council saying?
Highland Council said £28m was being invested in roads and that it was the first authority in the UK to allow landowners to provide "continental-style" motorhome stopovers.
It also said it understood the pressures on the NC500 and that it was applying for UK Government money to carry out improvements.
On waste management, the council said guidance had been issued and more staff had been employed.
A spokesperson said: "The council recognises the pressures on the NC500. Alongside, an increased visitor management strategy budget and an increased roads maintenance budget, an ambitious £55m bid for improvements to the NC500 has been submitted to the UK Government's 'Levelling Up' fund.
"The project that has been submitted is to develop the infrastructure needed to support the continued growth of the NC500 tourism route, and to ensure that the increase in tourist usage does not impact on access to the key employment sites that lie on the route."
Scotland Tonight is on STV and the STV Player at 7.30pm on Thursday.