It's been the fixture of Jim Baxter, of Kenny Dalglish, and of Leigh Griffiths. It's also been the fixture of Paul Gascoigne and Paul Scholes and countless others over the 149 years these rivals have been competing on the pitch.
On Friday night at Wembley, Scotland's current crop stepped into the match that matters more than any others – and showed they can compete as well as anyone.
Steve Clarke's players couldn't quite come away from the spiritual home of English football with a victory, but an impressive showing let viewers across the continent know that Scotland are more than capable of going toe-to-toe with the bigger names at Euro 2020.
It would be easy to look at the scoreline and assume this was a backs-to-the-wall, heroic defence under siege, or a battling 'gerrintaethum' blood and thunder battle. It was neither.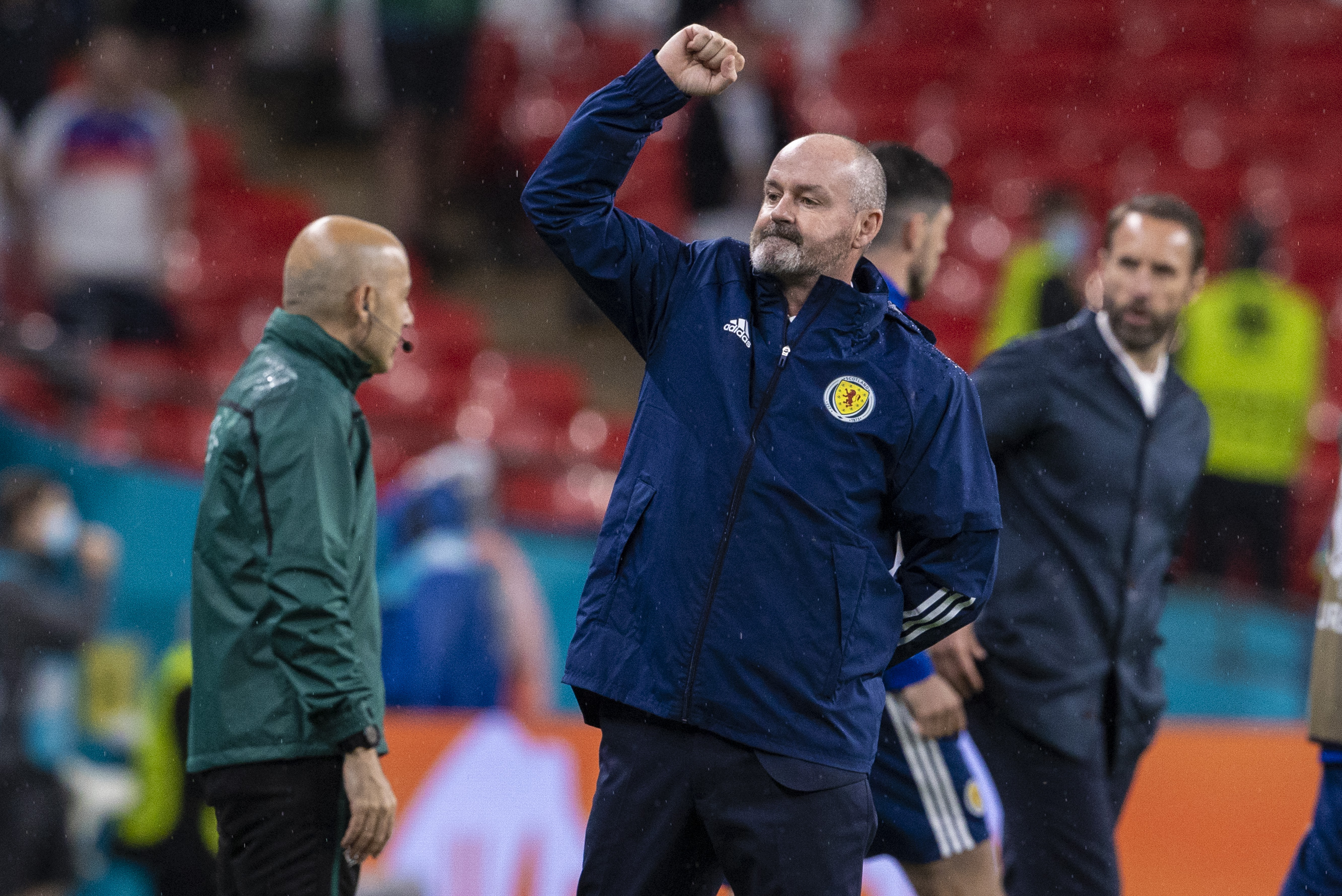 Clarke's players were executing a clever game plan for sure, but they exhibited a level of control and assurance, while showcasing their own abilities. Storms had to be weathered at times, but Scotland weren't just huff and puff and had their more fancied opponents rattled.
The result was vindication for the head coach, who had bristled at some of the reaction to the opening-day loss to Czech Republic. Clarke felt that criticism of the performance at Hampden was over the top, given the 23-year exile from major tournament football that preceded.
Nevertheless, he made changes to his team, with four coming in to the side and all excelling alongside teammates who raised their game.
'Gilmour the cream of the crop'
Pick of the crop was Billy Gilmour, the Chelsea 20-year-old who was handed his first start. His inclusion was what everyone was talking about when the team sheets came out, his performance was what they were raving about long after the final whistle.
Gilmour now looks a near-cert to face Croatia and to be a part of every Scotland game from here on in. His movement and passing helped set the tempo from the off, and if there was one thing needed to help settle the nerves, it was of the slight, unassuming youngster at the heart of the action, radiating confidence as he received the ball in tight spots only to emerge, head up, with options to survey.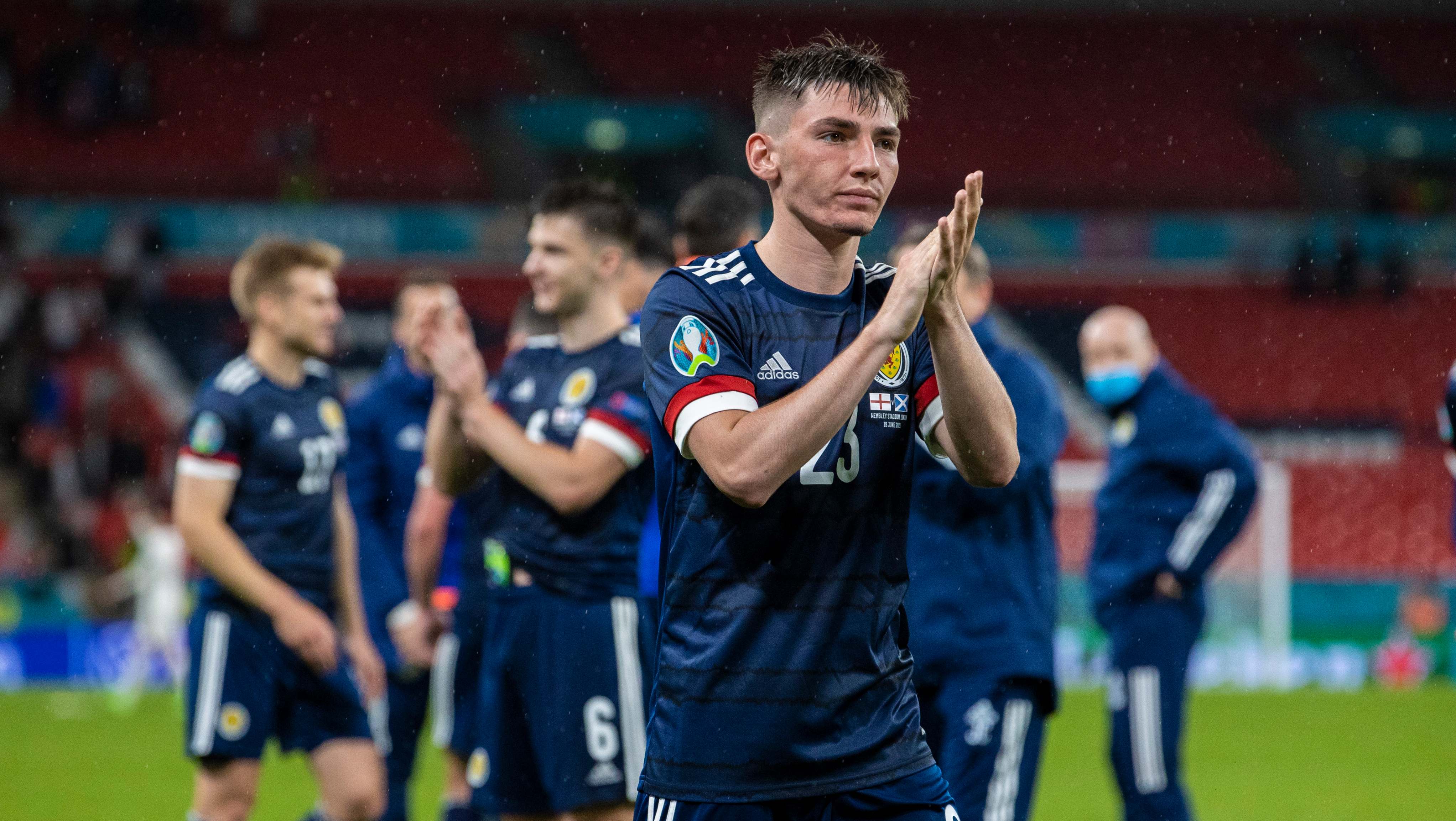 Flanked by committed, energetic and intelligent performances from Callum McGregor and John McGinn, Scotland had a heart that was steady and drove the team on.
Clarke also made changes to the defence and it was an area that had prompted concern from plenty in the build-up.
There were plenty who worried that watching Harry Kane would be punishment, and fears that seeing Phil Foden pick holes in the back line would be like spending 90 minutes in a dentist's chair.
Kane unable
Instead Kieran Tierney returned to the back line and added a layer of solidity, alongside Grant Hanley, who has arguably been Scotland's best player across the two Euro 2020 matches. With Scott McTominay dropping back to play on the right, the trio took on the direct battles and won them. Kane came into the game with 34 international goals, only two less than the entire Scotland squad, but he was restricted to just 19 touches and England's leader and captain was hooked in the second half. He walked off with the look of a man who knows that his markers had ensured plenty of column inches about his crisis in form.
In attack, Clarke named two forwards in Che Adams and Lyndon Dykes, a statement that his side weren't in London just to defend, and the pair exemplified the attitude the coach has instilled in his side. Both worked tirelessly, with Adams' first touch ensuring that he always had space to bring others into the play or to have a pop at goal when he could.
On the flanks, captain Andy Robertson was his usual self, leading by example and contributing to defence and attack in equal measure. But on the other side of the park was a player who had been the subject of plenty pre-match discussion.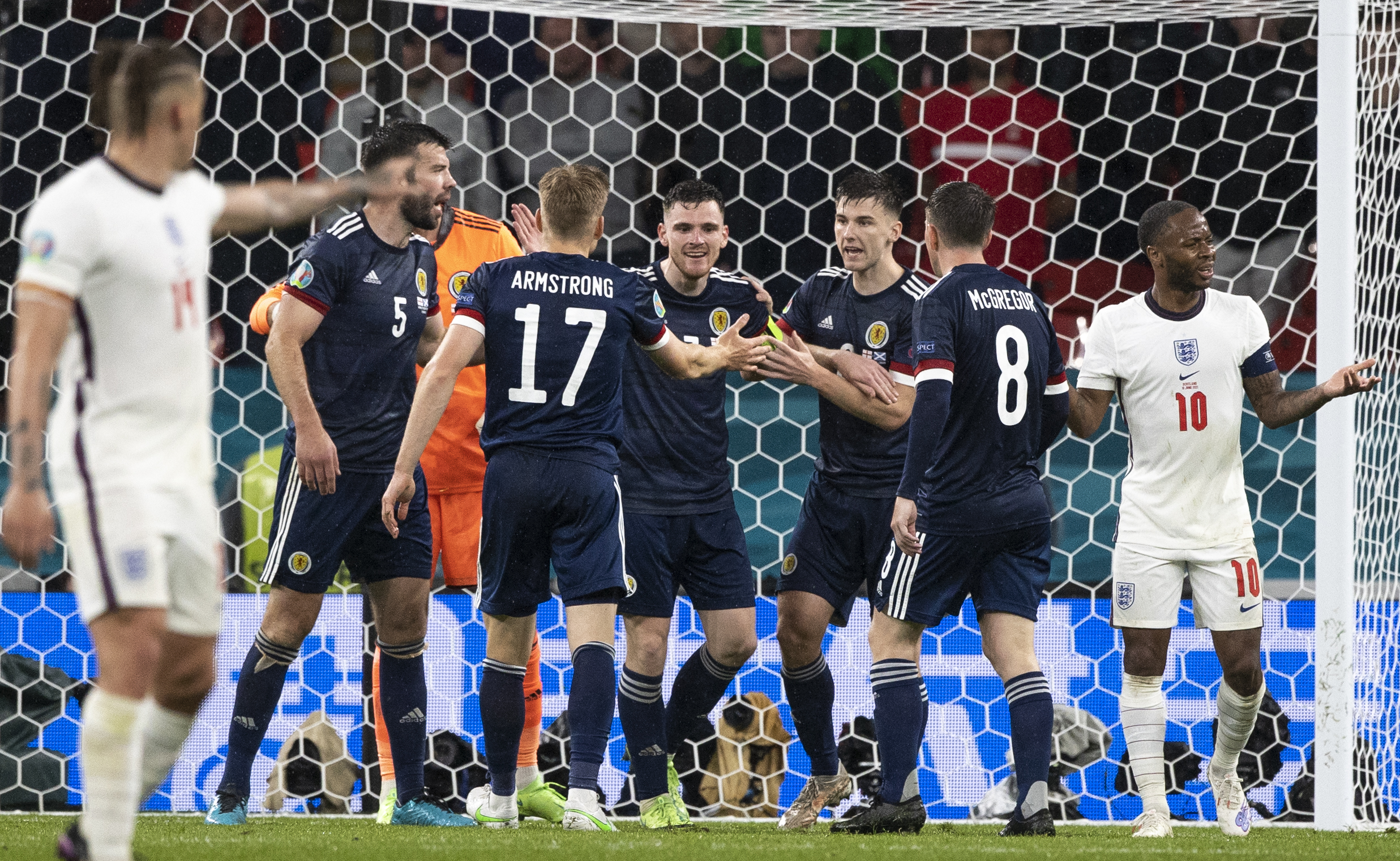 'O'Donnell led by example'
Stephen O'Donnell did not have a good game against Czech Republic and it was understandable and fair that people discussed the other options within the squad. O'Donnell was more than aware of the widespread criticism, but Clarke stuck by him and was rewarded with a display of tenacity, belief, discipline and no little skill. Had Jordan Pickford not got a hand to his well-struck volley, he would also have been the scorer of a goal that would have gone down in Scotland folklore.
It's one of football's well-worn phrases to talk about how young players who want to reach the top might want to watch one star or another and learn the tricks of the trade. If you're looking for a model to demonstrate how to shake off a poor performance, tune out the critics and excel in adversity, O'Donnell is the man to point out to your young Scotland hopeful.
After considering all the positives from memorable night at Wembley, it's almost a bit of a jolt to realise that to build on the point and make progress, Scotland really need to beat the World Cup finalists in a few days' time.
Clarke might make tweaks here and there but it's hard to imagine that he won't keep together a system and personnel that went so well together.
As they return to training at their base camp in Darlington, none of the Scotland squad will be thinking they have an easy task ahead, but after a defeat to England and a draw against Czech Republic, all accounts have Croatia down as a shadow of the side of three years ago.
If given one wish, you might wonder if Scotland could only field the national team of three years from now. There's a sense that Clarke is on to something with his approach and of all the options available to him, the majority still have room to develop and improve, especially in international games. As O'Donnell said after the match, even for the experienced players, "all of this is new to all of us".
Instead, it will be a case of building on a performance to be proud of. Home advantage and a feeling of optimism will buoy the squad but an equally smart and controlled performance will be required to rattle Luka Modric and company.
After a long exile, Scotland have come a long way in just a few days from their opening match defeat. Having found their stride against England, all eyes now turn to the Croatia game and a chance for the national team to take a historic and significant step forward.