"It's the fact he didn't get a shot at life."
Baby loss – whether through miscarriage, stillbirth, neonatal death or termination for medical reasons – affects lots of families, but it's still a taboo subject.
In the UK, it's estimated that one in four pregnancies end in miscarriage or stillbirth.
In a special report, which will be shown on Scotland Tonight at 7.30pm on Thursday, bereaved parents have shared their baby loss heartbreak in an effort to help others and raise awareness.
'He wasn't there anymore'
Jo Douglas and her husband, Alistair, had been trying for a baby for more than four years.
The couple, from Edinburgh, conceived through IVF and were preparing to welcome their firstborn, just a couple of months ago.
Jo was 41-and-a-half-weeks pregnant when contractions started. She thought she was in labour.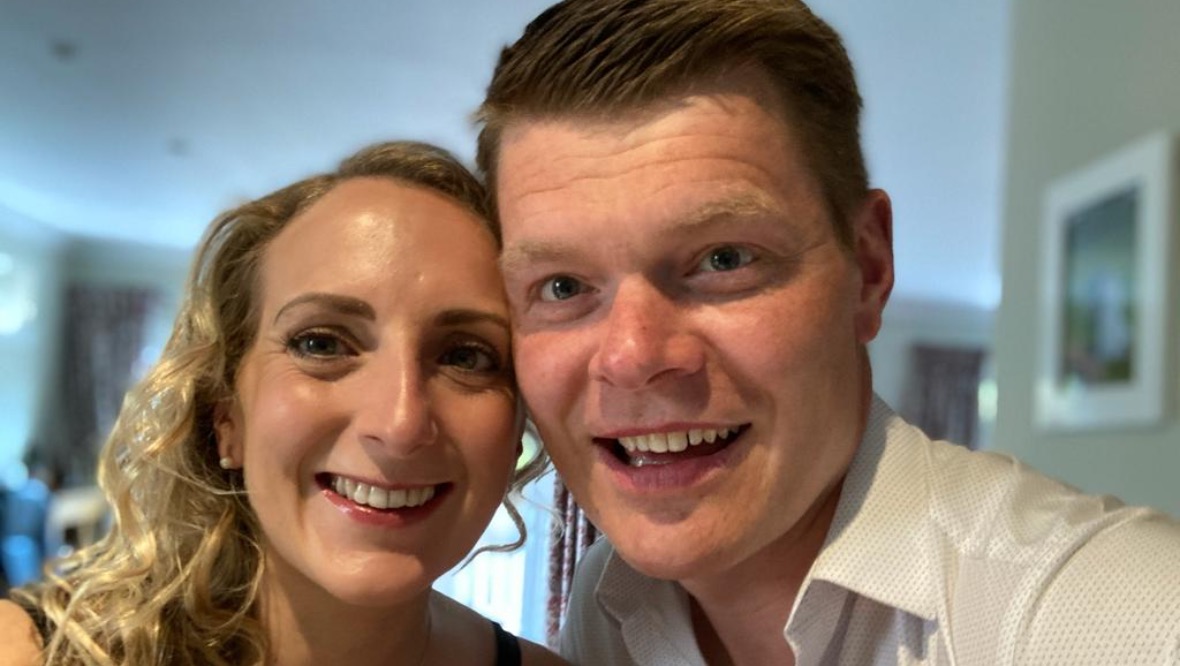 She told STV News: "I remember the car journey on the way [to hospital].
"I was even timing the contractions, 'oh, that's eight minutes between them'.
"We were quite excited and positive, thinking this was it. But it then was the devastating reality that they did the scan and you could see them scanning over the heart and there was no movement and we realised he'd passed.
"He wasn't there anymore. We were in such shock. We just couldn't believe it."
Alistair was devastated his little boy didn't have a chance to live.
He said: "Initially, it was 'why us?' It was then, 'why anyone?' And then, 'why him?'
"We thought that because actually it's nothing to do with us; it's the fact he didn't get a shot at life. I mean, you would give anything to give him that chance."
The couple went back home and spent the night there, in shock and disbelief.
They decided they wanted to deliver their baby by C-section the following day.
They also picked a name that night for their unborn child. They chose Hope. It symbolised what their baby meant to them: hope that they would one day be a family.
Speaking of the C-section, Alistair said: "[The] baby was delivered, immediately taken away and cleaned up. And Jo got taken into the recovery room. And it was there that one of the midwives came through and was like, 'do you want to see your son?' And I was like, 'we had a boy?'
"That was when it was just an explosion of emotion."
Jo said her C-section scar is a reminder of the pregnancy, adding: "But you don't have your baby with you, it's just awful."
'The baby wasn't moving'
Kim Rodger, 26, and her fiancé, Jason, from Rutherglen, were delighted to find out they were expecting their second child.
Kim said: "We were over the moon when we found out we were going to have another baby."
But 18 weeks into the pregnancy, during a check-up scan in hospital at the start of lockdown, the student nurse was given the devastating news their baby had died.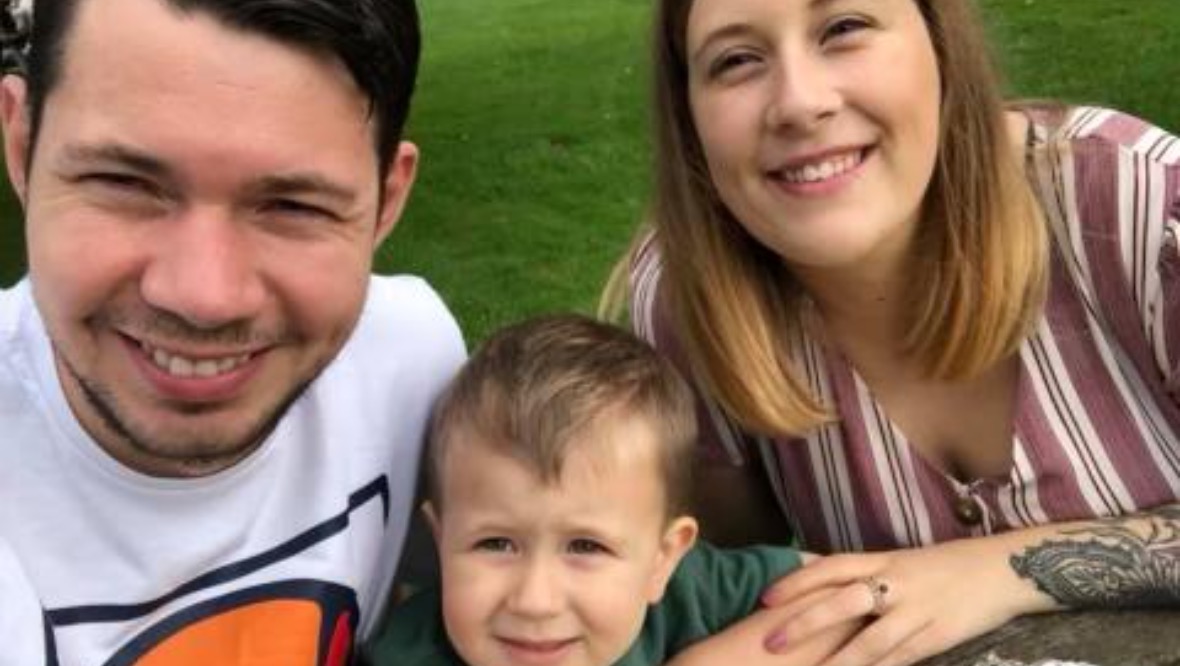 She said: "As soon as I saw the consultant's eyes, I knew straight away something was wrong because I could see the monitor and the baby wasn't moving.
"I was petrified. I was on my own. The midwife couldn't even come and comfort me because of the virus. It was so awful.
"And everything else thereafter just became a blur. I couldn't hear anything anyone was saying. I was just hysterical. It was horrendous."
The following day, Kim was induced so she could deliver her baby. They named her Alex.
Kim said: "It was heartbreaking. There are no other words to describe it. I only got to hold her for half an hour or 40 minutes. She was really fragile."
Kim and Jason also had to tell their little boy, who was just three at the time, that they wouldn't be bringing their baby home.
Kim said: "As simple and as innocent as he is, he just was like, 'are you very sad because the baby's died?' And I say, 'I am, I'm very sad'.
"He just sat and cuddled me for a good ten minutes and he just was like, 'okay, mummy', and just pottered off and played with his toys.
"He just knew from then on that if mummy was sad it was just because mummy missed the baby and he just understood it."
'They've got to be wrong'
Laura Orr, 32, and her husband, Graeme, from Ayr, faced the trauma of terminating their much-longed for pregnancy in April.
They were excited about having a little sibling for their four-year-old son, Ethan. But at the end of March, with the country in lockdown, Laura was told their baby, which they had named April, had anencephaly – a serious birth defect which affects the baby's brain and skull.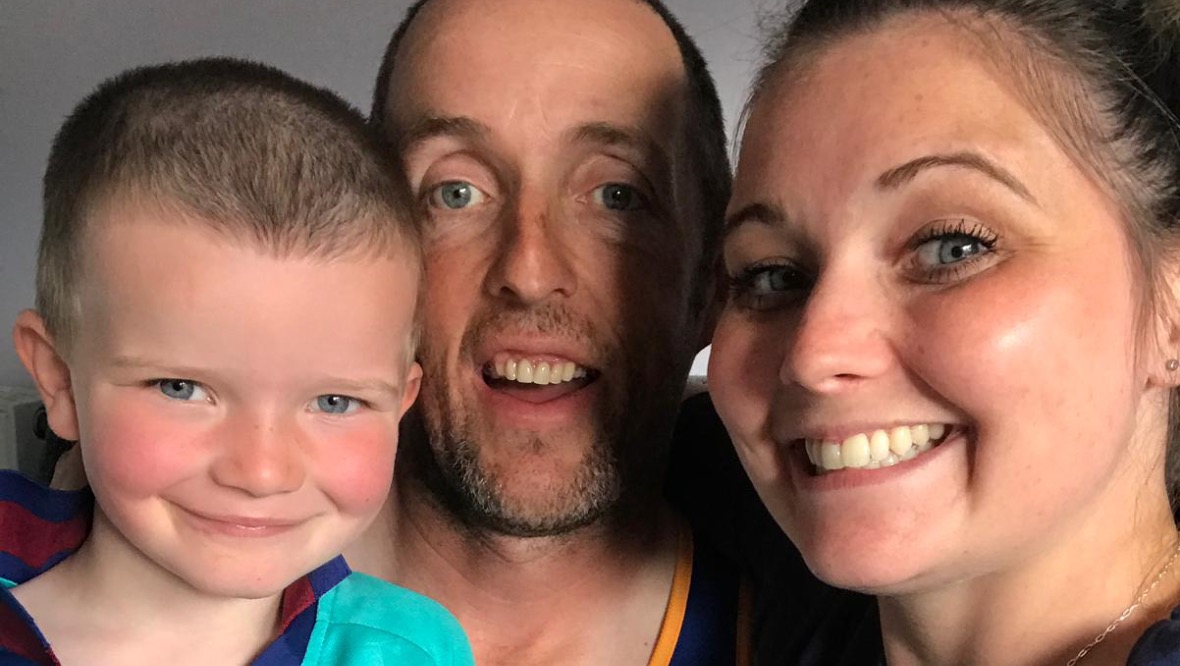 She said: "I thought, 'they're wrong, they've got to be wrong. That can't be the case. Definitely 100% wrong'.
"Actually, it wasn't. It was 100% right."
"Even if we did go ahead with it, we would end up with the baby coming out and only surviving for an hour at the max."
"The midwife was amazing; the dignity, the respect, everything just showed to me, April and Graham was unbelievable.
"We did have time with her and we were able to talk to her. And cried. There was a lot of crying.
"It was just shock, pure shock more than anything. The realisation of it was really difficult to take, really difficult. Especially during lockdown because I'd no one to speak to, I'd no one to see. And I had to be a mum to my little boy."
Charities there for families
Charities provide much needed support to bereaved parents and help them open up and talk about their baby and what they've gone through.
Charity SiMBA donates memory boxes to hospitals, so they can be gifted to parents at the time of loss.
They are used to capture precious memories, such as footprints and photos, with the hope they'll encourage devastated mums and dads to talk about their baby.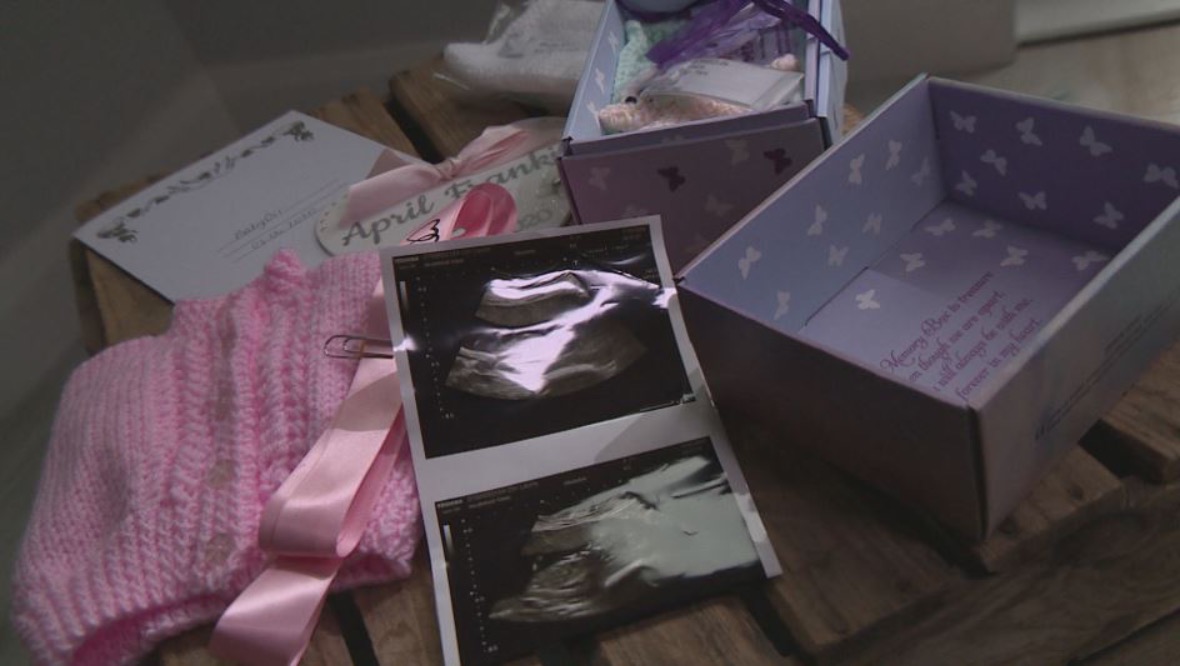 Charities like Held In Our Hearts also offer crucial support in these dark times, through counselling.
The organisation, which has more than 40 years' experience in providing care, says it has seen an increase in families seeking support during the Covid-19 crisis, as many families find themselves more isolated in their grief.
Families have reported there are less opportunities to talk about their baby and the devastation they experience.
Help and support
You can watch the full report on the heartbreak of baby loss on Scotland Tonight at 7.30pm on Thursday.