We have never been more focused on health as we do everything we can to stop the spread of coronavirus.
But this year the pressure on our mental health has been undeniable as we all adjust to a new way of living.
It's been particularly hard for 39-year-old Robert Allen. Just two years ago he was on the verge of suicide until thoughts of his wife Lesley and son Cameron, five, brought him back from the brink.
"I had serious thoughts about how I was going to do it, where I was going to do it," Robert says. "It was almost like that was all I could think about.
"I just had this sweeping feeling through my mind that I couldn't have my son growing up thinking that I didn't love him."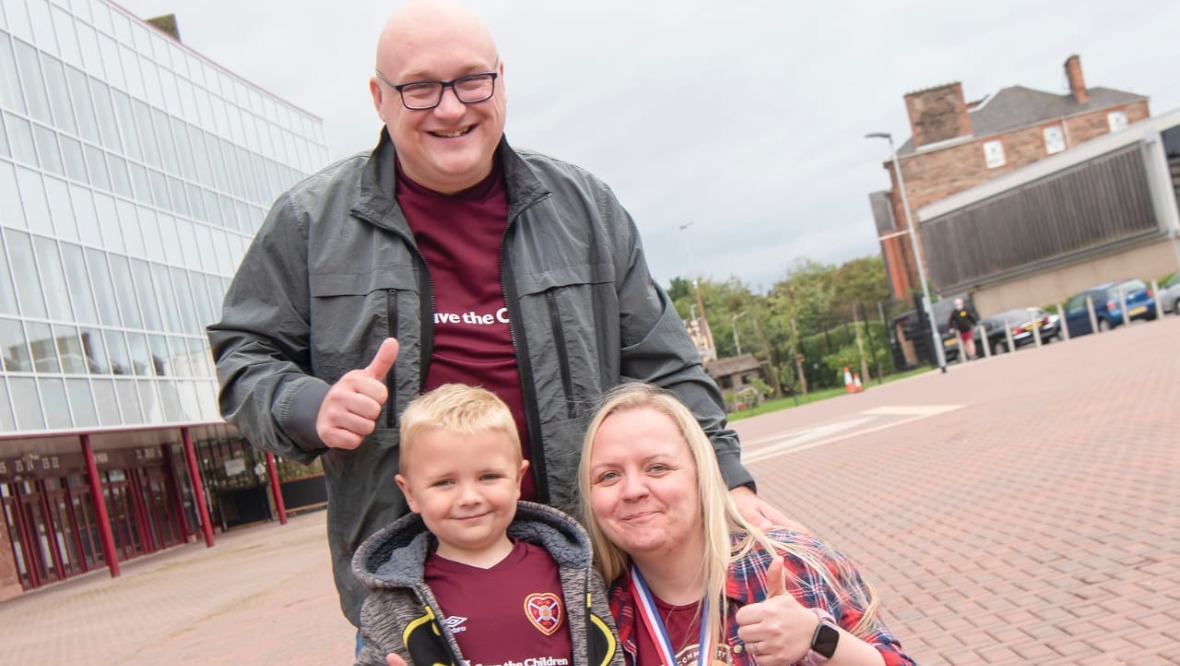 On Scotland Tonight, to be broadcast on STV at 7.30pm on Thursday, he tells how a support group called The Changing Room – which unites men around their love of football – has helped him with his mental health.
But with the lack of face-to-face contact for such groups during the pandemic, Robert fears lockdown has created a "ticking time bomb".
Here's Robert's story:
I hadn't really opened up to my wife about anything for a long time. She had no idea. And it was just like this outpouring. Straight away I started to feel better. Because I felt like there is another way to go. I wasn't suddenly cured or better but I did feel this is a turning point.
What's so reassuring about it [Changing Room] is you'll be talking about something that's affected your or how you're feeling and there'll be other guys in the group and they'll be like, yeah, that's just like me.
So straight away you're thinking I'm not on my own with this.
One of the key things about the Changing Room is that you're going somewhere and you're meeting with people face to face – but obviously you couldn't do that because lockdown rules didn't allow it. So, we were creative and we set up a series of Zoom phone calls and the lads joined in.
But it's not the same. I didn't feel as comfortable on the Zoom call as I would have if I'd been sitting just together in a group. There have been times where I've struggled a wee bit.
I think we have almost a ticking timebomb coming.
There's been a huge demand for help
Chris Creegan knows only too well the strain on mental health services at the moment.
The chairman of the Scottish Association for Mental Health (SAMH) is worried about the impact of lockdown.
He tells Scotland Tonight: "We've seen a huge demand for information and advice from across the general population.
"The mental health system that we have in Scotland was already creaking. We have an enormous need, an enormous demand and at the same time we know that referrals have actually dropped. So there's pent-up demand in the system and that's a perfect storm.
"Our real priority are people who came into this pandemic with pre-existing mental health problems. Many of them have had services withdrawn and they're having to deal with the uncertainty.
"Simply retuning, restarting is not going to be enough. We're going to have to really rethink the whole way in which we provide mental health services in Scotland. And we're going to have to inject an enormous amount of energy and investment into the provision of mental health services.
"There needs to be a plan. There needs to be a plan because people's lives depend on it."
You can read more about Robert's story here and can contact the Scottish Association for Mental Health on 0344 800 0550 or by emailing info@samh.org.uk.