By Nicola McAlley
For four decades Grace Brian has been a mother figure for children in foster care in the Highlands.

She has taken almost 250 young people under her wing during what can be the most vulnerable time of their lives.

Grace, who also has two birth children, says her vocation comes down to one thing – love.

She said: "It is hard when they first come in and they're upset and they don't know what's happening, but the very little children, if they're loved and they're fed, soon settle in.

"You need to be adaptable because life changes so quickly and you just have to go with the flow. My only rules are early to bed and early to get up.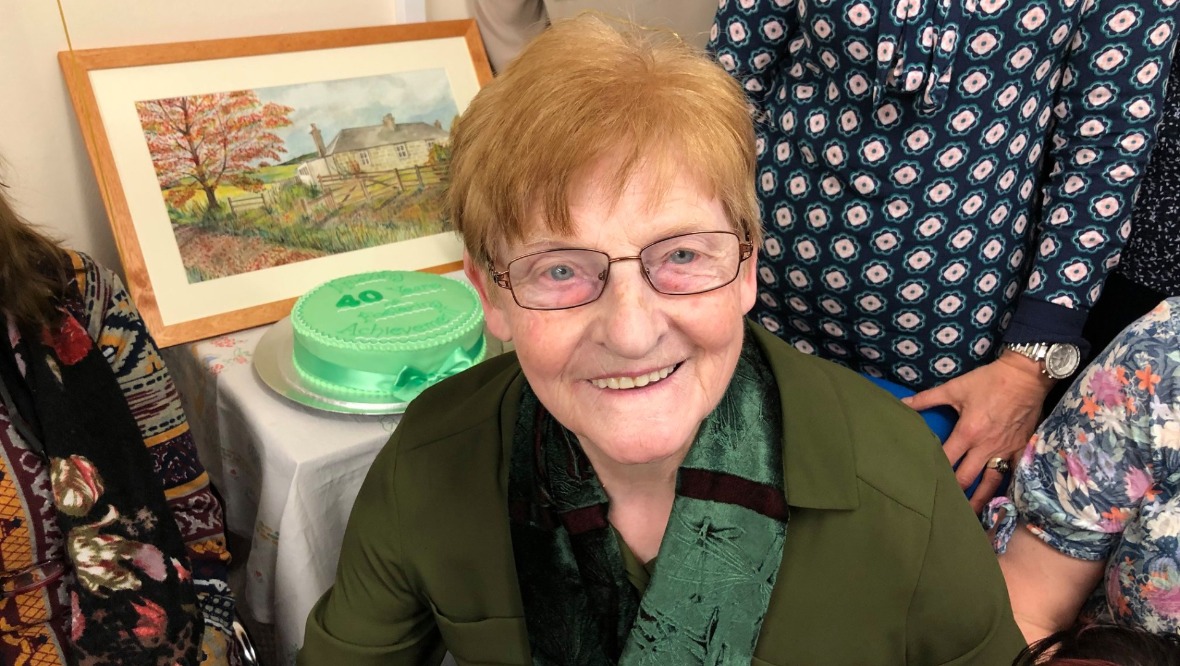 "You just have to love them and make them feel safe."

Grace's fostering milestone was marked at a special tea party organised by Highland Council colleagues – and there was a tearful reunion with some of those she cared for, including brother and sister Ann-Marie and Mark Grant.

Ann-Marie said: "It has made such a difference to our lives. We still think of her as our mother, after all she's done for us. Both of us were in a bad situation and she took us out of that and made such a difference."

Mark added: "She's an incredible woman, you couldn't ask for a nicer person."
'You just have to love them and make them feel safe.'

Grace Brian
But after looking after little ones for sometimes over a year, Grace admits parting with her tiny charges is not easy.

"Every time a child goes, you cry, but you have to learn to live with that," she said. "Foster carers don't make the decision as to who goes home and who doesn't, but it's lovely when you meet the new family and they get to know their child, that is really exciting and really happy.

"And then when they do go, you cry – you cry for days – but then you pick yourself up and the phone rings very quickly … 'we have another little one'."

Grace says fostering has been a true vocation and friends and colleagues say she's made an immeasurable difference to the welfare of hundreds of vulnerable children.
Always so supportive
One of those whose life has been touched by Grace is Doreen Sinclair, who adopted her daughter, Dawn, after she had been placed in the foster mum's care.  
Dawn, who had additional support needs, had not been expected to survive to school age but lived until she was almost 16, passing away on Boxing Day, 2018.

Doreen, who herself has fostered around 50 children, said of Grace: "She was always so supportive; we went to visit our daughter at her house quite a few times before she came to live with us and Grace was always so welcoming, just a lovely, lovely person.

"She did so much for Dawn when she was a baby and she would help by showing me how her foods were done, all her different medications and her personal care. Even after we adopted Dawn she was always at the end of the phone if I needed her."
Following in mum's footsteps
Grace's own daughter Alison's now following in her mum's fostering footsteps, believing it can make a world of difference to youngsters.
She says: "When a wee, broken child comes in and you see them not be scared any more that's massive. Or children come in with a prognosis that's really not good and then years down the line they are doing amazingly, defying all the odds of doctors. That's what makes a difference."
After a lifetime of love, even at the age of 71, Grace is not slowing down, she's currently fostering a six-month-old baby and a two-year-old boy.
The woman known as 'Nana' by hundreds of Highland youngsters said: "I just love children and I have been lucky that the children are very lovable I am doing something I have loved all my life – not many people can say that.
"It's what I have always wanted to do, so I have been lucky."