As restrictions around visiting care homes have eased, a mother and daughter have shared in their delight after being reunited just in time for Mother's Day.
Julie Anderson was able to hug her mother Nessie for the first time in months when restrictions were relaxed earlier this month.
Residents in care homes are now allowed two designated visitors who can visit once a week.
The easing of restrictions has been linked to the success of the coronavirus vaccination programme.
Nessie Jackson moved into Erskine Park Home in Bishopton, Renfrewshire, in October 2020, and although Julie visited her 90-year-old mum in the home's garden, she had never seen inside her room.
Julie, who lives in Lochwinnoch said: "I cannot express what it meant for me to visit mum in her room for the first time.
"To be able to cuddle, shed a tear and laugh together was wonderful. The staff assisted mum to personalise her room with family photos and personal items which makes the room so homely.
"Mum and I are very close and have always had a special relationship. Being separated from her has been really difficult, however I have seen such a difference in mum since she moved to Erskine Park.
"I can see she is thriving and she has her sparkle back. She loves singing and the staff have learnt some of mum's favourite songs so they can sing them with her.
"Mum enjoys the company and she loves to join in all the activities as well as enjoying the endless cups of tea and cake. I can't thank all the nursing and care staff enough.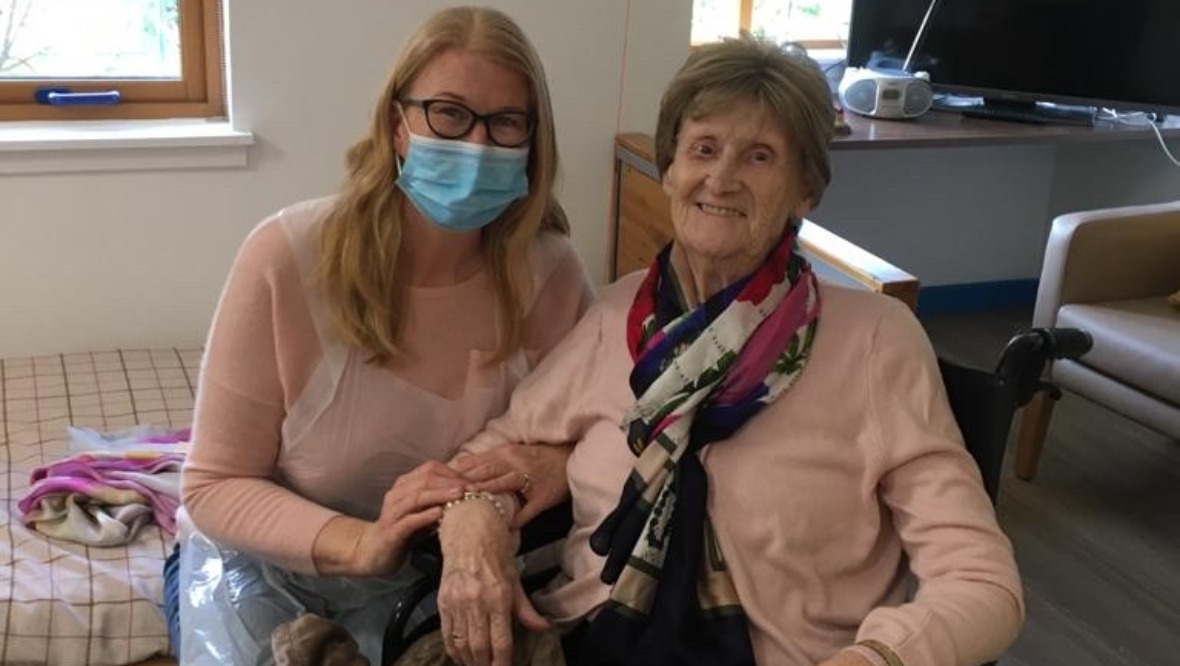 "Mother's Day will be made all the more special being able to visit mum in her room – to hold, hug and express my love for my mum. She is the best mum and gran we could ever have wished for."
Erskine Park Home manager Lesley Wylie said: "We talk about meaningful moments and they don't come much more meaningful than this.
"The joy was written all over Julie and Nessie's faces.
"We are delighted to welcome designated visitors inside our home again and are sure there will be lots of emotional moments on Sunday.
"We wish all the mums, both residents and staff, a Happy Mother's Day."