When Lucas Bowie went out to take photographs on Sunday evening, he had no idea he would capture a stunning image of a couple embracing at sunset – sparking a Facebook search in the process.
The 11-year-old from Portsoy had decided to go out to take photographs with his dad Scot on Father's Day.
Lucas has been a keen photographer for a while, having been introduced to the hobby by his grandfather. 
"It was originally my granda who got me into photography. On my last birthday he got me a camera," Lucas says.
"Ever since then I've been going out once a week to take photos."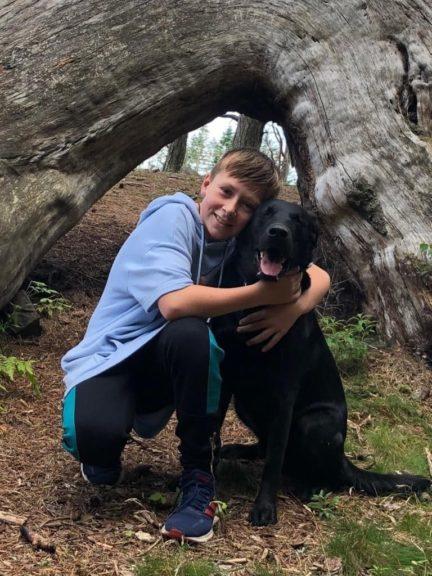 On Sunday evening, the pair went down to the Doonie, a hill situated near the old harbour in the town to scout for things to photograph. 
"We were just out and about looking for things to take photos of," Lucas says.
With a brilliant burnt orange sky overhead, Lucas spotted a great photo opportunity with a couple embracing on the hill. 
"I just happened to see the two people and I just thought it would be a really nice photo.
"I showed my dad and my dad asked me if I wanted to show them and I was pretty hesitant at first."
When the pair went home, Scot went on Facebook in a bid to find the couple.
After posting on a few Facebook groups, they discovered the couple in the picture were Melanie Foley and her partner Jamie Stewart. 
The pair, who live near Keith, had been visiting the beach with Melanie's children and were quickly tagged in the image online. 
"We walked from the beach all the way to the harbour and I saw Lucas and his Dad taking photos," Melanie says.
"It was a really nice evening, the sun was just setting. 
"We walked to the top of the hill and they had disappeared at that point and I thought they had gone home. We just went to look at the sunset and the kids were playing at the bottom and then we headed back home. 
"Later on that evening, we got tagged in Scot's post on Facebook and saw the photo there."
The couple were delighted with the photograph and were impressed with Lucas' photography skills.
"It was lovely, it was really nice, it was lovely to see it. You always see photos like this but you never think it's going to happen to yourself. It was a really nice surprise," Melanie adds.
"We will definitely get it printed and put up somewhere, it just captured a really nice moment between the two of us."
It's not the first time Lucas has captured a family moment in the area. 
He previously took a photograph of a family playing on the beach and when he spoke to them to show them the image, they were delighted. 
After emailing the picture to them, they responded encouraging Lucas to continue with his hobby. 
Lucas says he would like to be a photographer when he is older and that support he has been given has been "really encouraging".