Happy birthday, Scotland Tonight! The STV current affairs show is celebrating ten years of debate and discussion across news, politics and entertainment.
Here, we look back at some of the stand-out moments from the show's history, with memories from presenters John MacKay and Rona Dougall.
Donald Trump becomes first ever guest – October 24, 2011
Five years before his stunning election as US President, Donald Trump was interviewed from Trump Tower in New York.
At the time, he was embroiled in a row with the Scottish Government and Aberdeenshire Council over plans for a wind farm off the coast of his new golf course.
Trump got the new show off to a flier – but the first star name to appear on Scotland Tonight very nearly didn't…
"The cost of the satellite was too expensive, so we had a clever workaround," recalls John. "Donald Trump was sitting in Trump Tower in NYC listening to my questions from the studio down a phone line.
"An American film crew in his office filmed his responses, which were then sent back to us in Glasgow, where they would be cut together with my questions.
"Only problem was there was a major delay in the footage from the States reaching us. With a short time to go until our debut programme, it looked as if it was going to be a disaster.
"Fortunately, it all came together. Donald Trump said he'd buy me a beer next time was in Scotland. He never did."
Graeme Obree discusses suicide – November 30, 2011
Record-breaking cycling champion Graeme Obree took part in a discussion on the subject of suicide, following the death of Wales football manager Gary Speed.
In a moving interview – which John describes as "one of the most memorable" he's ever done – Obree revealed that he had twice attempted to take his own life.
"I asked the question many people might ask," recalls John. "How could he have tried to do this with a wife and family needing him? His answer was compelling.
"He said that people in that desperate situation genuinely believe they are doing their family a favour by leaving them. He described it as attending a party you don't want to be at. You participate and smile, but all the while you really don't want to be there.
"Intensify that tenfold every single day, he said, and that's what it's like for someone who thinks life is not worth living."
Sturgeon starstruck by Sidse – February 4, 2013
First Minister Nicola Sturgeon took over the Scotland Tonight interviewer's chair to grill the Danish Prime Minister… or at least a fictional version.
Sidse Babett Knudsen had become well known for playing the role in the acclaimed political drama Borgen – and found a firm fan in Sturgeon.
Wrestlemania in the studio – June 18, 2013
Greg Hemphill and Rab Florence were interviewed about their forthcoming comedy wrestling bout at the Kelvin Hall in Glasgow – when they decided to scrap in the studio.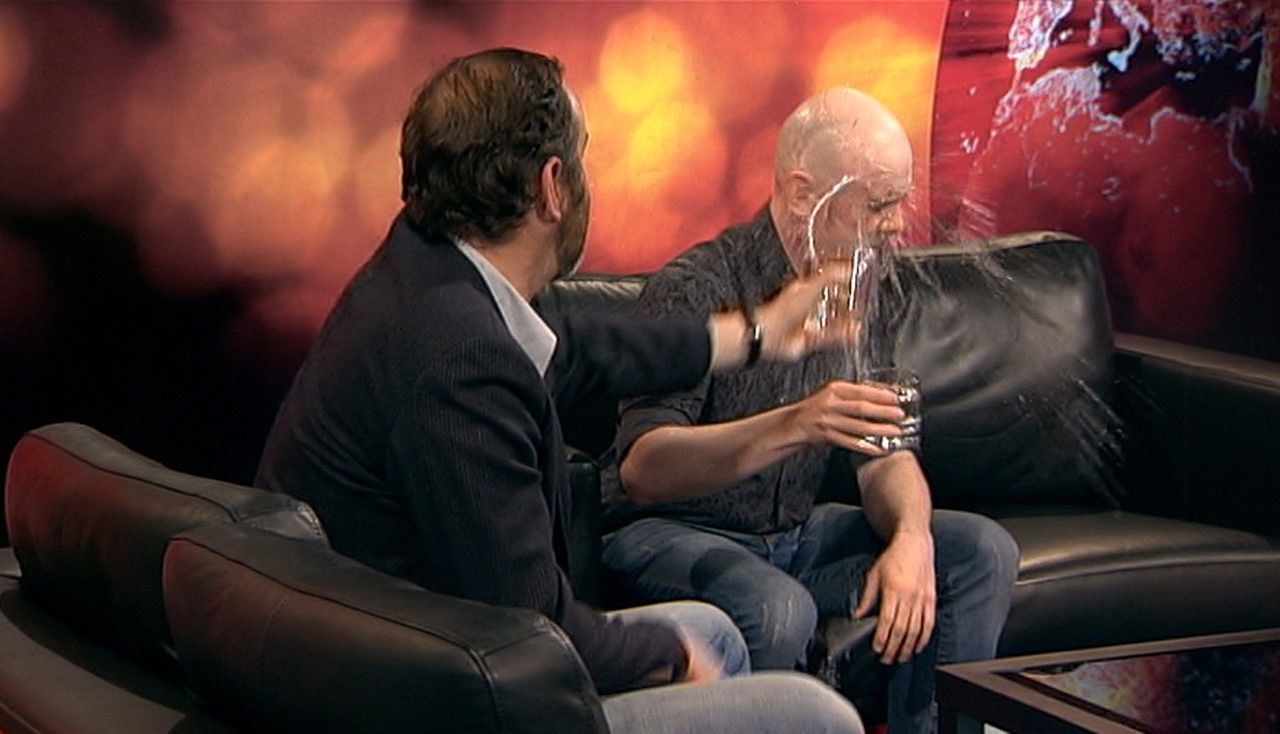 "I knew they were hamming it up, but I did start to think they were maybe getting a bit serious as the insults started to fly," recalls Rona. "I was horrified when Greg chucked the glass of water. I thought 'yikes, what next?'.
"Looking back, I'm proud of myself for not swearing!"
'Help me, Rona' – November 27, 2013
In what became known as the 'Help me, Rona' moment – although he didn't actually use that exact phrase – then-Scottish Secretary Alistair Carmichael appealed for assistance during a head-to-head independence referendum debate with then-Deputy First Minister Nicola Sturgeon.
"I think it's very cool that I inspired a catchphrase, even if he didn't actually say that," says Rona.
"These debates were a fantastic format and I really enjoyed doing them. The run-up to the referendum was such an exciting time in politics in Scotland, and I really felt like I had a front-row seat as it all unfolded."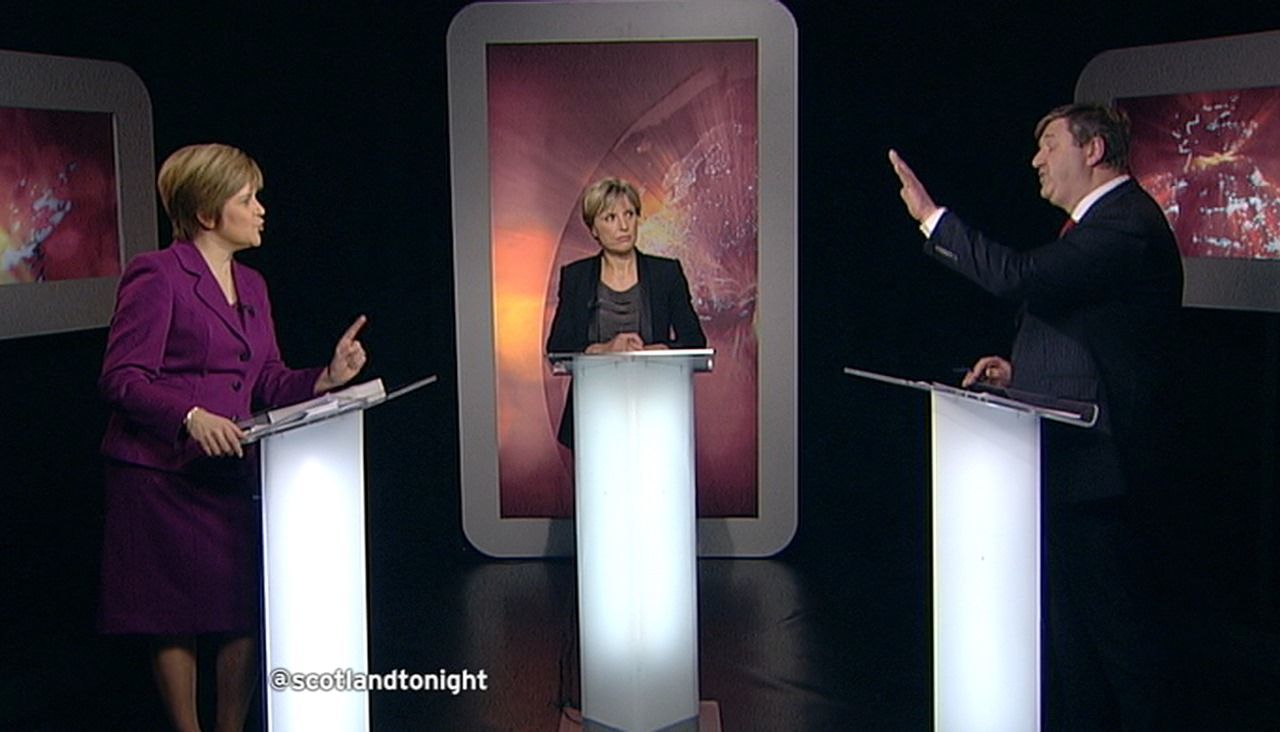 Powerful reflection 20 years after Dunblane massacre – March 8, 2016
Isabel Wilson, whose five-year-old daughter died in the 1996 Dunblane Primary School massacre, gave her first interview to mark the 20th anniversary.
"I was at Dunblane on the day of the shooting and reported on the subsequent inquiry," says John. "It remains the story that has affected me most in my career.
"Isabel Wilson spoke for the first time on the 20th anniversary. She emphasised that she would not be identified as the mother of a Dunblane victim. She would not be defined by that. It was as powerful a testimony as I have ever heard."
The guest who didn't say anything – June 15, 2017
Not easy carrying out an interview when the guest won't say anything, but that's exactly what happened when American comedy magic duo Penn and Teller appeared in the studio.
Only Penn would answer questions – and perform a trick with Rona and a jellybean – while Teller remained silent.
Rona recalls: "These guys were, well, magic. I was having a great chat with them both in the green room before we went on air, but as soon as the interview started, Teller didn't say a word.
"It's his thing to be the mute half of the act. Quite disconcerting, though, to have one of your interviewees sit resolutely silent.
"They did perform a brilliant trick, which resulted in a jellybean appearing out of a nose. Still wonder how the heck they did that."
Doddie Weir on his battle with MND – August 29, 2017
Scottish rugby great Doddie Weir left Rona in tears as he told of his determination to find new treatments for motor neurone disease.
Weir went on to set up his own foundation, My Name is Doddie, to raise money for research into the muscle-wasting condition.
"I think Doddie was a bit nervous before the interview in case he became too emotional, but I was the one who shed the tears in the end," says Rona.
"It was very unprofessional, but I was so moved by his courage and determination to try and change the treatment and life outcomes of people diagnosed with MND."
Big win with the Big Yin – March 12, 2020
Shortly before Scotland locked down, John carried out an extended interview with Sir Billy Connolly.
Despite suffering from Parkinson's, the comedy legend was in great form as he launched an art exhibition in Glasgow.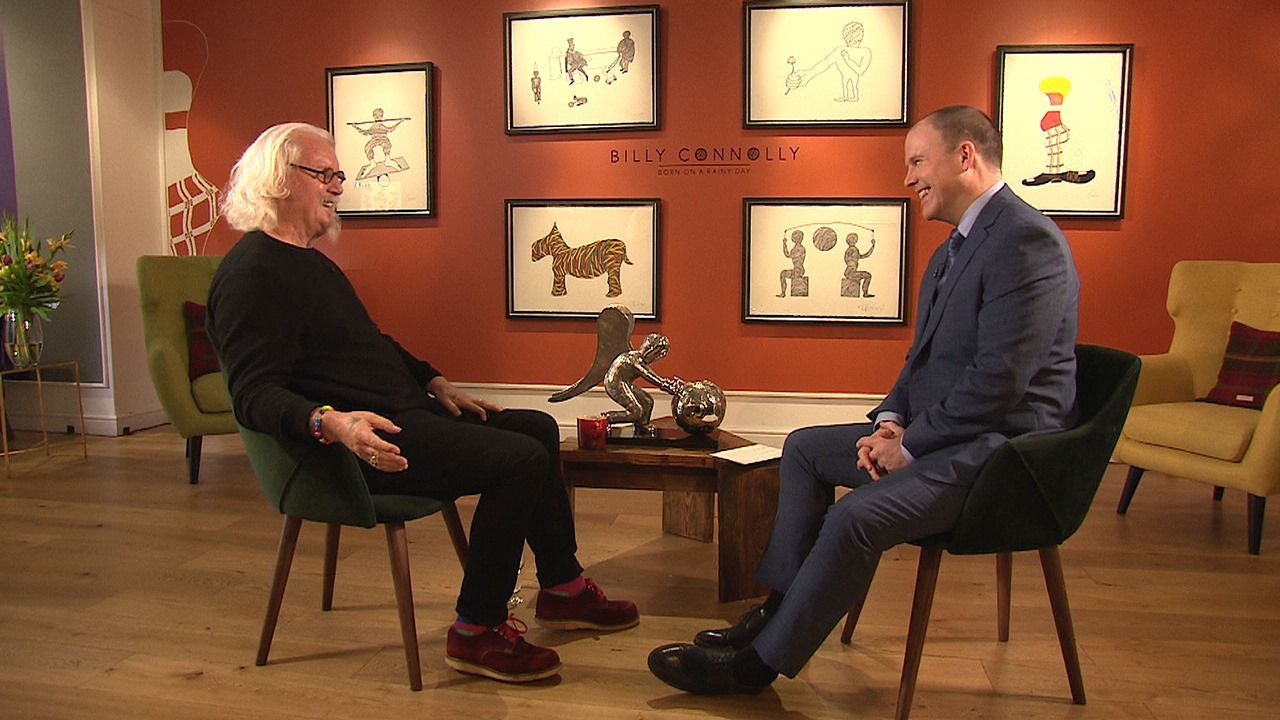 "He kept walking past me as he went from one interview to another and apologised for 'keeping this man waiting'," recalls John. "We were last because we were doing an extended interview to which the entire programme was devoted.
"As well as being very, very funny, he was also very reflective. He has been one of the major Scottish figures of my lifetime and to find him as engaged and funny as I hoped was a joy."
Covid Q&A with Jason Leitch – March 19, 2020
In what was to become the first of many Scotland Tonight appearances, national clinical director Jason Leitch answered viewers' questions about coronavirus as the pandemic started to take hold.
Scotland was just days away from the first major lockdown and viewers had no shortage of questions about how life was set to change.
Leitch was soon to become a household name as he tried to help Scots navigate their way through new rules and regulations.
"Jason Leitch is a great communicator and obviously really enjoys the process of being interviewed, which made my job easy," says Rona.
"When we did this first interview with him, viewers were hungry for answers as it was such a difficult time and so much was unclear. The only problem was trying to fit all the questions in. I think viewers appreciated the chance to get some clarity."