It has been a year like no other.
Throughout the course of 2020, Scotland has been changed, disrupted and devastated by the spread of a deadly virus.
Covid-19 has impacted the whole country, causing a crisis that has affected people's lives, jobs, freedoms and relationships.
Scotland's health service, economy, government and political system have had to adjust daily to an ever-changing pandemic.
Attention has turned to leaders' handling of the key decisions, while frontline workers have not stopped in the fight against coronavirus.
STV News takes a look back at Scotland in 2020, the key moments and decisions that have shaped our experience of a 'new normal'.
On New Year's Eve, 2019, Chinese authorities alerted the World Health Organisation (WHO) of cases of pneumonia of unknown etiology, which had been detected in Wuhan, Hubei province of China.
The WHO closely monitored the situation and the acute respiratory disease was first referred to as 2019-nCoV.
In January, there was growing evidence of human-to-human transmission and towards the end of the month, the first people in Scotland were tested for the novel coronavirus. They were given the all clear on January 24.
That day saw a meeting of the UK national emergencies committee, Cobra. Scotland's health secretary Jeane Freeman, who was in Inverness visiting NHS Highland, had to cut the trip short and travel to London. However, at that stage, the Scottish Government said the risk to the public was low.
On February 11, the name Covid-19 was assigned to the virus but it was not until March 1 that the picture changed significantly for Scotland. It was to be the date of Scotland's first case. The diagnosed patient, who lived in Tayside, was admitted to hospital and received treatment in isolation. They had recently travelled from Italy, where there had been an outbreak.
First Minister Nicola Sturgeon chaired a meeting of the Scottish Government Resilience Committee. She said in a public statement that people had a "vital role" in containing any outbreak, asking them to follow basic hygiene precautions, such as washing hands frequently, not touching their face and covering their nose and mouth with a tissue when coughing or sneezing.
Ten days later on March 11, the coronavirus outbreak was confirmed as a pandemic by the WHO – meaning that the disease was spreading in multiple countries across the world at the same time.
Meanwhile, Scotland identified its first case of community transmission – which was unrelated to contact or travel – as the UK Government announced a £30bn economic stimulus package to tackle the effects of Covid-19.
The following day, it was agreed by all governments in the UK to move from the first phase of combating the virus, known as "containment", to the second so-called "delay phase".
On March 13, the first death of a patient in Scotland who had contracted coronavirus was confirmed by then-chief medical officer Catherine Calderwood. The person, who was older and had underlying health conditions, was being treated in the Lothian health board area and died in hospital.
As cases increased, the Scottish Government's focus shifted to protecting the resilience of public services – namely the NHS and emergency services – to prevent them from being overwhelmed. It was advised, on March 15, that gatherings of 500 or more should not take place.
It was advice that would have ramifications for planned events, such as concerts and festivals, and a slew of cancellations took place in the months to follow. Scottish football authorities had taken the decision to suspend the 2019/20 season until further notice just days before.
The First Minister addressed MSPs in the Scottish Parliament, on March 17, and in a wide ranging speech said the country was on the "cusp of a rapid escalation in the spread of Covid-19". Steps would be taken to strengthen the capacity of the NHS, Scots were reminded they should isolate if they had symptoms – such as a persistent cough or fever – and avoid crowded areas, use public transport as little as possible and work from home if they could. Those in Scotland considered at highest risk would be asked to shield.
In her own address, health secretary Jeane Freeman confirmed the NHS would be placed on an emergency footing. "Our goal is simple," she said. "To protect and save lives." On the same day, the chancellor announces further measures intended to support businesses as an economic emergency is declared.
It was announced on March 18 that schools and nurseries would close at the end of the week. They would not reopen until after the summer holidays.
A day later, the chief nursing officer asked health professionals to return to the NHS to help with the public health emergency. Education secretary John Swinney announced exams were cancelled for high school pupils.
On March 20, a host of businesses – including cafes, pubs, restaurants, theatres and gyms – were ordered to close across the UK. On the same day, the furlough scheme was announced – a move that would see the UK Government step in to help employers by paying 80% of workers' wages. Support was later announced for the self-employed.
The coronavirus pandemic was described as "the biggest challenge of our lifetime" by the First Minister, who would then hold her first daily media briefing on March 22. By then, 416 people in Scotland had tested positive for Covid-19 and ten had died after contracting the virus.
In an attempt to slow the spread, the UK was put into lockdown on March 23, which meant everyone was told to stay at home – except when shopping for essentials and going out for exercise.
Prime Minister tells Britons 'you must stay home' from tonight as country goes into lockdown: https://t.co/qDvPQPgigH pic.twitter.com/Bd01CJJbJl

— STV News (@STVNews) March 23, 2020
On the third full day of lockdown, an emotional 'clap for our carers' campaign began as people across the UK united on their doorsteps and at windows to show their appreciation for those on the front line during the pandemic. The gesture continued for a number of weeks.
Businesses and members of the public became required by law to follow social distancing measures, following confirmation the Scottish Government will use powers to make it a criminal offence to flout public health guidance.
At the end of March, Prime Minister Boris Johnson and England's health secretary Matt Hancock tested positive for Covid-19.
On April 1, coronavirus forced the postponement of COP26, a key climate summit due to be held in Glasgow, until the following year. Emergency coronavirus legislation was passed unanimously at Holyrood. Days later, the global total of confirmed deaths of people with Covid moved beyond 50,000.
Scotland's chief medical officer, Dr Catherine Calderwood, then resigned, on April 5, after she was photographed visiting her second home in Fife, despite issuing advice for others to stay at home. She apologised and initially intended to carry on but after further conversations with the First Minister quit her post. She was later replaced by Dr Gregor Smith.
The Prime Minister was admitted to hospital as his coronavirus symptoms persisted, although it was described as a "precautionary step" by a Downing Street spokesperson. He was moved to intensive care the following day and discharged six days later.
The Scottish Government announced 12,000 students returning health and social care workers joined the fight against coronavirus on the front line. Construction work on the NHS Louisa Jordan – a £43m emergency hospital – finished on April 19 and it opened the following day.
Around the same time, National Records of Scotland statistics showed more than 1600 fatalities in Scotland linked to Covid-19. The figures were startling but hope was on the horizon as vaccine trials got under way.
Meanwhile, at the end of Scotland's first full month in lockdown, new daily cases were still fluctuating.
In May, the Scottish Government ramped up testing after reaching its target of a capacity for 3500 tests day and more personal protective equipment (PPE) began to be manufactured in Scotland.
Daily cases started to drop, prompting a slight change in lockdown rules, which meant people could go outside more than once a day for exercise. On May 12, the Chancellor extended the furlough scheme until October.
Outbreaks in care homes caused particular concern throughout the pandemic and figures in mid-May showed the extent of the worrying situation, with the proportion of fatalities in that setting increasing week on week.
Towards the end of May, the loss of taste or smell was added to the list of coronavirus symptoms and testing in Scotland was opened to everyone over the age of five, who was symptomatic.
On May 20, further emergency legislation passed in the Scottish Parliament – notably giving ministers powers to temporarily intervene and manage care home services, where there is a serious risk to life or health of residents.
A routemap out of lockdown was published, outlining a four-phase plan to gradually bring back "a semblance of normality" to people's lives, as the First Minister put it. Plans were also confirmed for the phased return of students to university and college campuses in September.
Dominic Cummings, then-aide of the Prime Minister, defended a decision to travel 260 miles with his family during the coronavirus lockdown. He appeared in front of the media at a press conference in Downing Street's rose garden on May 25.
On May 29, Scotland entered phase one of the routemap and – with new daily cases dropping below 50 – it meant people could sit outside in a public space, travel a short distance for exercise and play non-contact outdoor sport. Two days later, a plan to return the NHS – which had been on an emergency footing – to a more normal capacity was announced.
In June measures were taken to try to stop cases of the virus being brought in Scotland. This meant those entering the country from abroad being required to self-isolate for 14 days.
Statistics were published on June 11 showing more than 628,000 jobs had been furloughed as businesses came to terms with the pandemic.
A major breakthrough in the treatment of Covid-19 patients took place in mid-June as a steroid was found to reduce deaths by up to a third among those suffering the worst effects of the virus.
Scotland entered phase two of the routemap out of lockdown on June 19, with daily cases of the virus down to a trickle. Weekly deaths, which were in the hundreds at the height of the pandemic in April and May, had dropped significantly. Those who had been shielding for months could exercise and meet one other household outdoors. Sturgeon also announced up to three households and eight people could meet outdoors.
Dental practices could resume seeing patients in need of urgent care on June 22 and on June 23, a significant step was taken in planning the return of schools. Education secretary John Swinney updated the Scottish Parliament and said classes would return full-time in August if the virus was suppressed. Before that, plans had been in place for blended learning.
This was followed by a phased reintroduction of care home visiting and, shortly thereafter, high street shops reopened at the end of June, with huge queues forming as shoppers were keen to return to the retail environment. The caveat was that the non-essential businesses had to have outdoor entrances and exits to be allowed to reopen, as well as various safety measures.
A number of restrictions eased throughout July, as daily cases plummeted, starting with the lifting of the five-mile travel limit and the reopening of self-catering holiday accommodation. From July 6, pavement cafes and beer gardens were back in action.
Two days later, there was a boost for the travel sector, with the decision to lift quarantine restrictions for passengers arriving from 57 overseas destinations – but crucially not Spain, because of a high level of coronavirus prevalence there. It had to wait 12 more days.
Scotland moved to phase three on July 10 – meaning people from up to three different households could meet indoors once more. Face coverings – already mandatory on public transport at this point – were required in shops.
Those shielding no longer needed to physically distance from people they live with. They could also meet with up to eight people from up to two other households, as long as strict hand hygiene and physical distancing advice was followed.
The easing of restrictions didn't stop there as on July 13, non-essential shops in shopping centres reopened, with pubs and restaurants following suit on July 15. Hairdressers and barbers reopened, as did places of worship.
Daily cases at this point remained low but Sturgeon emphasised the Scottish Government would not hesitate to "reimpose restrictions if we consider it necessary", should coronavirus spread again.
A stride forward in the development of a vaccine was seen on July 20, as the candidate being developed at Oxford University was considered safe and prompted an immune reaction.
It was bad news for holidaymakers on July 25 as Spain found itself back on the quarantine list. Restrictions had been lifted for travellers from there for just five days.
At the end of July, it was confirmed schools will reopen full-time from August 11 after scientific evidence suggested it would be safe to do so. Around the same time, Scots were urged not to travel to areas in northern England, where a spike in the virus had been seen.
Shielding was paused on August 1 and Scottish football returned after a considerable hiatus. Aberdeen lost to Rangers in the Premiership opener.
The UK Government's Eat Out to Help Out Scheme, a discount initiative encouraging people to help the hospitality industry bounce back, launched on August 3.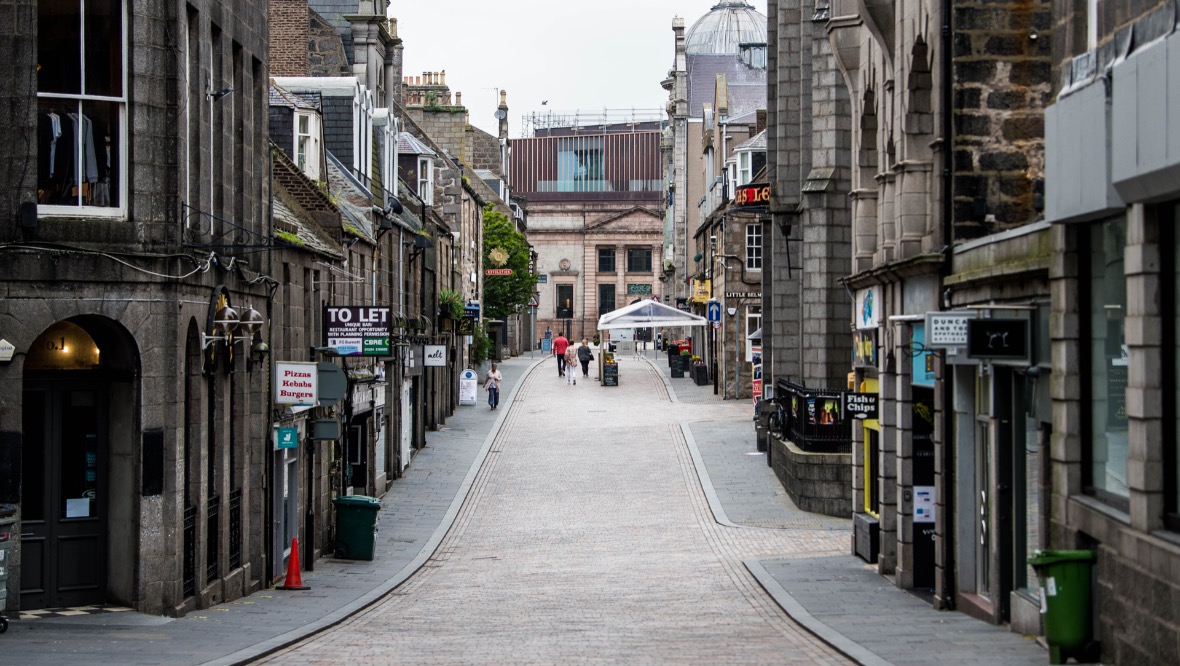 But recovery from the virus was fragile and a spike in cases was seen in the north east. The first local lockdown was imposed in Aberdeen city, taking effect at 5pm on August 5. Indoor and outdoor hospitality venues – including pubs, cafes and restaurants – were ordered to close.
Meanwhile, school pupils across the country received their results but tens of thousands saw grades – which had been based on teachers' estimates – downgraded by an SQA moderation process. Young people protested and after a period of pressure, the education secretary apologised in the Scottish Parliament.
The results which had been downgraded were replaced by teachers' estimates and John Swinney said: "In speaking directly to the young people affected by the downgrading of awards – the 75,000 pupils whose teacher estimates were higher than their final award – I want to say this: I am sorry." In response to Swinney's 18-page statement, Jamie Greene, the Scottish Conservatives' education spokesperson, branded it the "longest resignation speech in history, minus the resignation".
During the same week – from August 11 onwards – pupils had begun returning to school after five months away from education.
In sport, two Aberdeen football players had tested positive for coronavirus. It emerged that the pair – and six teammates – visited a bar after their clash against Rangers. Their match against St Johnstone, scheduled for the following weekend, was postponed. The First Minister said they "blatantly broke the rules" as she criticised their behaviour in a daily briefing.
Footballers were to remain in the spotlight and Celtic's Boli Bolingoli was next in line to break Covid rules. The defender travelled to Spain without telling his club and failed to self-isolate upon return, before playing against Kilmarnock. Both Aberdeen and Celtic had matches postponed as a result of the breaches.
As the month continued to unfold, the Scottish Government made it mandatory for pubs and restaurants to collect customers' contact details for track and trace reasons, while funding was announced for businesses in Aberdeen impacted by local measures. Restrictions began to be lifted from August 24.
At the end of August, police were given powers to break up house parties. Daily cases of the virus had crept up slightly and 160 were recorded on August 31. The increase was "undoubtedly a concern", Sturgeon said.
On September 1, restrictions on indoor gatherings were reinstated in Glasgow City, East Renfrewshire and West Dunbartonshire due to a surge in cases. They were extended to apply to Renfrewshire and East Dunbartonshire on September 7 and to North and South Lanarkshire on September 11. Around the same time, the NHS launched its contact tracing app.
Rules limiting social gatherings in Scotland, whether indoors or outdoors, to six people from two households were brought into effect on September 14. The measures did not overrule local restrictions.
Just over a week later, visiting other people's homes was banned across Scotland as new cases kept rising, reaching several hundred on a daily basis. A key theme of September was the return of students to university, with halls of residence seeing outbreaks and young people self-isolating. They were asked not to visit pubs, while pubs and restaurants were told to close their doors at 10pm as a curfew came into force.
In October, an SNP MP apologised for travelling by train from London back to her constituency – after testing positive for Covid-19. Margaret Ferrier, who represents Rutherglen and Hamilton West, had already travelled south to attend parliament even though she had developed coronavirus symptoms and taken a test. The First Minister said Ferrier's actions were "utterly indefensible" and the whip was withdrawn – but the politician did not resign.
Meanwhile, Scotland braced for a second wave of coronavirus as the country recorded 1054 new cases – the highest daily number to date – on October 7.
Days later, pubs, bars and restaurants across central Scotland were closed to stem the spread. Cafes across the affected health boards were exempt from the shutdown as long as they did not serve alcohol. Across the rest of the country, hospitality was only allowed to operate indoors between the hours of 6am and 6pm, and was prohibited from serving alcohol. However, drinks could be served until 10pm in outdoor areas.
Stricter rules on face coverings were introduced on October 16 and restrictions on pubs and restaurants were extended on October 21.
On October 28, a key report on discharges from NHS hospitals to care homes, which by this point had seen a number outbreaks, was published. It showed dozens of hospital patients who tested positive for coronavirus were sent to care homes as the pandemic began to grip Scotland. Thousands more were transferred without being tested between March 1 and April 21.
New guidance was issued to schools on October 30, including pupils in S4-S6 in certain areas of Scotland being asked to wear face coverings in classrooms.
At the beginning of November, a new system was put in place in an attempt to curb the spread of the virus. The five-tier system ranged from level zero, the minimum number of restrictions, to four, the closest to a full lockdown. Each local authority was allocated a level but none were placed in either the lowest or highest tier.
The furlough scheme, which had proved a lifeline for so many, was extended until March on November 5. This was followed by another breakthrough in vaccine development on November 9. Pfizer and BioNTech announced their jab was more than 90% effective in preventing Covid-19.
The following day it was announced Fife, Perth and Kinross and Angus would move from level two to level three of the five-tier system.
On November 11, the Scottish Parliament was told students would be offered quick-turnaround Covid tests before they travel home for Christmas. They were also asked not to socialise for two weeks before leaving accommodation and asked to only go outside for essential reasons.
That week, it was revealed more than 5000 deaths linked to coronavirus had been recorded in Scotland. The total included people who had Covid-19 listed as one of the causes on their death certificate.
A series of announcements were made on November 17, with confirmation that level-four restrictions would be placed on 11 areas within days and a ban on travel in and out of four local authorities to be imposed.
With Christmas in sight, the Scottish Government signed up to a UK wide easing of restrictions at the festive period. Up to three households were set to be allowed to mix indoors for up to five days, between December 23 and 27, over Christmas.
At the end of the month, the Scottish Government announced NHS staff and social care workers would receive a one-off 'thank you' £500 payment – although this prompted arguments about tax.
With the arrival of December, came a significant milestone in the fight against coronavirus as the Pfizer and BioNTech was approved in the UK.
The first vaccines arrived in Scotland days later and those who would be tasked with administering the jabs in Scotland were the first to be vaccinated on December 8.
On December 12, 11 council areas moved out of level four coronavirus restrictions. Pubs, bars and restaurants reopened but were still not allowed to serve alcohol.
The rollout of the vaccine in care homes began on December 14. A 90-year-old former carer was the first person to receive it in a Scottish care home. Annie Innes got the jab at Abercorn House care home in Hamilton.
Aberdeen, Aberdeenshire and East Lothian moved to level three of the five-tier system on December 18 because of concerns of the prevalence of coronavirus there.
A significant change in approach from the Scottish Government was confirmed on December 19. The majority of the country would be put into a full lockdown from Boxing Day, Sturgeon announced. The First Minister said mainland Scotland would go into level four for three weeks amid fears a new variant strain was accelerating the spread of coronavirus. Orkney, Shetland and the Western Isles would be moved from level one into level three. The relaxation of rules over the festive season was scaled back to Christmas Day only.
A number of European countries banned flights from the UK in a bid to prevent the spread of the new strain, which was considered more infectious. France closed its border with the UK, causing major disruption to hauliers with cargo bound for mainland Europe.
Authorities announced journeys from the UK could resume on December 23, lifting the travel ban. An agreement was made that those seeking to travel must have a negative Covid test result. But the deal was "far too late" for many delivering perishable produce, those in the food industry said.
It emerged the First Minister breached Covid rules by taking off her face mask at a funeral wake. A photograph published in the Scottish Sun showed her chatting to three women in a bar in Edinburgh while standing at a distance but without wearing a mask. Customers in hospitality venues must wear a face covering, except when seated at a table.
The First Minister apologised in the Scottish Parliament, admitting she was "in the wrong", and said she was "kicking herself very hard" following the incident.
On Christmas Eve, a travel ban on visitors from South Africa was introduced. Restrictions were put in place over concerns of a second new strain of Covid-19, linked to the country.
With mixing rules scaled back to the one day, December 25 arrived and people across Scotland celebrated a Christmas unlike any before. Families were allowed to gather indoors for one day only but the 'bubble' could contain no more than eight adults from a maximum of three households.
As soon as Boxing Day hit, the picture changed. The whole of mainland Scotland – and Skye – moved into level four coronavirus restrictions. Non-essential shops, pubs and restaurants were shut except for takeaways, drive-throughs and deliveries. Only essential travel was to be allowed.
Meanwhile, Orkney, Shetland and the Western Isles, along with other island communities off the Scottish mainland, moved from level one into level three.
There was another milestone moment on December 30. The Covid vaccine from Oxford University and AstraZeneca was approved for use in the UK, paving the way for mass rollout.
As Scotland prepared to call time on a year like no other on December 31, people were urged to stay at home for Hogmanay.
The advice was not to mix households, with Covid cases still rising because of the new strain – which the First Minister told the Scottish Parliament was "fast becoming" the dominant one in Scotland.