We've all become accustomed to the rites and symbols of pandemic life in Scotland – home schooling, social distancing, masks and Jason Leitch on TV.
For expat Scots in far-flung corners of the world, however, there have been contrasting emotions and difficulties, as they navigate their way through the pandemic thousands of miles from home.
STV News spoke to Scots living in Brazil, the United Arab Emirates and Australia to find out what life has been like over the past year where they live, and to discover what they miss about Scotland.
Whether it has been giving birth, testing positive for Covid-19, or having mum stay for much longer than expected, they have all faced personal and professional challenges in an unfamiliar environment during the worst public health crisis of our lifetime.
Foreign holidays have become a distant prospect for many of us as a result of tough quarantine measures. All travel into or out of Scotland is prohibited unless there's an essential reason.
And for Scots living overseas, that means extra worry and uncertainty about when they can next see their loved ones.
Travellers flying directly into Scotland on international flights have to self-isolate for ten days in a quarantine hotel room.
Unless exempt, a passenger will have to pay £1750 to quarantine in a room at one of six designated hotels in a bid to avoid importation of the virus.
They must still self-isolate for ten days even if they travel to Scotland via England, where hotel quarantine is only mandatory for visitors from a "red list" of 33 countries designated as high risk.
It all adds to the confusion and uncertainty of a year like no other for Gary Meenaghan, Natalie Methven, and Julie and Steven McCombe.
Here are their stories:
GARY MEENAGHAN, BRAZIL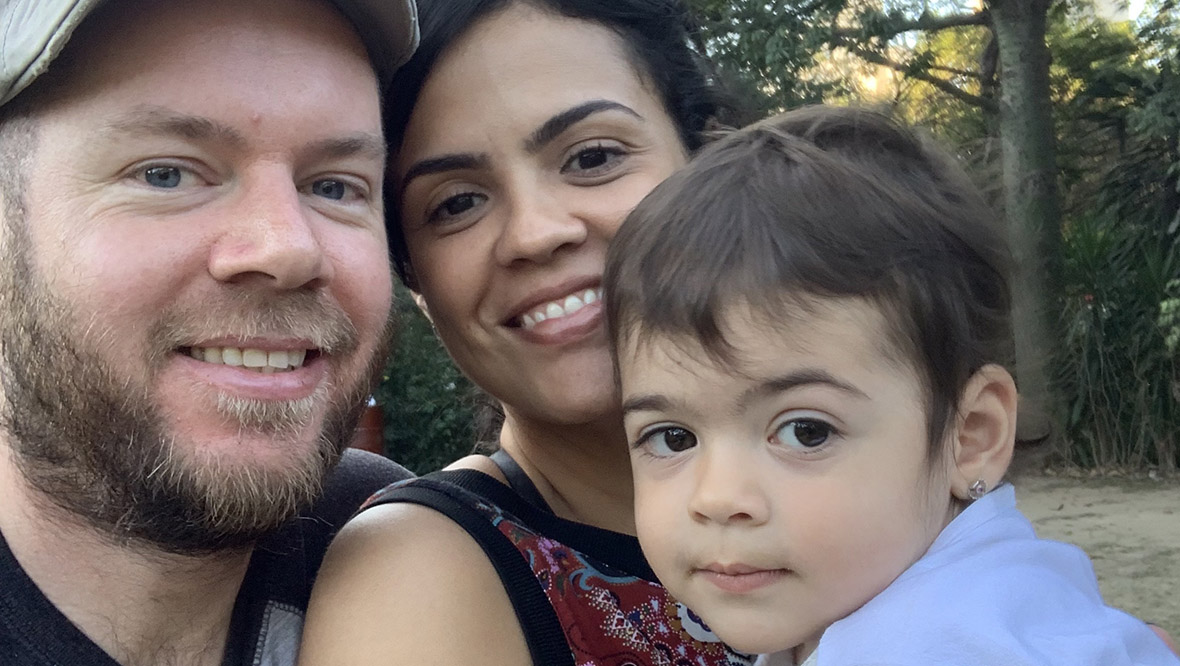 Gary Meenaghan has just tested positive for Covid-19 in Brazil.
But he is far from alone in that respect in this pulsating nation of some 211 million people.
Brazil, considered an acute-risk country by the Scottish Government, is experiencing a massive spike of Covid-19 cases.
Gary, a 36-year-old freelance journalist originally from South Lanarkshire, lives with his fiancée Amanda and their four-year-old daughter Aquira in Belo Horizonte, the capital of the country's south-eastern Minas Gerais state.
He told STV News that Brazil is one of the nations worst-affected by the coronavirus pandemic, with a death toll of more than a quarter of a million people.
He said: "I spend my days working and teaching my daughter English. I am walking proof that the new variant is perhaps more contagious though as I finally tested positive last week, probably having gotten infected while at the supermarket. I had a fairly rough few days, but the only remaining issue is that everything now tastes like cardboard.
"The health system is on the verge of collapse in 25 of the country's 27 states and we had the cruelly ironic situation a few weeks ago of hospitals in the Amazon running out of oxygen. Meanwhile, during the Copa Libertadores (football) final in Rio de Janeiro, 5000 fans were all bunched together inside an otherwise empty Maracanã.
"There seems to be a complete lack of joined-up thinking, although that's far from unique to Brazil. For me personally, working from home means I have been able to avoid going out too often, and with nurseries and schools having been closed since April 2020 we have essentially been on lockdown for much of the past year."
Think of Brazil and your mind conjures up images of Carnival, bright yellow football shirts, caipirinhas on the beach and the imposing Christ the Redeemer statue looming over Rio de Janeiro.
This Latin American nation is known for its vibrant and colourful way of life – but in recent years it has been beset by problems.
From political corruption to impeachment trials to soaring crime to the Zika virus, Brazil has generated copious headlines for all the wrong reasons despite also hosting two huge international events in the FIFA World Cup and the Olympic Games in 2014 and 2016 respectively.
But coronavirus is turning out to be the biggest story of them all. Official figures show around 80,000 new cases are being recorded each day while last week more than 3000 deaths were recorded in a 24-hour period — the highest single-day figure on record.
President Jair Bolsonaro continues to oppose quarantine measures and recently asked his compatriots when they intend to stop "whining".
Gary says the hotel quarantine policy currently in place in Scotland makes a flight home more difficult to justify – morally and financially.
He said: "I'm all for strict measures that stop the spread of the virus and this policy and the high costs involved will undoubtedly reduce the number of people flying into the country. Yet for me, it is a poor solution as it essentially just redirects travellers through an English or Irish airport."
When he return home with his Brazilian family, Gary says they do all the touristy things, adding that he misses the country's fresh air, historical landmarks and walking down Buchanan Street or up the Royal Mile.
He added: "I also miss the more everyday things: different accents, Scottish humour, the variety of shops and restaurants, a cup of Scottish Blend and a digestive biscuit or five, the fact I can just speak without having to translate everything in my head first.
"The biggest thing of course though is friends and family. It's pretty scary being so far away and hearing Boris Johnson warning that we should prepare to lose people close to us. FaceTime helps a lot, but there's nothing like a big warm hug, so I'd say that's what I miss the most. That and a white pudding supper."
JULIE AND STEVEN MCCOMBE – UNITED ARAB EMIRATES
Julie McCombe's mother came out to visit her in the United Arab Emirates just before Christmas.
What was meant to be a short festive break for Janis Britton, 67, has turned into an extended stay with no end in sight – she is still in the Gulf today after the travel corridor between the UAE and Scotland suddenly slammed shut.
Dubai was added to Scotland's quarantine list in January, with travellers returning from the emirate told to self-isolate for 10 days.
The restrictions were tightened later that month when the Scottish Government banned all flights carrying passengers from the United Arab Emirates to Scotland.
The hotel quarantine policy than came into effect on February 15.
Julie, originally from Glasgow, said: "The idea of getting back home to visit is just a minefield at the moment and it's meant that my mum has had to stay here with us, for going on three months now.
"The UK closed the travel corridor to the UAE without any notice whatsoever, so it instantly became tougher to get home as you then had to go through a third country, and it was especially tough for someone like my mother, who's in her 60s and has anxiety about flying and airports generally.
"When they brought in the exorbitant charge for hotel quarantining, that was the nail in the coffin for any plans of her getting home soon, as the idea of not being able to go home to her husband and being stuck in a hotel room filled her with dread."
Janis has written to her local MP and First Minister Nicola Sturgeon but says she has had no response.
Julie lives in Ras al Khaimah – one of the seven emirates of the UAE – with her husband Steven, a communications professional, and their two children, Charlotte and Ayla.
Their home is about an hour's drive north from the glitzy metropolis of Dubai, which has garnered notoriety during the pandemic due to its desirability among social media influencers keen to post images of their sun-drenched lives while people back home are largely confined to their homes.
Steven told STV News he feels quite thankful to be in the UAE during the pandemic.
He said: "You see on the news every day the situation at home, across Europe and the US and the restrictions are far more severe than what we've experienced here.
"We were only really in a proper lockdown in March and April 2020, after which we quickly got some semblance of normality back again. I was working from home until August 2020 and have been back in the office since then, and the hotels, restaurants and bars have remained open, so it has not been too bad here.
"Of course, we have protocols in place, such as mask-wearing, maintaining social distance and limited capacity at venues but what I find in the UAE is that there is a greater adherence to the rule of law and an understanding across the board that we are lucky to be pretty much continuing with our normal lives, so people want to make sure they follow the protocols to keep the status quo."
Julie agrees and says part of the reason why the Covid death rate has been relatively low in the UAE is due to the country's young population, combined with the fact that people are largely adherent to the rules.
However, she has still found challenges in desert pandemic life.
She said: "Home schooling is a massive challenge and I'm not convinced our school should even be closed as there was only two noted cases at the school since the start of the pandemic. I'm lucky that I'm not working at the moment, otherwise I don't know how we would have managed, with Steven still at the office.
"It's been almost two years since we've been home to see our family now and I can't see an end in sight to this situation, so who knows when we'll get home.
"I definitely miss family and friends the most, and also the seasons. It gets very hot here in the summer, so we miss coming home and enjoying some cooler weather, maybe even some rain! I just hope the vaccine rollout allows more flexibility with travel and a relaxation of quarantining rules, so that we can come home this summer and see everyone."
Steven added: "Family and friends is the biggest thing. Doing a Zoom call is great but being able to see them face-to-face, knowing that they're all right and giving them a hug can't be replicated.
"Especially given everything that's gone on during this pandemic, I'd love to be able to give my mum a hug and know that she's surviving, as lockdown has been a huge mental drain on everyone."
NATALIE METHVEN – AUSTRALIA
Pandemic life has been tough for most people. But living through a pandemic while pregnant thousands of miles away from home is next level.
That's the situation Natalie Methven found herself in, giving birth to her second child thousands of miles away from her friends and family.
Natalie, originally from Galashiels in the Scottish Borders, now lives in the Australian city of Brisbane with her husband, Charlie Nathan, and daughters Florence and Alex.
The 36-year-old foreign exchange specialist is worried about when her parents will be able to meet their new granddaughter.
She said: "My family are in the UK and we do not know when they will be able to meet our daughter. They were meant to visit last year and their trip was cancelled. They have had their first Covid vaccination so we are hoping that will help the timeline.
"But Australia has very strict Covid rules and is very conservative. I think it is highly unlikely that we will open our international border this year. But I hope that I am wrong."
Natalie was on maternity leave when Covid broke out last year. Antenatal support continued but switched to online. Doctors appointments were done via telehealth rather than in-person and parents' group was done via Zoom.
Natalie added: "What I did find challenging was dealing with normal one-year-old coughs and colds in a Covid environment. Having to continually get my daughter tested at respiratory clinics and isolating was difficult. I have since had another child and there has been no real change. Except, of course, having no family around."
Brisbane is located in the Australian state of Queensland, which Natalie says has been relatively unaffected by Covid – unlike the state of Victoria, which went into a stage-four lockdown for three months.
Natalie says she has a lot of friends in Melbourne who found that period very tough and mentally challenging.
Queensland went into lockdown in March 2020 but coffee shops remained open and people were allowed to go outside as long as they kept socially distanced. The CBD business district was empty, however, as everyone started to work from home.
That has only just changed recently and people are now back in offices.
Natalie said: "We recently had a snap three-day lockdown where we were asked to stay at home to get on top of a break out of the UK strain. This worked and the break out was contained.
"However, the state border has only recently opened. Each state has shut its border to the other states to try and protect itself. This has been a big talking point and bone of contention. Queensland is very reliant on tourism and this has had a huge impact on businesses and the economy.
"We have been very lucky in Queensland. The positive for us is that Covid has forced companies to look at flexible working arrangements and the new norm is now a combination of office work and work from home.
"There are far more meetings done via Zoom etcetera and less time away from home. I think many view this as a good thing that has helped work-life balance."
In terms of Scotland's hotel quarantine policy, Natalie thinks it is largely fair given that Australia has been very strict in implementing its own entry requirements to control importation of the virus.
She said: "The policy does make getting home very difficult especially with young children but I agree with the policy and can see the bigger picture.
"I miss family. They feel a long way away right now. But I hope that with the vaccine rollout we get on top of this and it doesn't drag out into 2022."