Claiming asylum is a human right.
To do so, there is a strict legal process which assesses whether an asylum seeker can be accepted as a refugee and allowed to stay in the UK.
They are expected to prove that they are seeking international protection from dangers in their home country, and that they're unable to go back.
It can take years for claims to be assessed by the Home Office, via detailed interviews and paperwork.
During this time an asylum seeker is unable to work – unless they can fulfil a job on the job shortage list – and if they have no other means they are given £35 a week in asylum support and housed by UK Government contractor Mears Group.
Campaigners in Scotland claim that the system leads to mental health problems and isolation, and there are fears that some of the measures proposed in the Home Office's Nationality and Borders Bill will exacerbate these issues.
We've spoken to four asylum seekers who see themselves as "new Scots".
They're keen to make new lives here, integrate with local communities, and tackle stereotypes and misconceptions.
None of them want to go into detail about the circumstances which brought them to Scotland, they say it's just too traumatic to go into.
These are their stories.
'I was pregnant, homeless and alone'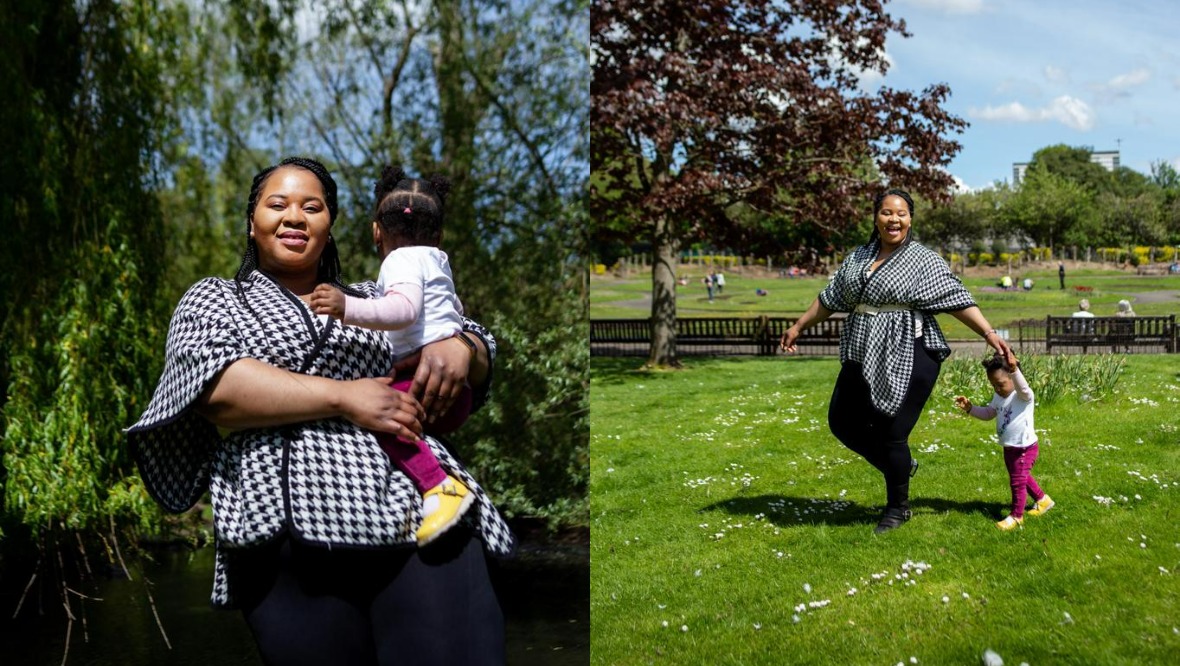 Alvina travelled to the UK from Zimbabwe in 2019.
When she started the asylum process, she was pregnant with her daughter, and ended up having her two months early, which she believes might have been brought on by the stress of her situation.
She told STV current affairs show Scotland Tonight: "I was pregnant, homeless and alone. It was a very, very traumatic time for me."
More than two years on, both Alvina and her little girl are still waiting to see if they can stay in Scotland for the longer-term.
Alvina had her interview with the Home Office in February 2020, and she says waiting to hear the result is "really crippling".
Alvina, who lives in Glasgow, said: "It stays with you, it plays on your psyche all the time. The long wait is almost synonymous with mental health issues, it's got kind of a ripple effect.
"We live on £5 a day, that's the weekly stipend that we get. We have to live with what we get. Every day I'm faced with difficult choices; do I get food, or do I get clothes?
"[The wait] is like groundhog day, like a recurring nightmare over and over. Is today the day the letter will come?"
Alvina, who volunteers with a number of groups and is on the board of the Scottish Refugee Council, says having her claim accepted would "mean the world".
She added: "I just want an opportunity to be normal. To contribute to society, to work."
'Whatever skills you have, whatever talents, they begin to diminish'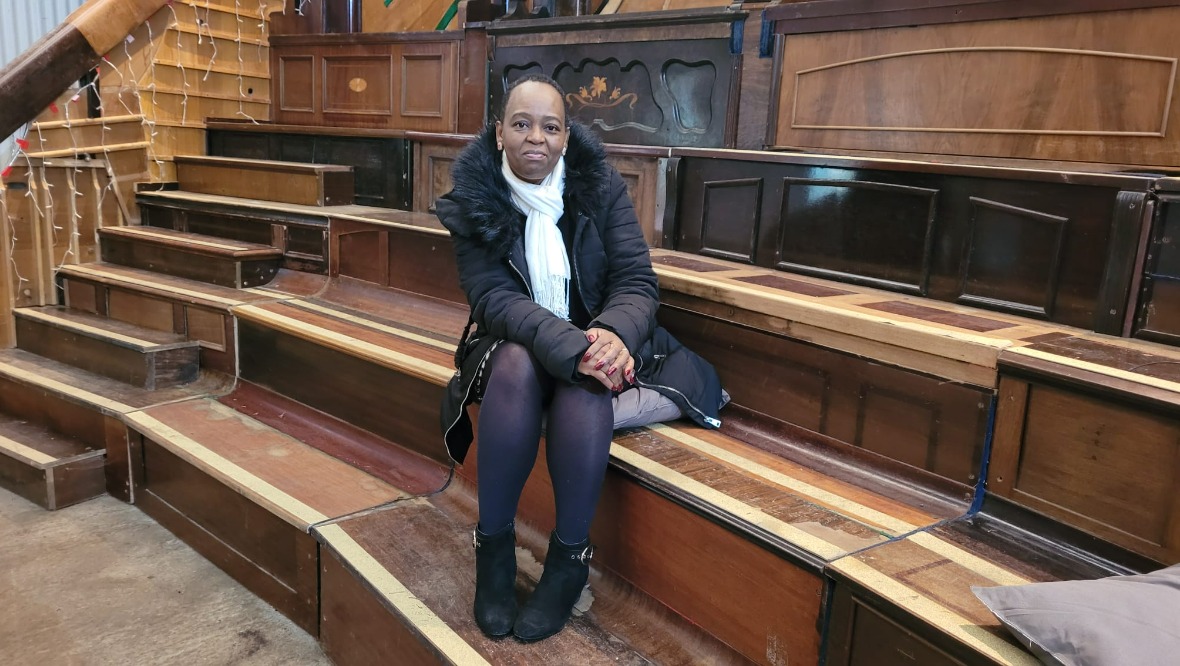 Angie, a mum-of-three originally from Malawi, spent five years in the asylum system.
Her asylum claim was refused, but she was granted leave to remain on the basis of how long she'd been in Scotland for.
"It was because the decision-making was so protracted. It was a chicken and egg situation really," Angie told Scotland Tonight.
"Somebody from the Home Office said to me, 'we can't keep feeding you, you need to go back home'.
"I said, 'I don't want you to feed me, I want to work for myself, I know I can work and support my family'.
"I was in a position where although I was qualified to work, based on my education, I could not work in this country because the system does not allow you to do that.
"It means that whatever skills you have, whatever talents you have, they begin to diminish.
"I've seen people who have waited for a long time and by the time the decision is out, they're quite old, they cannot even work."
Angie's experience inspired her to set up Sharpen Her: the African Women's Network (SHAWN), to support other women going through the process.
She said the aim of the charity is to "bring back that morale, to motivate women to say 'don't give up, you might have gone through this process, you might be going through this process, but you are a person first and foremost and you have value'."
Angie says she loves living in Scotland, adding: "I find it to be a safe space, a welcoming space.
"The biggest things for me are opportunities to study. I am working in community development, I am really enjoying my life here and I feel I'm contributing."
'People flee for all sorts of reasons'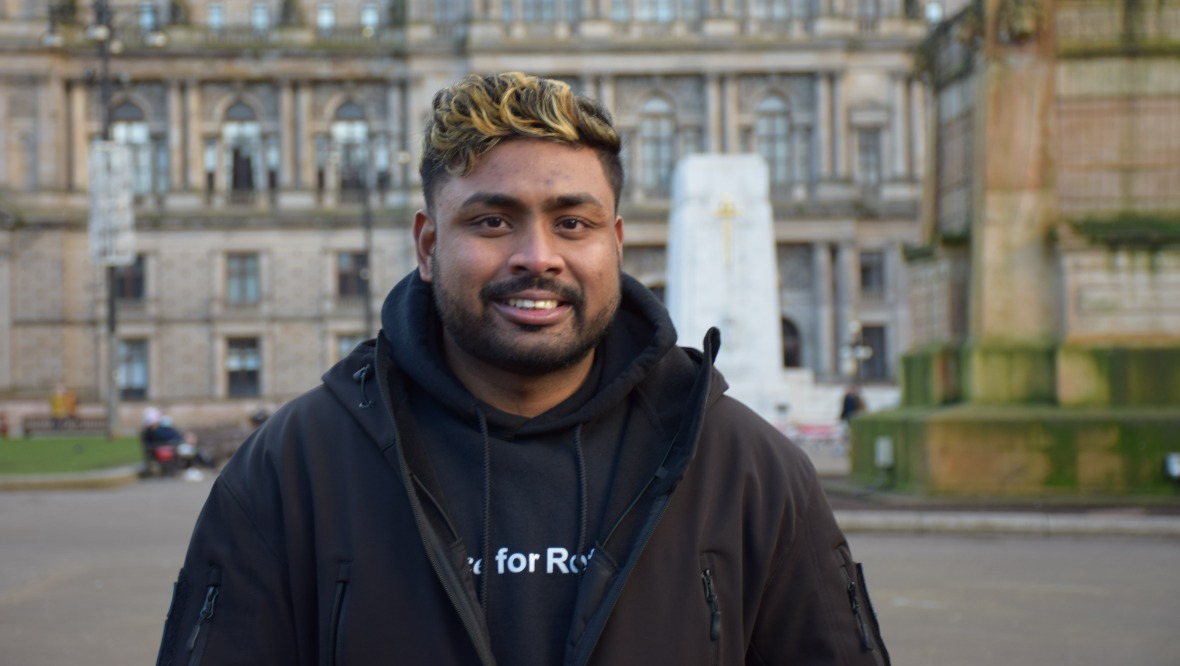 Shawn is from South-East Asia, but he doesn't want to tell us which country he is from.
He and his mum travelled to Scotland in 2017 after fleeing their home country due to political
struggles.
They were among around 80 people who were staying in the Park Inn hotel over lockdown, which became a scene of tragedy in June 2020.
Asylum seeker Badreddin Abadlla Adam was shot dead by police after stabbing six people.
Shawn was among the first to rush to the victims' aid and is now going through counselling to deal with the trauma.
"I can't forget that moment," he said.
"It will stick with me for the rest of my life, that will never go away."
Shawn's previous asylum applications have been rejected. He is currently waiting to see if his latest attempt will be successful.
If he can stay, he'd like to apply to Police Scotland as he worked as a police officer in his home country.
"That's my dream, but the only barrier is my status," he said.
Shawn is keeping busy in Scotland by volunteering in the community, and says he feels he "belongs here".
'Hotel accommodation felt like a prison'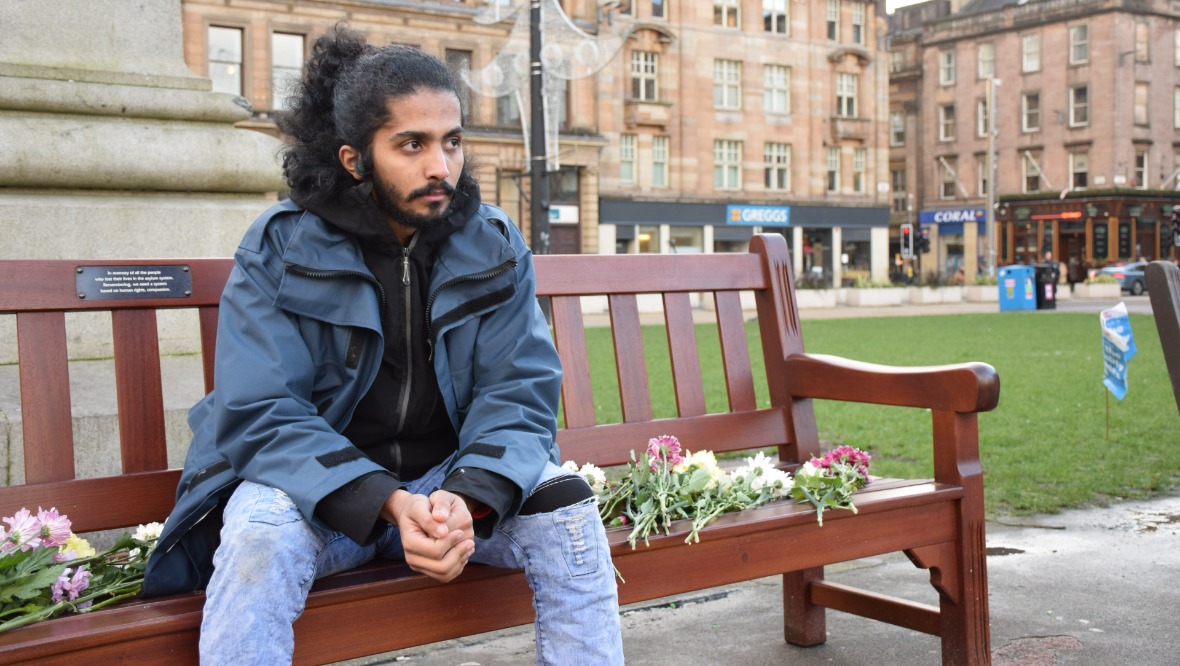 Siraj, originally from Yemen, was also staying in the Park Inn on the day of the incident in 2020.
He said the hotel, which is now closed, felt like a "prison".
"The others were my cellmates," he added.
Siraj had his asylum interview nine months ago but he is still waiting to hear back.
"It's very stressful," he told Scotland Tonight.
"It's very difficult because we can't work, we can't study, we have limitations on everything."
If he is able to stay in Scotland, Siraj would like to train as a sports physiotherapist.
He added: "I adore outdoor activities. The weather here is amazing, unpredictable."
'Mears' accommodation is safe, habitable and fit-for-purpose'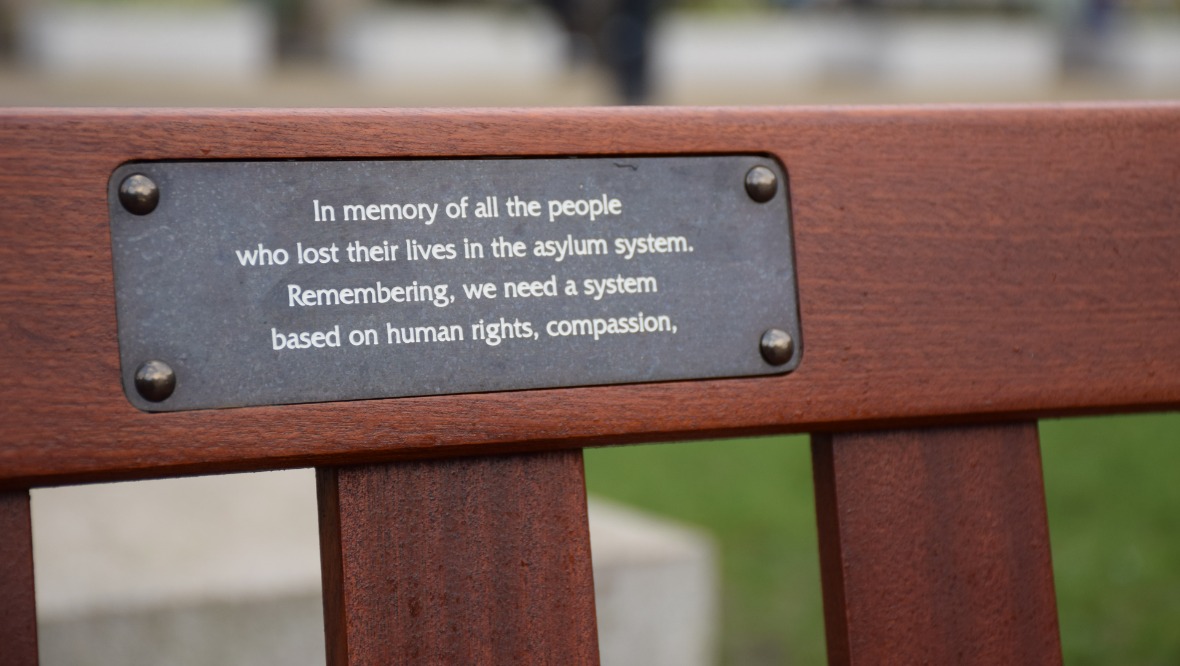 A spokesperson for Mears Group said the housing and social care provider supplies accommodation for asylum seekers that is "safe, habitable and fit for purpose, meeting contract standards and Home Office KPIs".
The group also stated that service users have not at any time been "detained" in hotels and are "free to come and go".
In response to the Park Inn incident, Mears worked with the NHS to arrange one-to-one trauma counselling.
The spokesperson added: "Service users were also supported immediately by Glasgow City Council who provided four social workers from their major incident support team.
"We are also grateful to The Govan Community Project who offered their counselling service to the service users.
"Mears moved service users out of the hotel on the same day, initially into alternative hotel accommodation, and following individual mediated discussions with support from [the] Scottish Refugee Council, all were quickly moved into their own accommodation.
"Mears resident welfare managers check in regularly with service users and if any further counselling or support is needed, we have worked with the NHS Asylum Health Bridging Team to arrange this."
The current process
There's a stringent process to seeking asylum in the UK.
After placing a claim, applicants are interviewed by the Home Office about their background and reasons why they can't return home.
They're then asked for further details, with support from an immigration lawyer.
In the meantime, they're placed in accommodation, with basic funding of £35 a week and no working rights, before the Home Office makes a decision on whether they can stay.
If they are refused, they can appeal.
What is the UK Nationality and Borders Bill?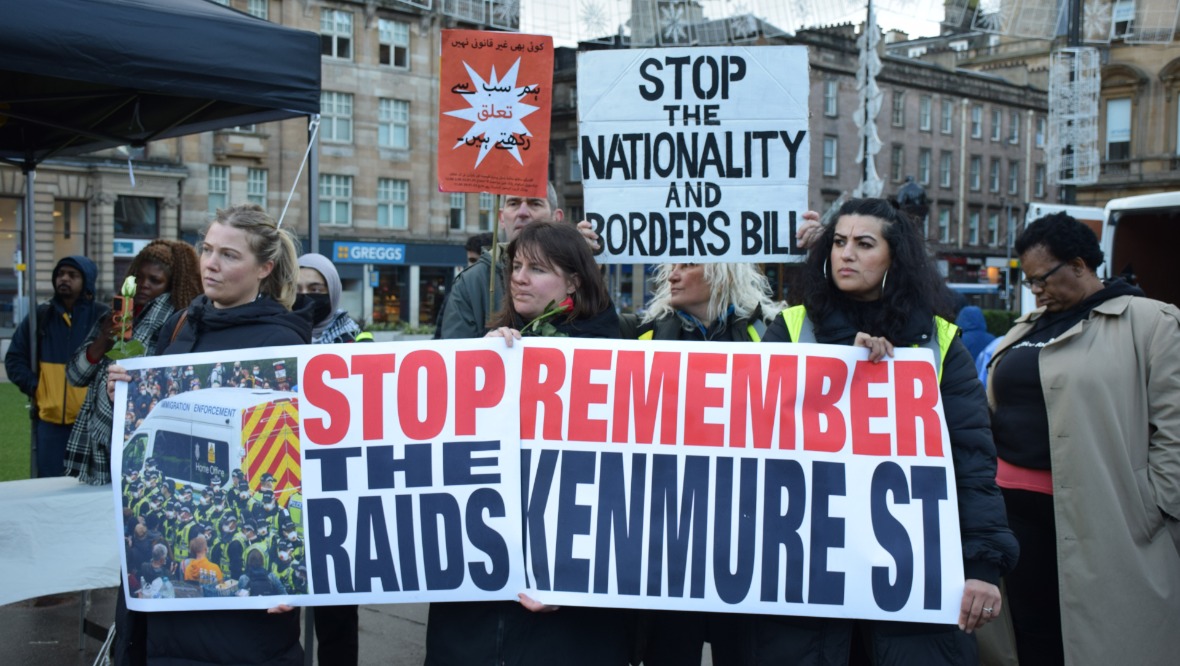 The UK Government is proposing to overhaul the immigration system with its new Nationality and Borders Bill.
Among its proposals are to:
• Replace hotels with asylum seeker reception centres, some of which could be abroad.
• Impose tougher criminal offences on those attempting to enter the UK illegally.
• Declare as inadmissible those who come here from a country where they could have claimed asylum.
• Deprive someone of their citizenship without notifying them – but only in exceptional circumstances.
A Home Office spokeswoman told Scotland Tonight: "The UK has a proud history of providing protection to the most vulnerable people and this will not change.
"However, we will not allow our hospitality to be abused.
"Our New Plan for Immigration – the most comprehensive reform in decades – will fix the broken asylum system and illegal migration system, making it fairer to those in genuine need and firmer on those who seek to abuse it."
She added that asylum seekers can work if their claim has been outstanding for 12 months or more and they can fulfil a job on the shortage occupations list.
The Home Office can also consider applications for permission to work on an exceptional basis.
Opposition to the UK Nationality and Borders Bill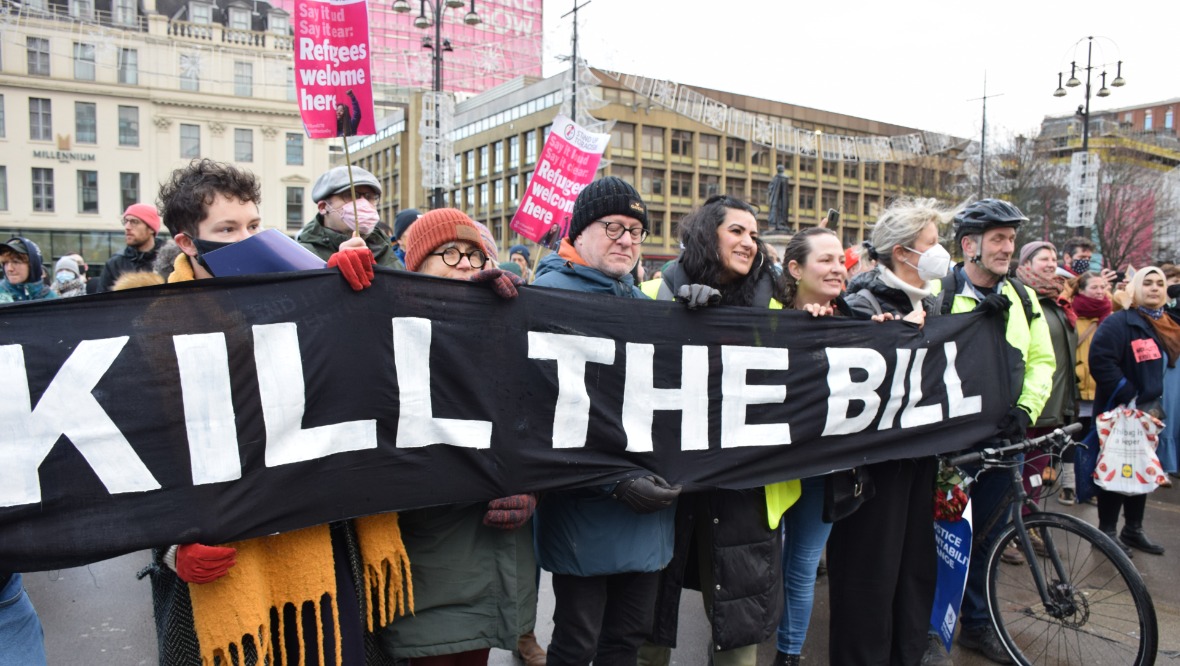 The proposals, already backed by MPs but currently going through the House of Lords, have been widely criticised by human rights and campaign groups.
Rossella Pagliuchi of the UNHCR, the UN's refugee agency, said the bill "establishes a kind of lesser status for what we assume will be the vast majority of refugees coming to the UK".
She told Scotland Tonight: "It's premised on a belief that there is a principle of international law requiring refugees to seek asylum in the very first safe country they encounter.
"And establishes a number of consequences punishing those who are deemed to fail. The reality is there is no such principle. There's a real risk of undermining the Refugee Convention.
"It would really create pressure on the countries where there is already pressure. It would be better to focus on improving the system that we have, rather than introducing these kinds of very sweeping changes that we're really afraid will result in a great deal of misery."
Glasgow-based immigration lawyer Melissa Rutherford said it will "make matters worse".
She added: "I think the idea behind the bill was to make the process quicker. I don't think the bill will deliver on that unfortunately."
'Appropriate funding is needed'
The Scottish Government says it has "long called" on the UK Government to offer better support to people seeking asylum, including with housing and other support and advocacy services.
A spokeswoman said: "This needs to be backed up by appropriate funding for local authorities which could then lead to an increase in the number of asylum dispersal areas.
"This can only be delivered through effective partnership working and funding, as demonstrated by the Syrian and Afghan resettlement schemes."
She pointed to the New Scots refugee integration strategy, which "aims to deliver a welcoming Scotland where refugees and people seeking asylum are able to rebuild their lives from the day they arrive".
She added: "The strategy takes an inclusive approach to delivery, enabling people seeking asylum to access services and support in Scotland wherever that is possible.
"However, in some instances, the UK Government restricts the rights of people seeking asylum, including under no recourse to public funds policy, which restricts access to certain benefits as well as local authority housing and homeless services, preventing accommodation provision outside Home Office contracts."
Scotland Tonight is on STV and the STV Player at 7.30pm on Thursday, February 17.