When an ambulance pulls up outside accident and emergency at 8.30pm on Monday night, it has to join a queue.
Five others are already waiting to take patients into University Hospital Hairmyres in East Kilbride.
Crews know they could be sitting there for hours while medics decide who needs them most – it's not first come, first served; priority must be given to the sickest.
'Grim situation'
Inside the hospital, emergency medicine consultant Calvin Lightbody is just starting his 12-hour shift.
"The situation is pretty grim," he tells STV News. "We have 60 patients in the department right now. The waiting time is four hours, we are short staffed, there are no beds and we are up against it.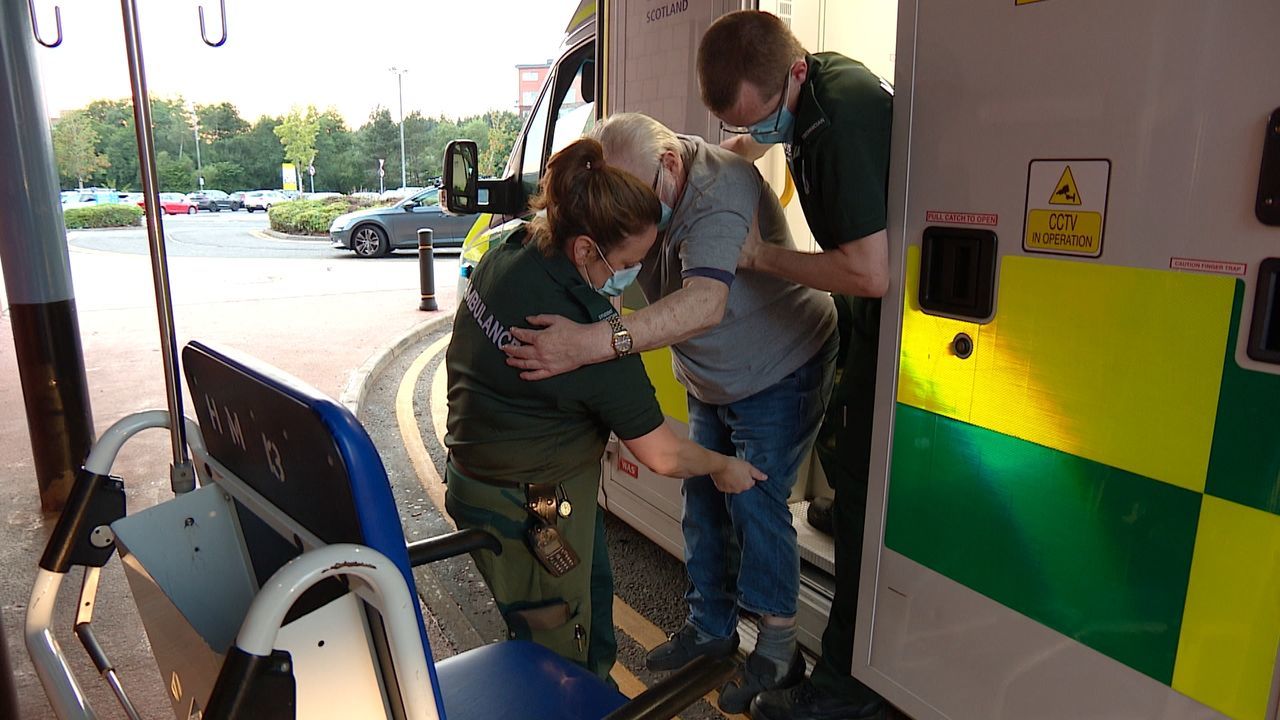 "Every on-call shift now, there is that sense of dread. This is the standard. We just know it's going to be a long, long night."
His shift begins on the eve of Scotland recording its worst-ever A&E performance; almost a quarter of patients are waiting more than four hours to be seen.
While Covid is not the main driver – Dr Lightbody says "only a very small" number of patients come to A&E with virus symptoms – lockdown has had a major impact on demand.
"The biggest percentage of our work is patients with minor illnesses or injuries that could have been seen elsewhere," he says. "Some tell me they are struggling to access their GP.
"We are also seeing an increase in patients being directed here by NHS 24. Other patients with chronic conditions such as diabetes, heart failure and respiratory conditions which haven't been properly managed during lockdown are presenting later with complications."
'The whole system is broken'
Lanarkshire is currently the second worst-performing health board – 67.8% of the 3977 patients were seen within the target time during the second week of August.
"Our poor performance reflects that the whole system is failing," says Dr Lightbody. "We depend on patient flow. Just yesterday across Lanarkshire, we had 600 patients across our three hospitals.
"Only 60 per cent of them were admitted or discharged within four hours. 60 per cent or below was unheard of in the past. Now it's day after day and it's taking its toll on everyone. The whole system is broken."
Hospital staff openly admit the workload is hurting them; many have already quit the profession and others are considering their futures.
"People are starting to lose their drive," Dr Lightbody says. "People who work in emergency departments are pretty resilient, tough folk, but I'm worried when I'm seeing people struggling to keep going due to this relentless pressure.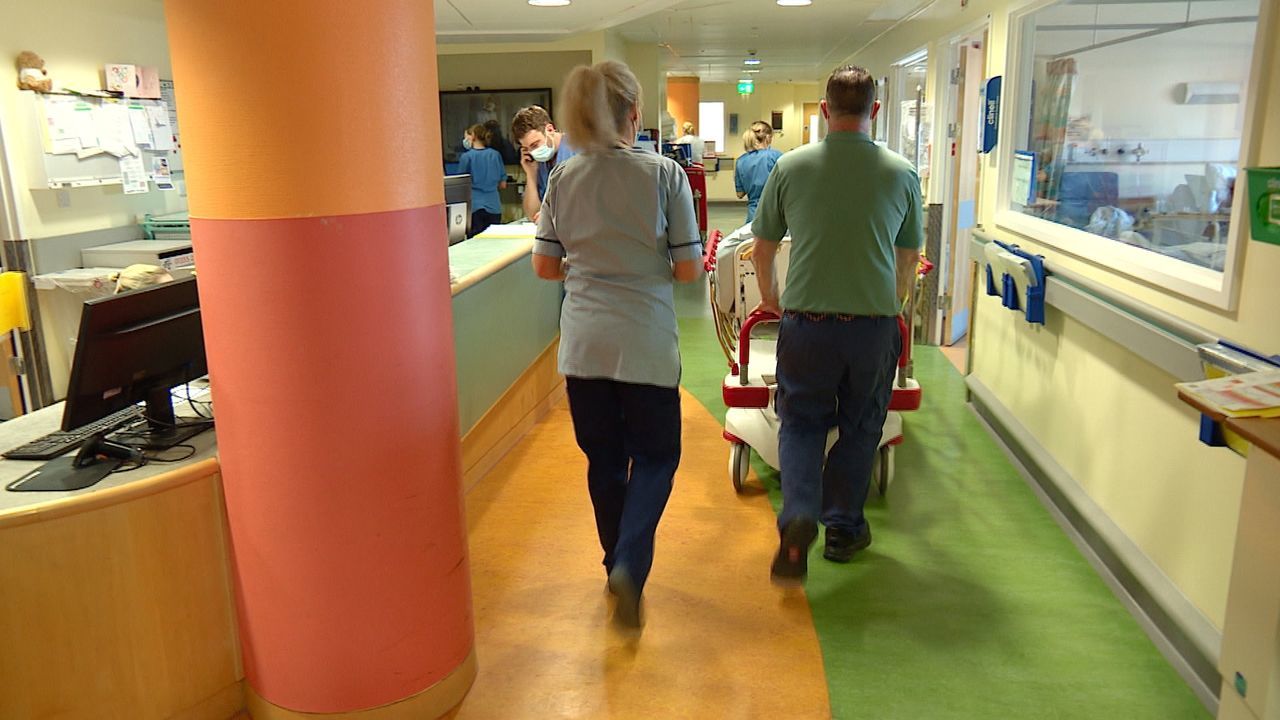 "One of our trainee doctors has quit and I wouldn't be surprised if other people follow. I'm worried about the future.
"One of the reasons we are so emotionally exhausted is because we know we are not giving patients the care they need and deserve."
'I don't know how I got through that shift'
Senior charge nurse Rachel Lees has 15 years' experience of working in A&E and understands the consequences of failure.
She is already looking towards the winter months with dread.
"We have to get on with it, we don't have a choice," she says. "If we don't do our jobs, patients will suffer and could potentially die.
"There are times when I go home and think 'I don't know how I got through that shift'. I know I'm not the only one who thinks that.
"I have had five nurses quit in the last few months and I have more who are handing in their letters of resignation. We are trying to recruit more nurses, but they don't want to work in our emergency departments."
'Absolute breaking point'
Ten patients are waiting to be admitted to the acute medical receiving unit when STV News visits Hairmyres on Monday night – but there are only two free beds.
Staff shortages due to sickness, stress and self-isolation mean those on duty are "on their knees", according to senior nurse Carol Miller.
"I've been in nursing for 34 years and this is one of the most difficult times I've come across," she says. "We can't get enough staff. We are trying to plug these gaps to make it safe for our patients."
When senior charge nurse Nicola Hendry returned from maternity leave in June, she assumed the pressure on hospitals would be easing, but has instead found her colleagues to be at "absolute breaking point".
"I should be working with nine registered nurses, but there's just seven, including myself," she says. "We're relying a lot on goodwill."
'They're doing their best'
The medics also tell us about a rise in abuse – verbal, racist and physical – from impatient patients – but there will be none of that from 76-year-old Mary Farrell, who's been waiting five hours for test results.
"As far as I'm concerned, if a place is busy, it's busy and the staff are doing their best as far as I can see," she says.
Year since target last met
The Scottish Government's target is for 95% of patients to wait no longer than four hours, although this has not been met since July 2020.
NHS Forth Valley was once again the worst-performing health board in the second week of August, with 65.6% of the 1167 patients seen within four hours – down from 74.7% the previous week.
Shetland's health board was alone in hitting the 95% target, achieving 95.7% of patients admitted, transferred or discharged within four hours.
Speaking at her coronavirus briefing on Tuesday, the First Minister Nicola Sturgeon admitted the situation at A&E was "incredibly difficult".
She said demand for NHS services had been suppressed by lockdown, but was now soaring as restrictions eased.
Sturgeon said getting GP surgeries functioning as normal would help ease the pressure on hospitals.