We all know of the hard work being done on the frontline by our NHS staff in the battle against Covid-19, but what about those behind the scenes?
Without services such as meal preparation, laundry and decontamination, frontline workers would not be able to do their job.
STV News has gone behind the scenes to see the work being done by those unsung heroes during the coronavirus pandemic.
Laundry
The central laundry in Hillington services all hospitals in NHS Greater Glasgow and Clyde (NHSGGC), where 60,000 items are dispatched from the warehouse each day.
A series of automated conveyors, washers and dryers means items can be in and out of the laundry within 24 hours.
When laundry arrives from hospitals it is sorted into towels, sheets, gowns and scrubs.
All contaminated and soiled items arrive in sealed soluble bags which can be put straight into washers to reduce the risk to staff.
After sorting into categories it is put into huge bags which hang from rails on the roof. A computer selects which item is needed next to meet demand from hospitals.
Once called the bag is emptied into the machine, washed and the clean laundry sucked through tubes into driers.
The final part of the process involves staff feeding towels and sheets into folding machines.
Scrubs are ironed and folded in a similar way.
Kate Murray, head of linen services NHSGGC, says: "We have a turnaround of getting that out and getting it back in for about 24 to 36 hours.
"We have always had soiled or infected linen coming into the laundry but the percentage level has increased due to the infection but the staff don't handle that directly. It is in soluble bags. The whole soluble bag containing that linen goes straight into the washers.
"Sometimes just now we have to work a wee bit longer on the days and come in a wee bit earlier just to produce more linen due to higher demand."
Kate admits they can feel like the forgotten sector of the NHS: "I think everyone just sees the hospital sites but don't see all the other services which help it to function, like the laundry.
"It is really important. It is vital that patients have clean towels, clean gowns and clean sheets.
"The staff are really proud of what they do and I'm probably more proud of what they do than they are."
Cook and freeze
The majority of food preparation is done centrally. Breakfast and sandwiches are most commonly made in individual hospitals but main meals are prepared and frozen at cook and freeze facilities.
The cook and freeze production unit at Inverclyde Royal prepares 30,000 meals a week.
Hospitals place orders in advance and all ingredients are weighed and cooked in large batches before being packaged and frozen.
This enables catering staff to regenerate the meals on special oven trolleys on wards to allow patients to receive warm meals at their bedside.
Michael McCall, Inverclyde cook freeze production manager, says: "The menus are all standardised throughout the board so everybody is on the same meals today throughout the health board.
"Food is cooked in the normal manner with some adjustments to accommodate the cook freeze system. We use 65% Scottish produce. The product itself has six months' shelf-life after it is frozen."
The unit has had to adapt to Covid restrictions. Limits on staff numbers in certain areas has altered process slightly but production volume has not been affected.
Mr McCall said: "I am absolutely proud of the staff. They've done themselves proud as well as the organisation. No one has had Covid, we've all been here and everything has ticked over as normal."
Decontamination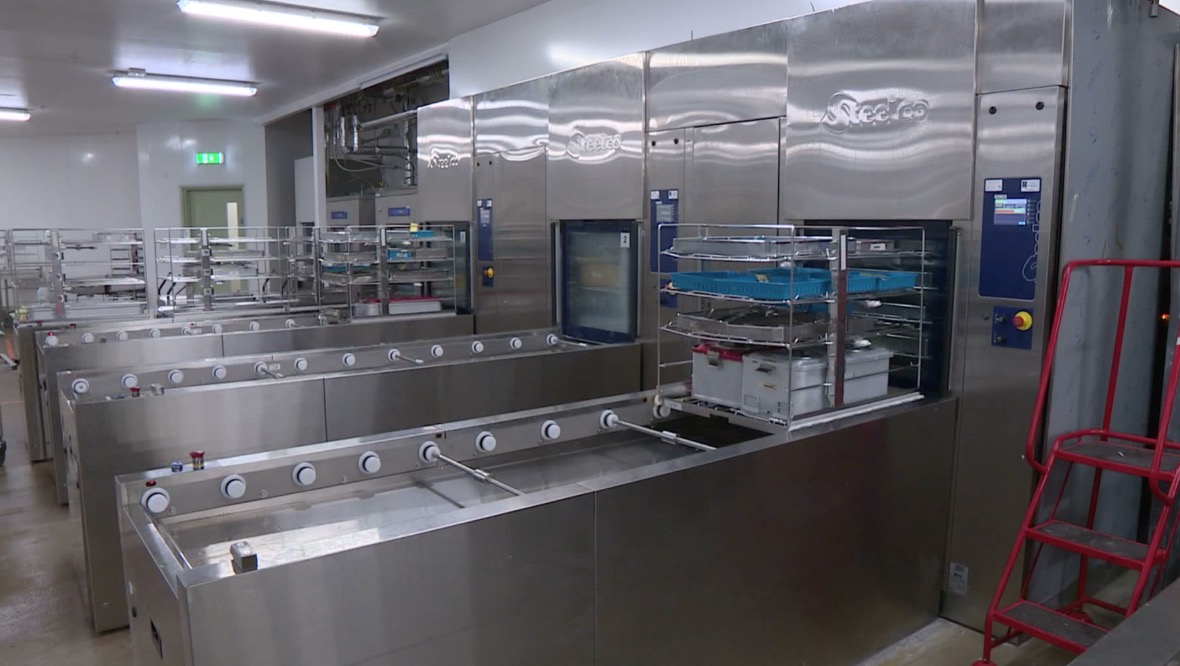 Every surgical item used by the NHS has to be washed, disinfected and sterilised before reuse.
The Central Decontamination Unit at Cowlairs is the biggest facility of its kind in Europe.
Around 320,000 surgical trays with 15.5 million instruments from the five main Glasgow hospitals pass through the unit each year.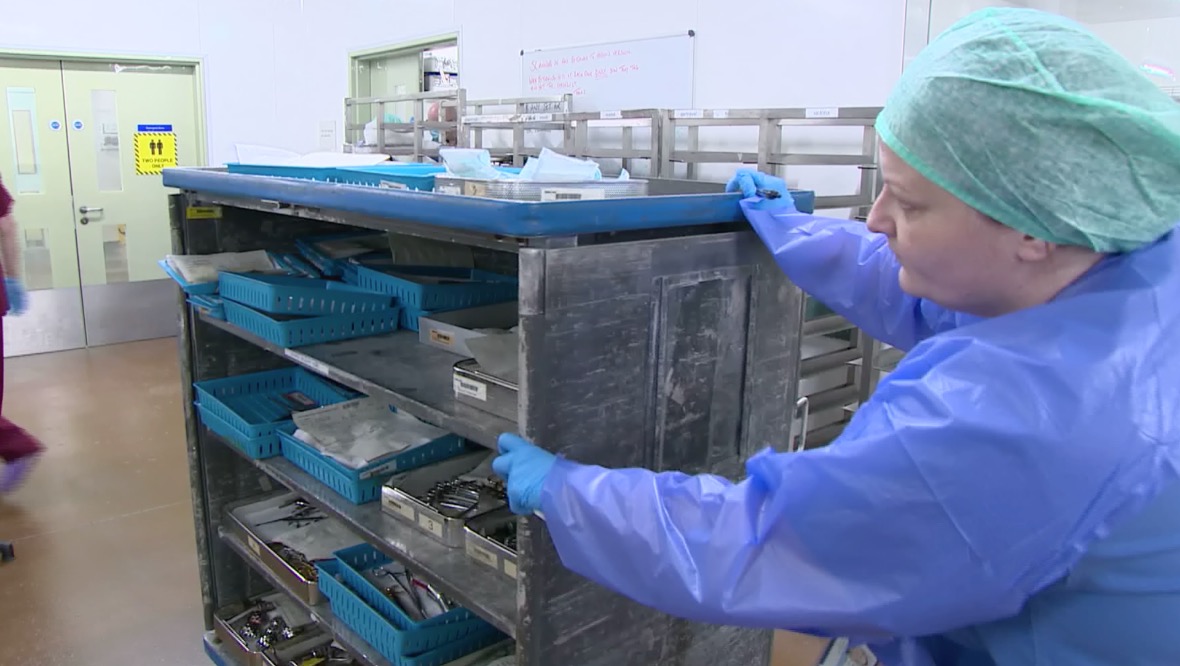 Not only do staff have to load dirty items into washers before they're cleaned, they also have to make sure the instruments are in working order once disinfected.
That means they need to know what each is, what it does and how to use it.
Ian McIvor, decontamination service manager, says: "One thousand two hundred trays per day come through the unit. On a Friday we can have 2000 trays. It can be stressful.
"It is a very technical job. The target turnaround is 24 hours. At the moment we are hitting 17.
"We also have a fast-track which is an eight hour turnaround. That is for a trauma kit or a maternity kit which needs to go back to theatre quicker. So that is eight hours from when it arrives here until it goes back out again."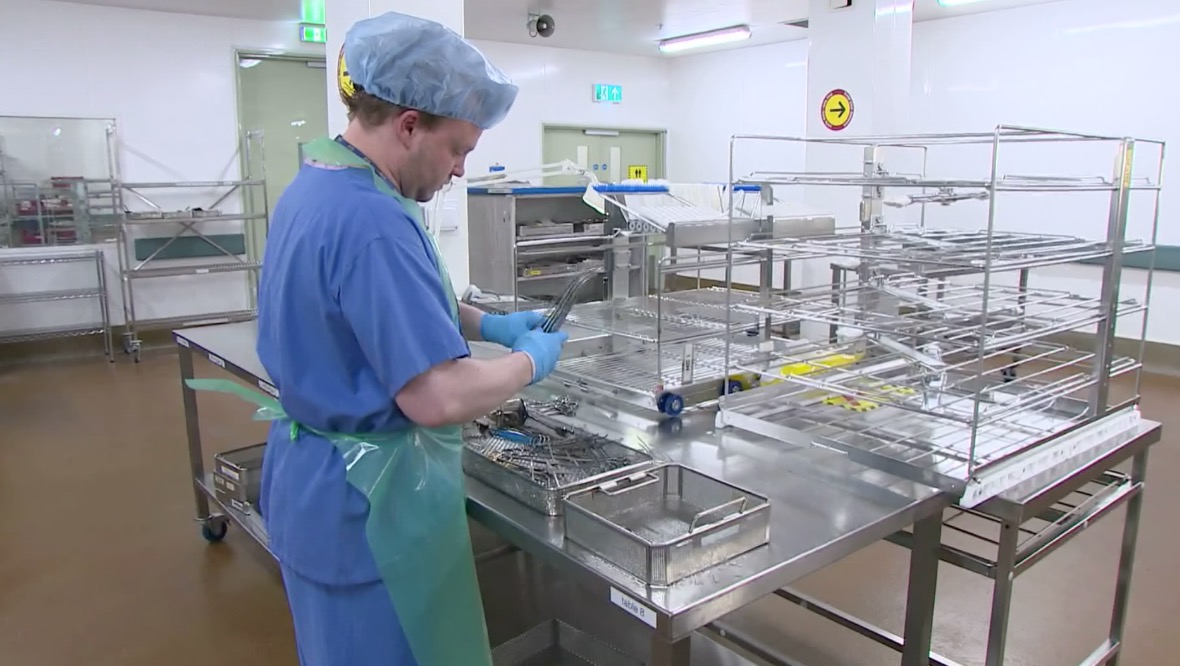 Mr McIvor praised his staff for doing a job many don't even realise exists.
He said: "The last person to touch the instruments before the surgeon is in here.
"The staff don't get the respect I think they deserve for what they need to know. They need to know chemistry, biology, physics.
"The responsibility the staff have got is huge. If it goes into theatre and it is not workable, theatre gets cancelled.
"I'm really proud of what they have done. They are now recognised as healthcare scientists. There is more knowledge of what we do."