"I love you, Davina McCall. Menopause Mondays – I am tuned in. It's a segment she does on her Instagram, but yeah, tune in guys."
This was not the response I expected the get from Lewis Capaldi when I asked him who his celebrity crush was, but then again, you never know what you're going to get when Bathgate's finest opens his mouth.
Lewis further made me cackle when he said: "Hopefully it's a good few years before it comes knocking [for you], but tune in to Menopause Mondays."
With that ringing endorsement, I feel I must, but I also regularly 'tune in' to Lewis's social media channels as he is, without a doubt, one of the funniest people on the internet, as well as being one of the most talented.
When we met, the Scottish singer/songwriter was taking a break from rehearsals for his newly announced tour, which will see him play Aberdeen's P&J Live on January 23 and Glasgow's OVO Hydro the next night.
"I am a bit nervous, they are quite big rooms."
Nerves have played a part in Lewis's comeback as he admitted they were also there when he returned to TRNSMT festival during the summer.
"I did some crying. I was relieved. I was a bit nervous beforehand and I thought 'am I going to be able to do this', and then I did and it was fine.
"Paolo Nutini came back that weekend and it was very much Paolo's weekend. I went to see it and it was incredible and I don't think our day had sold out till two days prior, but then seeing people's reaction to me dragging myself around stage, it was great."
Forever self-deprecating, I do hope Lewis realises just how good and admired he is.
I remember interviewing him when he was relatively unknown, just ahead of the release of Someone You Loved. This is a cut-throat industry where we chat to so many talented youngsters on the cusp of something great, then for whatever reason it doesn't translate into record sales and success.
I listened to Lewis's song, though, and thought and hoped he would be different. I am so glad he's become the award-winning artist he has, whilst still retaining his west of Scotland charm and cheek.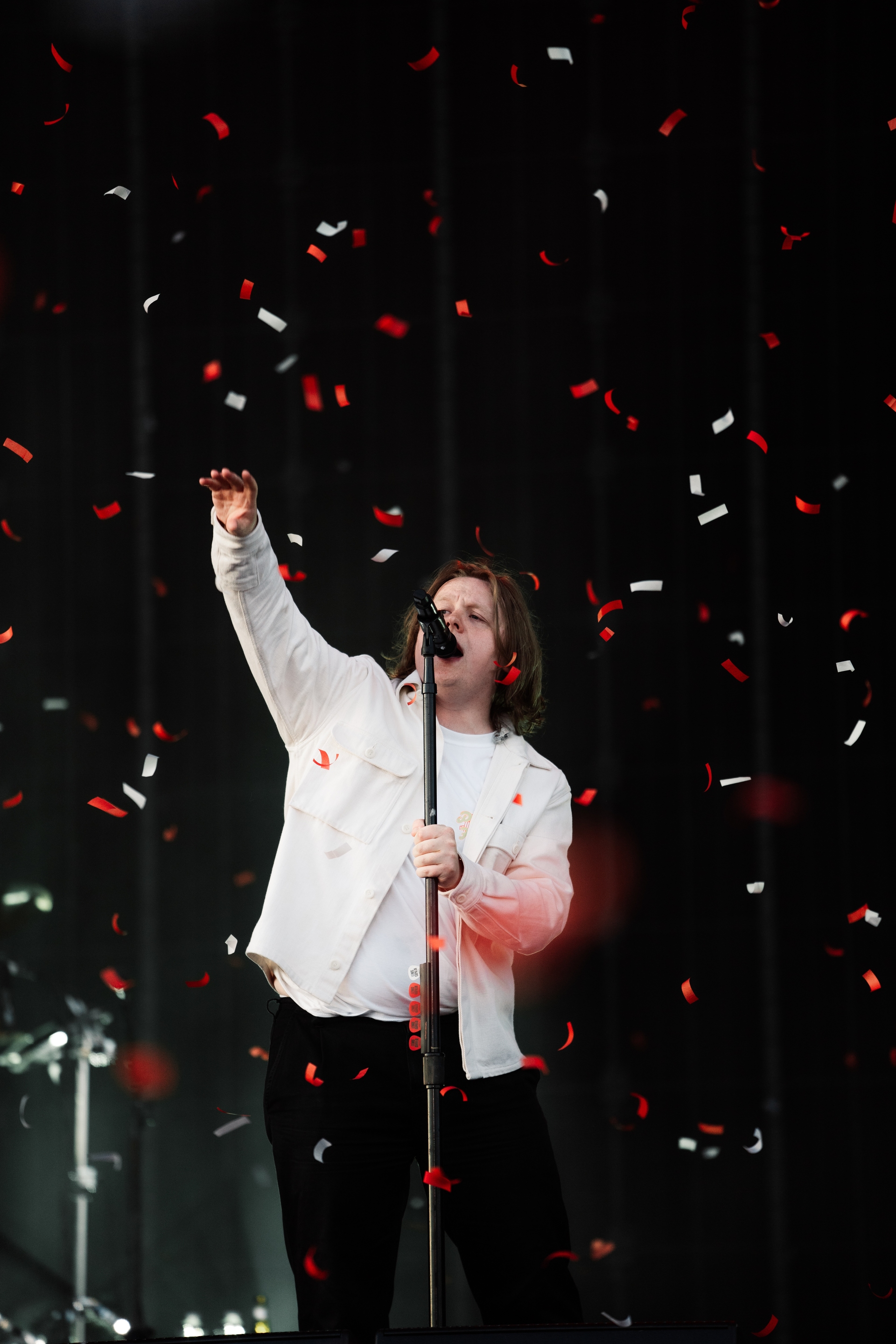 However, having had such success around the world with his first record, there's a pressure on with the second.
"Listen, there is no shortage of white male singer-songwriters singing about their feelings. I am very aware I am in an oversaturated market. There is a fear when you come back that no one is going to care, but it's been a pleasant surprise to see that people have some enthusiasm for my shenanigans."
They certainly do and if the first single has been anything to go by, he has nothing to worry about.
Forget Me went to number one, despite being released the day after the Queen's death. Not the most ideal marketing strategy, he admitted.
The video brought light relief at the time, as Lewis recreated one of his favourite videos of all time, Wham's Club Tropicana.
"I love Wham, I love George and Andrew. I love their little budgie smugglers. I dawn the budgie smugglers myself and it was an interesting 48 hours."
Why, you might ask, but wish you hadn't… *close article if eating at this moment*.
"I had sickness and diarrhoea in those white pants, so I was clenched cheeked for the majority of the time I was there. I couldn't trust my hoop at all. It was bleak. It was very bleak.
"They didn't have any spare pants on stand-by, but not one skidmark was found."
Wow. If you're still here, you will be pleased to know that, moving on from that, Lewis has announced his second album will come out on May 19 next year, with the catchy title Broken By Desire to Be Heavenly Sent.
I said it sounds like an aftershave and, quick as a flash, Lewis said in a sultry aftershave ad voice: "Broken by Desire to be Heavenly SCENT." See what he did there? He joked that an aftershave is on the cards.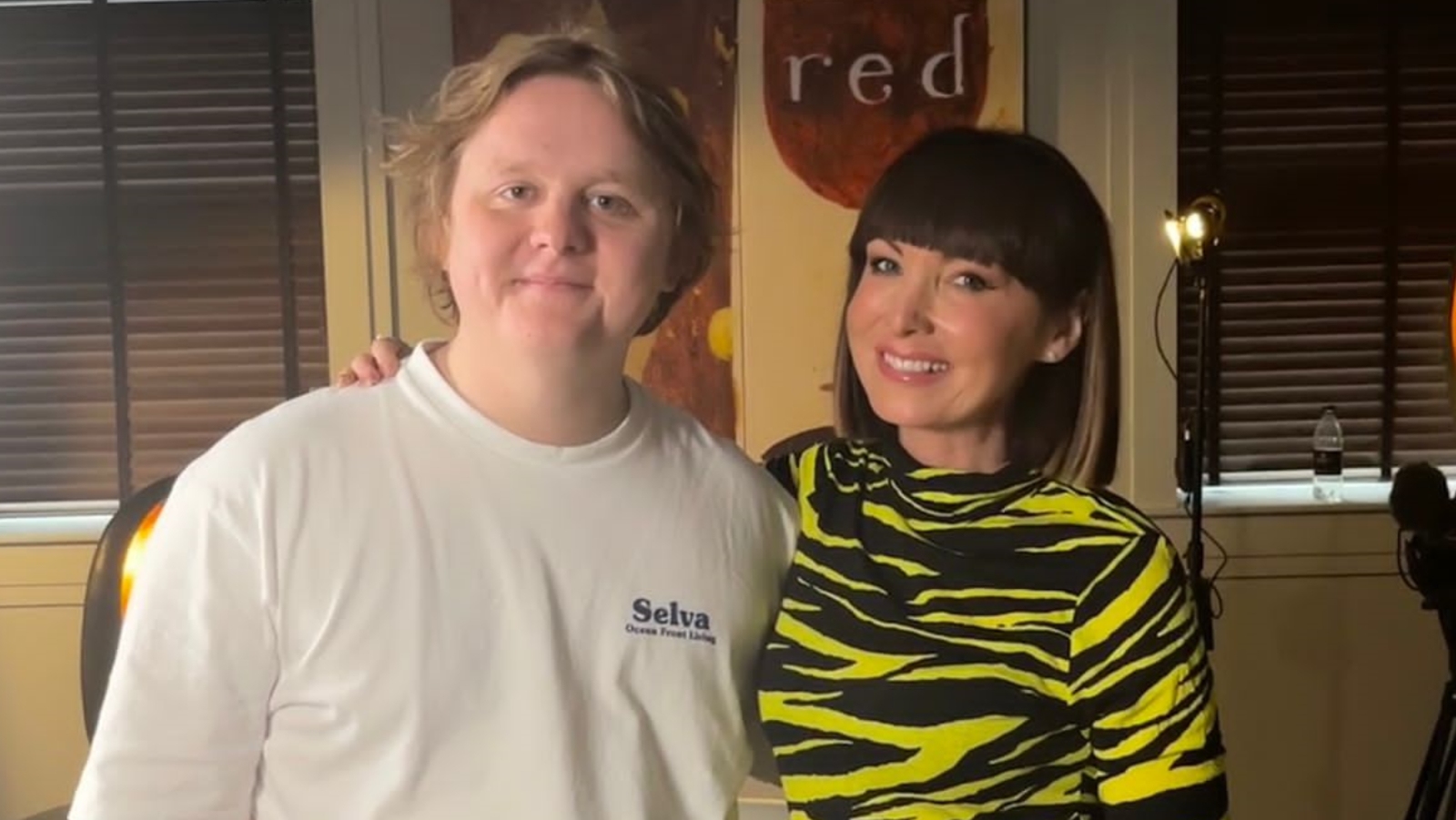 With this guy, nothing would surprise me. He has just launched his own pizza range, after all.
That aside, Lewis is also working on renovating his new property. A house his pal Ed Sheeran advised him to buy.
It's not quite the dream house he wanted, explaining it smells of "fags and wet dog" as well as having a bag of live frogs in a cupboard. Sounds delightful!
"I bought it because of Ed Sheeran, but I can't put all the blame on him as I went to see it
"Now I'm 26 and having to make these decisions about light switches and the likes.
"My mum keeps trying to butt in and I say 'mum, you're 56 years old, I am 26 – I do not want to live in an old woman's house!'."
Poor Mrs Capaldi! You get the sense, though, that Lewis has a brilliant family and group of friends who support him and keep him grounded, which is exactly what he is.
They are also sure to have been a great support following his diagnosis with Tourette's syndrome.
Speaking of the reaction he's had since speaking about this, he said: "It's been lovely. It's been nice to know that people also have these twitches. I didn't realise how big a thing it might be for people who have it.
"But, yes, I have had nice messages. I don't think I am the best to ask about the condition, cause I know very little about it, but it's been nice. Nice to know I'm not dying as I thought I might have a degenerative disease."
Thank goodness for that.
With the tour and album ahead, Lewis will get a chance to let his hair down next month when he attends the Scottish Music Awards, where he is nominated in the global artist category.
Having previously performed at the ceremony, this year he's looking forward to sitting down with his table of 12 friends and partying. It will be a special night for the Scottish star and a chance to enjoy some fun before the tour and album promo kicks off next year.
Lewis, it's good to have you back.
What's On Scotland is on STV and the STV Player at 7pm on Friday, October 21.
STV News is now on WhatsApp
Get all the latest news from around the country
Follow STV News
Follow STV News on WhatsApp
Scan the QR code on your mobile device for all the latest news from around the country