My first memories of hearing Wet Wet Wet are as a little girl when my mum would blast Wishing I Was Lucky and the likes out of a snazzy-looking 80s hi-fi as she danced around the kitchen.
She adored the band. Or should that be, she fancied Marti. Either way, she introduced me to music I loved.
If you haven't listened to Goodnight Girl, Sweet Surrender or Temptation for a while, I urge you to do so.
Wet Wet Wet produced brilliant, soulful pop songs. Therefore, I didn't mind getting up early on a Sunday morning to interview Marti Pellow for What's on Scotland, to hear more about his career and the tour he has just announced.
"I recently thought it would be a good idea to do [1987 Wets album] Popped In Souled Out and orchestrate it – the songs really lend themselves to that treatment," he told me, as charming and delightful as my mum no doubt hoped.
"I thought 'I'll do a wee one-off show at the London Palladium with the Royal Philharmonic' and it sold out in minutes. It literally popped in and souled out – bang!"
From that, Marti is now taking Popped In Souled Out on the road again with his Love to Love orchestra, this time coming to arenas.
The show will take to the stage at Glasgow's OVO Hydro on March 16 next year – a night which promises to be a trip down memory lane for so many of his fans.
"I think people have invested in that album over the decades," he said.
"That's what I've loved about going back to that body of work, thinking about where I was in my life at that time. Looking at the melodic structure of the likes of Angel Eyes, which I wrote when I was 17."
17?! I don't know what I was doing at 17, but it certainly wasn't writing hit songs like Angel Eyes!
But music was always in Marti's blood, and it seems he was destined to perform.
Reminiscing, he told me: "I grew up in Dalmuir. I had a wee room and a kitchen, I remember it well. I was sitting at the fire and my mammy was standing at the Belfast sink, washing the dishes and she was singing.
"I looked up to her and I loved how singing made her feel and that wore off on me and my mother nurtured that."
Marti was amazed when he realised that not everybody sang. He couldn't understand why they wouldn't want to.
That burning desire never left him and, although he admitted to being 'mischievous' at school, it's also where his love of music became more than just a hobby.
"Four young boys at Clydebank High School… 'hey let's start a band'. Sounds like a plan!'"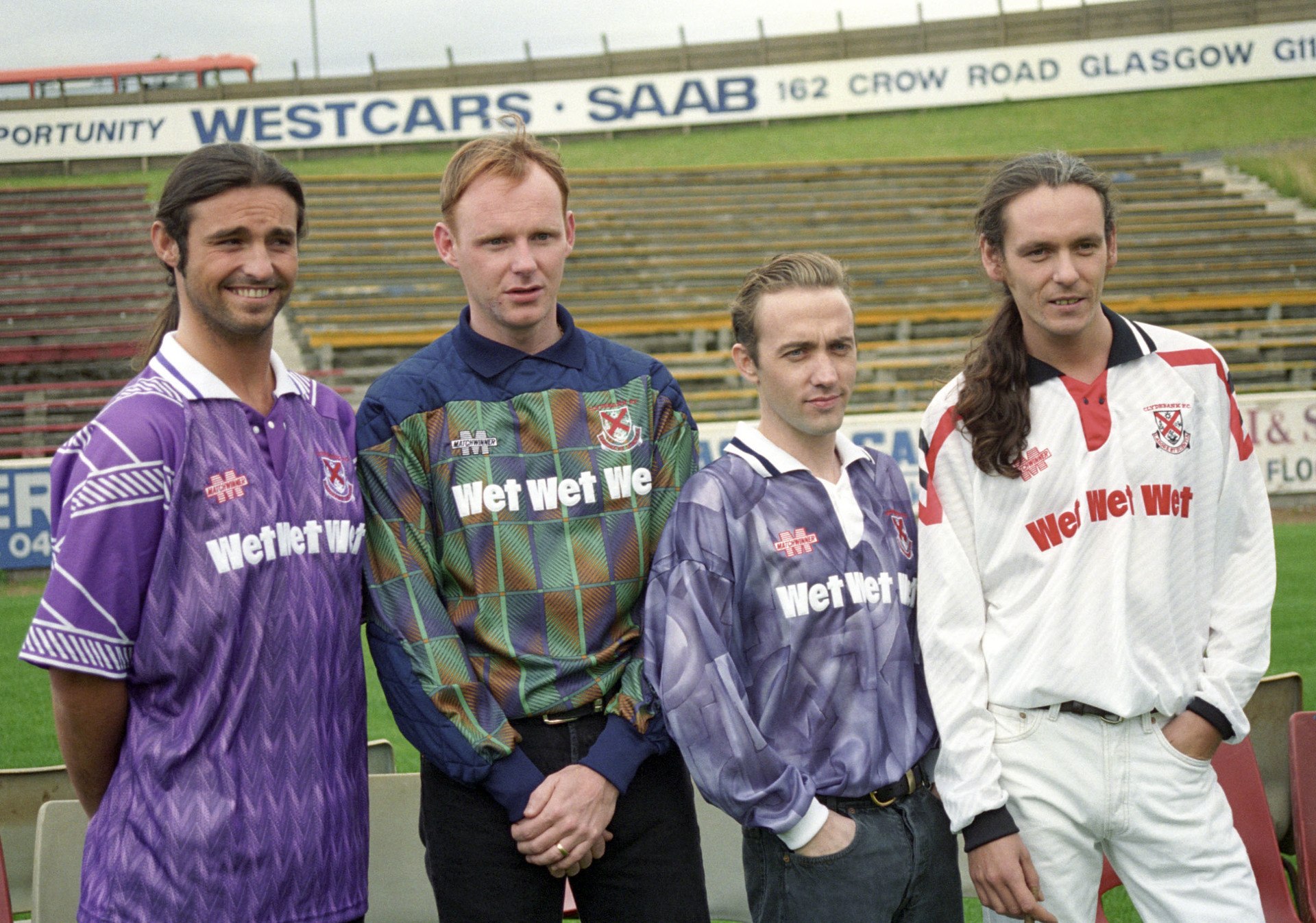 What a plan it was. Wet Wet Wet quickly became one of the most popular bands of the 80s/90s with one of the most successful songs of all time – Love is All Around.
The band's version of the song, released in 1994 as part of the soundtrack for Four Weddings and a Funeral, was number one in the charts for an incredible 15 weeks and is the biggest-selling love song of all time.
What an accolade. But Marti had no idea it was going to go that way.
"I remember talking to one of the guys from the record company. It was the head of Universal and we were in Holland, in Amsterdam, having dinner. He said 'that's a hit record, Marti' and I went 'noooo'. I couldn't tell a hit record if it fell from the sky.
"I can tell you if it's a good song, but to spend that time – 15 weeks at the top – at any point in your career is liking eating chocolate every day."
Marti enjoyed huge success with Wet Wet Wet, but has released almost twice as many albums as a solo artist, telling me: "I think the next one will be my 14th."
Having just celebrated his 58th birthday, Marti in no way wants to slow down, admitting he loves what he does.
"I'm quite an ordinary man who's been blessed to live an extraordinary life and continues to live an extraordinary life, and the reason why is because I have a loyal fanbase and people who still want to invest their time and connect with me."
Indeed, those fans, many of whom have supported the singer since his career began, know that when they see Marti on tour, they are guaranteed a good night out.
So much so, the chant "No Marti, no party" has become a popular cry at every gig.
Marti laughed: "It's just brilliant."
As it had been Marti's birthday just a few days before, I thought it was only right I bring the party to him, presenting him with a caterpillar cake. Yes, there's no expense spared in the STV budget when it comes to these things.
He joked that it looked just like him, exuding that mischievous charm we all know and love.
If you fancy joining the Marti party, all his tour dates are here.
What's On Scotland is on STV and the STV Player at 7pm on Friday, March 31.
STV News is now on WhatsApp
Get all the latest news from around the country
Follow STV News
Follow STV News on WhatsApp
Scan the QR code on your mobile device for all the latest news from around the country