Thousands have gathered in Glasgow's city centre to see Scotland's largest puppet make her first public appearance.
Storm – a ten metre tall giant from Edinburgh's Vision Mechanics – made an impression on both adults and children as she walked down Buchanan Street on Saturday.
The puppet came to life as part of Celtic Connections' one off festival within the festival, Coastal Connections, which will bring together musicians from over 20 Islands, coasts and peninsulas at the Royal Concert Hall.
An event created to celebrate the unique heritage and diverse culture of the coasts and waters of Scotland, Storm was considered the perfect opening act to highlight the rich seam of folklore that runs along the shorelines, carrying a message of healing the planet by taking care of and celebrating the natural wonders and wildlife of the oceans.
Scaled against the backdrop of Glasgow's skyline, her blue eyes sparkled in the morning light surrounded by a team of eight strong puppeteers controlling her every stride and movement.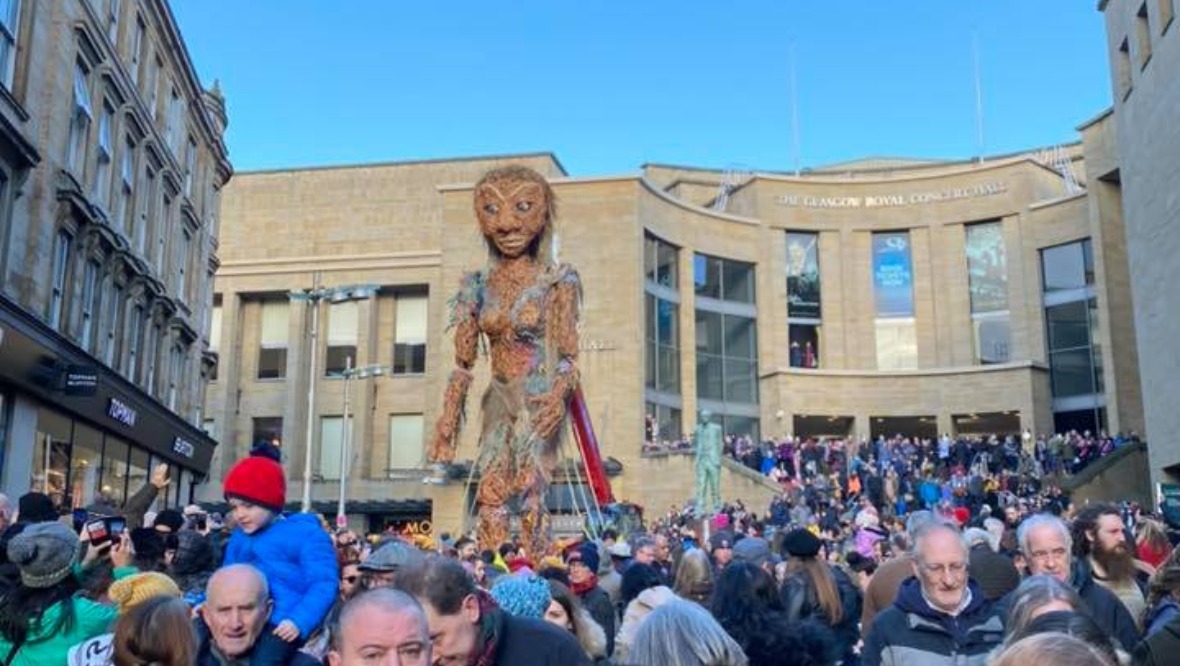 Hand made from recycled and natural materials, Storm has been described as a "feat of mechanical engineering".
Storm and the one day festival are two major live events marking Scotland's Year of Coasts and Waters; a year long celebration of the lifeblood that makes Scotland's landscape so special.
Accompanied by a series of tracks by Scottish folk singer and musician Mairi Campbell and Dave Gray, the music filled Glasgow's city centre.
Cabinet secretary for Culture, Tourism and External Affairs Fiona Hyslop said: "What an exciting way to kick off Scotland's Year of Coasts and Waters. Storm carries an important message of caring for and celebrating our oceans and their wildlife.
"I look forward to seeing her continue her journey around Scotland, giving communities a chance to celebrate their connections to our coastlines and to work together to protect our waters for future generations to enjoy."
Donald Shaw, Celtic Connections creative producer, added: "Celtic Connections has always had strong links with the unique music and heritage of the seas, waters and shores of Scotland.
"Coastal Connections is a fantastic way to kick-start Scotland's Years of Coasts and Waters, with musicians from more than 20 islands, coasts and peninsulas performing across the day for our festival within a festival.
"Storm has launched Coastal Connections in spectacular celebratory style, launching a vibrant, exciting day of celebrations and culture for the people of Glasgow."