At the Castle Fine Art in Glasgow, one of the world's most famous comedians has swapped his mic for a paintbrush to showcase his artistic talents.
Sir Billy Connolly may have retired from the stage two years ago, but one of Glasgow's most famous son's has turned his hand to art full time.
He says his artwork is much like his stand up, organic and free-flowing.
"Just let it roll. And stick things on the end and see how it behaves," he says.
Exploring colour as well as his famed black and white drawings, Billy has also gone back to his roots by creating sculptures inspired by his time working as a welder by the Clyde.
While he says being a welder is a noble profession, he felt that being 'Willy the Welder' for the rest of his life was not for him.
It was this thought that led him to become one of the most successful comedians of all time.
"For myself, I wanted to wander the world, to see things, to do things, to meet people, to expand my experiences," he says.
"And I did it, and at each step along the way it was amazing. To be in a band in the sixties with a load of hair and beads, and being part of the sixties was a joy, to say the least.
"And then to write poetry and write plays, and see actors doing it was amazing.
"To write books, and paint and draw.
"I hope there's people…at home…who'll say I could do that, because you can. All it takes is the desire to do it."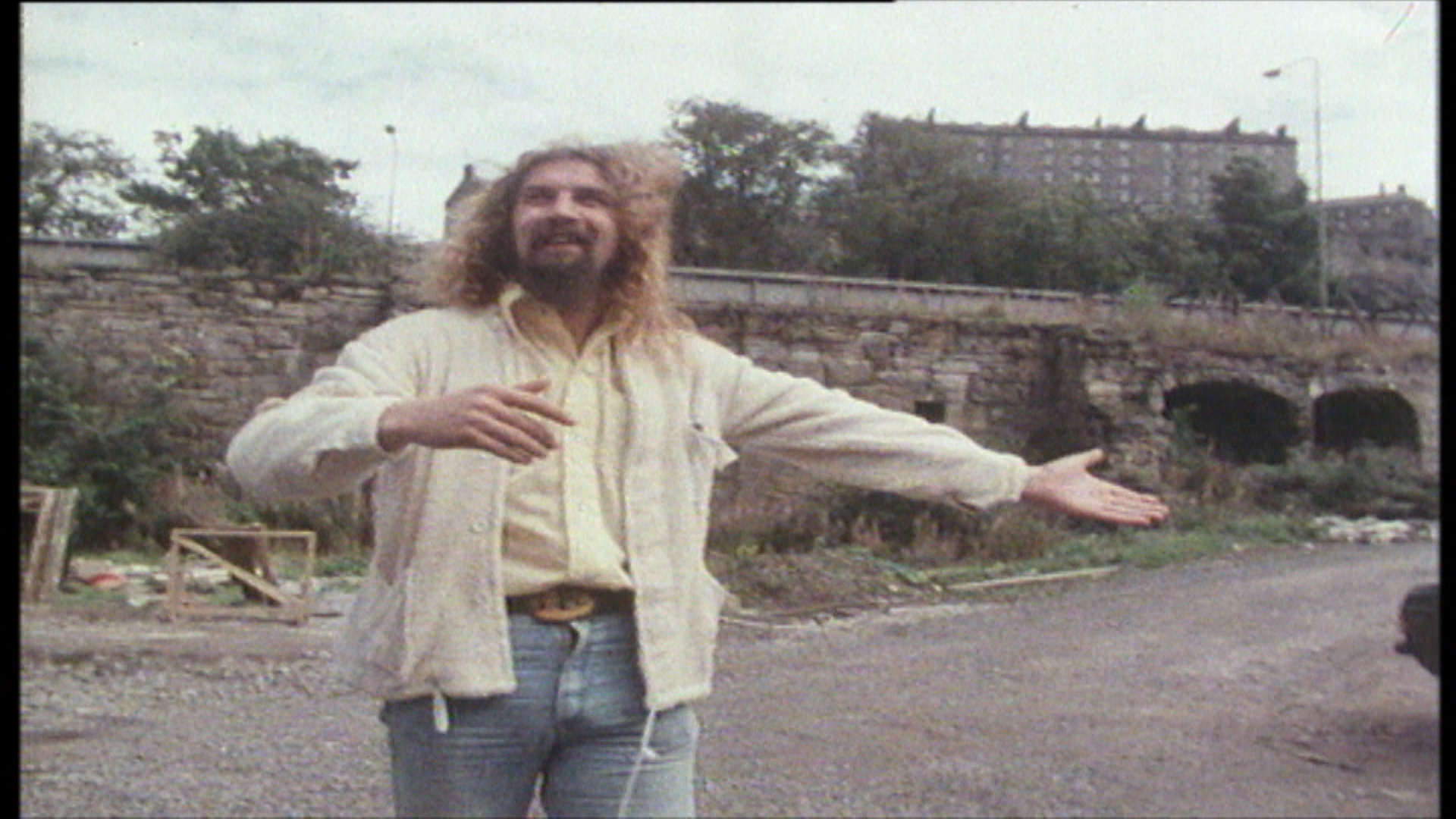 While Billy resides in the States with wife Pamela, he still has a deep affinity for Scotland and his native Glasgow.
In the art gallery sat opposite the famed Duke of Wellington statue, Sir Billy says it's not the traffic cone that draws him to the Glasgow icon, but cigarettes.
"There are sculptures of historical Scottish events [around the plinth], and there's one of a boy leaving home obviously to join the Jacobites or something, and he's waving to his mother in the cottage as he goes out the door.
"Every time I pass it I check to see that he's got a cigarette. Because when I was a child there was always a fag in his hand, and usually it was burning.
"When I pass I check to see that he has a cigarette. When he hasn't I find one on the street and I put it in.
"That's Glasgow to me. The rebelliousness of Glasgow is 'give him a cigarette' and 'shut up, put a cone on his head. That'll do you'.
Sir Billy's Parkinson's diagnosis shocked fans in 2013, but the comic has continued to treat life with the same Glaswegian determination and humour he grew up with.
"I've got Parkinson's and it's dragging along the way it does," he says.
"But my drugs are working. I have good days and bad days. Sometimes I can't get out of chairs, other days I can fly out the chair.
"It's the parcel, you've got to get on with it."
While once Sir Billy was a staunch opposer of Scottish independence, he has a more pragmatic response to the question of a second referendum these days, adding that while he won't be 'leading the parade' for the cause, he will happily support it if the side wins.
"There's a great love of Scotland making itself apparent. And they're fed up voting for people and getting what other people vote for. They're rightly angry about it," he says.
"I go with the flow, I'm not a flag waver. I won't be leading the parade for anything. But if Scotland wants it, Scotland will get it, and I'll be there clapping."
For now, Sir Billy is happy to be enjoying a world of colour through his art, which will be on display in Glasgow until March 22.
But asked if he would prefer to be known as a full time artist, Sir Billy jokes that he has finally found his calling.
"That's how I demand to be seen now – Sir Billy Connolly the fabulous artist, who walks among us, caring not a jot.
"That's how I see myself, with an opera cape and cigarette holder, gliding with ease through the theatre district. Hello darling!" he laughs.