Lewis Capaldi has hit out at scalpers on Twitter after fans desperate to get tickets for his sold out UK and European tour reported outrageous price tags on resale sites.
The Scots singer released tickets for his highly-anticipated tour first for a pre-sale on Wednesday, followed by a general sale on Friday morning.
Both sold out almost instantly, with fans clamouring for more dates to be added.
However, Capaldi uploaded a statement to Twitter confirming that he would not be adding any more gigs to his already-packed schedule.
The lengthy message, sympathising with how frustrating getting tickets for gigs can be, also urged fans to be "safe and careful" when purchasing resale tickets.
He wrote: "If you want to buy and re-sell please use Twickets and only do so at face value, be kind to each other.
"I know some f****** will try to sell for mad prices, there will be scammers out there as well. Pls be safe and careful."
Following the presale, on Wednesday, one fan tweeted Lewis a screenshot of tickets being resold for almost £8,000 each.
Trying to buy four, including booking fees and taxes, the fan was presented with a price tag of an enormous £41,726.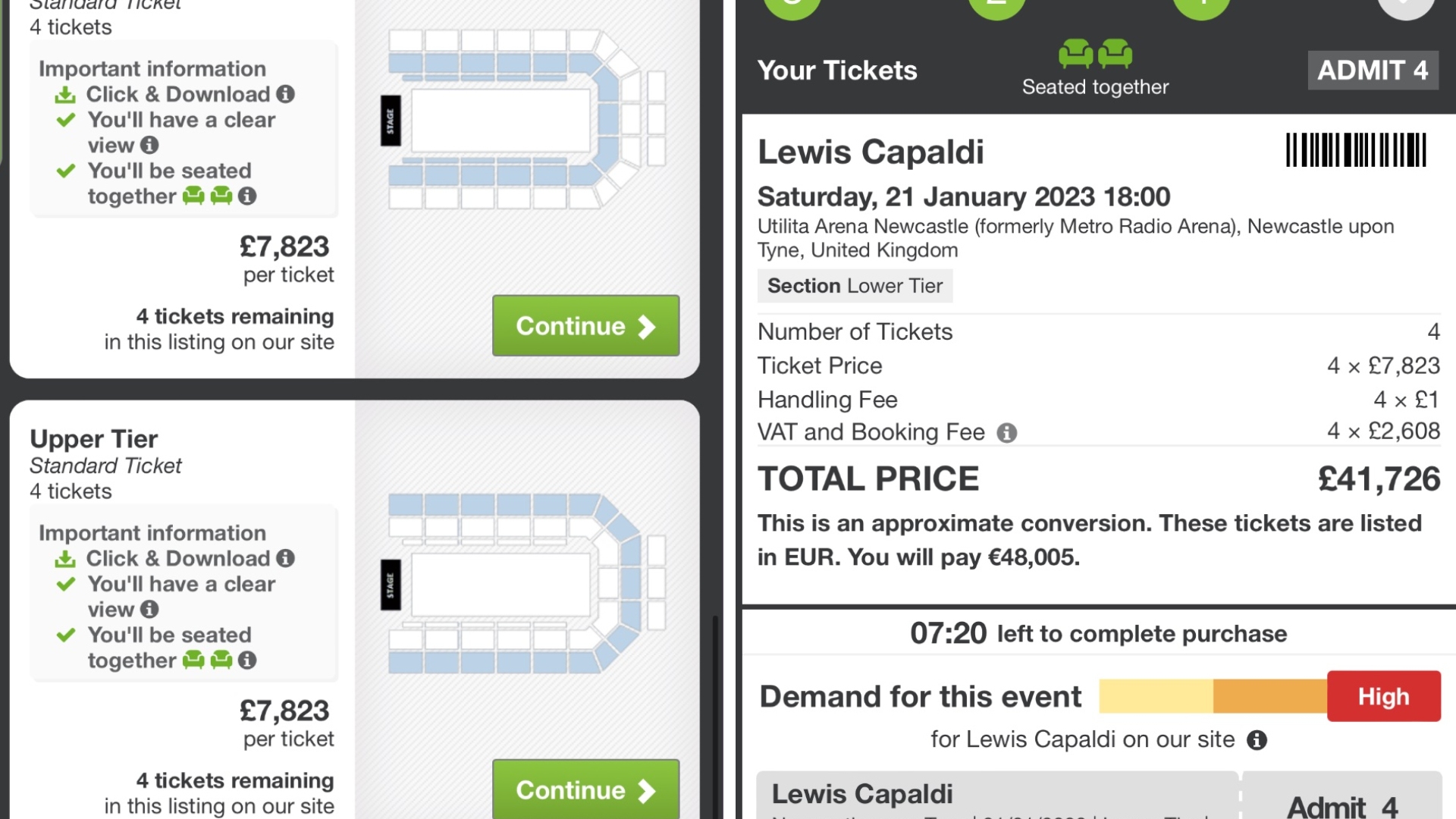 The singer responded: "It's not fair and I hate it more than anyone. If there was a single good way to completely stop it every artist would as no good comes from it.
"It's not fair at all, it's f****** awful in fact. Will continue to do all I can to get the (happily) relatively small per cent of people who take the **** get the tickets cancelled and re-added at face value where possible x."
On Friday, a tweet offering to resell two tickets to his Glasgow show on January 23, 2023 for £420 each, citing a "family emergency" crossed Capaldi's radar.
Fans also pointed out the reseller had increased the price, asking for £2,000 per ticket.
Lewis responded, writing: "Not cool mate, going to have those cancelled if you're selling them above face value that's not on at all."
He later added that he is "not making a single penny" off tickets, replying to a tweet saying: "to play in an arena costs so so so much more than small shows so every bit of the money is being spent to make them the best they can be."
A spokesperson for the West Lothian musician said: "Lewis is incredibly grateful to everyone who bought tickets for the tour, either in the pre-sale earlier this week or on general sale today.
"He kept ticket prices as low as possible to cover the costs of taking what will be an incredible show to as many arenas in the UK as he can.
They added: "Fans should note that there is no guarantee a purchase from such outlets will secure entry to the concert and that many of these are likely to be speculative adverts for tickets the seller does not actually own.
"Anyone looking for resale tickets should only use Twickets, or the official Ticketmaster fan-to-fan resale site, which only allow re-sale up to the original face value."
Capaldi's 31-day tour was announced on October 18, and will hit Aberdeen's P&J Live on January 23 and Glasgow's OVO Hydro the following night for his only stops in Scotland.
He will follow up the tour with a new album, Broken By Desire to be Heavenly Sent, on May 19, 2023.
His latest hit single Forget Me was his third UK number one, while he sold out two shows at London's O2 Arena in September.
The West Lothian singer dedicated the song "to his enemies" after claiming the position for the first time since the release of Before You Go in 2020.
It was released on September 9, three years after his successful debut album Divinely Uninspired To A Heavenly Extent was released in 2019.