Rylan Clark said he has not slept and both his collarbones and face are bruised following a tough first night on his Scottish mountain trek for Red Nose Day.
The 34-year-old presenter and TV personality is attempting to reach the summit of the snow-capped Cairngorm mountain along with Emma Willis and Oti Mabuse to raise money for the charity Comic Relief.
The trio set off from the village of Braemar, near Aberdeen, on Wednesday morning and made their way through the foothills of the Southern Cairngorms before setting up camp in windy conditions.
On Thursday, he said: "My body is shot. I've managed to somehow bruise my face (and) my collarbones from the rucksack so today carrying that (will) be quite difficult.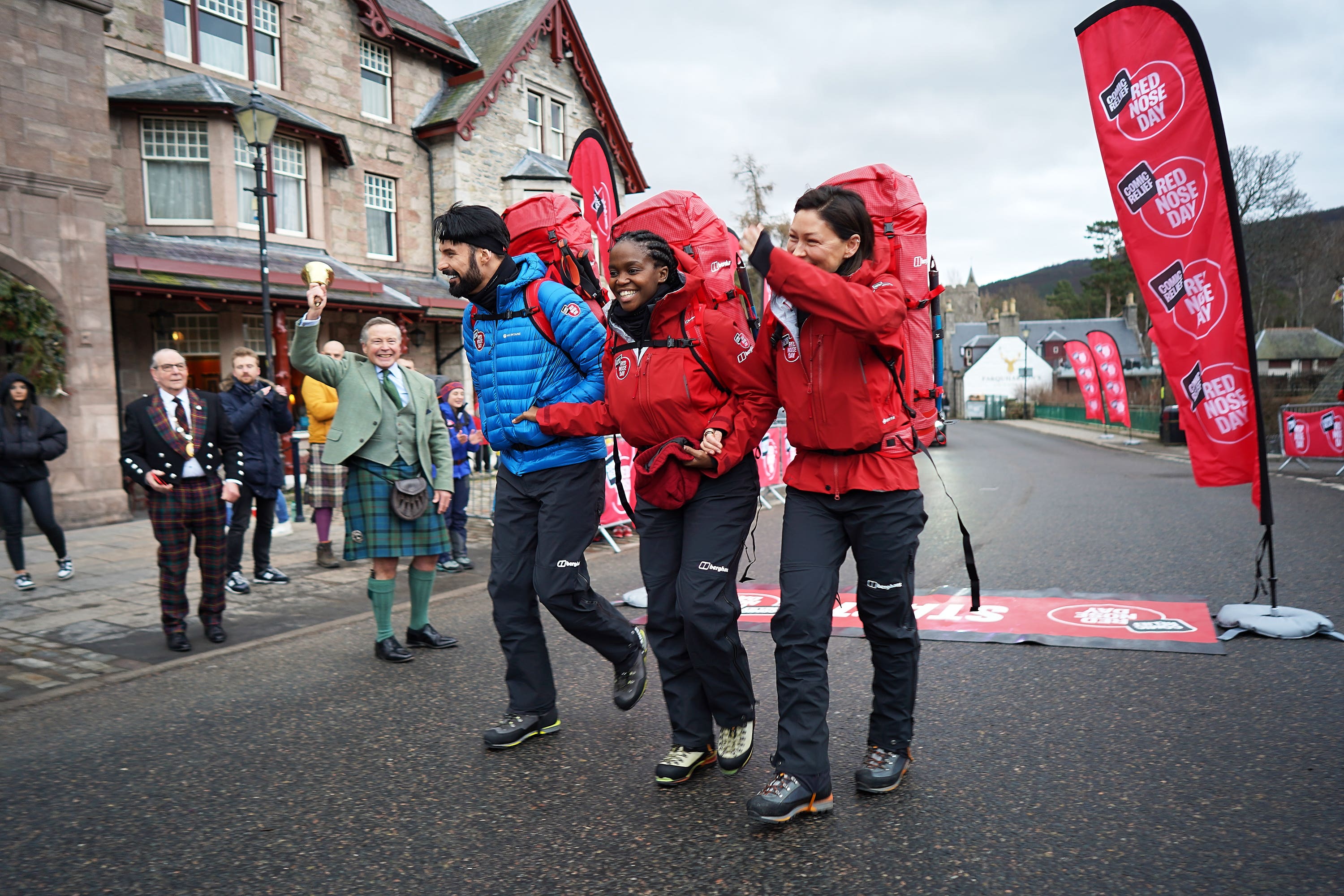 "I've not actually slept, which is quiet gutting because my… sleeping bag didn't fit me. It's been a bit of a nightmare so far."
Clark added that the 40lb (18kg) backpack, which contains his tent and other supplies, was "constantly putting pressure" on him when they walked for seven-and-a-half hours on Wednesday.
Asked if he thinks he can make it on the second day, Clark said: "I've not really got a choice… in an ideal world, I would just get on a plane and go home, but then I've not done the challenge so I need to just keep going.
"Luckily, the girls have slept, so I'm sure they're going to be dragging me through today."
The Circle presenter Willis said sharing the tent with Clark and Mabuse featured a lot of "rolling" from all three which did not help her sleep.
She added that they were "too scared" to leave from 7.30pm until 6.30am in the morning due to outside temperatures being around minus 2C.
The 46-year-old said: "I feel like I've been awake every hour because every time you turn over you wake up so it's kind of delirious asleep. I think I've slept but actually I feel like I've been awake all night."
She added: "So we've kind of had a really good downtime from (the backpacks) but I think the minute we put them on this morning, it's going to be pretty savage again."
Mabuse, 32, said her toes are cramping from the cold, her back is "aching" from her backpack, and she has been running around the camp to keep warm.
The former Strictly Come Dancing professional added: "When we got to camp, I fell to my knees and I felt like crying at the end of the day one; day two is even more walking."
The trio still need to reach the summit of the mountain, which is 4,085ft (1,245m) above sea level.
Mabuse said it has been "quite hectic" for her as she finished judging ITV's Dancing On Ice on Sunday and then got ready to hike the mountain this week.
She added: "I'm (going to) hope that we will fast enough and we actually make it but, you know what, it's what I do. I'm (going to) show up anyway (on Sunday for the show) and I'm (going to) give 100% of my best.
"I feel like I'm (going to) struggle. I feel like there'll be a lot of pep talking. I had to put on an audio book to kind of disappear and go into my mind so that I can get over it."
A documentary, Frozen: Emma, Oti and Rylan's Red Nose Day Challenge, will air on BBC One and iPlayer in the run-up to the charity day.
Money raised for Comic Relief will help the cost-of-living crisis and tackle issues such as homelessness, mental health problems, and food poverty in the UK and across the world.