The design of the bespoke prizes for musicians being recognised at the The Scottish Album of the Year (SAY) Awards have been revealed.
Stirling-based design studio ART FUTURO were selected to create the prizes which will be presented to artists celebrated at the award's Stirling debut at the Albert Halls on October 20.
Swiss couple and Stirling residents Phil and Franziska, were selected by the panel for their designs, which fuses natural slate veneer with technology to create bespoke trophies that are both sculptural and useful.
The winner of The SAY Award 2022 will be presented at the ceremony with a natural slate veneer trophy, which also functions as a high-end Bluetooth speaker.
The nine remaining shortlisted artists, as well as the winners of the Sound of Young Scotland Award and Modern Scottish Classic Award, also receive bespoke slate veneer prizes, which also function as LED lamps.
The couple said: "The products we design are all centred around slate veneer, an amazing natural material which we fell in love with. Every sheet of stone veneer is unique and beautiful. The vast diversity of music written and performed here in Scotland made us realise that there is a strong parallel to the diversity found in the natural stone materials we work with.
"Each piece is made of the same base material, but every piece is unique, with different colours, patterns, and shapes. Music is similar. All songs are created from notes, but skilled musicians can arrange these into something new and unique.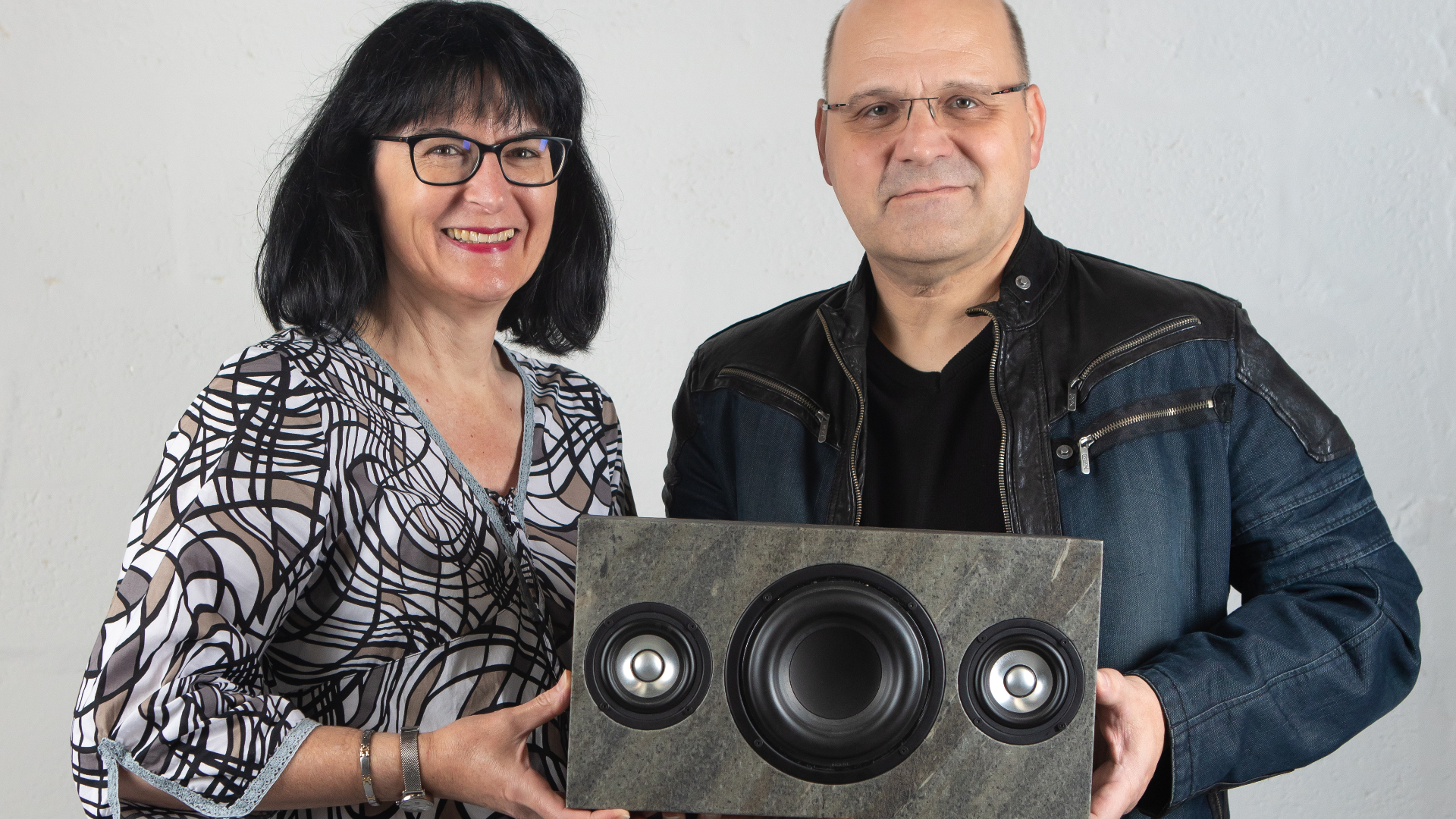 "For the winner, we wanted to create an award that stands out and is directly linked to sound. The idea for a stylish Bluetooth speaker in our hallmark slate veneer was born. We were delighted to find that the SAY Award Selection Panel committee had chosen our proposal.
"For the other awards, we used a simplistic, Bauhaus style, cubic shape which does not distract from the beauty of the material. Each of the cube prizes holds a hidden secret, they are in fact also lamps due to LED technology we embed within them. The slate veneer is cut exceedingly thin, so becomes semi translucent when lit, creating a joyful 'glow', which seemed fitting for the SAY Award."
Local makers based in the Stirling Council area were invited to submit an expression of interest and outline their vision of how the awards could be imagined.
Submissions were required to demonstrate how they would embed sustainability as a key pillar of the design and production process, in keeping with SAY Award's environmental ethos.
The designs were then reviewed by design curator Dr. Stacey Hunter from Local Heroes, Caroline Mathers, director of The Stirling Smith Museum and Art Gallery, and The SAY Award event manager Hilary Goodfellow.
Ms Goodfellow said: "ART FUTURO's practice combines traditional materials with technology to create outstandingly beautiful, unique objects, which are pieces of art in their own right, but also cleverly function in other ways. We're delighted that they accepted our commission, and anticipate they'll be approached to undertake many more creative collaborations when they take up their studio space in Stirling's Cowane Centre."
As a result of their SAY design commission selection, ART FUTURO have been given one year of free studio space by Stirling Council.
Councillor Margaret Brisley, convener of Stirling Council's Finance and Economy Committee, said: "Huge congratulations to Phil and Franziska from ART FUTURO for being selected for the commission and creating such fantastic, innovative prizes for the ceremony. The high-quality entries showed the incredible talent, diversity and breadth of Stirling's creative community, demonstrating again that Stirling is alive with culture.
"Stirling Council is committed to investing in culture and the arts to deliver growth, break down barriers and regenerate our communities. We are delighted Phil and Franziska will now have the opportunity to showcase their creative talents on the international stage and have the use of the studio space at the Cowane Centre to develop their business."
Since The SAY Award's inception, eleven makers have been commissioned to create bespoke prizes, which have included statuesque concrete totems, ceramic bells, handwoven textiles, and last year, vases and trays made from recycled bottle tops, creating items of value from a waste product.
The recently revealed shortlist names the ten albums still in the running for the £20,000 prize fund, while the nine-runners up are also rewarded £1,000.
The SAY Award Shortlist for 2022 is:
AiiTee – 'Better Days'
Constant Follower – 'Neither Is, Nor Ever Was'
Fergus McCreadie – 'Forest Floor'
Hamish Hawk – 'Heavy Elevator'
Hen Hoose – 'Equaliser'
Kathryn Joseph – 'for you who are the wronged'
Kobi Onyame – 'Don't Drink The Poison'
Niteworks – 'A'Ghrian'
Proc Fiskal – 'Siren Spine Sysex'
Walt Disco – 'Unlearning'
STV News is now on WhatsApp
Get all the latest news from around the country
Follow STV News
Follow STV News on WhatsApp
Scan the QR code on your mobile device for all the latest news from around the country