Peter Riegert has starred in dozens of film and TV roles across the world in his decades long career.
The 76-year-old more recently starred as left-wing lawyer Roger Pugh in Succession and grocery chain owner Artie Goodman in Unbreakable Kimmy Schmidt.
But the Boston-born actor said comedy drama Local Hero, filmed near Fraserburgh 40 years ago, is still one of his career highlights.
He plays MacIntyre, also known as 'Mac', a hot-shot oil executive from Houston, who is sent to the fictional village of Ferness, filmed in Pennan in Aberdeenshire, to purchase the site for an oil refinery.
When I spoke to Peter from his home in New York state, he wore a navy shirt with a red phone box on it, very similar to the one that plays a prominent role in the 1983 film.
He said: "My wife Cornelia found this and sewed it onto my shirt, so I thought I'd wear it for this interview seeing as we're talking about Local Hero!"
The film, written by Gregory's Girl director Bill Forsyth, also starred the late Hollywood actor Burt Lancaster, who plays Mac's boss in Houston, alongside Scottish actors Denis Lawson and Peter Capaldi.
Riegert says he believes the film is still popular decades on because of its strong storyline.
He said: "What's really fascinating is that it holds up pretty well. I think its a universal story.
"Mac is someone who doesn't know who he is, which is exposed when he comes to Scotland.
"He then starts to discover the eccentricity of the world, which previously he only connected with over the phone."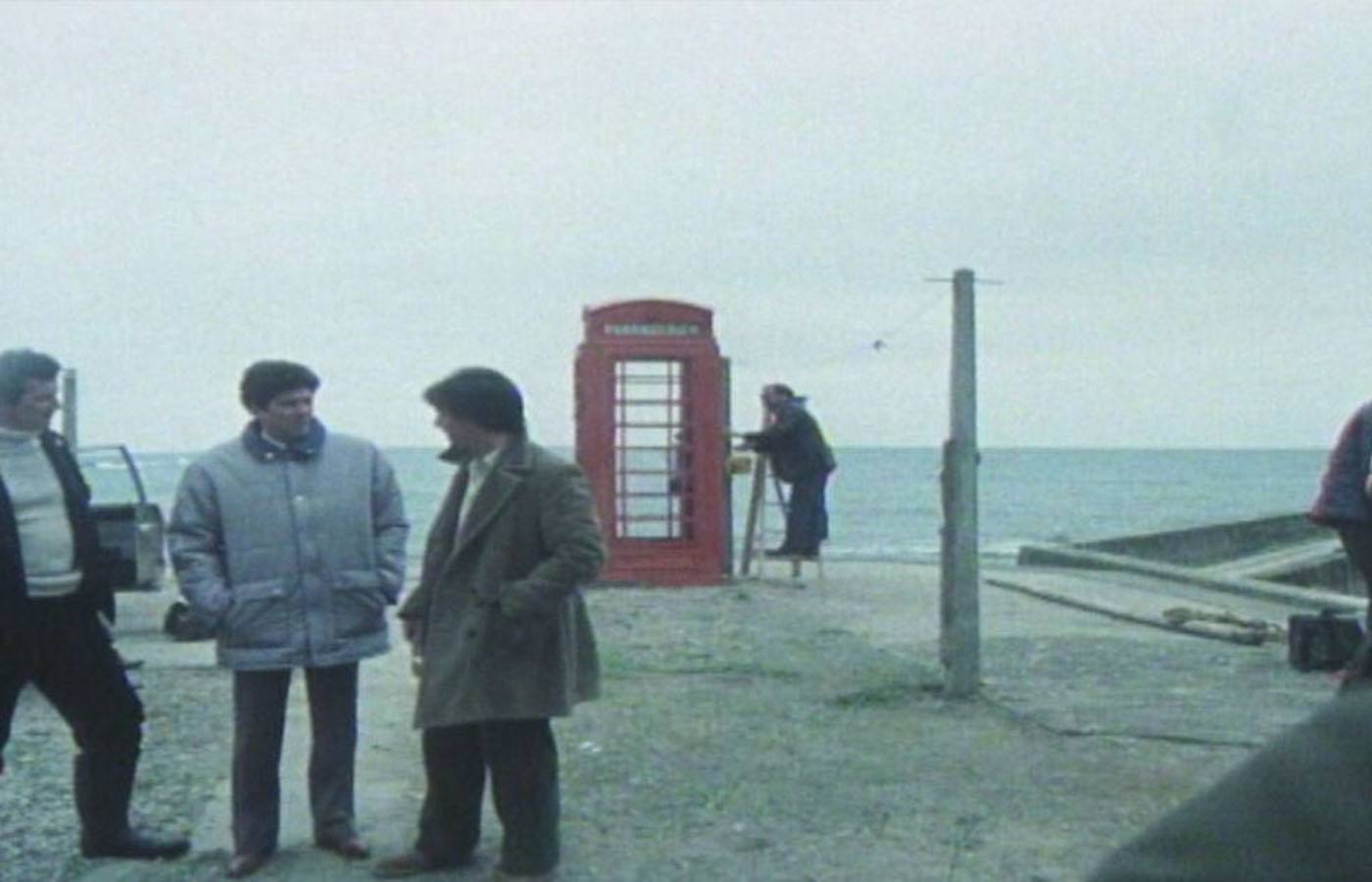 He added: "The phone is so symbolic. He is transported by his environment, as well as the people he meets.
"If you're looking at your phone while you travel through the world, you won't experience anything. It's an advanced look at the future in a bizarre kind of way.
"It was current for its time but to see how subjects hold up to the changing customs 40 years earlier – I always think that's what makes a good piece of art anyway.
"So I think it's an old story, just a different setting."
He described Aberdeenshire and the Highlands as "an amazingly magical place".
He added: "I wouldn't throw away my memories of a good time even if a film failed.
"This was a great time and a great movie so I got lucky."
Local Hero has been re-released in cinemas across the United Kingdom in celebration of its 40th anniversary.
A Q&A with some of the actors was organised with Banff Academy, attended by Tam Dean Burn, Sandra Voe, Jimmy Yuill and Jonathan Watson and Peter Riegert over Zoom.
Jonathan Watson said revisiting the seaside cottage he shared with Jimmy, Tam and late actor Charles Kearney was a special moment.
"We got up to all kinds of mischief there. It was great to see the old cottage again and look back on fond memories," he added.
"It was a privilege to be a part of something that had an impact on a lot of people."
Jimmy Yuill, who plays Iain, describes Local Hero as a "universal film."
"It's a story of local heroes which rings true in many parts of the world," he said.
"It's about the human condition, it's about greed, it's about environmental issues.
"We're not here just because it was a Scottish film. It was way ahead of its time."
Tam Dean Burn landed his first ever film role as Roddy the barman in Local Hero.
"It was so unique. There's been nothing like it since," he said.
"It's unbelievable how well loved the film is, not just here, but across the world.
"It captures something so exceptionally human in a very funny way."
And arguably the film's popularity hasn't waned over those decades with many people continuing to visit the village of Pennan near Fraserburgh, keen to recreate some of the movie magic.
Shona Stephen runs a coffee shop on Pennan's harbour and said: "There was a man from Connecticut who came recently just to watch the film here in Pennan before he flew home a few days later.
"Many people want a shot next to our phone box, although it's not the exact one from the film, and want to know where each bit was filmed."
Although the Ferness is based on Pennan, some of the shots like the sandy beach scenes were taken on the West Coast of Scotland near Morar.
The iconic red phone box that Mac uses throughout the film to call his boss Felix Happer, played by Burt Lancaster, in Houston was actually a film prop because the one in the village wasn't in a place to get the best shots.
During its filming in the 1980s STV News interviewed Local Hero's director, Bill Forsyth, who admitted: "I thought the location I described in the script would be easy to find but it turns out it didn't exist.
"So finally we resolved to stitch too parts of the country together.
"I don't know whether that's cheating to tell people that but I don't think people notice that in the film."
Outdoor screenings of Local Hero will be shown at Banff Castle on May 26 and 27 and at Portsoy Sail Loft on May 28.